North Korea Crisis and the World Economy
Politics
/
GeoPolitics
May 30, 2010 - 12:21 PM GMT


The reader should understand that this analyst is neither a maverick nor an agitator. All he is interested in is "The Truth". Investor confidence across the Western Markets appears to him to be on the brink of collapse – an outcome which he has recognized for some years was a possibility based on the emerging facts. He is on record as having made consistent references to this possibility in his various blogs over a period of several years. He is also on record as having been focusing on what might be done by society's leaders to extricate society from a dysfunctional world economy, should a collapse in world markets materialize.
The purpose of this article is draw attention to some serious questions which remain unanswered in respect of the sinking of the 1,200 tonne South Korean Warship, Cheonan by a torpedo allegedly fired by a North Korean midget sub on March 26th 2010. The reason for raising these questions is that this analyst personally remembers a parallel situation in the 1980s – where the world markets were under threat and the gold price was skyrocketing. At that time, President Reagan announced the Star Wars program and the rolling out of the MX Missile. The threat of nuclear war hit the world headlines and displaced the world economy as the lead story. The gold price collapsed, investor confidence re-emerged, and the world economy grew.
But there was one very significant difference between then and now:
The US then was the world's largest creditor nation. Today it is the world's largest debtor nation.
In this analyst's view, the time has arrived when the practice of disingenuous political maneuvering must stop. The world economy is facing life threatening challenges. Our problems can no longer be addressed by applying "clever" political solutions to serious economic challenges for the primary purpose of entrenching those who are in political and/or financial power.
***********
The following is a series of quotes which have been extracted from various web sourced media article and/or web sites – with specific reference to the above summary.
May 19th 2010
Quotes:
SEOUL, South Korea - South Korea will lay out evidence Thursday proving that North Korea fired a torpedo that sank one of the South's warships in March, killing 46 sailors, a U.S. official said.
Thursday's report will point the finger at Pyongyang, showing that a North Korean torpedo attack triggered the explosion that sank the Cheonan
A serial number on the torpedo propeller was written in a font typically used in North Korea, and traces of explosives found in the wreckage resemble the gunpowder used in the North Korean torpedo retrieved in 2003, the paper said.
The Dong-a Ilbo newspaper carried a similar report, saying an 85-ton North Korean submersible is believed to have torpedoed the vessel.
Source: http://www.winnipegsun.com/news/world/2010/05/19/14002196.html
May 20th 2010
Quote:
The investigative team - made up of experts from South Korea, the US, Australia, Sweden and Britain - reached its conclusion about the March 26 sinking after examining the wreck and finding torpedo parts at the wreck site. They then compared those torpedo parts to an errant North Korean missile South Korea had recovered seven years ago.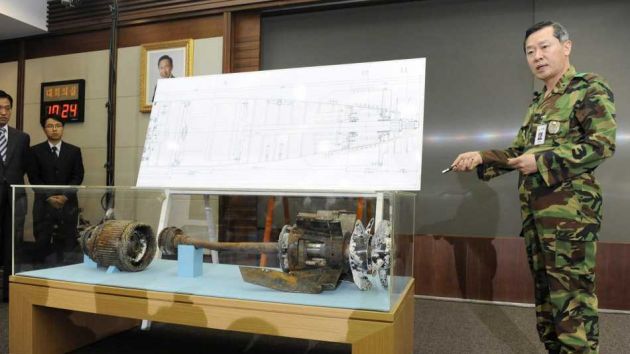 Yoon Jong-Sung, Brigadier general of the team investigating the sinking of the South Korean warship Cheonan, shows torpedo parts salvaged from the Yellow Sea during a press conference at the Defense Ministry in Seoul, South Korea, 20 May 2010. . EPA/KIM MIN-HEE / POOL
Source: http://www.monstersandcritics.com/..
[BB Note: The torpedo exploded with sufficient force to split a 1,200 ton warship in half and yet its rusty parts and very shiny stainless steel propellers were salvaged, intact, except for a slightly bent prop shaft. Of course, the prop of one torpedo could have been mounted onto the shaft of the earlier, "errant" one for the purpose of the briefing.]
May 20th 2010
Quote:
"The international team, including five Australian Defence Force personnel and experts from America, Britain and Sweden, analysed the shattered hull and parts of a torpedo found on the sea bed." …
The United States has led loud international condemnation of North Korea over the sinking.

White House spokesman Robert Gibbs said the report by the multinational investigation team was objective and scientific and said the sinking was an act of aggression.
Source: http://australianetworknews.com/stories/201005/2904387.htm?desktop
[BB Note: No mention of South Korea as a member of the team. Why not?]
May 20th 2010
Quote:
A multinational team of investigators announced May 20 that a torpedo fired by a North Korean submarine sunk the South Korean warship, killing 46 sailors in one of the country's worst naval tragedies.
"The evidence points overwhelmingly to the conclusion that the torpedo was fired by a North Korean submarine," the team said in its report on the March 26 sinking that split the 1,200-tonne corvette in half near the two Koreas' disputed border. "There is no other plausible explanation."
Source: http://www.defensenews.com/story.php?i=4634922&c=ASI&s=TOP
[BB Note. There are always other plausible explanations. Such a statement is disingenuous]
May 21st, 2010
Quote:
The investigation team said that a North Korean Sango Class Submarine and Yono Class Submarine had left a naval base on the West Sea some two to three days prior to the attack and returned to base two to three days after the attack. They determined that the Yono Class Submarine carried out the attack.
A Sango, Shark Class Submarine, weighs 300 tons, while a Yono, Salmon Class Submarine, weighs 130 tons.
The investigation team confirmed that around the time of the attack, they had been unable to clearly identify the submarines that had left the base. A military intelligence official said later, through comprehensive analysis of all sorts of intelligence material, including communication intercepts, video footage and human intelligence, they belatedly learned that a Yono Class Midget Submarine had left with its mother ship.
This explanation, however, failed to clarify all questions. A joint South Korean-U.S. naval exercise involving several Aegis warships was underway at the time, and the Cheonan was a patrol combat corvette (PCC) that specialized in anti-submarine warfare. The question remains whether it would be possible for a North Korean submarine to infiltrate the maritime cordon at a time when security reached its tightest level and without detection by the Cheonan.
Source: http://radcontra.wordpress.com/2010/05/21/just-how-good-are-south-korean-anti-sub-corvettes/
[BB Note: Not sure of the credibility of this particular source. It appears to be a blog but it may be based on fact]
May 29th 2010
Quote:
North Korean Major General Pak Rim Su said in Pyongyang yesterday that the international investigation into the March 26 sinking was biased because it was supervised by the South Korean military and included the U.S., KCNA said.
Pak said the North does not have type of submarines that the South said carried out the attack, Agence France-Presse reported, citing North Korea's Chungang TV. South Korea's Yonhap News quoted South Korean officials as saying the North has about 10 of the Yeono class submarines, AFP said.
Senior Colonel Ri Son Gwon also derided claims that writing on the torpedo was put there by North Korea, AFP reported.
"When we put serial numbers on weapons, we engrave them with machines," Ri said, according to AFP.
Source:
http://www.bloomberg.com/apps/news?pid=20601087&sid=a.azWJZZsfEE
May 29th 2010
Quote:
"Major General Pak Rim Su, director of the policy department of the NDC, said the North does not have a 130-tonne "Yeono (salmon)-class" submarine, which the South says torpedoed its 1,200-ton corvette, the Cheonan, in the Yellow Sea."…
"But Pak said: "It does not make any sense militarily that a 130-tonne submersible carrying a heavy 1.7-tonne torpedo travelled through the open sea into the South, sank the ship and returned home."
But South Korea's Yonhap news agency quoted South Korean officials as saying the North's submarine fleet includes around 10 Yeono class submarines.
Pak also rebutted Seoul's allegation that salvaged fragments of the torpedo matched design specifications that appeared on brochures the North allegedly sent to an unidentified potential buyer of North Korean torpedoes.
"Who in the world would hand over torpedo designs while selling torpedoes?" he said."
Source: http://news.yahoo.com/s/afp/20100529/wl_asia_afp/skoreankoreamilitarydenial
BB Questions:
What would North Korea hope to achieve by torpedoing a 1,200 South Korean Warship? What would be their motive?
The country is not a democracy, so rallying voter support would be an irrelevancy. Kim Jong Ill apparently has no nominated successor. Would such an act be capable of influencing this?
South Korea says North Korea owns 10 Yono class submarines . North Korea says it does not own one.
As a matter of fact, does North Korea or does it not own submarines of the nature the international team accuses it of having used to deliver a torpedo of the nature allegedly used? If it can be proven that North Korea has such vessels in its fleet then this will prove that North Korea is lying. If it does not then the implication will be that South Korea (and the USA) is lying at worst or has sloppy investigative procedures at best. According to Wikipedia, North Korea not only owns ten of these submarines it actually builds them for resale and sold several to Iran. http://en.wikipedia.org/wiki/Yono_class_submarine
Quote: The Yono class submarine is a class of North Korean miniature submarines, produced for domestic use and export
Quote: The US Congressional Research Service suggests that Iran has purchased several midget submarines from North Korea
Could the North Korean motive have been to ingratiate themselves with their ally, Iran? If so, what implications might this have?
Can we believe the Wikipedia article or is it merely a disinformation plant? The following is quote from the GlobalSecurity.Org website using a link dated 10 July 2008,
"Yugo Class Midget Submarine
Yono Class Midget Submarine
In 1991 the Iranians obtained 2 midget submarines from North Korea. It was believed these were of the "Yugo" class. The North Korean Yugo Class submarines are themselves based on a design originating in the former Yugoslavia. These North Korean submarines had a surfaced displacement of 76 tons and a submerged displacement of 90 tons. They had a surface speed of 10 knots and could make 4 knots submerged. Armament was in the form of two 530mm torpedo tubes for torpedoes or mines. Yugo class submarines also had the ability to carry 6-7 divers in addition to the crew of 2.
In 2005 Iran announced it would start production of its first indigenous submarine. The hull was launched in 2006. In 2007 the Iranian navy unveiled a submarine, named the Qadir (also written Ghadir), first of a number of planned midget submarines of the Yonoclass. The Qadir was otherwise extremely similar to these Yugo boats, leading observers to suggest that this was an Iranian design based heavy on that class. Iranian authorities asserted that the Qadir was an entirely Iranian design, and that the vessel could launch anti-ship missiles. Such a capability would have required the installation of more advanced systems into the submarine or the operation in concert with other vessels capable of guiding any such missiles. The Qadir does have provisions for mounting a Swimmer Delivery Vehicle (SDV), a type of craft that Iran has also developed."
Source: Yono Class
10 Jul 2008 ... Yugo Class Midget Submarine Yono Class Midget Submarine. In 1991 the Iranians obtained 2 midget submarines from North Korea. ...
www.globalsecurity.org/military/world/iran/yono.htm
Why would rusty torpedo parts be attached to a bright stainless steel propeller? According to this same Wikipedia article: The device exploded not by contact, but by proximity, creating a powerful pillar of water, called "bubble jet effect". [BB Note: The first quote above states: traces of explosives found in the wreckage resemble the gunpowder used in the North Korean torpedo retrieved in 2003]
Why would a bubble jet explosion leave traces of gunpowder on the wreckage?
How is it possible that the bright, shiny torpedo propeller (and other) parts survived the explosion intact?
BB Observations:
Something is off center here. There appears to be a difference between a Yugo class midget submarine manufactured by North Korea and a Yono Class submarine manufactured by Iran under the name of Qadir. The Investigating Team specifically mentions a "Yono" class submarine, which begs the questions:
If North Korea (which is an impoverished country) manufactures its own midget submarines, why would it purchase other midget submarines from Iran?
Is a

Yugo

class submarine capable of delivering a torpedo of the size and power required to sink a 1,200 ton ship with a bubble jet effect?
I don't know the answers to these questions but would be interested to find out the answers.
Why am I focusing on this at all? The reason flows from the following charts published on May 28th 2010 (two of several examples which point to the same conclusion). The evidence is mounting that investor confidence in Western markets is teetering on the brink of collapse. Source: http://www.moneyandmarkets.com.
From memory, In the early 1980s, the world's markets were facing a similar threat of collapsing investor confidence. The US Government's response then (under President Reagan) was to roll out the Star Wars and MX Missile programs. Economics took a back seat to war on the front pages of the media, the gold price collapsed, the markets recovered, and the world economy grew. But one fact then was very different from now: The US then was the world's largest creditor nation. Today it is the world's largest debtor nation.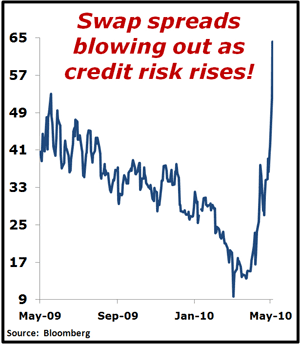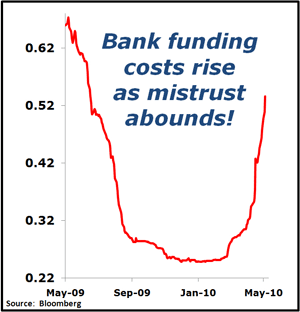 By Brian Bloom
Once in a while a book comes along that 'nails' the issues of our times. Brian Bloom has demonstrated an uncanny ability to predict world events, sometimes even before they are on the media radar. First he predicted the world financial crisis and its timing, then the increasing controversies regarding the causes of climate change. Next will be a dawning understanding that humanity must embrace radically new thought paradigms with regard to energy, or face extinction.

Via the medium of its lighthearted and entertaining storyline, Beyond Neanderthal highlights the common links between Christianity, Judaism, Islam, Hinduism and Taoism and draws attention to an alternative energy source known to the Ancients. How was this common knowledge lost? Have ego and testosterone befuddled our thought processes? The Muslim population is now approaching 1.6 billion across the planet. The clash of civilizations between Judeo-Christians and Muslims is heightening. Is there a peaceful way to diffuse this situation or will ego and testosterone get in the way of that too? Beyond Neanderthal makes the case for a possible way forward on both the energy and the clash of civilizations fronts.

Copies of Beyond Neanderthal may be ordered via www.beyondneanderthal.com or from Amazon
Copyright © 2010 Brian Bloom - All Rights Reserved
Disclaimer: The above is a matter of opinion provided for general information purposes only and is not intended as investment advice. Information and analysis above are derived from sources and utilising methods believed to be reliable, but we cannot accept responsibility for any losses you may incur as a result of this analysis. Individuals should consult with their personal financial advisors.
© 2005-2019 http://www.MarketOracle.co.uk - The Market Oracle is a FREE Daily Financial Markets Analysis & Forecasting online publication.

Only logged in users are allowed to post comments.
Register/ Log in