How Canadian Oilsands Can Go Green – At Less Than $10/barrel
Commodities
/
Crude Oil
Jun 04, 2010 - 01:41 AM GMT


A large part of Canada's massive oil sands deposits could become one of the most "green" energies on the planet, by using electricity to heat up and break down the heavy oil. EEOR, or Electrically Enhanced Oil RecoverySM is a new technology being field tested in Saskatchewan by a Canadian junior producer, Deloro Resources.


EEOR uses little water, emits no greenhouses gases on site, and uses electricity from local utilities to a conventional heavy oil well, says Phil Bell, President and CEO of Electro-Petroleum Inc., (EPI) the Pennsylvania company which developed the technology.
He adds that EEOR also greatly increases production, which means that both capital and operating costs will be a fraction of current technologies, like SAGD (Steam Assisted Gravity Drainage).
EEOR is simple technology which passes direct current between electrodes at the surface and at the bottom of a well (it can also be passed between the bottom of two wells). This electrical current creates several changes in the oil formation sands.

One is that the heavy oil breaks down by a process known as "cold cracking". So the heavy minerals and asphalt-like products that make heavy oil "heavy" are cracked, and the oil becomes lighter, increasing the API gravity, which is more valuable. This also makes the oil flow more easily (the industry calls this reducing viscosity).

Bell says that fine sands and other sands are also affected by the current. The electrical field helps to create more permeability, which is the ability of the rock or sand to allow oil to pass through it. So both the new, lighter oil flows more freely in the sands and has more permeability, providing a double bonus.

Bell says that in a California field test, EEOR increased production from five to 50 bopd of heavy oil, increased the API from 8.1 to 10.7, lowered the amount of water coming up the well and lowered the amount of sour gas being produced.

The electrical current itself, going from the surface to the bottom of the well bore, acts as a driver for oil flow to the well.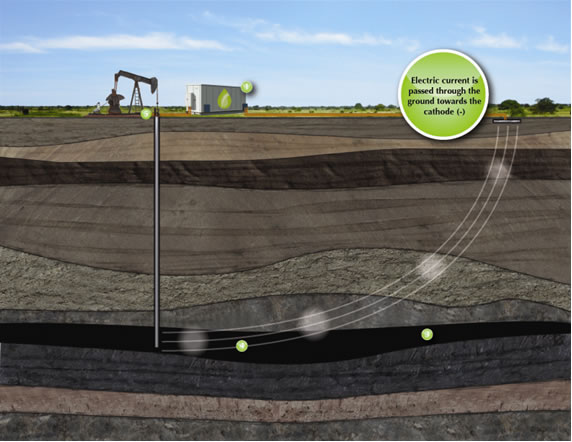 The electricity also heats up the formation near the well bore itself, allowing the heavy oil to flow better. Once at surface it can be transported via heated lines and put in heated storage tanks onsite.

Conventional technologies must also heat up the oil to get it to flow, usually by drilling two long well bores deep into the formation. Producers must then wait for the upper steam well to heat up the surrounding oil formation before oil starts to flow from the lower well.

Bell says that energy costs for EEOR are less than $4/barrel, and capital costs are less than $10/barrel on only a 20 bopd well. Another positive for EEOR is that it works at depths greater than 2500 feet, or 800 metres, while conventional SAGD only works above 2500 feet.

"The technology is not fully commercial yet", says Bell. He doesn't want to get into details but says they are now working on several projects.

"We found Deloro via our partners at Yet2.com. They didn't have capital to do a steam project" and the reservoir characteristics were such that Bell thought it was a good fit.

"Capital costs will be a fraction of what they would pay for a steam operation and opex (operating costs) will be less," Bell says.

EPI and Deloro have made one heavy oil well at Wilkie produce up to 19-25 bopd, and a second well has now been permitted. EPI is paying 50% of the well and will receive 50% of the proceeds until payout, and then goes to a 10% working interest.

EPI plans to use the success at Wilkie and its other projects to extend the use of the EEOR technology into bigger fields with larger working interests.
This Technological Revolution Allowed Me to Earn Short-term Oil & Gas Profits of 146.1%

New technologies – at this very moment – are revolutionizing the oil and gas exploration industries.

But only a handful of people truly understand how the technology works.

This remarkable scenario creates an enormous, short-term profit opportunity each time a company employs these new technologies successfully.

I'd like to show you exactly how this scenario is unfolding…and how you can pounce on the next triple-digit oil & gas blockbuster.

Click here to read my full report that explains how to get started.
About Oil & Gas Investments Bulletin
Keith Schaefer, Editor and Publisher of Oil & Gas Investments Bulletin, writes on oil and natural gas markets - and stocks - in a simple, easy to read manner. He uses research reports and trade magazines, interviews industry experts and executives to identify trends in the oil and gas industry - and writes about them in a public blog. He then finds investments that make money based on that information. Company information is shared only with Oil & Gas Investments subscribers in the Bulletin - they see what he's buying, when he buys it, and why.
The Oil & Gas Investments Bulletin subscription service finds, researches and profiles growing oil and gas companies. The Oil and Gas Investments Bulletin is a completely independent service, written to build subscriber loyalty. Companies do not pay in any way to be profiled. For more information about the Bulletin or to subscribe, please visit: www.oilandgas-investments.com.
Legal Disclaimer: Under no circumstances should any Oil and Gas Investments Bulletin material be construed as an offering of securities or investment advice. Readers should consult with his/her professional investment advisor regarding investments in securities referred to herein. It is our opinion that junior public oil and gas companies should be evaluated as speculative investments. The companies on which we focus are typically smaller, early stage, oil and gas producers. Such companies by nature carry a high level of risk. Keith Schaefer is not a registered investment dealer or advisor. No statement or expression of opinion, or any other matter herein, directly or indirectly, is an offer to buy or sell the securities mentioned, or the giving of investment advice. Oil and Gas Investments is a commercial enterprise whose revenue is solely derived from subscription fees. It has been designed to serve as a research portal for subscribers, who must rely on themselves or their investment advisors in determining the suitability of any investment decisions they wish to make. Keith Schaefer does not receive fees directly or indirectly in connection with any comments or opinions expressed in his reports. He bases his investment decisions based on his research, and will state in each instance the shares held by him in each company. The copyright in all material on this site is held or used by permission by us. The contents of this site are provided for informational purposes only and may not, in any form or by any means, be copied or reproduced, summarized, distributed, modified, transmitted, revised or commercially exploited without our prior written permission.
© 2010, Oil & Gas Investments Bulletin
Contact Us:
Email:
nichola@oilandgas-investments.com
Customer Service: 1-877-844-8606
www.oilandgas-investments.com
© 2005-2019 http://www.MarketOracle.co.uk - The Market Oracle is a FREE Daily Financial Markets Analysis & Forecasting online publication.

Only logged in users are allowed to post comments.
Register/ Log in