Investment Lessons from Singapore
Stock-Markets
/
Stocks Bear Market
Jun 09, 2010 - 01:20 PM GMT


What did you do last weekend? I spent mine with 25,000 Singaporean investors.
Other than my home country of Japan, Singapore is my favorite city in the world. It is modern, clean, safe, vibrant, and chock full of investment opportunities. That is why it took me all of five seconds to say "yes" when the Securities Investors Association of Singapore (SIAS) invited me to participate in their annual gala investment conference.
The Securities Investors Association of Singapore is a non-profit educational organization that is committed to teaching investors how to become better investors as well as pushing for improved corporate governance and investor rights.
Mr. David Gerald, President of SIAS, said: "The current situation in the markets has resulted in investors receiving mixed signals on the state of the global economy and the long-term health of their investments. The recent events have made it difficult for investors to make informed decisions on their investments. SIAS has carefully selected regional and global experts to guide Singapore Investors on their current predicament."
Well, I don't know about the "careful" or the "expert" part since they invited me, but I was flattered to be included in a market overview panel with five of the very, very brightest professional money managers in Southeast Asia. I'm talking about big hitters from the large private banks and brokerage firms in Singapore.
SIAS estimates that 25,000 investors attended the two-day event and it was more than standing room only at the panel I participated in. Every chair was taken and investors crammed into the aisles and sat on darn near every available inch of floor there was.
And let me tell you, Singaporeans are very serious about their portfolios and are some of the most knowledgeable individual investors I have ever encountered. What did I learn from the other experts on my panel and those savvy Singaporean investors?
Plenty!
Judge by who your friends are. Singaporeans are very worried about their stock market and their economy. With only five million people, Singapore has inadequate domestic consumption to power its economy, so it must rely on the orders from its customers. Singapore's heavy dependence on the U.S. and Europe as export customers makes it vulnerable to the slowdown happening with their American and European trading partners. You've heard the slogan about judging a man by the company he keeps? Well, you can judge the prospects of a country by whom it does the majority of its business.
NOTE: South Korea and Japan are also heavy exporters to the U.S. and Europe, so they too will catch a cold if the western economies sneeze.
Singapore is home to some of the most serious investors in Asia.
Investment Tip #1: If you are going to invest in Asia, keep your money in countries that are enjoying budget surpluses, trade surpluses, and growing economies. Such as? China, India, Indonesia, and Taiwan.
Too much robbing Peter to pay Paul: Instead of a wolf in sheep's clothing, Singaporeans see the massive welfare, entitlement and wealth redistribution programs that America is creating and wonder what happened to the American capitalist machine. "America is acting more like France all the time," one attendee told me. I'm sad to say that I agree with him.
Investment Tip #2: Get ready for a rainy day. Build cash, reduce debt, and demand that the politicians who represent you stop spending money like there is no tomorrow.
Greece today, U.S. tomorrow? Pure and simple … Asians are savers. Doesn't matter whether you're talking about Japan, China, or Singapore; Asians are savers and are reluctant to take on much debt. That is true of individuals and even governments in Asia. That's why the attendees at the SIAS conference aren't surprised at Greece's problems, but they expect the same type of debt bomb to blow up in America's face sometime down the road.
Investment Tip #3: If you own any Treasury bonds or government bond funds, you'd better make sure that you keep your maturities under three years MAXIMUM. Less than one year would be better.
A dollar isn't what it used to be. The central bank of Singapore tightened its monetary policy by increasing the band at which the Singapore dollar can trade and shifted its stance to a "modest and gradual appreciation" from zero appreciation of the local currency. I might also add that China has raised the reserve requirements for its bank two times already in 2010 as well as increasing the interest rates on mortgages.
Those are the actions of what a responsible central bank would do to curb speculation and tamp down inflation, something that neither Tweedle Dee (Alan Greenspan) nor Tweedle Dumb (Ben Bernanke) have done. The long-term prognosis for the Chinese yuan and Singaporean dollar is very positive, while the outlook for the U.S. dollar is very grim.
Investment Tip #4: Reduce the amount of dollar denominated investments you own, such as U.S. stocks, U.S. bonds, and U.S. real estate.
China, China, China. 74% of Singaporeans are ethnic Chinese and very familiar with the opportunities in China. When asked to narrow down the one country that they were most optimistic about, the hands down winner was China.
Investment Tip #5: At the end of the panel discussion, the moderator asked each one of the five experts on the panel to sum up their best advice. My advice was to "buy China and buy it tomorrow morning."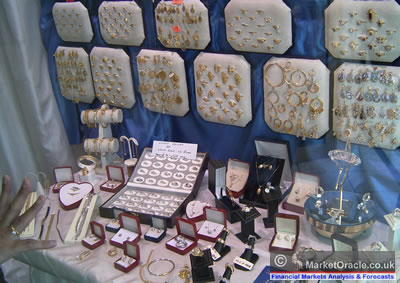 Asians view gold as a storehouse of wealth.
The Yellow Dog. Gold has been hot thanks to the turmoil in Greece, which seems to be spreading to other parts of Europe. While we Americans tend to look at gold as "haywire" insurance and as a hedge against inflation, Asians have a very different perspective of gold. Asians view gold as a central parking place or storehouse of wealth. That's why gold is often given at momentous occasions like weddings, births, and graduations in Asia. Not only did the Singaporean I talked to already own a big chunk of gold, they planned on buying even more.
Investment Tip #6: The price of gold is affected by economic problems, but also by supply/demand. The growing middle class of Asians is going to keep the demand and price of gold high for many years to come.
So what did I learn from my weekend with 25,000 Singaporeans? That the advice I've been doling out in this column has been and continues to be the best way to not only protect you from turmoil in the U.S., but also to prosper from the economic miracle occurring in China and its Asian neighbors.
Best wishes,
Tony
P.S. Don't forget to watch my upcoming video alert this Saturday. I am going to clue you in to the single most important piece of investment information I learned from my Singapore trip.
This investment news is brought to you by Uncommon Wisdom. Uncommon Wisdom is a free daily investment newsletter from Weiss Research analysts offering the latest investing news and financial insights for the stock market, precious metals, natural resources, Asian and South American markets. From time to time, the authors of Uncommon Wisdom also cover other topics they feel can contribute to making you healthy, wealthy and wise. To view archives or subscribe, visit http://www.uncommonwisdomdaily.com.
© 2005-2019 http://www.MarketOracle.co.uk - The Market Oracle is a FREE Daily Financial Markets Analysis & Forecasting online publication.

Only logged in users are allowed to post comments.
Register/ Log in