Silver Heading for Price Crash to $9
Commodities
/
Gold and Silver 2010
Jul 12, 2010 - 06:21 AM GMT


To put it mildly, more than a telescope will be needed to find the silver lining on the silver charts posted in this update.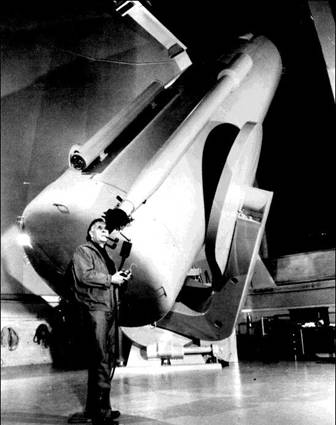 There is quite a bit written about silver being manipulated. If there is any manipulation taking place it appears that Mother Nature is doing the manipulating. As the saying goes, "Don't mess with Mother Nature." I suggest we follow her lead. That means one more decline to below $8.40 an ounce.
"A five-wave impulse (whose subwaves are denoted by numbers) is followed by a three-wave correction (whose subwaves are denoted by letters) to form a complete cycle of eight waves." E.W.P.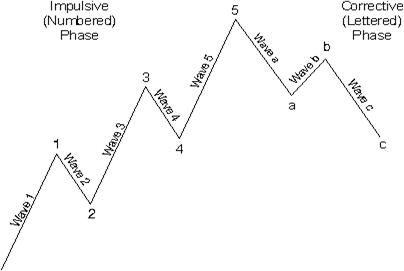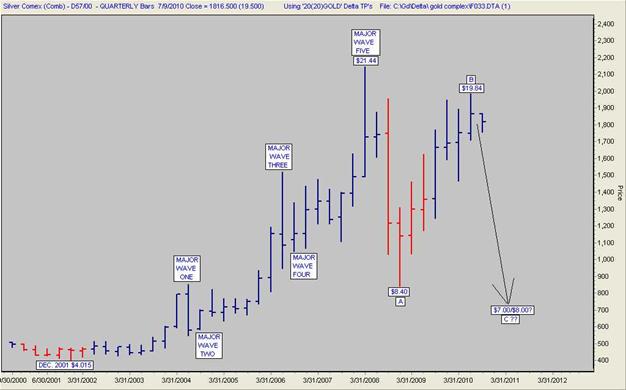 SILVER QUARTERLY
A glance at these charts and one can not help but suspect that, "Something is rotten in the state of Denmark." Just substitute the state of silver for the state of Denmark.
"There's a reason the words, "state of Denmark" rather than just Denmark is used: the fish is rotting from the head down—all is not well at the top of the political hierarchy." www.enotes.com

GOLD YEARLY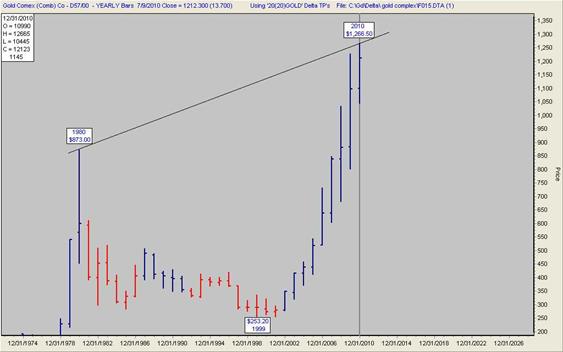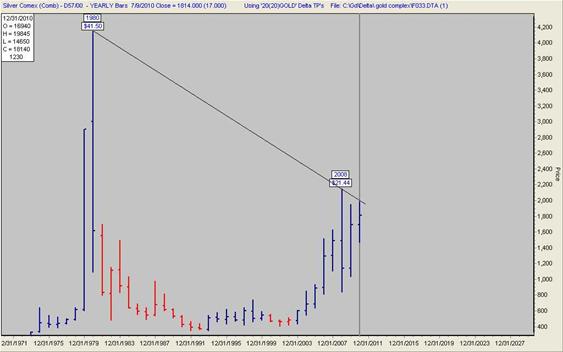 SILVER YEARLY
SILVER WEEKLY
The Long Term Delta turning points are an excellent timing tool. If you want to know just how powerful they really are, read the Delta story by Welles Wilder.
http://www.wilder-concepts.com/theDeltaStory.aspx
The Delta Turning points for the precious metals complex and a number of other important market items are available by subscription to:
THE ROSEN MARKET TIMING LETTER
www.wilder-concepts.com/rosenletter.aspx
SILVER MONTHLY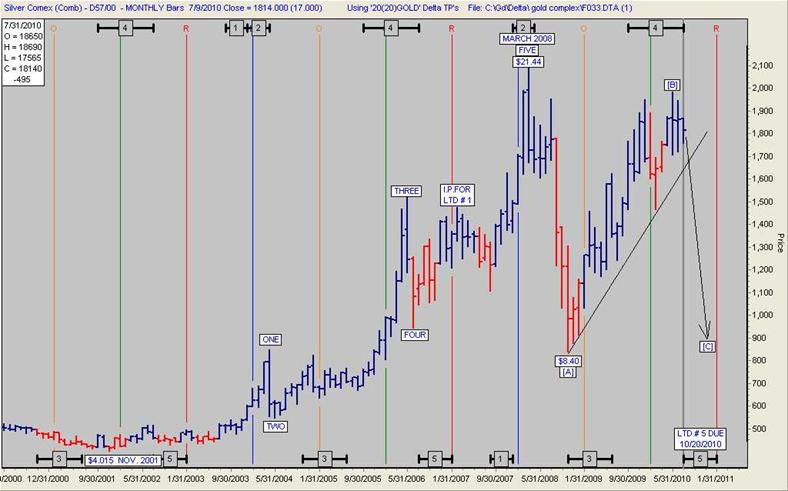 Subscriptions to the Rosen Market Timing Letter with the Delta Turning Points for gold, silver, stock indices, dollar index, crude oil and many other items are available at: www.wilder-concepts.com/rosenletter.aspx
By Ron Rosen
M I G H T Y I N S P I R I T
Ronald L. Rosen served in the U.S.Navy, with two combat tours Korean War. He later graduated from New York University and became a Registered Representative, stock and commodity broker with Carl M. Loeb, Rhodes & Co. and then Carter, Berlind and Weill. He retired to become private investor and is a director of the Delta Society International
Disclaimer: The contents of this letter represent the opinions of Ronald L. Rosen and Alistair Gilbert Nothing contained herein is intended as investment advice or recommendations for specific investment decisions, and you should not rely on it as such. Ronald L. Rosen and Alistair Gilbert are not registered investment advisors. Information and analysis above are derived from sources and using methods believed to be reliable, but Ronald L. Rosen and Alistair Gilbert cannot accept responsibility for any trading losses you may incur as a result of your reliance on this analysis and will not be held liable for the consequence of reliance upon any opinion or statement contained herein or any omission. Individuals should consult with their broker and personal financial advisors before engaging in any trading activities. Do your own due diligence regarding personal investment decisions.
© 2005-2019 http://www.MarketOracle.co.uk - The Market Oracle is a FREE Daily Financial Markets Analysis & Forecasting online publication.
Comments
dincer
12 Jul 10, 09:54
My reaction to your forecast


If silver price even comes under $10, I am sure Chinese government and investors will buy as much silver as they can. All over the world there are tens of thousands of speculators (20 or 30 years ago we could see them only in Western countries), each one of them owns a cash or cash-like portfolio worth $5-10 millions. If half of them allocate 10-15% of their portfolios to physical gold or silver, not in order to make money or profits but as an insurance policy, we cannot find any gram of precious metals anywhere but blackmarket (it is indeed a free market)



frank johnstone
18 Jul 10, 16:54
missing legs


the poorhouse is full of people who relied on technical analysis alone. Fundamentals are as important at these junctures as well as investor sentimant.

The canadian and Australian housing markets are good examples of this fact. Both are putting on an other upleg in their bubbles and this contary to what technial anaylsis predicted. Why? The human factor.



Josh Burnett
19 Jul 10, 13:33

Technical analysis relies on mathematical equations, rarely are all variables accounted for. You see the exact same scenario with weather, and there's a reason meteorologists have a reputation for being unreliable.

Fundamentals, supply and demand, fundamental psychological nature (the human element) of supply and demand, instability of fiat currencies, etc all disagree with your single set of technical charts. I think you've gotten this one wrong; not because you're charts are inaccurate in and of themselves, but you've missed about 80% of the variables.

Even if silver does go down to $8.40 it will be the buying opportunity of a lifetime.



mike
10 Mar 11, 20:41
silver


i hope you are not working for the goverment.



mike
10 May 11, 17:54
silver


Some people just don't get it no matter what, and yes you are one of them. Silver is going to continue to go up no matter what the goverment does. They can manipulate all they want. In the end it will do them no good. Hope you are not working for the goverment. You did make me laugh $8.40 an ounce? or $840.00 an ounce hahahahahahahahah!!!!



truthhurtsss
11 May 11, 07:02
don't be so hard on him


Hey, Mike don't be so hard on the poor man. There is a chance that one day he may be right. Probably after silver has made a round trip up (to..???? I am not trying to be too smart to even try to guess that level!) and then down again.

He has been trying very very hard for the last one or two years and you should give him a chance. After all he is probably only playing a game of forecast and not trading. 'Cos any real trader would have lost his shirt and pants by now trying to following that path...




Only logged in users are allowed to post comments.
Register/ Log in