Pakistan Value and Growth Investment Opportunity,A Contrarian Investor's Paradise
Stock-Markets
/
Pakistan
Jul 13, 2010 - 04:55 PM GMT


BMA write:
Pakistan offers a unique investment opportunity given its geographical location
Lowest cost land route to Central Asian countries
Location advantage promoting infrastructure development
Pakistan has the potential to become one of Asia's premier trade, energy and transport corridor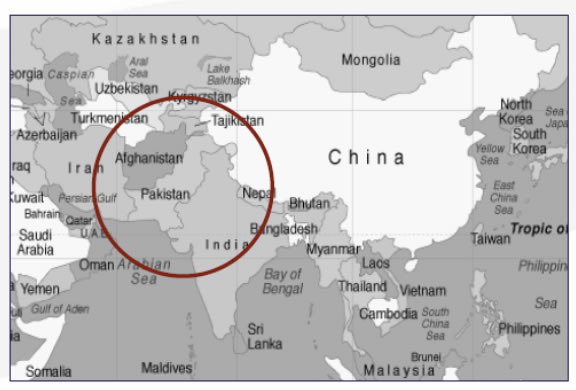 Pakistan's Growth Theme
GDP growth – Projected at 4.5% in FY11 as the LSM sector continues to recover
Demographics – 55% of the population is under the age of 19, which bodes well for aggregate demand
Infrastructure – Investments to ease power and housing shortages will drive future growth
Location – Strategically placed to become Asia's premier trade, energy and transport corridor

Pakistan Stock Market Theme
One of the best performing markets in the world over the last 12 years: Investing USD 100 after Pakistan went nuclear would have outperformed BRIC markets and gold
KSE100 is amongst a handful of markets that are positive in CY10
Sustained growth in company fundamentals – Cement, Banks, Auto, Energy and Fertilizer
Valuations are trading at large discounts to the region
Domestic capital inflows continue to underpin market performance – Foreign funds now own 30% of the free float
Future outlook for Pakistan's Stock Market is bullish

BMA Pakistan Opportunities Fund
Unique opportunity for international investors to take exposure to Pakistan's growth story
The first open end fund for Pakistan which is US $ denominated and listed on a European exchange
Outperformance against MSCI Pakistan
Portfolio strategy focus on value and growth stocks
GDP / Capita (US$ PPP Based) growing at ~ 6% p.a for 10 yrs
Nominal per capita income currently stands at PKR79,896 (US$ 1,040), yet Pakistan's GDP per capita, when adjusted for PPP stands at US$ 2,538 – according to WB (~0.3% of the world economy)

Pakistan's nominal GDP grew by CAGR of 17% for last 10 years to reach PKR15,203bn (US$ 179bn), yet on a PPP basis, Pakistan will achieve the a GDP on a PPP basis of over US$700 bn by 2015.

Despite international political disputes and internal structural issues, Pakistan has posted strong growth over the recent decade. A high degree of economic resilience, foreign investment and focused pro-investment policies during this period helped average over 5.0% GDP growth
Market Cap / GDP PPP – Pakistan has the most room for growth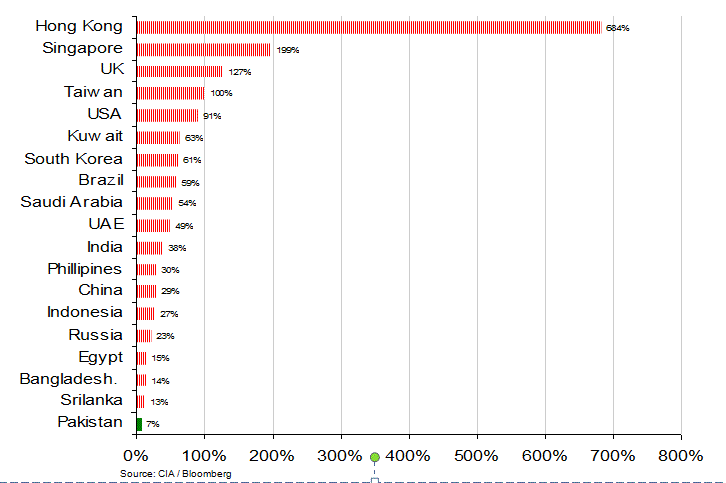 Pakistan has the lowest Market Cap / GDP PPP out of a wide selection of countries, Pakistan has the most potential to grow
Buying Pakistan in Times of Pessimism – Post Nuclear to 2010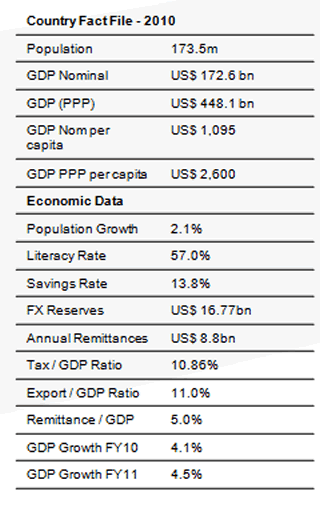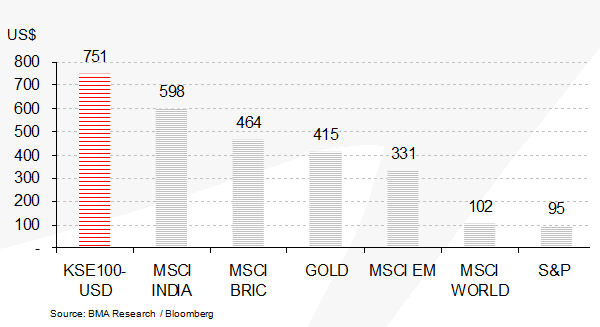 12 years later, a comparative price performance in US$ terms highlights that any investor who invested in Pakistan at the time of maximum pessimism, would have gained by over 60% in US Dollar terms and done better than any other asset class. Investing for the long term in times of pessimism is perhaps the best strategy for Pakistan
12 Year Performance Comparison of Different Asset Classes put Pakistan at the top. The table above shows a comparison of different asset classes from October, 1998 to 30 June, 2010
Investing US$ 100 in Pakistan after the fallout from the nuclear blasts would have outperformed everything else in your portfolio, including BRIC, MSCI India and Gold.
A similar opportunity is now approaching!
What about the future? Wave Count Suggests New Highs
Whilst few investors would have bought Pakistan after it went nuclear, we believe, the latter part of 2010 or early 2011 will again offer a similar opportunity
Just like in the late 1990s few will spot the opportunity and buy a market that has all the ingredients of a bull market, the contrarian investor will take the decision to enter during times of pessimism and remain invested from a long term perspective.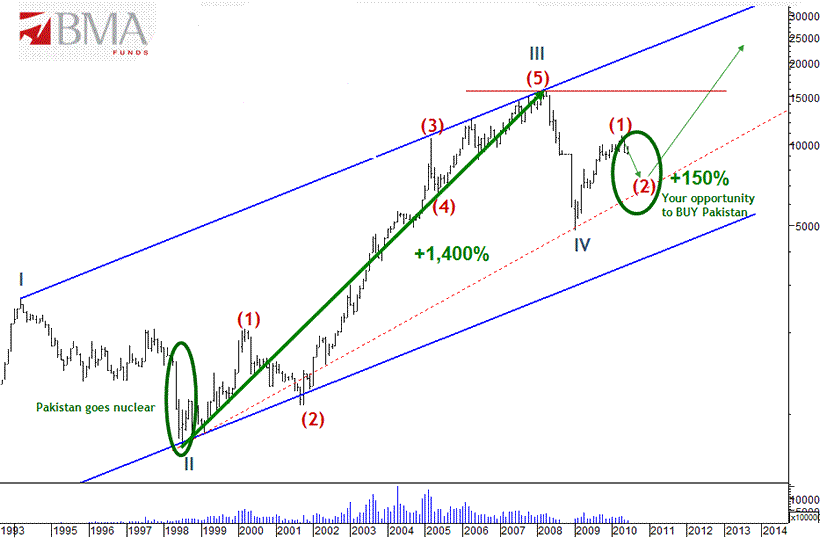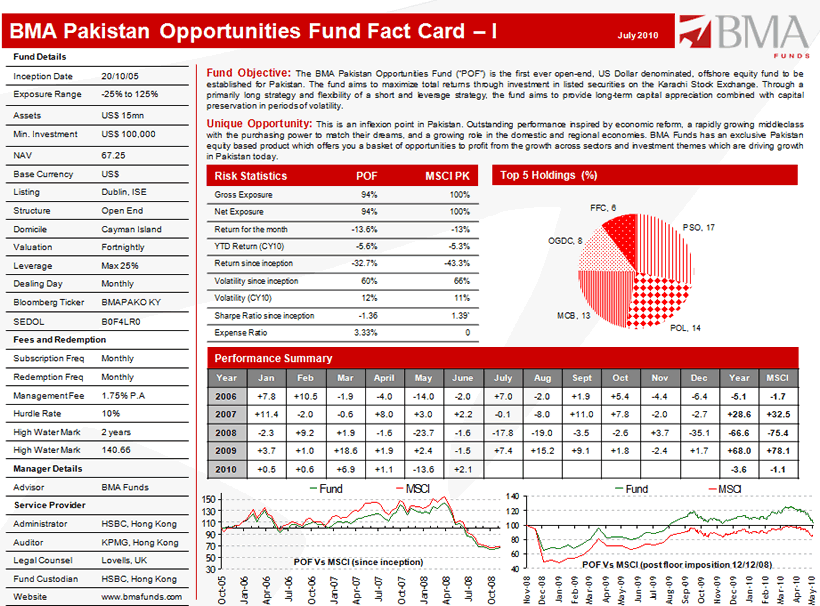 BMA Pakistan Opportunities Fund Fact Card - II

BMA Group: BMA was founded in 1991 and is currently a leading financial services group in Pakistan. The Group has four main areas of focus including Asset Management, Stock Brokerage, Corporate Finance and Financial Products Distribution. As a firm, BMA has participated in landmark privatization transactions and is to date the No. 1 advisor on Government of Pakistan Privatizations. BMA Capital has the distinction of having worked Co-Lead Manager with world class organizations like Goldman Sachs, Citigroup, JPMorgan and Credit Suisse. BMA is also one of the leading providers of world class brokerage services to international broker dealers and fund managers who have investment programs in Pakistan. The shareholders of BMA include Abraaj Capital, a leading Private Equity Firm based in UAE and focused on the MENASA region and its Founding Partners.

BMA Funds: The Asset Management business, BMA Funds, is a separate legal entity, and is a licensed asset manager by the Securities and Exchange Commission of Pakistan. The firm manages a total of US$ 100m in the domestic equity and bond markets and is a market leader in providing institutional asset management to some of the leading public and private sector corporate Retirement Funds including Pakistan State Oil, ICI Pakistan Limited, GlaxoSmithKline, Pakistan National Shipping Corporation, Indus Motors (Toyota's Local Joint Venture Partner) and Pakistan Human Development Fund. BMA Funds is rated by Japan Credit Rating Agency in Pakistan in the AM2 Category for Management Quality Rating. The Rating Scale is from AM1 to AM5, and this is the highest category attained by a Pakistani Asset Management company.

Fund Manager and Team: Muddassar Malik, Co-Founder, CEO and Executive Vice Chairman, heads the Pakistani investment team consisting of a Chief Investment Officer, three fund managers and two research associates. Muddassar Malik, CEO has experience of 20 years in Pakistan's capital markets. He holds an MBA from MIT Sloan School of Management and B.Sc (Hons) Economics from the
London School of Economics. Iffat Mankani, CIO has over 10 years of experience in research and fund management having managed over US$ 1 bn in her previous roles. She holds a MBA from the Institute of Business Administration, Pakistan. Farrukh Hussain, Fund Manager has had over 15 years of experience in managing equity funds for a private family office. He has an excellent understanding of markets in Pakistan and holds an MBA from the University of East Manila, Philippines. Bilal Khan, Fund Manager has over 7 years of experience in Pakistan and specializes in technical analysis and market strategy. He holds an MBA from the Lahore School of Economics, Pakistan.

Management Style: At 30 June, 2006, POF's portfolio consisted of over 20 names and the top 10 concentration was at 65%. As at 30 June, 2010, POF's portfolio was concentrated in 13 names and the top 10 concentration was very high at 85%. This shift in concentration represents the change in conviction style of management which focuses on high quality companies in Pakistan, with strong growth prospects. Both absolute and growth criteria are used to identify stocks. Stocks are purchased on a 2 year view and managed actively for volatility. The Fund adopts a core and tactical approach to its management whereby, the core portfolio is looking at long term fundamental factors for buying and selling stocks. For example, price should represent a discount of at least 25% to fair value, companies should represent sustainable earnings, cash-flows and ROE's. The tactical portfolio is more active in its decision making and will take more aggressive positions with respect to cash in periods of uncertainty.

Performance Analysis: Against a backdrop of a turbulent economic environment, the fund has managed to post a return of +65.8% during the last 18 months since 1 January 2009 to 30 June 2010. During this period, the MSCI Pakistan Index has shown a movement of +76.2% . POF ranks 5th amongst its peers over the last 18 months period and 1st over the last 12 months. POF also ranks comfortably in the top quartile over the last 2 years. The recent 18 month performance has been possible by adopting a value and growth oriented investment approach with greater bias to large cap, liquid stocks. Under the new management style, stock selection has been the prime driver of performance, helped by an active asset allocation strategy between the core and tactical portion of the overall portfolio. The cash component has varied between 0% to a high of 30%.

Risk Management: Risk is controlled pragmatically with usually no more than 30% invested in any particular sector and not more than 20% invested in one single stock. Currently, over 90% of the portfolio is invested in large caps. The key decision makers are responsible for risk management and the Fund also has a risk compliance officer who is in daily / weekly contact with the Fund Administrator to ensure that risk compliance parameters are being met. Risk is measured through the Sharpe Ratio. In order to mitigate the currency risk, the Fund takes an approach to invest in those sectors which are devaluation positive in the medium term and hence is able to provide a zero cost economic hedge to the Fund.

BMA Funds: Contact Persons
Muddassar M. Malik mmm@bmafunds.com

Iffat Mankani iffat.mankani@bmafunds.com
Bilal Khan bilal.khan@bmafunds.com

General Email pakfunds@bmafunds.com
© 2010 Copyright BMA CAPITAL - All Rights Reserved
Disclaimer
This presentation is for market research purposes only. It is not an offer of securities and must not be construed as an offer to sell or an invitation to subscribe to any securities or other financial products in any jurisdiction or country. Investment in BMA Pakistan Opportunities Fund can only be made by completing an application form attached to the appropriate offer document. Information contained in this document is not intended to be securities or financial product advice and should not be relied upon as such. The repayment of an investment in and the performance of funds managed by BMA Asset Management Limited is not guaranteed by BMA Asset Management Limited, any organisation or any person. The potential investment is subject to investment risk, including possible delays in repayment and loss of income and principal invested. Past performance is not indicative of or a guarantee of future results. This presentation is intended as a general outline only and is not a definitive statement on the subject matter.
© 2005-2019 http://www.MarketOracle.co.uk - The Market Oracle is a FREE Daily Financial Markets Analysis & Forecasting online publication.
Comments
Mustafa Pasha
14 Jul 10, 23:46
Information arbitrage


Very interesting presentation, which has shed new light on the abundance of opportunities available in Pakistan. Valuations especially seem to be very attractive and i think are a result of the information arbitrage, where investors are averse to taking exposure in the Pakistani market. I hear that the Karachi stock exchange is one of Mark Mobius's favorite markets. I read somewhere that the KSE100 is trading at a 50% discount to the region, that indicates significant upside!



adil siddiqui
09 Feb 11, 17:50
investing in pakistan


this is a great performing market, all fundamentals are in its favour. what are the best stock picks




Only logged in users are allowed to post comments.
Register/ Log in