Stock Market Mixed, Narrow Close to Choppy Session
Stock-Markets
/
Stock Markets 2010
Jul 15, 2010 - 04:24 AM GMT


The stock market indices ended near the zero-line today and were mixed and choppy. The day started out with a move up off the opening, followed by a quick pullback that held support, and then they were off to the races again. The indices had a sharp move on the Nasdaq 100, twice making new rally highs, but the S&P 500 did not cooperate and could not even get over yesterday's late high.
At that point the negative divergence resulted in a rollover pullback that saw the NDX drop from 1864 down to 1841. The SPX dropped from 1099 down to 1087.50. They did bounce in the afternoon, got to resistance and backed off, but then came on again in the last 10-15 minutes to close near the afternoon highs, but only mixed on the session.
Net on the day, the Dow was up just 3.70 at 10,366.72, the S&P 500 was actually down 17 cents at 1095.17, and Nasdaq 100 was up 8.38 at 1853.41.
Advance/declines moved negatively in the afternoon and stayed that way with a 16 to 13 negative plurality on New York Stock Exchange and about a 15 to 11 negative ratio on Nasdaq. Total volume was about 1 billion on New York with about a 3 to 2 negative ratio. Up/down volume on Nasdaq was 1.3 million issues to the upside and 820 issues down, about a 13 to 8 positive ratio, on total volume of 2.1 billion.
Charts of the Day:
ADTRAN Inc. (ADTN) has been in a nice rising channel, like most stocks since the end of 2008, when it was trading around 12. This stock reached near the 30 level in April, backed off, came on again, and now today had a price breakaway gap, a surge that took it up 2.38, or 8.25%, on 5.5 million shares, by far the heaviest volume this year on any one day going back several years as well. Perhaps it's an initiation of an uptrend or at least a new phase of the current uptrend. In any case, resistance around 33 1/2, my trading target up around 37.
Acme Packet, Inc. (APKT) continues to do well. It had an exceptional day today jumping out of its consolidation range across key resistance at around 30.65 and exploded up to 32.40, closing at 31.85, up 1.71, or 5.7%, on 2 3/4 million shares. That's the heaviest volume in about 6 weeks. Significant enough I think that Acme Packet could make it to the mid-30s short-term, intermediate-term up in the low 40s.
Applied Signal Technology, Inc. (APSG), which we featured a couple times, continues to trade low volume, but built a beautiful technical pattern after a big down trend. The stock dropped from 27 down to 17, built a base out over the last several months, popped a week and a half ago, formed a flag, and then broke out of that flag today. It gained another 27 cents on low volume. But it appears that a new trend in on its way as lateral price resistance has been taken out. There is some additional price resistance just above there in the 21 1/4 range, but I have the trading target at 24 1/2 - 25, the Sept - Oct 2009 highs.
Star Scientific, Inc. (CIGX), which had a big run we participated in February and March, then came down from the 3.69 area to near 1. It's been basing out over the last several months, and today late in the day it surged on 2.4 million shares, the heaviest volume in about 3 weeks, and ran up to near overhead resistance around 1.95. If that line is taken out, and I'm anticipating it will be, I'm looking for a run that takes this back up to test the 2.93 zone, maybe as high as 3.50-.60, which are our two trading targets going forward.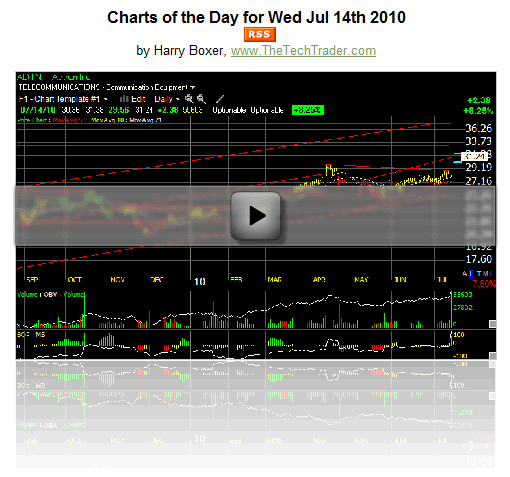 Reviewing our Watchboard:
So, it was a mixed session, to say the least, and as a result the vast majority of stocks on TheTechTrader.com board were narrowly mixed. There were very few point-plus changes today, but among those were Acme Packet, Inc. (APKT), reaching an all-time new high today, up 1.72 at 31.86. Trina Solar Ltd. (TSL) was up 1.02 at 21.80, and portfolio position Westport Innovations Inc. (WPRT) up 1.15 at 17.95.
Google Inc. (GOOG) jumped 2.14 to 491.34, but most of the other large-cap stocks were narrowly changed. Apple Inc. (AAPL) was up just 93 cents today, and Amazon.com Inc. (AMZN) was off 35 cents, so you can see very narrow changes, even in the larger higher-priced stocks.
The only point-plus loser on the board today was Goldman Sachs (GS), down 1.19 to 139.06.
Other stocks of note on the plus side include Isilon Systems, Inc. (ISLN) up 61 cents to 14.59, Keryx Biopharmaceuticals Inc. (KERX) up 55 cents to 4.11 on 7 million today, L&L Energy, Inc. (LLEN) 42 cents to 10.02, OmniVision Technologies Inc. (OVTI) 52 cents to 22.97, and RINO International Corporation (RINO) 47 cents to 14.41.
New portfolio position iPath S&P 500 VIX Short-Term Futures ETN (VXX) was up 93 cents at 25.93, while the Direxion Daily Financial Bear 3X Shares (FAZ) was up 29 cents at 14.03.
Stepping back and reviewing the hourly chart patterns, the indices were up in the morning, down mid-day, and back up in the afternoon to close near mixed on the day. The positive thing about the day is that price and moving average support on the hourly charts held key levels.
We'll see if they can extend this tomorrow or whether those support levels that held today finally do give way and we pull back a little more.
Good Trading!
Harry
For more of Harry Boxer, sign up for a FREE 15-Day Trial to his Real-Time Technical Trading Diary. Or sign up for a Free 30-Day Trial to his Top Charts of the Week service.
(c) 2010 AdviceTrade, Inc. All rights reserved. Distributed only by written permission of AdviceTrade and The Technical Trader at info@advicetrade.com . In using any portion of Harry Boxer's content, you agree to the terms and conditions governing the use of the service as described in our disclaimer at http://www.thetechtrader.com
Mr. Boxer's commentaries and index analysis represent his own opinions and should not be relied upon for purposes of effecting securities transactions or other investing strategies, nor should they be construed as an offer or solicitation of an offer to sell or buy any security. You should not interpret Mr. Boxer's opinions as constituting investment advice. Trades mentioned on the site are hypothetical, not actual, positions.
© 2005-2019 http://www.MarketOracle.co.uk - The Market Oracle is a FREE Daily Financial Markets Analysis & Forecasting online publication.

Only logged in users are allowed to post comments.
Register/ Log in