Gold, Tea Party, Glenn Beck and Covert Operations
Politics
/
US Politics
Aug 28, 2010 - 11:45 AM GMT


Subscribers to the AVA Investment Analytics newsletter might recall a few months ago I criticized a nonpartisan think tank for its sudden departure from meaningful discussions related to America's insidious trade policy. Incidentally, abandonment of the organization's position on the detrimental effects of unfair trade coincided with the appointment of its head figure to a top advisory position in Washington.
If I had not been sensitive to the issues of trade, and if I had not been following this think tank for some time, I would not have noticed the organization's internal gag order on trade issues since their top man departed for the White House.
From this experience I was reminded that you must always remain on-guard with respect to ALL sources you have come to trust in the media (if you can find any), including "think tanks" that claim to be nonpartisan.
Nonprofit think tanks are required to be nonpartisan in order to qualify for their tax-exempt status. In reality, I have not been able to identify a single nonpartisan think tank in all of my efforts.
What does that mean to you? You must be careful what you read because there is always a partisan spin on everything. The partisan spin is evident in the media. It's less conspicuous in think tanks.
Most of you probably look to the financial media for news and information about the economy and stock market. As I have cautioned readers many times in the past, you need to resist this urge because it will do you more harm than good.
The Internet is even worse because virtually everyone with a blog feeds off of the media without truly scrutinizing what's been said when they write "their own" commentaries. This epidemic has spread throughout the entire Internet.
Still, the Internet serves as your best source of information because you are provided with a full array of content, allowing YOU to decide what is true and what is false. The problem is that most people either lack a sufficient understanding of things so they are easily fooled, or they simply have poor judgment and/or reasoning skills.
If you are unable to find a source of unbiased information and insight, my advice to you is to simply stay away from all forms of media. The problem is that most people think they have found a credible and unbiased source, only to be proven wrong down the road, after it's too late.
Some might state that I'm a hypocrite because I myself utilize the media, right? Well, not exactly. First of all, as many of you know, I don't watch television because it's the absolute worst source of news and information. If you want lies and spin, the television is your best source. As well, I mainly look at raw data from a variety of sources, none of which includes the media.
When I do access the media, it's by accident because I read publications based on a subject search. It's not like I pick up the Wall Street Journal and start reading it because I don't. I never read it even when I worked on Wall Street and received free copies.
Furthermore, I'm in the business of sniffing out the bull. I do research and analysis as a profession, and I have for over two decades, so the media does not pose as a detriment to me. Over the years, I've developed the ability to sift through all of the spin, lies and other bull. Many of you are not likely to have developed this skill simply because you lack sufficient experience. Finally, it's also easier for one to detect spin and extreme views that have no real basis when you already know the facts in advance.
Most people read newspapers and watch televised financial networks because they want to understand what's going on. They feel compelled to watch or read something because they hold the belief that it's better than not knowing what's going on. This reasoning is understandable. The only problem is that they assume they will get unbiased news and valuable insight from the financial media. This assumption can prove to be very costly.
It's always better to not know about something than to be brainwashed with deceit and manipulated with lies. The most intelligent individuals I know do not watch television or read newspapers.
Without a doubt, no one person or source will always be right all of the time. All we can hope for is integrity and lack of bias. That is the only guarantee I can make to you. You're certainly not going to get that assurance from the media.
Recently, I ran across a spectacular article written by Jane Mayer of the New Yorker, entitled Covert Operations. It's a long article, but one you aren't likely to take your eyes off until you've read the last word. The article discusses the backing of the Tea Party Movement and several supporting nonprofit organizations by the billionaire Koch family.
You might recall previous discussions where I made claims that the Tea Party had been spearheaded by republican influences. Despite the fact that Tea Party members lack an adequate understanding of complex issues, such as the economy, healthcare, solutions to the economic collapse, and even less complex issues, such as the role of government regulation, they have taken strong positions while making inappropriate references to the U.S. Constitution. As a result, they have defamed the Constitution.
The effectiveness of their tactics has resulted in the manipulation of millions who are desperate to change the status quo in Washington. The problem is that the Tea Party movement has been designed to strengthen the status quo while providing voters with the illusion that republicans will save the day. It should be clear by now that the Tea Party movement has been hijacked by republican and corporate interests.
The sad thing is that Tea Party members don't have a clue they've been had. They actually think they're fighting for a real difference in their lives. The only thing they're fighting for is more corporate fraud, industry collusion, exportation of jobs and exploitation, as well as a continuation of the Washington mafia, and they don't even realize it.
The New Yorker's Covert Operations is a critical read because it nails down the genesis and backing of the Tea Party, as well as the motives of its primary backer. And it's not a pretty picture. The investigative journalism was so thorough that I subscribed to the New Yorker after reading the article.
You might also recall my mention of another great article published by the New Yorker last year, discussing medical overutilization as one of the causes of healthcare inflation, "The Cost Conundrum."
As many of you can imagine, it's a huge deal for me to subscribe to any media publication because I place this industry in the same garbage bin as the financial industry. I've never subscribed to a newspaper. And it's only the second time I've subscribed to a magazine in my entire life. It's been 12 years since I subscribed to any publication.
Despite my views, I like to think that I am open-minded. Even in the darkest ally, you can sometimes find safety. When I see quality journalism, I'll not only acknowledge it, I'll support it financially because it's so rare today. Without your support, the few who dare to expose the truth won't have a means to persist.
Some might claim the author's underlying motivation for the article was to support a pro-Obama agenda.
What's my response?
Facts are facts. And I've personally verified much of what the author has stated, although I am in disagreement with the author's (apparent) position on global warming.
Besides, I don't think a journalist would be foolish or careless enough to make statements about a very wealthy and powerful man if she wasn't absolutely positive these things were true.
Please have a look at Covert Operations. After you've read it, you'll always be suspicious of all nonpartisan nonprofit think tanks. With regards to the Tea Party movement, I've known all along it wasn't what it seemed. Mayer's well-researched article has now added another dimension to the plot.
Finally, if you like the article as much as I did, you might consider subscribing to the New Yorker, as I have done. Now if I placed click ads for the magazine on my site, you might be suspicious. But as you can see, I have no ads (I can't speak for other sites where this article might be placed). The best endorsement comes when there is no money involved, right?
So is this an endorsement for the New Yorker? Yes, at least for a year. They deserve a shot.
But alas, the plot thickens.
On the heals of an August 26-27th rally in Washington organized by Americans for Prosperity, Glenn Beck has scheduled his own event on August 28th in order to engage in more self-promotion, while leveraging the Tea Party puppets by his side.
And of course, the voice of the Tea Party sheep and the brainless puppet for the neo-cons, Sarah Palin will be a keynote speaker at Beck's event.
Several nonprofit, nonpartisan organizations funded by the Kochs and other corporate interests like General Electric have aligned themselves with the Tea Party movement. The two most prominent of these groups are Americans for Prosperity and Freedomworks. These organizations have also aligned themselves with Beck, Palin and other media celebrities who support the neo-con agenda.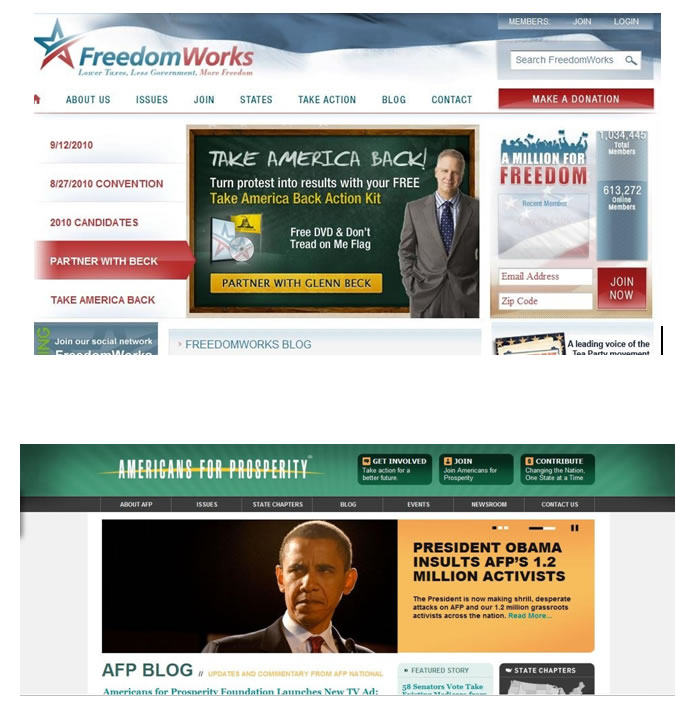 By all means, please donate your hard-earned money to these groups so you can support the Republican Party (neo-con) agenda, because with the republicans in office, things will be so much better.
Of course, this is not at all the case. As the facts reveal, America is run by a Washington mafia disguised as a two-party democracy. Instead of a democracy, America has a fascist government. And that won't change regardless what party is in office.
Both of these Tea Party support groups have taken positions on critical issues like healthcare and various aspects of U.S. fiscal, monetary and economic policy without having all of the facts. But they don't need to understand the facts. Their corporate sponsors determine their positions.
As a test of their motives, I previously contacted both of these organizations offering to educate their leaders in issues for which I have expertise. I spoke with several staff members who were completely in the dark as to the motives and direction of these corporate-backed organizations.
Moreover, they had no idea as to the realities of the healthcare system, the destruction of America by unfair trade policies, the fraud committed by Wall Street, or the importance of real accountability and industry regulation. They had been fed lies and myths by their superiors.
Each of the individuals I spoke with was very receptive and inquisitive as to my position and understanding of the issues. However, I have not heard back from leaders of these organizations, as expected.
In reality, these groups are no different than the media, because they have been bought off. They've even aligned themselves with media celebrities like Beck, Palin, Levine, Hannity and other media plants spreading the neo-con agenda.
We already know Beck's real agenda. Using his television and radio shows as a platform to distribute his radical propaganda, Beck creates drama, lies, uses scare tactics and makes racial attacks. In order to gain full acceptance of his propaganda and create the illusion of validity, Beck has aligned himself with the Founding Fathers and claims to be a defender of liberty and the Constitution.
But all Beck really cares about is making money however he can, even by giving financial advice while recommending gold to the millions of sheep who tune into his show after scaring them with doomsday scenarios.
It's fair to say that the Founding Fathers would distance themselves from Beck's rhetoric if they were alive today, because it's apparent he's exploiting American principles to leverage his own agenda.
Sean Hannity, Mark Levine and several other neo-con media hosts use the same tactic. They drape the American flag around their listeners, while claiming to be an American patriot so as to justify the war in the Middle East. And if you don't support the war then you're not a patriotic American. Similar to Beck, they also leverage the pain and suffering of the American people by holding "freedom rallies" and concerts, charging top dollar, all to "support the cause." That's what you call being taken to the cleaners.
They also create the illusion that Obama is the source of America's problems, while failing to mention that Bush began the bailouts and set the nation up for the depression we see today.
Wherever there are problems in America, they place blame on the "liberals." This blame game fools Americans to believe that republicans have all of the solutions, when the fact is that both parties are fundamentally the same when it comes to issues that matter the most (the war in the Middle East, free trade, a continuation of America's healthcare mafia, etc.). Unfortunately, these rudimentary psychological tactics have manipulated millions of Americans. As an American who has not been fooled by the delusions spread by these malignant deviants, it's as sad to witness as it is pathetic.
If Beck really cared about Americans, ask him why he refused to interview me as far back as 2007, when I tried to warn people about the economic collapse. You'll notice that Beck is only interested in interviewing extremists who have also served to pump up gold after painting fictitious scenarios. Folks, that's not journalism, and it's not entertainment. It's exploitation.
If Sean Hannity and Mark Levine speak the truth, why do their producers (call-screeners) hang up on me after they discover who I am, and state that I'd like to discuss the realities about healthcare, the economy and free trade?
The reason is quite simple. They are afraid to air the truth by qualified experts. The truth would spoil their party. They want extremists who offer no specific guidance, but rather doom and gloom so as to line their pockets with millions of dollars from gold dealers, while carrying out the orders from their neo-con handlers. Their actions do not fall within the confines of Freedom of Speech.
While the Tea Party, Americans for Progress, Freedomworks and dozens of similar groups claim they are grassroots organizations, the facts reveal a different story. Rather than promoting real change, these organizations only offer to swing the pendulum of Washington power back into the hands of the other mafia family, the Republican Party.




By Mike Stathis

www.avaresearch.com
Copyright © 2010. All Rights Reserved. Mike Stathis.
Mike Stathis is the Managing Principal of Apex Venture Advisors , a business and investment intelligence firm serving the needs of venture firms, corporations and hedge funds on a variety of projects. Mike's work in the private markets includes valuation analysis, deal structuring, and business strategy. In the public markets he has assisted hedge funds with investment strategy, valuation analysis, market forecasting, risk management, and distressed securities analysis. Prior to Apex Advisors, Mike worked at UBS and Bear Stearns, focusing on asset management and merchant banking.
The accuracy of his predictions and insights detailed in the 2006 release of America's Financial Apocalypse and Cashing in on the Real Estate Bubble have positioned him as one of America's most insightful and creative financial minds. These books serve as proof that he remains well ahead of the curve, as he continues to position his clients with a unique competitive advantage. His first book, The Startup Company Bible for Entrepreneurs has become required reading for high-tech entrepreneurs, and is used in several business schools as a required text for completion of the MBA program.
Restrictions Against Reproduction: No part of this publication may be reproduced, stored in a retrieval system, or transmitted in any form or by any means, electronic, mechanical, photocopying, recording, scanning, or otherwise, except as permitted under Section 107 or 108 of the 1976 United States Copyright Act, without the prior written permission of the copyright owner and the Publisher. These articles and commentaries cannot be reposted or used in any publications for which there is any revenue generated directly or indirectly. These articles cannot be used to enhance the viewer appeal of any website, including any ad revenue on the website, other than those sites for which specific written permission has been granted. Any such violations are unlawful and violators will be prosecuted in accordance with these laws.
Requests to the Publisher for permission or further information should be sent to info@apexva.com
Books Published

"America's Financial Apocalypse" (Condensed Version) http://www.amazon.com/...
"Cashing in on the Real Estate Bubble" http://www.amazon.com/...
"The Startup Company Bible for Entrepreneurs" http://www.amazon.com...
Disclaimer: All investment commentaries and recommendations herein have been presented for educational purposes, are generic and not meant to serve as individual investment advice, and should not be taken as such. Readers should consult their registered financial representative to determine the suitability of all investment strategies discussed. Without a consideration of each investor's financial profile. The investment strategies herein do not apply to 401(k), IRA or any other tax-deferred retirement accounts due to the limitations of these investment vehicles.
© 2005-2019 http://www.MarketOracle.co.uk - The Market Oracle is a FREE Daily Financial Markets Analysis & Forecasting online publication.

Only logged in users are allowed to post comments.
Register/ Log in