Inflation, Deflation, a Quantum Physics Enigma
Stock-Markets
/
Financial Markets 2010
Sep 07, 2010 - 01:34 PM GMT


The title a quantum physics enigma likely best captures (as opposed to ' A Parallel Universe, etc.') the essence of describing two things occupying the same space at the same time, as is the case with both inflation and deflation within the matrix of our sordid economies. Because this topic is of growing interest at present with deflation spreading into increasing sectors, it does in fact appear timely to take a good look at the condition our condition is in, where parallels in central bank policy compared to the 30's can be made in the sense it might be a 'Fed mistake' (lack of inflation) that sparks the next Great Depression.
Of course if central banks do respond to the risk of deflation spreading across the larger economy with further quantum leaps in quantitative easing (QE), better known as hyperinflation, the nature of the present depression could be quite different from the last, a hyperinflationary depression that would go full circle, so why bother. (i.e. because the bureaucracy will attempt to preserve itself.)
So the great inflation / deflation debate rolls on, with inflationists stuck on the belief the government / central banks will respond to the threat of deflation taking control of the macro conditions, possibly leading to hyperinflation at some point, which in fact will likely occur in response to collapsing asset values, something that appears to be accelerating as we speak. Because we have arrived – arrived at the tipping point of acceleration in the demise of fractional reserve economies – which in the reverse, will bring about a return to a gold standard. Of course some (deflationists) believe gold would eventually succumb to a wider deleveraging in the larger economy. For ourselves, we are not so sure this will be the case, at least not on a lasting basis considering participation rates in precious metals amongst the greater population are still so low. The Gold$eek radio show, featuring Harry Dent Jr. this week, a noted deflationist, offers a great analysis looking at both sides of this equation, which you can find attached here.
And for our own purposes (calculated speculation in select financial markets), we of course find ourselves taking a good gander at the great debate as well given timely considerations playing on larger degree macro-conditions at present. In this regard, and manifest in Figure 1 below, we have the little followed yet profound and ultimate global deflation signal, the monthly Dow / TSX (Toronto Stock Exchange) Ratio, where once a breakout above indicated resistance occurs, we will have confirmation Canada, essentially the only Western economy not taken by the credit crisis yet, has finally joined the party. This, when it occurs, would mark the onset of the second round of wholesale global develeraging, which in turn would likely provide a lasting deflationary backdrop across increasing sectors across the larger economy. For this reason then, you should know the Canadian economy is considered the ultimate leading indicator in this respect by those who bother to watch such things closely, which naturally puts it on our radar screen, where it has been for some time.
The question of course then arises, 'is a breakout immanent right now (see below), running into fall, a characteristically / seasonally bad time of year for stocks, possibly kicking off a larger deflationary sequence as deleveraging grips the macro in profound fashion?' Because you should know that although our increasingly precarious debt markets will definitely be key in defining an eventual larger deflationary sequence, stocks, are still at center in terms of defining just when such a sequence will get underway in earnest. And in this regard it's speculator-betting practices that will dictate when such a sequence will get underway in earnest, which is why have the increasingly perverse wolf market you see today. What's more, and a key consideration in this regard then, with so many expecting a black swan event this fall it likely will not happen, where although I will not show you the updated plots today (expect this Thursday), sentiment readings, as measured by key US index open interest put / call ratios, confirm this view in jumping higher post the August expiry last week. (See Figure 1)
Figure 1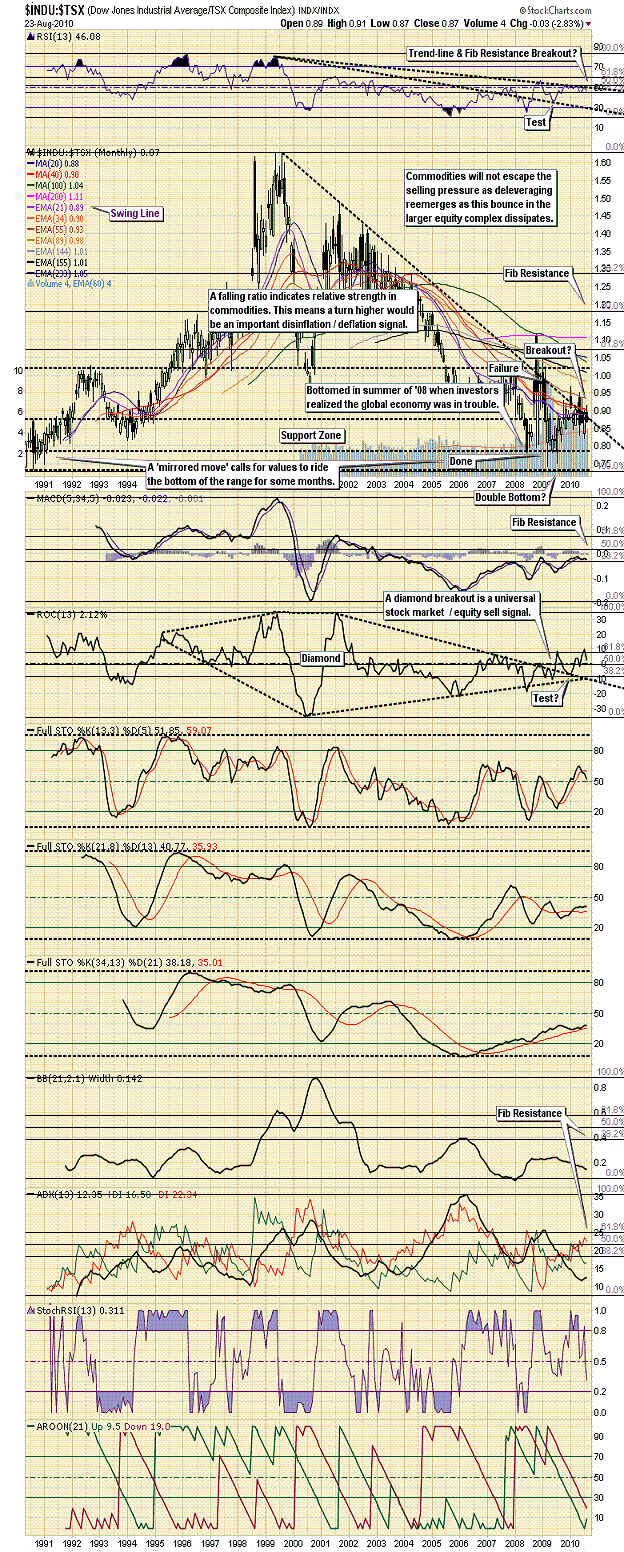 In terms of tipping the balance then, if stocks do in fact remain buoyant, just considering the water that has already gone under the bridge, never mind what's coming, it's now not inconceivable thinking the bond market might be in trouble sooner rather than later, and that some degree of what would be viewed as hyperinflation will spring up. Here, it's particularly important to note that new currency growth rates need not accelerate to see prices rising, only the desire for increasingly hot money that wishes to exit the present fiat currency regimes by purchasing tangibles, and of course the hard (historic) currencies, gold and silver. In fact, considering fundamentals and market internals, it's likely safe to say gold, with silver leading the two, will also likely lead commodities higher, this to the surprise of many at present who consider a deflationary (falling prices) scenario a given moving forward. This is the big message(s) being thrown off by the Gold (and silver) / CRB Ratio already being at historic extremes with so much upside still possible in precious metals due to other factors. (i.e. alternative currency and store of value considerations.) (See Figure 2)
Figure 2

Combine all this with the fact September is the strongest month of the year for gold and silver, and the possibility for a big surprise in precious metals exists moving forward, where after COMEX options expiry this Thursday prices could leap higher. With the ratio of calls to puts at approximately 1.8 at the $1200 strike for gold (see here), a quick trip down to this level is probable, where in fact the bureaucracy's price managers undoubtedly have the computers programmed to take the entire equity complex down prior to this in aiding this effort. Post expiry on Friday however, and likely before, don't expect gold and silver prices to stay down for long given the totality of understandings provided above, especially if the dollar ($) turns lower.
Unfortunately we cannot carry on past this point, as the remainder of this analysis is reserved for our subscribers. Of course if the above is the kind of analysis you are looking for this is easily remedied by visiting our web site to discover more about how our service can help you in not only this regard, but also in achieving your financial goals. As you will find, our recently reconstructed site includes such improvements as automated subscriptions, improvements to trend identifying / professionally annotated charts, to the more detailed quote pages exclusively designed for independent investors who like to stay on top of things. Here, in addition to improving our advisory service, our aim is to also provide a resource center, one where you have access to well presented 'key' information concerning the markets we cover.
And if you are interested in finding out more about how our advisory service would have kept you on the right side of the equity and precious metals markets these past years, please take some time to review a publicly available and extensive archive located here, where you will find our track record speaks for itself.
Naturally if you have any questions, comments, or criticisms regarding the above, please feel free to drop us a line. We very much enjoy hearing from you on these matters.
Good investing all.
By Captain Hook
http://www.treasurechestsinfo.com/
Treasure Chests is a market timing service specializing in value-based position trading in the precious metals and equity markets with an orientation geared to identifying intermediate-term swing trading opportunities. Specific opportunities are identified utilizing a combination of fundamental, technical, and inter-market analysis. This style of investing has proven very successful for wealthy and sophisticated investors, as it reduces risk and enhances returns when the methodology is applied effectively. Those interested in discovering more about how the strategies described above can enhance your wealth should visit our web site at Treasure Chests
Disclaimer: The above is a matter of opinion and is not intended as investment advice. Information and analysis above are derived from sources and utilizing methods believed reliable, but we cannot accept responsibility for any trading losses you may incur as a result of this analysis. Comments within the text should not be construed as specific recommendations to buy or sell securities. Individuals should consult with their broker and personal financial advisors before engaging in any trading activities, as we are not registered brokers or advisors. Certain statements included herein may constitute "forward-looking statements" with the meaning of certain securities legislative measures. Such forward-looking statements involve known and unknown risks, uncertainties and other factors that may cause the actual results, performance or achievements of the above mentioned companies, and / or industry results, to be materially different from any future results, performance or achievements expressed or implied by such forward-looking statements. Do your own due diligence.
Copyright © 2010 treasurechests.info Inc. All rights reserved.
Unless otherwise indicated, all materials on these pages are copyrighted by treasurechests.info Inc. No part of these pages, either text or image may be used for any purpose other than personal use. Therefore, reproduction, modification, storage in a retrieval system or retransmission, in any form or by any means, electronic, mechanical or otherwise, for reasons other than personal use, is strictly prohibited without prior written permission.
© 2005-2019 http://www.MarketOracle.co.uk - The Market Oracle is a FREE Daily Financial Markets Analysis & Forecasting online publication.

Only logged in users are allowed to post comments.
Register/ Log in