Stock Market Nice Start to Week as Indices Hold Most of Their Gains
Stock-Markets
/
Stock Markets 2010
Sep 14, 2010 - 03:08 AM GMT


The stock market indices opened with a bang today on big gaps up, ran up sharply to new rally highs, and backed off mid-day to test. When that was successful, they came on again in the afternoon and went to new highs on the Nasdaq 100, but did not do so on the S&P 500, and then backed off in the last five minutes to peel back from the highs, but still a positive gain.
Net of the day, the Dow was up 81.36 at 10,544.13. The S&P 500 was up 12.35 at 1121.90, and Tthe Nasdaq 100 up 29.33 at 1921.67.
Advance-declines were 3 1/2 to 1 positive on the New York Stock Exchange and 4 to 1 positive on Nasdaq. Up/down volume was about 6 1/2 to 1 positive on New York, with total volume of 931 million shares. Nasdaq had a positive ratio of about 7 to 1 positive with a total volume of 1.8 billion shares traded.
Charts of the Day:
Almaden Minerals Ltd. (AAU), a low-priced stock, popped from 1.00 to 3.00 in the last 3 weeks and stair-stepped its way up with a price-volume surge, a little flag, a second flag, and now another flag. Looks to me like 3.35-ish is the target, perhaps even as high as 4.00, depending on momentum and strength. It has spent about 4-5 days in each of its recent flags, so the timing could be good. We'll see if we get an upside move as early as tomorrow.
Sourcefire, Inc. (FIRE) is on fire. It broke out of the base at the end of August, ran up to secondary resistance, formed a little flag, popped through it, backed off, and flagged again. Today it popped another 1.69, at one point reaching 28.85, which was last week's high. So, we need to get through that to extend it, but I believe this is in the low 30s short-term.
IGATE Corporation (IGTE) had a nice session today, up 1.38, or 8%. You can see that four days ago the stock popped out of its wedge, ran up to resistance, backed off on lower volume, and today came on again jumping 1.38. Target is at 20, which I expect may be reached in the next day or two. That's the top of the channel, and it could find some resistance in that area, but momentum could take this into the low 20s as well.
MakeMyTrip Limited (MMYT), a new IPO from India, exploded after the IPO, formed a big wedge, broke out two days ago, stalled Friday, and today popped 2.89, or 8%. Technicals are surging, and it could spike into the mid-40s short-term, with our trading target at 44-45.
Polypore International Inc. (PPO) is one of our Top 25, with a beautiful long-term rising channel here. This calls for a breakout and a move, and it broke out today, up 1.22, to a new multi-year high. If we step back and look at the pattern, you'll see that it calls for something in the high 30s. So let's call 39 the trading target on PPO.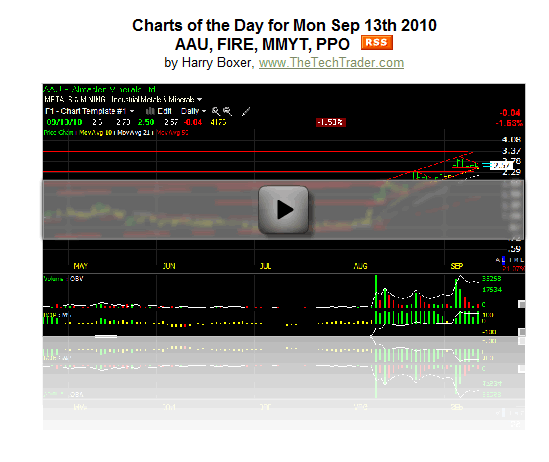 Reviewing our Watchboard:
TheTechTrader.com board, as a result, was vastly higher today. Large-cap leaders included Goldman Sachs (GS) up 3.98 at 154.37 and Apple Inc. (AAPL) 3.63 at 267.04. Cree Inc. (CREE) jumped 1.31 at 50.04, Amazon.com Inc. (AMZN) 2.63 at 145.07, and Acme Packet, Inc. (APKT) 1.59 at 37.65.
Other point-plus gainers included current swing-trade pick Spreadtrum Communications Inc. (SPRD), up 1.14 at 12.43. Blue Coat Systems Inc. (BCSI) gained 94 cents at 21.90, Amtech Systems Inc. (ASYS) 74 cents at 15.67 and Trina Solar Ltd. (TSL) up 60 cents at 28.15.
Other gainers of note, GTSI Corp. (GTSI) advanced 1.71 at 6.90, a large gain for a low-priced stock, as did Gentium S.p.A (GENT) up 76 cents at 6.42. Xenoport, Inc. (XNPT) jumped 1.36 at 7.55, up 22% today, with Sourcefire, Inc. (FIRE) up 1.69 at 28.15, Xerox Corp. (XRX) up 69 cents at 9.81, JinkoSolar Holding Co., Ltd. (JKS) up 2.01 at 26.46, and Georgia Gulf Corp. (GGC) up 1.63 at 16.79.
In addition, VirnetX Holding Corp (VHC) gained 1.01 at 11.16, Valmont Industries, Inc. (VMI) 66 cents at 70.51, and RXi Pharmaceuticals Corporation (RXII) 40 cents at 2.66 in the low-priced sector.
Stepping back and reviewing the hourly chart patterns, the indices gapped up, pulled back, held the gaps and price support, came on again in the afternoon only to pull back in the last five minutes, but held most of the gains for the day. Nice start to the week as key overhead resistance lies just above.
It will be very interesting to see what the market can do now. The NDX was slightly more positive today as a result of Microsoft (MSFT) jumping 1.23 today to 25.08.
It's a key point for the indices, as we're also coming to options expiration weekend. The third week of September is often a tough one for the indices, so it's going to be interesting to see how the indices can fare and hold on here with all these gains they made recently.
Good Trading!
Harry
For more of Harry Boxer, sign up for a FREE 15-Day Trial to his Real-Time Technical Trading Diary. Or sign up for a Free 30-Day Trial to his Top Charts of the Week service.
(c) 2010 AdviceTrade, Inc. All rights reserved. Distributed only by written permission of AdviceTrade and The Technical Trader at info@advicetrade.com . In using any portion of Harry Boxer's content, you agree to the terms and conditions governing the use of the service as described in our disclaimer at http://www.thetechtrader.com
Mr. Boxer's commentaries and index analysis represent his own opinions and should not be relied upon for purposes of effecting securities transactions or other investing strategies, nor should they be construed as an offer or solicitation of an offer to sell or buy any security. You should not interpret Mr. Boxer's opinions as constituting investment advice. Trades mentioned on the site are hypothetical, not actual, positions.
© 2005-2019 http://www.MarketOracle.co.uk - The Market Oracle is a FREE Daily Financial Markets Analysis & Forecasting online publication.

Only logged in users are allowed to post comments.
Register/ Log in