Q.E. Economic Engine Revs But Car Goes Nowhere
Economics
/
US Economy
Sep 28, 2010 - 02:45 PM GMT


The economy is stuck in neutral so stepping on the QE gas pedal is highly unlikely to accomplish much except increase the noise level. Yet, the philosophy at the Fed seems to be, if gas doesn't work, give the engine more gas.
So the engine continues to rev louder and louder, and treasury yields drop, but that does not and will not put Americans back to work.
5-Year Treasury Yields at All-Time Low
Curve Watcher's Anonymous notes Treasury Five-Year Yields Near Lowest Since 2008 Before Auction
Treasuries rose, pushing five-year note yields to the lowest level in almost two years before today's auction, as a drop in consumer confidence spurred bets that the Federal Reserve will increase debt purchases.
Bonds also advanced as an official said the Bank of England should step up quantitative easing and Standard & Poor's said the price of bailing out nationalized lender Anglo Irish Bank Corp. could exceed $47 billion
"The engine is revving, but the car is going nowhere," said Thomas L. di Galoma, head of U.S. rates trading in New York at Guggenheim Capital Markets LLC, a brokerage for institutional investors. "It's the combination of QE and a possible QE2 in England. You've got some sovereign-debt problems, which is also sending a safe-haven bid into Treasuries."
Yield Curve Weekly Close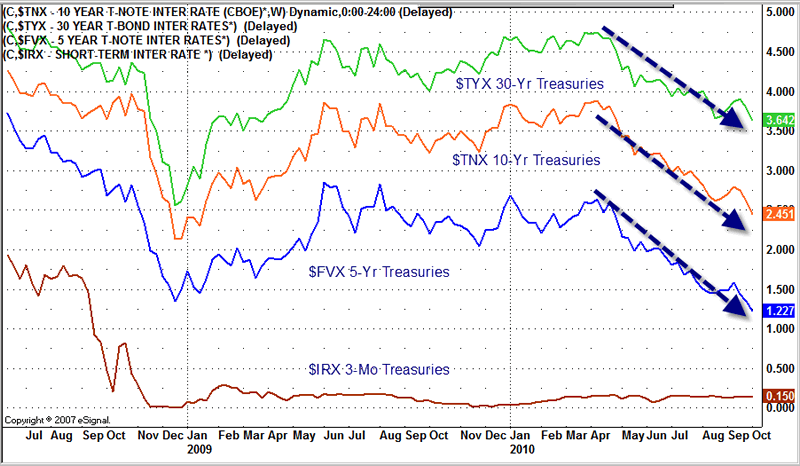 Providing unneeded liquidity may or may not help asset prices (please see Sure Thing?! for a discussion) but if quantitative easing helped the real economy, at some point yields would stop falling.
Clearly the Fed has no clue as to what to do, but it wants to "do something". The only thing the Fed can think of doing (or is willing to do) is have another round of quantitative easing, so the Fed eases whether it makes any sense or not.
The amazing thing here is talk of "Sure Things" regarding equities, with treasuries universally despised.
Of course it is no "Sure Thing" for treasury yields to drop either, but arguably it is more likely given the economic engine is stuck in neutral.
The simple fact of the matter is increased borrowing power or lower interest will not cause business businesses to expand. I have discussed this point at length in

$30 Billion Offer No One Wants - Small Businesses Hit by Deflation
Ass Backwards: Senate to Shelve Bush Tax Cuts for Individuals; House to Pass Small Business Tax Cuts
Response to Nouriel Roubini on "America Needs a Payroll Tax Cut"
Here are a few charts from NFIB Small Business Trends for September.
Prices Received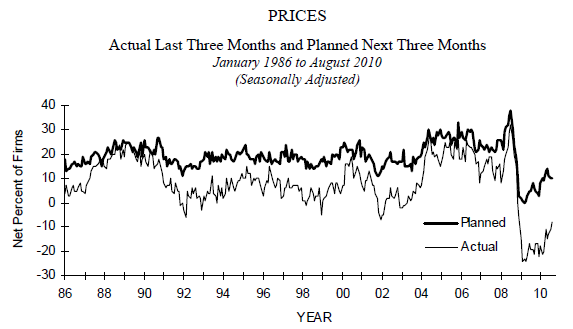 Actual Price Changes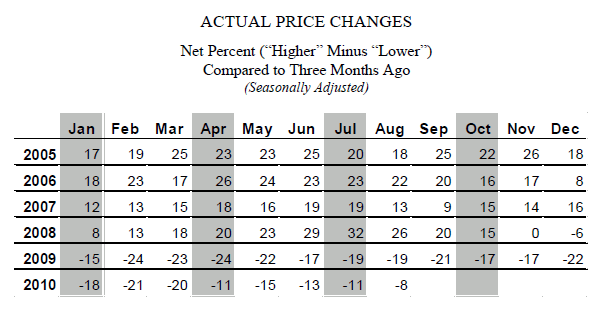 Single Most Important Problem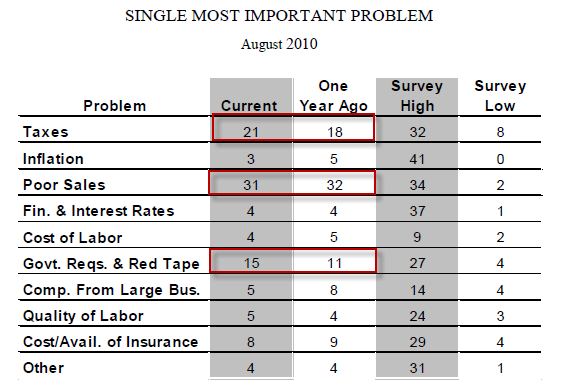 The single most important problem is lack of customers. Access to credit is not even on the list. Small businesses don't want loans because they don't have any customers and prices they receive are falling like a rock.
This is deflation in action, and it is crucifying small businesses.
Floods Everywhere
The response from the Fed is to provide more liquidity. Hell, water is everywhere already. The action in corporate bonds alone proves it. Some think that liquidity will continue to flow into equities.
However, with junk bonds already at parity, it seems to me that gold and treasuries are a better bet.
Regardless, please note how Bernanke's policies have robbed those living on fixed income, now earning 0% on their savings.
Bernanke to those on Fixed Income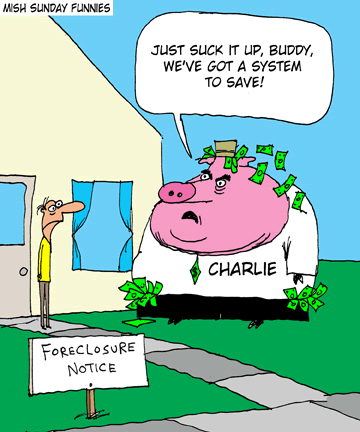 The above cartoon is actually in reference to Amazing Arrogance, Gall, Chutzpa, and Unmitigated Effrontery from Berkshire Hathaway but the same can be said about the policies of Bernanke that destroy the middle class and those living on fixed income.
Yet, here we go again, with another round of QE, another round that cannot possibly do anything positive for the real economy, but try we must because Bernanke does not want to appear like the powerless charlatan that he is.
By Mike "Mish" Shedlock
http://globaleconomicanalysis.blogspot.com
Click Here To Scroll Thru My Recent Post List

Mike Shedlock / Mish is a registered investment advisor representative for SitkaPacific Capital Management . Sitka Pacific is an asset management firm whose goal is strong performance and low volatility, regardless of market direction.

Visit Sitka Pacific's Account Management Page to learn more about wealth management and capital preservation strategies of Sitka Pacific.
I do weekly podcasts every Thursday on HoweStreet and a brief 7 minute segment on Saturday on CKNW AM 980 in Vancouver.

When not writing about stocks or the economy I spends a great deal of time on photography and in the garden. I have over 80 magazine and book cover credits. Some of my Wisconsin and gardening images can be seen at MichaelShedlock.com .
© 2010 Mike Shedlock, All Rights Reserved.
© 2005-2019 http://www.MarketOracle.co.uk - The Market Oracle is a FREE Daily Financial Markets Analysis & Forecasting online publication.

Only logged in users are allowed to post comments.
Register/ Log in