How to Get Even With OPEC When Crude Oil Hits $100
Companies
/
Renewable Energy
Nov 14, 2010 - 07:31 AM GMT


The meeting of the G-20 in Seoul this week still has not produced a solution or agreement to end the global currency war that is ensuing.
Because of the lack of a global currency solution from the G-20 and being that crude oil prices are fixed to the U.S. dollar... we can expect a weak dollar to equal high crude oil prices. West Texas Crude hit $88 a barrel on Thursday, after OPEC revised its 2011 demand growth forecasts upward.
The fact that the U.S. is slowly on the road to recovery and China is continuing its rapid expansion, demand from the two largest energy and crude oil users is on the rise, further increasing demand for the black gold.
Of course, our "friends" over at OPEC, who are allegedly entrusted with keeping crude oil prices stable, know full well that if consumers are getting "healthier" and inflation is looming, $120 oil may become a "fair" price. I was always amused at how they always seem to tell us that wherever crude oil is priced at is "fair".
Thanks for that, OPEC, glad you're on our side.
The reality is that demand is increasing and even with all the "green" technologies out there, no substantial short-term solution to the globe's insatiable appetite for crude oil has been discovered.
Looking at the chart below, you see a comparison of the DXY (Dollar Index), USO (oil) and the DBA (soft commodity ETF).
If you notice, both the U.S. dollar (black) and commodity prices (red) are right around their late 2007 levels. But crude oil (green) is still quite a bit lower than the other two. I wouldn't be surprised if that relationship returned to its previous level, which would put oil at least at $100 a barrel, if not much higher.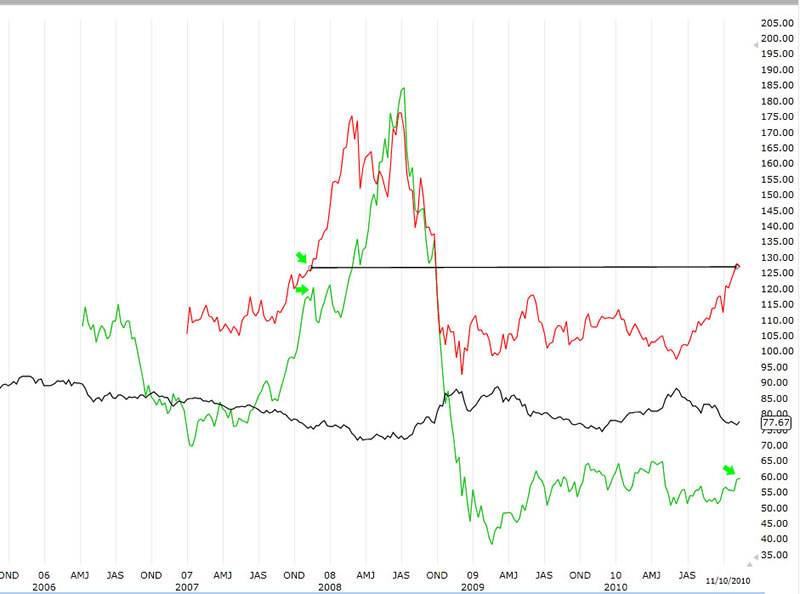 Where Can You Profit?
While crude oil continues to rise, and I believe it will over the next year, you should position yourself not only in the pick-and-shovel companies like Transocean (RIG:NYSE), but perhaps in alternative energy companies that are relatively inexpensive and will be sure to benefit from a rise in alternative energy costs.
Solar companies like Trina Solar (TSL:NYSE) and First Solar (FSLR:NASDAQ) are excellent choices when it comes to the solar space. If crude oil continues about $100, this will make these energy technologies not only more viable, but more importantly, will thrust them back into the spotlight.
First Solar was trading way over $200 back in late 2007 and Trina Solar, which is currently trading at 11 times trailing earnings, was about $29 per share.
Both companies have demonstrated strength and dominance in the sector and have the first and second largest market caps in the space.
Both of these companies have the lowest price/earnings ratios in the solar space and have the growth potential (in a high energy cost scenario) to easily jump 20-30% in value over the next couple months.
The morale of the story is: Don't ignore the alternatives.

Don't forget to follow us on Facebook and Twitter for the latest in financial market news, investment commentary and exclusive special promotions.
Source : http://www.taipanpublishinggroup.com/tpg/...
By Jared Levy
http://www.taipanpublishinggroup.com/
Jared Levy is Co-Editor of Smart Investing Daily, a free e-letter dedicated to guiding investors through the world of finance in order to make smart investing decisions. His passion is teaching the public how to successfully trade and invest while keeping risk low.
Jared has spent the past 15 years of his career in the finance and options industry, working as a retail money manager, a floor specialist for Fortune 1000 companies, and most recently a senior derivatives strategist. He was one of the Philadelphia Stock Exchange's youngest-ever members to become a market maker on three major U.S. exchanges.
He has been featured in several industry publications and won an Emmy for his daily video "Trader Cast." Jared serves as a CNBC Fast Money contributor and has appeared on Bloomberg, Fox Business, CNN Radio, Wall Street Journal radio and is regularly quoted by Reuters, The Wall Street Journal and Yahoo! Finance, among other publications.
Copyright © 2010, Taipan Publishing Group
© 2005-2019 http://www.MarketOracle.co.uk - The Market Oracle is a FREE Daily Financial Markets Analysis & Forecasting online publication.

Only logged in users are allowed to post comments.
Register/ Log in