Roubini being Roubini, Central Banks Have Mountains More Leverage Than Lehman or Bear Ever did
Interest-Rates
/
Global Debt Crisis
Nov 21, 2010 - 11:34 AM GMT


With the market on another of its rocket ships as every asset on earth is backstopped by a central banker or sovereign government (which is in turn backstopped by a central banker), Mr, Nouriel Roubini is not getting the same air time or rock star status as he had a few years ago. That said, he is always an interesting mind to listen to ... and since we share many thoughts of the future, of course I want to share ;) As Nouriel says - who is going to backstop the central banks? Mars? ;) (if you look at their balance sheets they have mountains more leverage than Lehman or Bear ever had - but no problemo I guess as we have full faith and trust in their Socrates like actions)
We'll call this one Manny being Manny Roubini being Roubini
Via CNBC - 10 minute video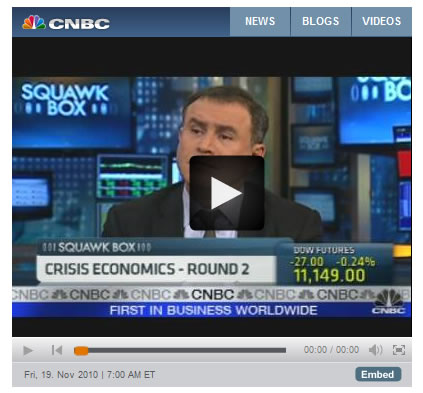 "We have too much private debt in the case of Ireland," according to Nouriel Roubini. But the nub of the crisis is this: "We have decided to socialize the private losses of the banking system. Now you have a huge increase in public debt—going from 7 percent to 100 percent of GDP. Soon it will be 120 percent."
And, turning more broadly to the rest of Europe, "Greece is already at 120 percent."

Roubini believes that further attempts at intervention have only increased the magnitude of the problems with sovereign debt. He says, "Now you have a bunch of super sovereigns— the IMF, the EU, the eurozone—bailing out these sovereigns."

Essentially, the super-sovereigns underwrite sovereign debt—increasing the scale and concentrating the problems.

Roubini characterizes super-sovereign intervention as merely kicking the can down the road.

He says wryly: "There's not going to be anyone coming from Mars or the moon to bail out the IMF or the Eurozone."

But, despite the paper shuffling of debt at the national level—and at the level of supranational entities—reality ultimately intervenes: "So at some point you need restructuring. At some point you need the creditors of the banks to take a hit —otherwise you put all this debt on the balance sheet of government. And then you break the back of government—and then government is insolvent."

And then there is the case of France. "Sarkozy came to power saying 'I'm going to do lots of reform.' He has not done it. Right now, he is weak. He might lose the election. And, therefore, they are going to delay fiscal austerity and reforms."

And that, according to Roubini, is a major problem for the fiscally challenged French.

The bond vigilantes may have woken up first in Greece, Ireland, and Portugal. "But France," Roubini says, "does not look much better than the periphery."

In Roubini's view, the probability of the right steps being taken in France soon is not great. "Politically they are constrained from making reforms." For example, after the French made relatively small changes in their social welfare system—raising the retirement age from 60 to 62 —"You had massive riots in the streets."

And that, in Roubini's view, was just the beginning of the necessary austerity.

"What's going to happen when you do more radical reform? That's an open question in the case of France."
Looking beyond France to the future trajectory of the crisis, Roubini says, "The next one in line is going to be Portugal. "Due to the severity of Portuguese debt problems, Portugal is going to lose market access—and that means they are going to require IMF support as well.

But the real nightmare domino is Spain. Roubini refers to the Spanish debt problems as "the elephant in the room".

"You can try to ring fence Spain. And you can essentially try to provide financing officially to Ireland, Portugal, and Greece for three years. Leave them out of the market. Maybe restructure their debt down the line."

"But if Spain falls off the cliff, there is not enough official money in this envelope of European resources to bail out Spain. Spain is too big to fail on one side—and also too big to be bailed out."

With Spain, the first problem is the size of its public debt: €1 trillion. (Greece, by contrast, has €300 of public debt.) Spain also has €1 trillion in private foreign liabilities.

And for problems of that magnitude, there simply are not enough resources—governmental or super-sovereign—to go around.
By Trader Mark
http://www.fundmymutualfund.com
Mark is a self taught private investor who operates the website Fund My Mutual Fund (http://www.fundmymutualfund.com); a daily mix of market, economic, and stock specific commentary.

See our story as told in Barron's Magazine [A New Kind of Fund Manager] (July 28, 2008)

© 2010 Copyright Fund My Mutual Fund - All Rights Reserved
Disclaimer: The above is a matter of opinion provided for general information purposes only and is not intended as investment advice. Information and analysis above are derived from sources and utilising methods believed to be reliable, but we cannot accept responsibility for any losses you may incur as a result of this analysis. Individuals should consult with their personal financial advisors.
© 2005-2019 http://www.MarketOracle.co.uk - The Market Oracle is a FREE Daily Financial Markets Analysis & Forecasting online publication.

Only logged in users are allowed to post comments.
Register/ Log in