Wikileaks Puts Politically Weak Pakistan Under Pressure, Nuclear, Zadari Assassination, Coup Risk
Politics
/
Pakistan
Dec 01, 2010 - 01:24 AM GMT


WikiLeaks latest U.S. embassy cable releases on war torn Pakistan, that is currently subject to a similar level of terrorism against its civilian population than that which is taking place in either Afghanistan or Iraq, it's politically weak government that is hit by a 7/7 terror event virtually every second day, could be pushed over the edge by the most recent wikileaks into a state of political chaos and uncertainty.
The recent leaks cover the state of Pakistan's nuclear weapons programme, US predator strikes, President Zadari fears of assassination and preparations for what should follow in it's aftermath.
Pakistan's Nuclear Weapons Intelligence & Fears
Economic Catastrophe - "Despite pending economic catastrophe, Pakistan is producing nuclear weapons at a faster rate than any other country in the world."
Terrorists and Nuclear Weapons - Pakistan had gone "on the defensive" about its arsenal after international media's reporting about U.S. - "is particularly neuralgic to suggestions that its nuclear weapons could fall into terrorist hands and to reports of U.S. plans to seize the weapons in case of emergency."
"The UK has deep concerns about the safety and security of Pakistan's nuclear weapons,"
Preventing Pakistan Collapse - "Why is it that we're trying to prevent the Pakistani government from collapsing?" one administration official said. "Because we fundamentally believe that we cannot afford a country with 80 to 100 nuclear weapons becoming the Congo."
Tuesday, 22 September 2009, 14:13 S E C R E T
17. (S/NF) The UK has deep concerns about the safety and security of Pakistan's nuclear weapons, and China could play a big role in stabilizing Pakistan, Leslie said. Pakistan has accepted nuclear safety help, but under the IAEA flag (albeit British technicians). The Pakistanis worry that the U.S. "will drop in and take their nukes," Leslie said.
Wednesday, 04 February 2009, 10:40 S E C R E T SECTION 01 OF 05 ISLAMABAD 000236 SIPDIS

22. (S) Strategic Plans Division Director LtGen (ret) Kidwai can brief you in detail on Pakistan's physical, personnel and command and control safeguards for Pakistan's nuclear weapons. Our major concern is not having an Islamic militant steal an entire weapon but rather the chance someone working in GOP facilities could gradually smuggle enough material out to eventually make a weapon. Islamabad has chafed over the U.S.-India 123 Agreement, arguing it also needs civilian nuclear power to meet energy demand; we have repeatedly advised the GOP that it should not expect a similar agreement because of AQ Khan's proliferation activities.
Tuesday, 24 November 2009, 12:59 C O N F I D E N T I A L SECTION 01 OF 03 ISLAMABAD 002840 SIPDIS

3. (C) According to Pakistani counterparts, Pakistan's FMCT position is shaped by four strategic considerations, which point to a degrading of the deterrent value of Pakistan's nuclear weapons and thus make an FMCT difficult for Pakistan. First, Pakistani officials perceive the U.S.-India civil nuclear cooperation initiative as having unshackled India's nuclear weapons program. Prior to the initiative, they said, India faced a significant uranium supply constraint that forced it to choose literally between nuclear weapons or nuclear power. Now, however, India is able to secure foreign-supplied uranium for its civil nuclear power reactors, leaving it free to devote a greater share of its domestically-sourced uranium to produce plutonium for nuclear weapons. This perceived growth in nuclear weapons production capability blunts any numerical advantage in nuclear weapons Pakistan may have.
4. (C) Second, the increase in high-technology defense and space trade between India and the United States, Russia, and others has improved the quality of India's nuclear systems, according to Pakistani thinking. While Pakistan continues to face significant trade barriers and is subject to export denial regimes, Pakistani officials believe India is no longer held back by these constraints and is using market access to improve its nuclear delivery vehicles.
5. (C) Third, India's growing conventional military superiority, coupled with its Cold Start military doctrine of fast mobilization and rapid strike capability, poses a new level of threat, according to Pakistani counterparts. Indian plans and capabilities have forced Pakistan to rely more on nuclear weapons and less on conventional military capability to balance Indian force. Maria Sultan of SASSI suggested that Pakistani military planners now focus on the possibility of a two-front war and believe that Pakistan needs to transform its arsenal to smaller, tactical weapons that could be used on the battlefield against Indian conventional capabilities. The result of this trend is the need for greater stocks of fissile material to feed Pakistan's nuclear weapons requirement.
6. (C) Finally, Pakistani counterparts point to India's interest and investment in missile defense, even if it will take many years to field a capable system. They believe this indicates that India is not interested in a balance of power, but intends to degrade the value of Pakistan's nuclear deterrent.
7. (C) Taken together, these strategic considerations point Pakistan in the direction of a larger nuclear force that requires a greater amount of fissile material, Pakistani officials argue. By this logic, agreeing to a production cutoff now does not meet Pakistan's interests. It is unclear whether GOP officials believe Pakistan is ahead of India in terms of nuclear capability, but they point to the combination of India's capabilities and intentions, as well as its stockpile of fissile material (even if spent nuclear reactor fuel is not as useful in nuclear weapons), to suggest that there is little advantage for Pakistan in trying to lock India into an FMCT now, since both countries' arsenals appear set to grow. Maria Sultan suggested that this is not the consensus view, however, and that at least some part of the Pakistani military establishment believes it better to agree to an FMCT now since India has a much greater long-term fissile material growth potential than Pakistan. In either case, the argument that the FMCT is a global disarmament imperative seems to have no currency in Islamabad; Pakistan's position, as described by Pakistani counterparts, is shaped exclusively by its own regional concerns.
Friday, 05 December 2008, 08:31 S E C R E T SECTION 01 OF 05 USNATO 000453 NOFORN
12. (S/REL NATO) Amidst the problems on the frontier, the Pakistani economy is in tatters, Lavoy continued. The International Monetary Fund's pledge of USD 6.7 billion will only address the immediate balance of payments crisis, but will not alleviate under- or un-employment for over a third of the population Pakistan's population is becoming less and les educated, the country lacks sufficient energy and clean water resources to serve its population, an there is minimal foreign investment. Lavoy addd that despite pending economic catastrophe, Pakstan is producing nuclear weapons at a faster rae than any other country in the world.
U.S. Predator Attacks - Pakistan Weak Government - Zadari Asssination Fears - Military Takeover
"Shoring up Pakistan, helping it fight extremism, trying to improve its institutions are not just a humanitarian effort or some naive public diplomacy gambit,""There is a sense that other places in the world can go to hell, but not this one."
In August 2008, the interior adviser Rehman Malik advised the US to "hold off alleged Predator attacks until after the Bajaur operation".
Predator Attacks - senior tribal area official in Peshawar told US officials that "he and many others could accept Predator strikes as they were surgical and clearly hitting high value targets".
Human Rights Abuses - "A growing body of evidence is lending credence to allegations of human rights abuses by Pakistan security force" during fighting in the Swat valley
Zadari Assasination Fears - "he had instructed his son Bilawal to name his sister, Faryal Talpur, as president".
Zadari on Pakistan Losing the War Against Taliban - "I'm sorry to say this but we are not winning" the war against extremists
Saturday, 23 August 2008, 14:12 C O N F I D E N T I A L SECTION 01 OF 03 ISLAMABAD 002802 SIPDIS

10. (C) Regarding the ongoing military operation on Bajaur (in the Federally Administered Tribal Areas), Gilani assured Ambassador that it will continue "to its conclusion," i.e., until all the militants were driven out. Gilani said the next step would be to go after Taliban leader Baitullah Mehsud. Gilani wanted President Bush to know that over 500 militants had been killed in the operation and that the GOP had reached out to NATO (during General Kayani's recent visit to Afghanistan for a tripartite meeting). He said Pakistan would do everything possible to encourage cooperation between the U.S. and Pakistani militaries. Gilani noted that Pakistan was using its F-16 aircraft to fight the militants and thanked the U.S. for providing funding for the F-16 mid-life upgrades. However, Gilani pleaded for urgent U.S. assistance in providing relief for displaced people around Bajaur and noted that fighting was spreading to neighboring Mohmand Agency.
11. (C) Malik suggested we hold off alleged Predator attacks until after the Bajaur operation. The PM brushed aside Rehman,s remarks and said "I don,t care if they do it as long as they get the right people. We,ll protest in the National Assembly and then ignore it." (Note: The strike has been front page news, but the media is reporting that the targets were nests of Arab fighters.)
Tuesday, 21 October 2008, 17:03 S E C R E T LONDON 002651 NOFORN

4. (S/NF) Ricketts characterized Zardari as having "not much sense of how to govern a country...I fear he talks and talks but not much happens." Ricketts stated that HMG would "like to believe in Zardari...he says the right things, but he faces big challenges," including the economy, which "is in a really bad way." Stirrup stated that Pakistan is "arguably worse" now than a month ago, asserting that although Zardari has "made helpful political noises, he's clearly a numbskull." Real progress in Pakistan requires "a government with stability and self-confidence" with a goal beyond "hanging on to power." Stirrup stated that a major obstacle to progress is an "enormous strand of deep anti-Americanism among the public" although such views have diminished considerably among the political classes. According to Day, Zardari's principal strategy appears to be asking for "lots of development aid...and meanwhile circumstances on the ground are getting worse." Day described Zardari as a "more positive and stable leader than we'd feared and his relations with Karzai are a plus," but Zardari "does not know what to do and is waiting for someone to provide him a solution." McDonald also deprecated Zardari's "passing the hat quite energetically" and stated that during a recent meeting with British officials he presented a "specific shopping list." Despite "encouraging first signs" when Zardari took office, it has become clear he is "not running the country."
Thursday, 12 March 2009, 04:28 S E C R E T SECTION 01 OF 04 ISLAMABAD 000516 SIPDIS
3. (C) During Ambassador's fourth meeting in a week with Chief of Army Staff (COAS) General Kayani on March 10, he again hinted that he might, however reluctantly, have to persuade President Zardari to resign if the situation sharply deteriorates. He mentioned Asfundyar Wali Khan as a possible replacement. This would not be a formal coup but would leave in place the PPP government led by PM Gilani, thus avoiding elections that likely would bring Nawaz Sharif to power. We do not believe Army action is imminent. We do believe Kayani was laying down a clear marker so that, if he has to act, he can say he warned the U.S. in advance and gave us ample opportunities to pressure both sides to back down. Kayani is trying to leverage what he considers predominate U.S. influence over Zardari, instead of seeking a direct confrontation that could provoke an unhelpful civil-military clash.
Zadari Assasination Fears - The Guardian
Last year Zardari told the US ambassador, Anne Patterson, that if he was assassinated, "he had instructed his son Bilawal to name his sister, Faryal Talpur, as president".
This year Zardari requested the United Arab Emirates to allow his family to live there in the event of his death. His wife lived in self-imposed exile in the UAE for years before her ill-fated return to Pakistan in 2007.
The cables provide a changing portrait of Zardari, America's key Pakistani ally along with the army chief, General Ashfaq Kayani. A sharp-edged 2008 description of Zardari notes that he hails from a tribe with "little social standing" in Sindh; "there is a story that as children, Sindhis were told 'a Zardari stole it' if something went missing".
But later dispatches portray him as a more capable leader, with considerable political nous, although often burdened by his association with deep-seated corruption.
Zardari is frank about the strength of the Taliban – "I'm sorry to say this but we are not winning" the war against extremists he told the US vice-president, Joe Biden, in 2009 – and his own limitations.
"I am not Benazir, and I know it," he told the US ambassador after his wife's death.

On the 29th Nov, Julian Assange threatened a mega-leak that could spark a bank run, more here -
Could Wikileaks Revealing Major Bank Secrets Crash the Global Economy?

Comments and Source: http://www.marketoracle.co.uk/Article24672.html
By Nadeem Walayat
Copyright © 2005-10 Marketoracle.co.uk (Market Oracle Ltd). All rights reserved.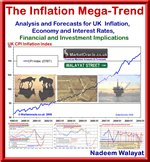 Nadeem Walayat has over 20 years experience of trading derivatives, portfolio management and analysing the financial markets, including one of few who both anticipated and Beat the 1987 Crash. Nadeem's forward looking analysis specialises on UK inflation, economy, interest rates and the housing market and he is the author of the NEW Inflation Mega-Trend ebook that can be downloaded for Free. Nadeem is the Editor of The Market Oracle, a FREE Daily Financial Markets Analysis & Forecasting online publication. We present in-depth analysis from over 600 experienced analysts on a range of views of the probable direction of the financial markets. Thus enabling our readers to arrive at an informed opinion on future market direction. http://www.marketoracle.co.uk
Disclaimer: The above is a matter of opinion provided for general information purposes only and is not intended as investment advice. Information and analysis above are derived from sources and utilising methods believed to be reliable, but we cannot accept responsibility for any trading losses you may incur as a result of this analysis. Individuals should consult with their personal financial advisors before engaging in any trading activities.
© 2005-2022 http://www.MarketOracle.co.uk - The Market Oracle is a FREE Daily Financial Markets Analysis & Forecasting online publication.

Only logged in users are allowed to post comments.
Register/ Log in