Gold Cracks $750 in Advance of Coming Financial Storm!
Commodities
/
Gold & Silver
Oct 17, 2007 - 06:39 PM GMT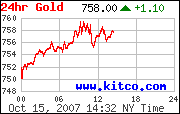 How about that gold price! Gold continues to awe and impress its naysayers.
The coming storm? Actually were already in it. There are so many storms on the horizon I don't know which one to address. That is why you now see gold cracking the 750 barrier. Gold is aware of these coming storms and is adjusting accordingly. Time is now moving quickly on the horizon.
"Gold seen scaling new heights. LONDON : Gold will continue its bull run and gradually move towards an all-time peak of $850 an ounce in the next year…" Footnote
History is occurring right before our eyes for those who are paying attention.
"We normally think of history as one catastrophe after another, war followed by war, outrage by outrage – almost as if history were nothing more than all the narratives of human pain, assembled in sequence." Footnote
And most investors are still asleep at the wheel. The government knows that if it can arrange to keep the Dow looking good apathy reigns among the majority. But there is so much going on now.
"We cannot encompass the whole reality even of the times in which we live. Human beings never know more than part, as "through a glass darkly"; and all knowledge comes to us in pieces." Footnote
The wheels and gears of history are changing. Anyway, for those who take notice. In many ways folks cannot see the forest for the trees. Even fish are ignorant of the sea they swim in that is all around them.
"Like fish who do not know they swim in water, we are seldom aware of the atmosphere of the times through which we move…" Footnote
When I mention a coming storm there are numerous to cover and not enough space in one article to highlight each. Gold is moving higher because it senses history's change and gold follows the path and route of historical developments.
"…it is often easier to encompass the past than the present…" Footnote
How many empires have slowly withered away down through the ages? Silently they fade away never to rise again.
"Oil prices surged above $85 a barrel Monday for the first time…" Footnote
And perhaps in that new age an entire empire loses its status and reputation and power. Our age is changing. The gold price is merely following the band wagon.
"Gold for December delivery gained $8.40 to finish at $762.20 an ounce on the New York Mercantile Exchange, the highest close for a front-month contract in almost 28 years." Footnote
There is still a measure of anger by many towards gold. I believe because gold stayed so long in the 600 figures that many folk lost faith and gave up. I suppose for those that lost faith will also lose a lot of money as gold climbs ever higher. We are approaching another age.
"…when we approach another age, its alienness stands out for us, almost as if that were its most obvious quality…" Footnote
Are you still "dead" to gold's renaissance?
"…the historians principal task should be to raise the dead to life." Footnote
Gold and resource stocks, historically, have presented the highest rate of returns. Gold Letter, Inc. reviews gold and other resource stocks under valued and poised to rise in this time of increased demand. Natural resources and related contrarian stocks will only escalate in value as the world continues to experience unprecedented population growth. Gold Letter's 10 best performing stocks are up over 2,000% and GL's top 55 performing stocks are over 400%. Close to 90% of all Gold Letter's recommendations since inception in January, 2003 are close to 200%. GL charts are computer generated and updated every hour while markets are open.
Click here to order Gold Letter
"The Worldwatch Institute, an organization that focuses on environmental, social and economic trends, says the current rate of global demand for resources is unsustainable."
Email me if you have the time.
By David Vaughn
Gold Letter, Inc.
David4054@charter.net
"The Worldwatch Institute, an organization that focuses on environmental, social and economic trends, says the current rate of global demand for resources is unsustainable."
The publisher and its affiliates, officers, directors and owner may actively trade in investments discussed in this newsletter. They may have positions in the securities recommended and may increase or decrease such positions without notice. The publisher is not a registered investment advisor. Subscribers should not view this publication as offering personalized legal, tax, accounting or investment-related advice. The news and editorial viewpoints, and other information on the investments discussed herein are obtained from sources deemed reliable, but their accuracy is not guaranteed. © Copyright 2007, Gold Letter Inc.
© 2005-2019 http://www.MarketOracle.co.uk - The Market Oracle is a FREE Daily Financial Markets Analysis & Forecasting online publication.

Only logged in users are allowed to post comments.
Register/ Log in