UK Housing Bubble is Popping
Housing-Market
/
UK Housing
Feb 15, 2006 - 05:30 PM GMT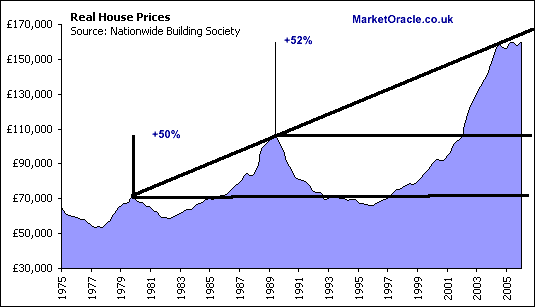 From the low in 1995 the average UK house price has risen from £50,930. to the £158,745 by the end of 2005, which is more than tripling in price ! From peak to to peak House prices have risen about the same 50%, as when the peaked in 1990. The Trend analysis suggests any decline could take house prices to the previous peak of approx 105k ! which would represent a staggering drop of 34% off current prices !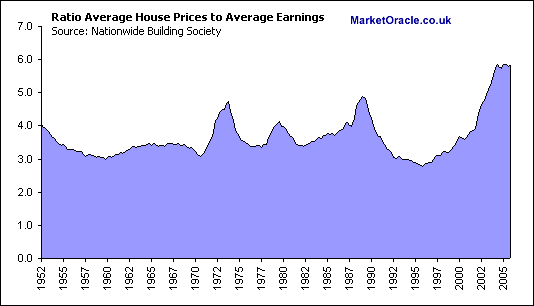 Average earnings is considered to be the most important indicator for house price over valuation, as you can see house prices on this basis are now more unaffordable than at any time during the last 50 years ! Staggering so, at 6 X earnings.Usually peaks have occured once house price inflation breaches 5 and then declines to half or 2.5, which on the current basis suggests a low once house prices are X3 average earnings. At 4% earnings growth that suggests a 3 year low around the £102k mark, i.e. similarly to the trend analysis chart. So in summary - If you think house prices in real-terms are not going to fall ? Then your in for a nasty shock during the next 3 or so years !
Nadeem Walayat
Disclaimer - All statements and expressions are the opinion of Marketoracle.co.uk and are not meant to be investment advice or solicitation or recommendation to establish market positions. Our opinions are subject to change without notice.We recommend that independent professional advice is obtained before you make any investment or trading decisions. The Market Oracle is a FREE Financial Markets Forecasting & Analysis online publication. We aim to cut through the noise cluttering traditional sources of market analysis and get to the key points of where the markets are at and where they are expected to move to next ! http://www.marketoracle.co.uk
This article maybe reproduced if reprinted in its entirety with links to http://www.marketoracle.co.uk
© 2005-2019 http://www.MarketOracle.co.uk - The Market Oracle is a FREE Daily Financial Markets Analysis & Forecasting online publication.

Only logged in users are allowed to post comments.
Register/ Log in