UK Worst Cancer Survival Rates Due to NHS GP's Ignoring Symptoms and Delaying Diagnoses
Politics
/
NHS
Dec 24, 2010 - 04:33 AM GMT


An international study of 2.4 million people published in the Lancet has revealed that Britain lags far behind most other western countries in terms of cancer survival rates for Breast, Bowel Ovarian and lung cancers with the blame being firmly placed on delayed / late diagnoses by NHS GP's.
Daily Mail Reports: Our cancer shame: Survival rates in UK are the worst among leading nations
The results, published online by The Lancet medical journal, showed that the life expectancy of cancer patients in the UK was consistently shorter than in other countries. Only Denmark had a similarly poor record, though generally it did better than the UK.
For the most recent period, up to 2007, the UK had the worst bowel, lung and breast cancer five-year survival rates of any of the six countries. In this period, 53.6 per cent of UK bowel cancer patients were alive five years after diagnosis compared with 65.9 per cent in Australia. For lung cancer, 8.8 per cent survived five years in the UK and 18.4 per cent in Canada.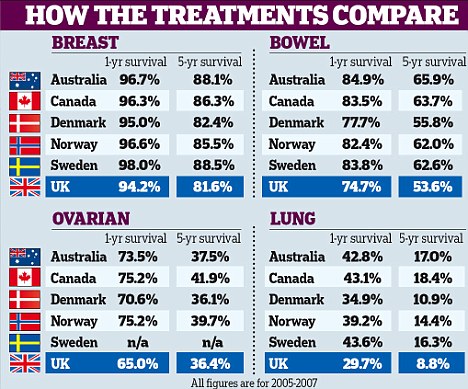 Although breast cancer survival has improved in the UK, with 81.6 per cent of women living five years, it still compares poorly with Sweden, where 88.5 per cent survived.
Denmark's five-year survival rate for ovarian cancer was marginally lower than the UK's – 36.1 per cent compared with 36.4 per cent – but 41.9 per cent of those diagnosed in Canada lived five years.
The study highlights the shocking outlook for over-65s with cancer. It says the survival 'deficit' – the difference between UK survival rates and the best-performing countries – for bowel cancer is generally around 10 per cent, but for pensioners it hit 10-15 per cent. In lung cancer, the survival rate at all ages was lower, but especially so for those aged 65 and over.
For breast cancer, survival was lower in the UK in all age groups and for over-65s up to 20 per cent below Australia and Canada.
Britians' NHS GP System is a Failing Patients
The NHS GP diagnoses and referrals system is based on the principal of being "free at the point delivery", however along the way NHS GP's and Consultants appear to have forgotten the fundamental fact that the person sat in front of them in their surgery HAS paid for health treatment by means of HIGH TAXES. The UK NHS GP system is a compete and utter failure as patients are NOT being diagnosed because there is no incentive for GP's to do so in a timely manner as there exists a tendency to treat patients effectively as ATM cards to swipe in and out of GP doorways so as to maximise profits as a consequence of the Labour governments appallingly incompetent GP contracts of 2002-2003 which directly led to GP's working less hours whilst increasing pay by more than 30% per annum as the below graph illustrates.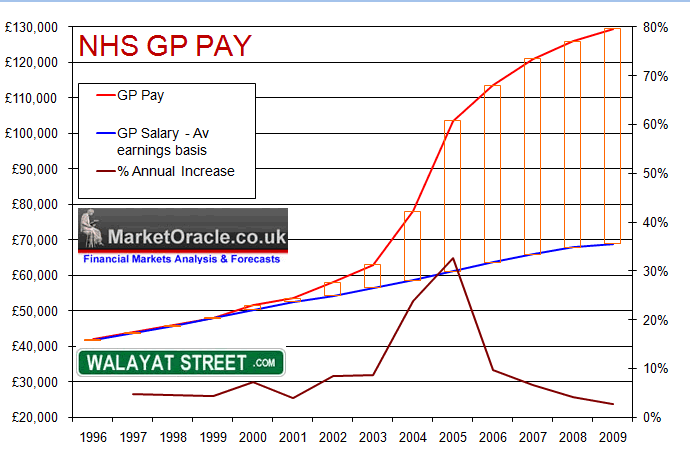 The National Audit Office has criticised the 2002-2003 GP contracts several times over the years in that it has resulted in GP's working 7 hours less per week whilst pay has increased 80%.
"GPs are working, on average, almost seven hours less per week, and their pay has significantly increased, suggesting that individual GP productivity has reduced," - National Audit Office
In response to the cancer study GP's and their BMA representatives have been doing the rounds on TV news studios, putting the blame on to patients for not coming forward early enough to enable early diagnoses to take place and treatment to commence. However what the GP's fail to elaborate on is the reasons why patients in the UK tend to avoid going to their GP, which is that patients have to persevere through many, many difficult to make GP consultations before the GP even takes their symptoms seriously.
UK GP Patient Survey Reveals the Truth of Britians NHS GP System Failure
The Department of Health funded UK Patient GP Survey enables patients to bypass dodgy NHS statistics that amount to little more than propaganda and find out the truth about their GP Surgery as per real patient experience. The UK GP Patient Survey 2009-10 released results of more than 5.5 million detailed questionnaires sent out to NHS GP patients across England, of which 2.17 million were returned. Patients can check the true performance of their surgeries here - http://results.gp-patient.co.uk/report/main.aspx
As an example of real performance of NHS GP Surgeries, the following are the Survey results for a local GP surgery - Darnall Community Health (Sheffield).
| | |
| --- | --- |
| | % |
| Overall Level of Satisfaction at the Quality of Healthcare received | 68% |
| Helpfulness of receptionist - Helpful total % | 75% |
| Ease of getting through on the phone - % Easy | 21% |
| Able to see a doctor fairly quickly | 41% |
| Doctor or nurse ever tell you that you had a 'care plan'? - % Yes | 14% |
| Ease of contacting the out-of-hours GP service by telephone - % Yes | 62% |
| Recommending GP surgery to someone who has moved to the local area - % Yes | 47% |
| Satisfaction with opening hours - Satisfied % | 62% |
| Last seen a doctor - % More than 6 months ago | 28% |
The results illustrate the disparity between official NHS statistics and actual patient experience, as virtually 1/3rd of the patients of the GP surgery are dissatisfied at the quality of healthcare received. Furthermore only 21% find it easy to get through on the phone, which means that many patients and especially men will have given up on trying to make an appointment because they are unable to even get through on the phone, which explains why official statistics are inaccurate as they may be missing out on as many as 1/3rd of patients, many of whom won't be seen by a GP and hence will not factor into official statistics as generated by PCT's. Which also goes a long way towards explaining why 28% of patients have not seen a GP during the past 6 months.
However as many patients will experience, getting to see a GP is just the first step towards effective diagnoses and treatment, as patients run into road blocks and resistance all the way. First patients need to get their GP to take notice of their symptoms, as GP's in accordance to the pay structure treat patients as ATM cards to swipe in and out of doorways so as to maximise profits. Therefore patients have to show much persistence of several consultations before the GP's even take any notice of the patients symptoms, which means it could take as many as 6 GP consultations before a GP takes patients symptoms seriously, by which time several months or longer may have passed and along the way a large number of patients will have just given up which explains why UK patients are not being diagnosed early as compared to other similar western countries, as patients have given up until the symptoms are so obvious that the requirement for hospitalisation is obvious to even a lay person. And getting an accurate diagnoses is only the first step towards trying to get effective treatment where the only thing that works is for those who make the most noise and demands to be given competent effective treatment.
Clearly where the current NHS system is concerned, there is NO concept of prevention, no concept of early diagnoses, no concept of early treatment, which is why Britain languishes right at the very bottom of European cancer and other health league tables.
If the local example of Darnall Community Health is even half way typical of most NHS GP surgeries then that would imply that 10 million patients are dissatisfied at the quality of health care received, and as many as 20 million patients have difficulty in arranging appointments by phone, with similarly 20 million patients unable to see a doctor fairly quickly, and again 20 million would not recommend their NHS GP to anyone moving into the area.
Therefore not only does the total NHS budget remain out of control at £120 billion per year but actual patient experience does NOT match what amounts to NHS propaganda statistics, the reality for many millions of patients is that their NHS GP Surgery may as well not even exist as they have long since given up on even attempting to gain competent diagnoses and effective treatment.
NHS Reforms are urgently required to bring to a halt the continuation of many thousands of preventable premature deaths.
Requirement for Competing GP Consortia's
The Coalition governments reforms of having non competing geographically located GP consortia's would be a recipe for disaster, as delegating powers to GP's without mechanisms for competition between GP surgeries for patients ensures that over time neighbouring consortia will seek to merge with one another thus reverting back to PCT sized consortia's, whilst these Consortia's will be virtually totally unaccountable to their patients, with total control now in the hands of city-wide non competing GP Consortia's, which would be a perfect monopoly solution for GP's that would be significantly worse than the current PCT system, which at least enables some independent scrutiny of GP surgeries performance to take place, rather than GP's being put in charged of monitoring themselves, with only lip service additional monitoring by local authorities.
The Coalitions reforms will follow Labours GP contracts disaster in that GP's have proved that they cannot be trusted with budgets, where the expectation is a significant part of the £85 billion annual budget will be pocketed by GP's as management fees, thus resulting in a doubling of average GP pay from £120k to £240k over the next 5 years, all of which will be coupled with a further loss of productivity and thus worse GP services for patients, perhaps that is what the Coalition government wants, i.e. if the GP's provide a worse service to their patients then that means fewer patients will be treated and more ill patients will die earlier thus resulting in a saving for the NHS budget.
For the Coalition Governments reforms to not fail then at the very least city wide consortia's should be created with the aim that there be at least 2 and preferably 3 competing GP consortia's per geographic area. Which in Sheffield's example means all of the four newly established GP consortia's should be disbanded in favour of the creation of city wide consortia's that will enable patients to easily switch between the better and poorer performing GP's / Consortia's as the current system ensures that NHS GP Post Code lottery will just be further magnified due to lack of sharing of best practice which will become more concentrated in the better performing GP surgeries.
NHS Privatisation Solution
Britains population has been conditioned over the decades by politicians and the 1.2million vested interests to resist calls for the privatisation of the NHS. However, contrary to what the population believes, GP's have always been Independant PRIVATE contractors to the NHS WITHOUT COMPETITION. GP surgeries are basically businesses for profit that operate with local monopoly powers over a captured patient population. The British population would not put up with any other monopoly but have been falsely led to believe that their GP is employed by the NHS when in fact is a private contractor. This fact completely defeats the argument put forward by the BMA which is the propaganda arm of Britains 35,000 GP's against private companies being allowed to deliver NHS services, which is what one would expect from those that seek to preserve their monopoly that allows outrageous profits to be generated at tax payer expense whilst patients are treated as ATM cards to swipe in and out of doorways.
Therefore coalition plans to hand over much as £85 billion per annum to PRIVATE GP Businesses that do not compete against one another would be a total disaster. The only answer to the crisis in the lack of productivity in the health services is for competition between GP surgeries and NHS hospitals which ultimately means FULL privatisation, as the existing system of no real competition means that lack of performance is rewarded with more resources in the face of inability to deliver whilst those that excel are punished with less resources so as to pull all services down towards the under performing mean.
The only way excellence can be rewarded and duplicated is if competition drives out of business the less competent GP surgeries as they lose their patients and resources to the better run GP surgeries which can only happen in a market orientated system of healthcare delivery, where patients would in effect be handed NHS heath credit cards to enable them to buy healthcare at ANY health facility whether NHS run or private.
Given the actual performance of the NHS, I would imagine that closing 15% of the worst performing NHS Hospitals and GP Surgeries would result in IMPROVED life expectancy for Brit's as well as contribute a £18 billion of annual savings to help bring the unsustainable £150 billion annual budget deficit under control rather than the existing Coalition policy of INCREASING the NHS budget by more than £20 billion.
Without mechanisms to drive the less competent hospitals and GP's out of business, then Britain's patients will continue to receive what amounts to a third world health service whilst paying a first world price.
The NHS Health Insurance / Credit Card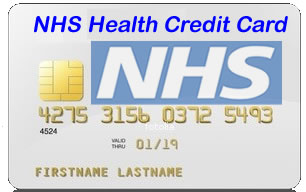 The NHS post code lottery which excludes millions from the best health care on offer can only be ended if there is real patient choice, not only for GP's but also hospitals and other health institutions right across the country where treatment is sought which requires real reform of the whole NHS health care system from diagnosis to treatment of all patients .
An important element would be to place the power to purchase healthcare in the hands of the patients by means of an NHS Health Card system, that enables patients to purchase health services from any GP practice or hospital regardless of whether it falls under the NHS umbrella or is fully private, with personal medical records encrypted onto the cards smart chips. Both patients and health practitioners would be fully aware of the financial transaction involved in the purchase of the health service, which is set against the current system where patients can be made to feel that they are an inconvenience so are easily put off by the practiced dismissive attitude of most GP's during the initial consultations, which means the medical condition of patients reaches a far more serious state and thus proves far more costly for the NHS to eventually treat.
The mechanism for the operation of the health cards could be by means of either an insurance or a credit based system.
Insurance System - An insurance system such as that which is successfully operated in Germany, where workers pay a premium as a percentage of their wages (average 14%, employer and employee paying half) into one of over 300 statutory state funds, that then cover the costs of healthcare. Patients can choose between insurance funds on the basis of premiums charged so competition acts to keep premiums competitively priced. Similarly patients are fully aware of their premium payments and cost of services thus demand a competent health service delivery. Those that are not working have their premiums paid for by the state. Additionally those with salaries above statutory limits can opt out of the state system and buy private health insurance.
Credit System - Patients would have a choice of covered core treatments for illnesses or injuries, where they would have the option of paying to top up treatments with their own money depending on the institution that they seek to purchase treatment from, or for other extra's such as IVF etc. This would have the effect of reducing the cost of the NHS whilst introducing greater efficiency into the NHS as the majority of patients would only choose those health service institutions that are ranked as delivering a good service. The NHS Health credit card would revolutionise the way healthcare is delivered in the UK, much as supermarkets revolutionised food delivery and choice during the 1980's, as heath supermarkets would spring up all across the country that would maximise efficiency and standardise quality of service delivery as they competed to offer a wider range of health services than anything a bureaucratic top down health care system could ever hope to provide.
The health care credit card system could be further enhanced by workers directly contributing to their health care plans that they can claim upon to purchase 'extra' services at a later date, much as workers today contribute into private pension schemes.
The impact of either an Insurance or Credit based system would be to greatly REDUCE the cost to taxpayers whilst at the same time delivering better health services as the focus would be on prevention to reduce costs and thus early diagnoses, therefore a win, win outcome for the people of Britain as opposed the current system of an out of control unproductive £120 billion National Health Service that attempts to mask failure to deliver with phony statistics and propaganda of a "free for all service" that fails to match real patient experience.
Comments and Source: http://www.marketoracle.co.uk/Article25217.html
By Nadeem Walayat
Copyright © 2005-10 Marketoracle.co.uk (Market Oracle Ltd). All rights reserved.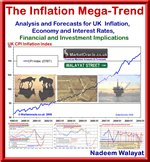 Nadeem Walayat has over 24 years experience of trading derivatives, portfolio management and analysing the financial markets, including one of few who both anticipated and Beat the 1987 Crash. Nadeem's forward looking analysis specialises on UK inflation, economy, interest rates and the housing market and he is the author of the NEW Inflation Mega-Trend ebook that can be downloaded for Free. Nadeem is the Editor of The Market Oracle, a FREE Daily Financial Markets Analysis & Forecasting online publication. We present in-depth analysis from over 600 experienced analysts on a range of views of the probable direction of the financial markets. Thus enabling our readers to arrive at an informed opinion on future market direction. http://www.marketoracle.co.uk
Disclaimer: The above is a matter of opinion provided for general information purposes only and is not intended as investment advice. Information and analysis above are derived from sources and utilising methods believed to be reliable, but we cannot accept responsibility for any trading losses you may incur as a result of this analysis. Individuals should consult with their personal financial advisors before engaging in any trading activities.
© 2005-2019 http://www.MarketOracle.co.uk - The Market Oracle is a FREE Daily Financial Markets Analysis & Forecasting online publication.
Comments
empiplomo
01 Jan 12, 13:49
Who is the Romney puppet?


The Romney puppet is a non thinking, flip flopping, smiling and denying new version of the old Romney. He speaks without analyzing the words that come out of his mouth. That is something he has to do as the republican party goes further and further to the right. All the way to Palinville, which is like a boys club where girls are allowed, but the brains must be left at the door.

Securing donations to promote his message can (most likely) only help. Newt Gingrich leads GOP hopefuls in new poll, Cain, Romney slip



Liertamilia
04 Jan 12, 04:57
More Information On Rick Santorum


While announcing his endorsement, Romney praised McCain for his integrity and capability. "Even when the contest was close and our disagreements were debated, the caliber of the man was apparent," he said, as McCain stood beside him. He also called McCain "a man capable of leading our country at a dangerous hour." McCain responded appropriately by blaming the stress of campaigning for the disagreements between them. "Primaries are tough," the senior Senator remarked. "We know it was a hard campaign and now we move forward, we move forward together for the good of our party and the nation," he said.

A report due to be published tomorrow by a House of Commons Cross Party Committee of MPs (Members of Parliament) is highly critical of government's efforts. Only those records series or electronic information systems (or portions of them) most critical to emergency operations or the preservation of legal or financial rights should be so designated. See iowa court records online Such records are a collective effort of the team which puts them on the world ranking chart.




Only logged in users are allowed to post comments.
Register/ Log in