US Economy - Into the Night
Commodities
/
Gold & Silver
Oct 31, 2007 - 09:33 AM GMT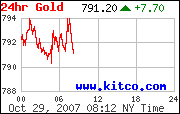 Well, gold continues its upward trek. Now coming closer to 800 an ounce. Where oh where now are gold's detractors.
Oil now has closed above 90 and ounce. Nearing its all time high. Saber rattling over Iran 's nuclear armament program receives renewed scrutiny by the Bush administration. Just a matter of time before US troops find their selves marching into Iran .
"The weight of major headwinds — oil trading near $90 a barrel, continuing problems in credit markets and a slowing economy — are causing renewed investor angst and heightened volatility in the market." "The market never got over its nervousness from the summer," says Edward Yardeni, president of Yardeni Research. Investors who thought Fed rate cuts would solve all the market's problems now recognize that the problems haunting the market in August are not over…" USA TODAY
The huge sub prime mess continues to draw more and more steam. Reinterpret that to mean massive losses and record breaking foreclosures across the country.
"We're supposed to be in these wonderful, affluent times, but people are feeling pinched…" "…the economy is indisputably slowing." "In a USA TODAY survey of 53 economists conducted Oct. 18-24, 62 % said the economy was poised to get worse before it gets better." "Whether people are getting their mortgages reset … or the fact that they know that some of the equity in their homes has gone away, that has a psychological impact…" USA TODAY
I usually start the day before sunrise. Very dark before sunup. Night time is almost a cleansing from the earlier day's activities. Ever hear of an economic cleansing? That is the night and darkness we are now entering wholesale. Our economy has had a free ride for so many years its time now to pay the piper.
"Dave, Gold refuses to decline with the current broad market unlike what we've witnessed this past August indicating a major shift in money flows." "There's no doubt in my mind we're in the process of seeing gold headed for new all-time highs in the not too distant future." "The money is flowing into the gold sector and the reason there hasn't been any meaningful correction....Bush WILL attack Iran no later than June '08. He wants to be the one in history that is said to deter them from building a nuclear device." EP
There are still many skeptical that our economy could actually enter a real prolonged sickness. So many are awaiting that next magical bullet from the Fed. But I have news for you folks. There are no more magic bullets. The inflated housing market these past 5 years has really been the last major expendable magic bullet.
Jim Sinclair – "This is it…" "Everything we buy is getting more expensive and many assets people have, other than gold, are losing value." "There is an acceleration of bankruptcy among financial institutions." "The US dollar has become a bombed out and lost battle zone. There is nothing good anyone can say fundamentally about the US dollar." "The dollar break below the recent and most important major, major support line drawn from 1980 to now is the fundamental basis which will push Gold to $1650."
I suppose there is one major magic bullet that many don't look at as a savior but is still being deployed now by our Federal Reserve Board. What is this new magic bullet? It is simply the re-introduction of inflation on a more magnified scale. Professionals understand this and that is why we are quickly coming closer and closer to the 800 dollar an ounce level.
"…sales of existing homes collapsed in September, falling a far-worse-than-expected 8% from August — the steepest dive since the National Association of Realtors began combining figures for single-family homes and condos in 1999." USA TODAY
Gold thrives in an inflationary environment. Every price around us is now climbing in a serious and major way. Woe to those who don't notice the simple things rising – like a gallon of milk. A gallon of milk is about equivalent to a gallon of gas now. Why most common investors are refusing to recognize the serious rise in inflation is beyond my understanding. I go to a Starbucks and pay over 4 dollars for a cup of coffee now. And that ain't inflation?
"For anyone who thinks the housing recession can't get any worse, Re/Max International issued figures Wednesday that suggested it can." USA TODAY
Went to a Fall Harvest Festival last night. Of course the main attraction are the hayrides up the mountain and back down. On my trip in the wagon the tractor loses its headlight. Pitch black with no illumination except a full harvest moon. Quite an adventure riding in the dark but we made it back down to the bottom of the valley. A large fire burned down below and as we descended that bon fire became brighter and brighter. That ole' fire didn't seem to serve a purpose except for decoration at the beginning of the hayride. The reason gold is heading so high so fast is because it recognizes the lights are going out on the economic tractor.
"Mortgage finance is in a major depression," says Scott Anderson, senior economist at Wells Fargo . (WFC) In states such as California and Florida that saw huge gains during the boom, "we're going to have price declines not seen since the Great Depression, through 2008." "Sales over the next few months, Zandi says, are "going to be so bad it will be hard to imagine worse," and that will be the bottom." USA TODAY
We are entering a very dark night but we need not be frightened if we are prepared. We experienced a strong positive cycle between 1980 to 2005 and now we are entering an opposite cycle that will bring many dire consequences. The proper course of action is preparation. Get out of debt and increase your gold related investments.
How high is gold going to climb?
Well, how serious are a hundred major financial problems lurking on our horizon. The majority of economists are flatly reporting that the economy will get significantly worse before it gets better. Of course there are those happy souls who believe ignorance is bliss and ignore any major volatile changes on the horizon. Are you into gold yet as an investment? You need to have at least 30% of your portfolio in gold related assets for security purposes. There are those who seek merely asset preservation and those who seek asset growth. Regardless of which camp you belong to you need to be invested in gold.
"The market is in a bull run. The consensus here is that gold could reach $800 in a short term and that's motivating the market higher. Also the risk for a U.S. rate cut is feeding the trend," said Frederic Panizzutti, analyst at MKS Finance." Reuters/UK
Gold and resource stocks, historically, have presented the highest rate of returns. Gold Letter, Inc. reviews gold and other resource stocks under valued and poised to rise in this time of increased demand. Natural resources and related contrarian stocks will only escalate in value as the world continues to experience unprecedented population growth. Gold Letter's 10 best performing stocks are up over 2,000% and GL's top 55 performing stocks are over 400%. Close to 90% of all Gold Letter's recommendations since inception in January, 2003 are close to 200%. GL charts are computer generated and updated every hour while markets are open.
Click here to order Gold Letter
"The Worldwatch Institute, an organization that focuses on environmental, social and economic trends, says the current rate of global demand for resources is unsustainable."
Email me if you have the time.
By David Vaughn
Gold Letter, Inc.
David4054@charter.net
© Copyright 2007, Gold Letter Inc.
"The Worldwatch Institute, an organization that focuses on environmental, social and economic trends, says the current rate of global demand for resources is unsustainable."
The publisher and its affiliates, officers, directors and owner may actively trade in investments discussed in this newsletter. They may have positions in the securities recommended and may increase or decrease such positions without notice. The publisher is not a registered investment advisor. Subscribers should not view this publication as offering personalized legal, tax, accounting or investment-related advice. The news and editorial viewpoints, and other information on the investments discussed herein are obtained from sources deemed reliable, but their accuracy is not guaranteed. © Copyright 2007, Gold Letter Inc.
© 2005-2019 http://www.MarketOracle.co.uk - The Market Oracle is a FREE Daily Financial Markets Analysis & Forecasting online publication.

Only logged in users are allowed to post comments.
Register/ Log in