US Banking Sector Suffers Worst Decline Five Years As Banks to Declare More Bad Debt Write-downs
Stock-Markets
/
Credit Crunch
Nov 03, 2007 - 03:08 AM GMT


Yesterday the U.S. banking index suffered its worst 1-day decline in five years, according to the London Financial Times . The biggest single reason for the decline in equities was the revival of worries that big banks in the US and Europe would unveil further credit write-offs. Another focus of concern involved a less well-known pillar of the global financial system – smaller specialist insurers that provide credit guarantees to lenders and investors.


Meanwhile, the Federal Reserve pumped an additional $41 billion into the banking system on Thursday in what seems to be a growing bailout problem that won't go away. This is the largest single infusion since September 2001.
So where do we find our major banks now? Could they be "illiquid, inflexible and capital deficient?" Thanks to Best Minds, Inc ., here is an article summarizing a recent history of our banking system through the eyes of Irving H. Sprague, Chairman and Director of the FDIC through 1986.
Contagion fears are growing that one or more of our major banks are in deeper trouble than first realized. This may strike a blow against consumer and investor confidence that "all is well" among our banks. Some pundits are beginning to call this month Black November, reminiscent of the crash of 1987. So the investors who believe that a simple rate cut will solve our financial problems may wish to re-examine our current conditions and acquaint themselves with similar circumstances in the past. Expect more of the Bernanke Credit Crunch .
Japan 's market reprieve is over…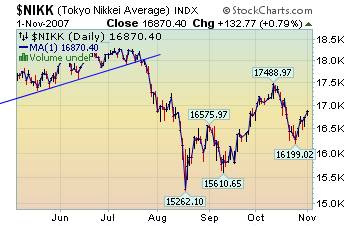 …as a brief corrective rally put on its finishing touches yesterday morning. This morning it fell over 2% as the market contagion from the U.S. moved around the globe. The Nikkei put in a 1-week closing low after several days of a rally, partially fuelled by the Federal Reserve rate cut. But the news that Citigroup might not be able to support its dividend rate dampened investors' ardor for stocks, even in Japan .
Shanghai market rally cut short.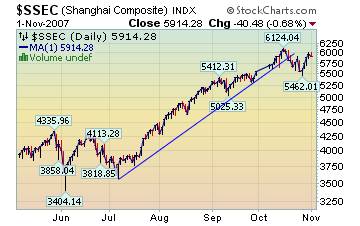 The Shanghai market stumbled another 2.31% in overnight trading, cutting short the potential for new highs in the rally. The fact is all of the global markets have put in reversals in October. One may also consider that China has troubles of its own, including a strong central government that still tries to run the economy by command. This week it decided to raise fuel prices , which sent the market tumbling.
Ready for wave 3?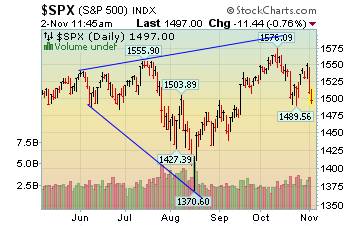 The S&P 500 also staged a rally that ended with the second rate cut. That's right. The rate cut that was supposed to rally the markets to new highs fizzled. Instead, the simmering credit market , which had been put on a back burner, boiled over again. "The situation is now more negative than in the summer," said Pete Nolan, a portfolio manager at Smith Breeden Associates in Chapel Hill , N.C. He said that "in many cases, the fundamentals are catching up" with investors' worst fears. What to expect? Read my most recent article for an overview.
Treasury bonds making new highs.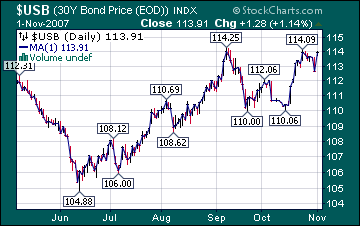 Long-term Treasury prices are breaking out to new highs as treasury bonds and note benefit from investor concerns. The old maxim, "better be safe than sorry," seems to apply here. The " doom and gloom " scenario is beneficial for bonds, but what is noteworthy is that bonds had a solid run since June. Stay close to the door on this one.
Number of homes facing foreclosure doubles.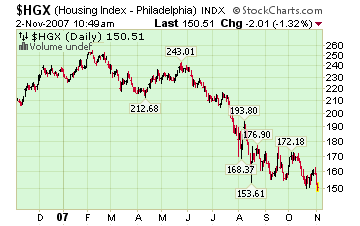 A soaring number of U.S. homeowners struggled to make mortgage payments in the third quarter, with properties in some stage of foreclosure more than doubling from the same time last year, a mortgage data company said Thursday.
A total of 446,726 homes nationwide were targeted by some sort of foreclosure activity from July to September, up 100.1% from 223,233 properties in the year-ago period, according to RealtyTrac.
Will the Fed intervene on the U.S. dollar?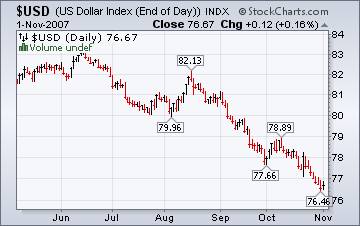 The dollar has weakened against all 16 major currencies this year as Fed rate cuts dimmed the allure of U.S. assets. The U.S. Dollar Index traded on ICE Futures U.S. in New York fell to as low as 76.242 today, the weakest since its inception in 1973.
With al the doom and gloom surrounding the dollar, wouldn't it be interesting that the dollar might be in higher demand as the other major markets decline. Remember, as much as the dollar is looked down upon, there is no other reserve currency in times of trouble.
$800 per ounce hit and exceeded.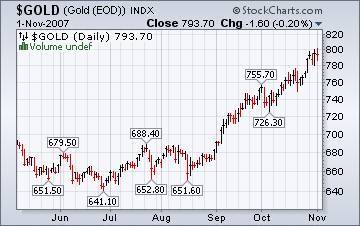 From MarketWatch , " Gold for December delivery rose $11.30 at $805 an ounce in early afternoon trade on the New York Mercantile Exchange. Earlier, the contract hit an intraday high of $807.90, a level not seen since 1980."
Before you back up the truck to invest in gold, consider that the rally is now 55 days old, a bit long-in-the-tooth for the average rally. Also consider that there are 5 waves up from the June low. I would call that a high risk play at this time.
Higher prices don't mean oil companies profit.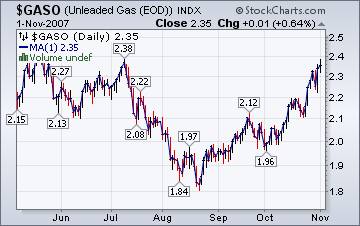 Exxon Mobil, the world's largest oil company, said Thursday that quarterly profit unexpectedly dropped the most in three years because of reduced gasoline output and prices. 70% of all the world's oil reserves are owned by sovereign nations. Robert Sweet of Horizon Investment Services in Hammond , Indiana , said: "High oil prices were a disaster for a company like Exxon with a large refining business because that means their raw material costs were incredibly high. The pressure on profits could persist if oil prices remain high."
Natural gas prices follow the other energy markets.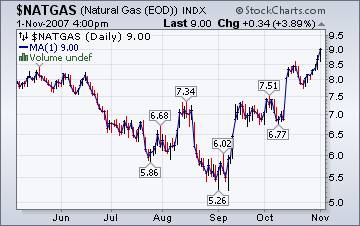 Colder weather in the lower 48 states and higher energy prices have been affecting the price of natural gas, says the EIA Natural Gas Weekly Update . The central planners of China have also decided natural gas prices are " seriously low " and it plans to adjust costs for industrial users and retail prices for car drivers soon, following a 10 percent rise in fuel costs on Thursday.
Our National Character at risk…The Devil is in the details.
Consider this article by J.R. Nyquist , "T he problem of terrorism and rogue states is linked with the problem of drug trafficking, organized crime, nuclear proliferation and the ongoing campaign of Russia and China to displace the United States as the world's leading power. While the dollar falls and the American economy begins to breakdown, consider whether the erosion of national character is connected to recreational drug use – and whether recreational drug use has been encouraged by hostile powers."
It doesn't pay to think of it as a "victimless crime." We are all potential victims of corruption and drug use.
We're on the air every Friday.
Tim Wood of www.cyclesman.com , John Grant and I have had a running commentary on the markets again this week. You may listen to our comments by clicking here .
Please make an appointment to discuss our investment strategies by calling Claire or Tony at (517) 699-1554, ext 10 or 11. Or e-mail us at tpi@thepracticalinvestor.com .
Regards,
Anthony M. Cherniawski,
President and CIO
http://www.thepracticalinvestor.com
As a State Registered Investment Advisor, The Practical Investor (TPI) manages private client investment portfolios using a proprietary investment strategy created by Chief Investment Officer Tony Cherniawski. Throughout 2000-01, when many investors felt the pain of double digit market losses, TPI successfully navigated the choppy investment waters, creating a profit for our private investment clients. With a focus on preserving assets and capitalizing on opportunities, TPI clients benefited greatly from the TPI strategies, allowing them to stay on track with their life goals
Disclaimer: It is not possible to invest directly into any index. The use of web-linked articles is meant to be informational in nature. It is not intended as an endorsement of their content and does not necessarily reflect the opinion of Anthony M. Cherniawski or The Practical Investor, LLC.
© 2005-2019 http://www.MarketOracle.co.uk - The Market Oracle is a FREE Daily Financial Markets Analysis & Forecasting online publication.

Only logged in users are allowed to post comments.
Register/ Log in