Stock Market SPX Correction May Be Over
Stock-Markets
/
Stock Markets 2011
Feb 27, 2011 - 02:21 PM GMT


Very Long-term trend - The continuing strength in the indices is causing me to question whether we are in a secular bear market, or two cyclical bull/bear cycles side by side. In any case, the very-long-term cycles are down and, if they make their lows when expected, there will be another steep and prolonged decline into 2014-15.
Long-term trend -In March 2009, the SPX began an upward move in the form of a mini bull market. Cycles point to a continuation of this trend for several more months.
SPX: Intermediate trend - The intermediate trend is still up and does not look in immediate danger of reversing. A short-term decline has taken place, but the index may be ready to rise to a new high.
Analysis of the short-term trend is done on a daily basis with the help of hourly charts. It is an important adjunct to the analysis of daily and weekly charts which discusses the course of longer market trends.
Daily market analysis of the short term trend is reserved for subscribers. If you would like to sign up for a FREE 4-week trial period of daily comments, please let me know at ajg@cybertrails.com.
Market overview:
In my Week-end Report, last week, I concluded that:
"For the time being, the long trend appears to be safe, and higher prices will probably occur before the SPX starts an intermediate retreat. However, we currently have the best technical evidence yet since the rise from 1275 that, this time, the SPX is not crying wolf about forming a minor top at this level, and that near-term caution is warranted."
I had a good projection to 1343 and the SPX had already reached 1344.07, and my indicators suggested an imminent reversal. Monday was a holiday, but on Tuesday, the index dropped almost 31 points, one of its worst declines in weeks.
Last Thursday, based on structure and P&F projections, I alerted my subscribers that I saw a good possibility that the decline would end at 1295. The low turned out to be 1294.26.

This earned me the following: "Andre--that was a brilliant call. thanks for all the extra updates and your hard work. You are really "there" for your subscribers when markets are roiled and we need you.-M.

OK, enough bragging! What happens next? Since Thursday's low, the SPX has rallied 26.35 points and closed near its high on Friday with excellent A/D figures to support the move. This was enough for my hourly indicator to give a strong buy signal, and for the daily charts to suggest a potential reversal, falling just short of giving an actual buy signal.
Analysis
Let's first analyze the Daily Chart. Whatever else you may believe, cycles were the cause of the decline. The small dark asterisk that you see at the past three peaks represents a 14-wk cycle which has been influencing the market since the March 2009 low. Also, the SPX was coming into the time frame for the 17-wk low and, Thursday was 180-calendar days from the August low.
These cycles, having bottomed, are now exerting upward pressure on the market. Their lows also coincided with two previously penetrated resistance lines – the dashed line, and the pale red one – which are now providing support to the market pull-back.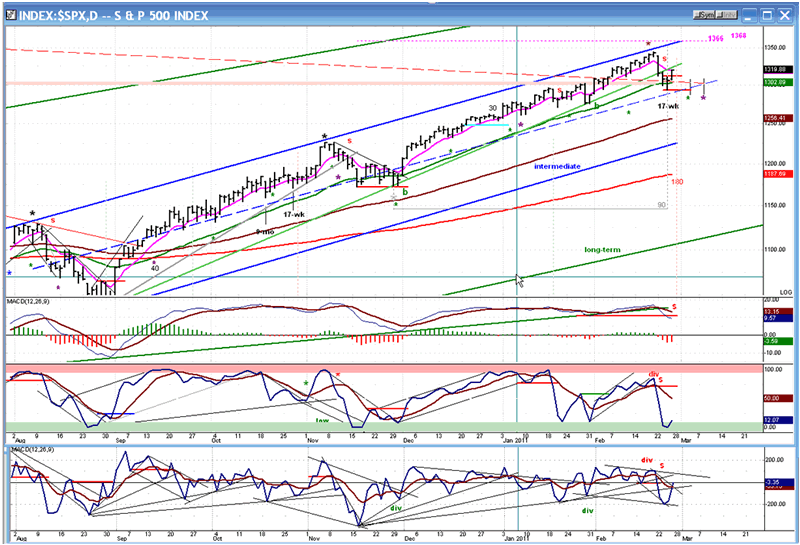 On Friday, the rally ran into its first resistance at the 1220 initial projection target, the lower part of a broken trend line, and a moving average. This should give us a minor retracement, after which the rally should continue to its next target of 1329 where it may pause for a longer period of time.
This is my proposed scenario. If, instead, we get some significant weakness in the next few days, we will have to re-consider the viability of 1295 being the end of the decline from 1344. Until the daily indicators give a confirmed buy signal, there will be a risk that a genuine reversal has not yet occurred.
Next, we look at the Hourly Chart. Two trend lines were broken when the sell signal was given: the light blue trend line from 1275 and the green trend line from 1041. The dark blue trend line is the top line of the intermediate channel. The dashed blue trend line is the median of that channel. One of the reasons I feel that we are not near an intermediate top, is because the intermediate trend does not show any deceleration. The SPX has consistently traded in the upper part of the channel and, recently, was able to rise to its very top.
The green trend line identified the short-term trend from 1041. Now that it has been broken, it has been replaced by an orange trend line (and channel) at a lesser angle. If 1295 remains the low of the correction, this is only minor deceleration of the trend and there is no guarantee that the next top will turn out to be an intermediate top.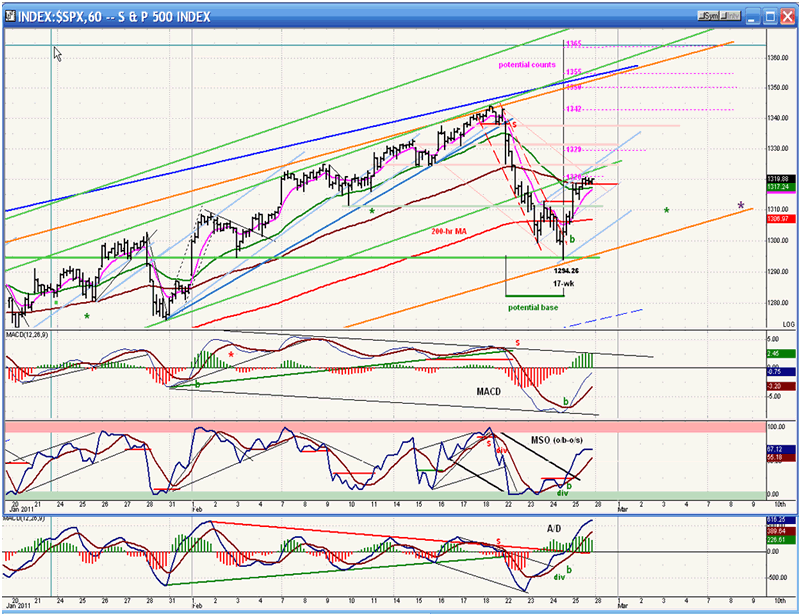 A strong buy signal was given when the reversal occurred on Thursday. It is reflected in all the indicators, which are still in an uptrend, but especially in the lower one. The surge in this indicator is even stronger than the one which started the uptrend at 1275. The middle indicator has a tendency to rise to the top, and then to show negative divergence before giving a sell signal. If it repeats this pattern, the top of the initial move could still be a week or more away.
On this chart, I have identified the potential base pattern from which projections can be made on the Point & Figure chart. The vertical scale from the low is a break-down of the count phase by phase, all the way to the left which has a projection of 1365. Just as there were several projections to ci. 1343 taken from different levels, so it is with the 1365 projection. There are, so far, three projections to that level for the next move, and I would not be surprised if one more formed as we approach the end of this rally. This is not an absolute guarantee that this is where the SPX is heading next, but it is, at least, a strong indication.

Cycles
The 14-week cycle pointing to a top, and the 17-wk cycle to a low proved reliable. In addition, I forgot to mention that a 13-wk cycle low was also due last week. Over the next week, there are some minor cycles which could bring about small corrections, but they should not have an important effect on the basic trend. Future cycles of minor consequence will be the next 13-wk cycle and the 14-wk top-to-top cycle. We'll refresh our awareness of them as they draw nearer.
Breadth
After some consolidation, the NYSE Summation Index (courtesy of StockCharts.com) is starting to move up again while still strongly in positive territory -- another sign that the market is not ready for an intermediate decline. For this, we'll have to wait until it turns down again and goes negative, as it did last July.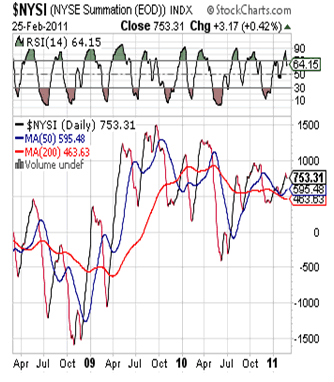 Sentiment
I purposely left the SentimenTrader (below, courtesy of same) from last week in place so that you could see which way the market is likely to go. The longer-term indicator is far more bullish than it was then. Another sign that this market should make new highs before topping out.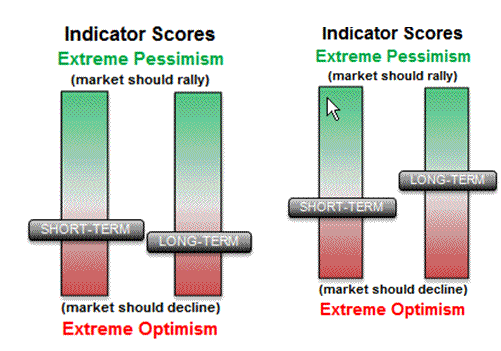 Dollar index
This is the chart of UUP, the dollar ETF. It made a top in early June 2010, broke out of its descending channel in late November, then started another decline which remains outside the main channel. With the indicators still in a downtrend, it does not look as if the decline is over, and there is a good possibility that it will break below the recent low which is currently acting as support. However, the P&F chart of the dollar suggests that it will bottom above the November low.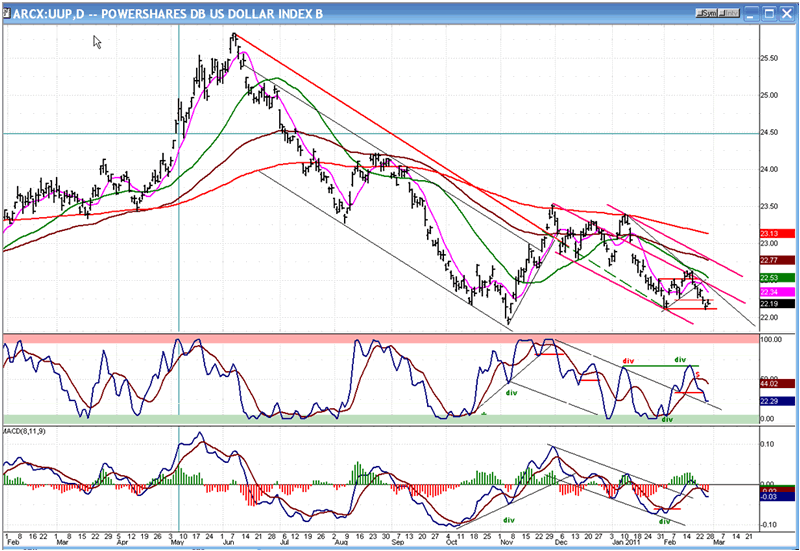 The whole pattern looks like the formation of an important base from which the dollar will eventually mount an important rally. This is still several weeks away, and the SPX has plenty of time to make a new high before it happens.
Gold
I have converted the GLD chart to a log chart on which long-term trend lines (especially), are more meaningful. I have also removed all previous projections because the index has moved back into its consolidation/distribution area, which will alter the P&F counts when it breaks out of it in either direction.
After meeting its 139 projection, GLD started to correct and met its initial target of 129. In doing so, it violated its long-term trend line, but reversed and is now moving back up in a short-term uptrend which is close to challenging the former highs.
The trend is currently in a state of flux and we need to wait a little longer before passing judgment on what GLD will do next.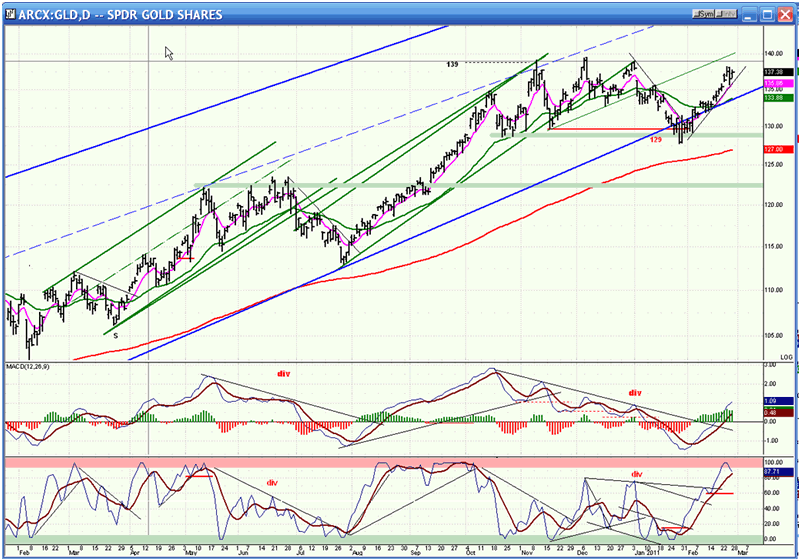 Summary
The SPX did what technical odds had favored: it corrected after reaching 1344.
Last Thursday, it had a strong near-term reversal from 1195, which suggests that it might have ended its correction at that level and is now ready to move to new highs.
At this time, the proposed scenario is only preliminary speculation, based on the current technical status of the index. The daily indicators will have to confirm that a short-term reversal in fact occurred at 1195. So far, they have not.
Andre
FREE TRIAL SUBSCRIPTON
If precision in market timing for all time frames is something which is important to you, you should consider a trial subscription to my service. It is free, and you will have four weeks to evaluate its worth.
For a FREE 4-week trial. Send an email to: ajg@cybertrails.com
For further subscription options, payment plans, and for important general information, I encourage you to visit my website at www.marketurningpoints.com. It contains summaries of my background, my investment and trading strategies and my unique method of intra-day communication with Market Turning Points subscribers.
By Andre Gratian
MarketTurningPoints.com
A market advisory service should be evaluated on the basis of its forecasting accuracy and cost. At $25.00 per month, this service is probably the best all-around value. Two areas of analysis that are unmatched anywhere else -- cycles (from 2.5-wk to 18-years and longer) and accurate, coordinated Point & Figure and Fibonacci projections -- are combined with other methodologies to bring you weekly reports and frequent daily updates.
"By the Law of Periodical Repetition, everything which has happened once must happen again, and again, and again -- and not capriciously, but at regular periods, and each thing in its own period, not another's, and each obeying its own law … The same Nature which delights in periodical repetition in the sky is the Nature which orders the affairs of the earth. Let us not underrate the value of that hint." -- Mark Twain
You may also want to visit the Market Turning Points website to familiarize yourself with my philosophy and strategy.www.marketurningpoints.com
Disclaimer - The above comments about the financial markets are based purely on what I consider to be sound technical analysis principles uncompromised by fundamental considerations. They represent my own opinion and are not meant to be construed as trading or investment advice, but are offered as an analytical point of view which might be of interest to those who follow stock market cycles and technical analysis.
© 2005-2019 http://www.MarketOracle.co.uk - The Market Oracle is a FREE Daily Financial Markets Analysis & Forecasting online publication.

Only logged in users are allowed to post comments.
Register/ Log in