Russian "Elected" Government and Dictatorship, What's the difference?
Politics
/
Russia
Nov 26, 2007 - 12:31 PM GMT

Garry Kasparov, the former world chess champion, was arrested by Russian authorities on Saturday for helping to lead an unsanctioned procession of at least 1,500 people (against Russian President Vladimir Putin), he was sentenced to five days in prison.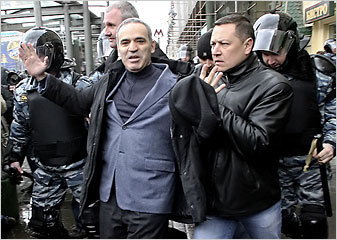 As usual, there were the usual cries from the opposition that Putin is trying to silence those who do not share his views, and that he is effectively operating as a dictator. Obviously, opinions on this will vary, depending on which side of the fence you are standing on, but let's look at this a little closer.
Just for the sake of argument, let's assume President Putin was ruling the country as a dictator and the people were able to vote him and his supporting government out of power. Who would replace him? The strongest opposition party in Russia is the communists, do the Russian people really want to return to a time in history where they were controlled and mislead? The greatness of the Soviet Union (towards the end) was an illusion, the country was falling apart!
Could Kasparov and his friends do any better? I think not, Russian's have already seen what the oligarch's can do to their country when Boris Yeltsin was in power, they fill up their own pockets at the expense of others. Those connected to Kasparov are the same people who "robbed" the country before, and would like to cash in on Russia's new wealth again.
It is perhaps no surprise that the public have clearly chosen Putin's leadership, because he has actually produced results that are good for Russia and the people. Whilst there is always room for improvement, life in Russia (for most) has improved during his term in power. The country is becoming a real world force (that is no illusion) and the people have regained their pride in Russia.
How does Russia compare with other countries? Let's take the United States as an example. Many believe that the current government "fixed" the election results to get into power and that they too are controlled by an American equivalent of the Russian oligarchs seen in Yeltsin's time. The US government have the support of the mainstream media, and the "traditional" opposition do very little to change the situation. Hilary Clinton, the leading Democrat in the presidential race, appears to be friendlier with Bush than she is with members of her own party. Doesn't that seem odd?
In reality, most governments are controlled by business people who use politicians to maintain (or increase) their wealth and power, not to take care of the people who voted them into office. If you believe differently, you are sadly a victim of the propaganda that is constantly fed to you, or have just arrived on this planet.
Russia is a little different in that any "control" is designed to block these "business people" from running the country, and in the long term this is beneficial to everyone. No one likes the idea of being controlled, but it has always been that way (since the beginning of time). However, if this is how it is going to be, we should choose the option that is best for us. Russian's have made that choice, they really do see Putin as a leader who can give them the future they are looking for. American's can do the same, if they stop voting for the politicians the media select for them, and choose a candidate they truly believe can give them the deal they are looking for. Ron Paul seems to offer that opportunity, but do the people have the courage to follow their own hearts, or the suggestions of the media?
By Ian Brockwell
http://www.Profindsearch.com
Ian Brockwell is the creator of Profindsearch.com and interests include writing, teaching, politics, climate change, UFO reports, businesses of all descriptions, medicine and generally trying to enjoy life. Profindsearch is a very small search engine, which hopes to be a Google one day! (We can all dream) Article source
© 2005-2019 http://www.MarketOracle.co.uk - The Market Oracle is a FREE Daily Financial Markets Analysis & Forecasting online publication.

Only logged in users are allowed to post comments.
Register/ Log in