What WIll Happen If Crude Oil Breaks Above $100?
Commodities
/
Crude Oil
Nov 28, 2007 - 03:35 AM GMT


The following is an excerpt from Larry Livingston's book Reminiscences of a Stock Operator , which is based on the story of Jesse Livermore, one of the greatest traders of all time.
When it got to 98 I said to myself, "Bethlehem is going through 100, and when it does the roof is going to blow clean off."
The tape said the same thing, more than plainly. In fact, it used a megaphone. I tell you, I saw 100 on the tape when the ticker was only printing 98. And I knew that wasn't the voice of my hope or the sight of my desire, but the assertion of my tape-reading instinct. I rushed to my broker's office and put in an order to buy 500 shares of Bethlehem Steel. I got them at 98 to 99.
After that, she shot right up and closed that night, I think, at 114 or 115. I bought 500 shares more. The next day Bethlehem Steel was 145.
It was an old trading theory of mine that when a stock crosses 100 (or 200 or 300) for the first time the price does not stop at the even figure but goes a good deal higher, so that if you buy it as soon as it crosses the line it is almost certain to show you a profit. Timid people don't like to buy a stock as a new high record. But I had the history of such movements to guide me.
I first read these words more than 25 years ago, and it stuck with me. Through the years, I've seen this simple yet powerful rule proven true time and time again.
For example, take a look at the chart of Chicago Mercantile Exchange Holdings (CME) from April of 2004. That was the first time the stock crossed 100.
CME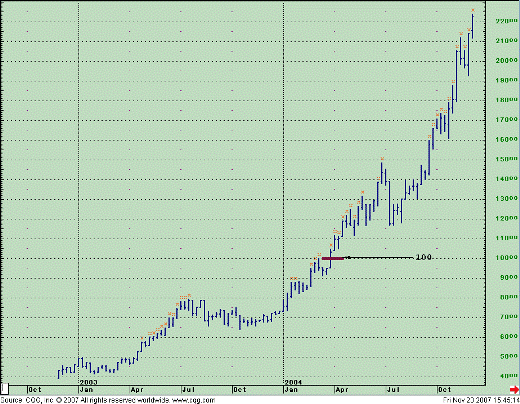 Source: Commodity.com
CME has never been below 100 since.
This rule holds equally true for commodities.
Cotton has only crossed above 100 ($1 per pound) one time in its history back in February 1995. When it crossed, it didn't stop until it reached 115 in just a few trading sessions.
Cotton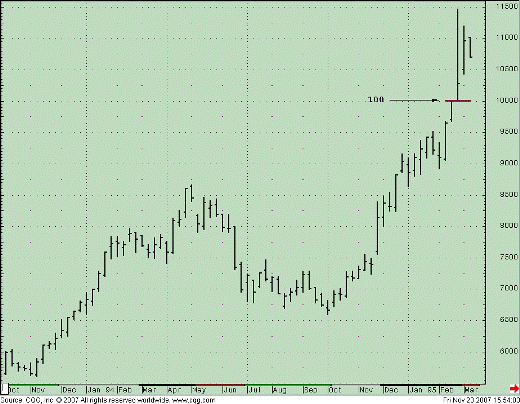 Source: Commodity.com
When sugar first crossed 100 (1,000 on the tape, or 10 cents per pound) in October 2005, it didn't stop either. It quickly ran above 1,100, then above 1,200 and then above every XX00 until it reached at its 1,973 peak in February 2006.
Sugar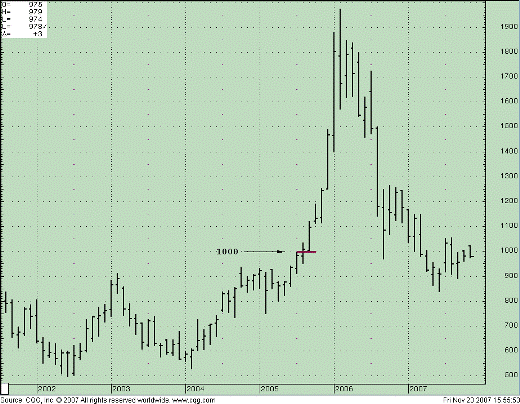 Source: Commodity.com
This brings us to the big one: crude oil. Oil traded as high as $99.29 a barrel last week, reaching a new closing high of $98.18 a barrel on the New York Mercantile Exchange on Nov. 23.
Oil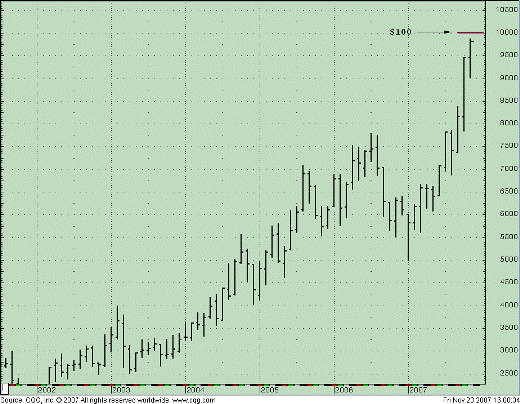 Source: Commodity.com
No, oil hasn't traded above $100 a barrel yet. And unlike Jesse Livermore, I don't see it on the ticker until that extra digit is printed. However, the fact is the world is currently producing at 99 percent capacity with no indications that record-high prices are rationing demand.
Think $100-a-barrel oil will be a spike? Take a lesson from one of the master traders of all time. If oil does cross $100 a barrel, then the new mark may just be the start.
By George Kleinman
President
Commodity Resource Corp.
Lake Tahoe,
Nevada 89452-8700
http://www.commodity.com
George Kleinman is the President of the successful futures advisory and trading firm Commodity Resource Corp. (CRC). George founded CRC in 1983 while on the "floor" of the Minneapolis Grain Exchange to offer a more personalized level of service to traders. George has been an Exchange member for over 25 years. George entered the business with Merrill Lynch Commodities (1978 - 1983). At Merrill he attained the honor of 'Golden Circle' ­ one of Merrill's top ten commodity brokers internationally. He is a graduate of The Ohio State University with an MBA from Hofstra University. George has developed his own proprietary trading techniques and is the author of three books on commodity futures trading published by the Financial Times.
He is Executive Editor of Futures Market Forecaster, a KCI Financial publication. In 1995, George relocated CRC to Nevada and today trades from an office overlooking beautiful Lake Tahoe. The firm assists individuals and corporate clients. CRC¹s exclusive clearing firm is R.J. O'Brien with all client funds held at RJO (assets in excess of $1.9 billion). Founded in 1914, R.J. O'Brien is a privately owned Futures Commission Merchant, and one of the most respected independent futures brokerage firms in the industry. RJO is a founding member of the Chicago Mercantile Exchange, a full clearing member of the Chicago Board of Trade, New York Mercantile Exchange, Commodity Exchange of New York and the New York Board of Trade. RJO offers the latest in order entry technology coupled with 24-hour execution and clearing on every major futures exchange worldwide. There is risk of loss when trading commodity futures and this asset class is not appropriate for all investors.
Risk Disclaimer

Futures and futures options can entail a high degree of risk and are not appropriate for all investors. Commodities Trends is strictly the opinion of its writer. Use it as a valuable tool, not the "Holy Grail." Any actions taken by readers are for their own account and risk. Information is obtained from sources believed reliable, but is in no way guaranteed. The author may have positions in the markets mentioned including at times positions contrary to the advice quoted herein. Opinions, market data and recommendations are subject to change at any time. Past Results Are Not Necessarily Indicative of Future Results.
Hypothetical Performance

Hypothetical performance results have many inherent limitations, some of which are described below. No representation is being made that any account will or is likely to achieve profits or losses similar to those shown. In fact, there are frequently sharp differences between hypothetical performance results and the actual results subsequently achieved by any particular trading program. One of the limitations of hypothetical performance results is that they are generally prepared with the benefit of hindsight. In addition, hypothetical trading does not involve financial risk, and no hypothetical trading record can completely account for the impact of financial risk in actual trading. For example, the ability to withstand losses or to adhere to a particular trading program in spite of trading losses are material points which can also adversely affect actual trading results. There are numerous other factors related to the markets in general or to the implementation of any specific trading program which cannot be fully accounted for in the preparation of hypothetical performance results and all of which can adversely affect actual trading results.
© 2005-2019 http://www.MarketOracle.co.uk - The Market Oracle is a FREE Daily Financial Markets Analysis & Forecasting online publication.

Only logged in users are allowed to post comments.
Register/ Log in