Gold and Silver Strong Bull Market Intact - HUI Bullish Signals
Commodities
/
Gold & Silver
Nov 29, 2007 - 07:03 AM GMT


The pull-back we are seeing in gold and silver is nothing more than some high-volume backing and filling, within the major uptrend. The annual Christmas rally which started in August has a lot of life in it yet.
The sub-prime mortgage debacle is nowhere near solved, and we can count on the central banks to do what they do with every problem they run into: print more money.
Nova-Gold just made headlines with news about a problem that most miners are all too aware off: It's costing more and more dollars to build a mine. The majority of exploration companies even if they find gold, never build a mine! It either costs too much, or it is located in an area that is too remote, or the area is no longer safe. The number of problems are endless. I'm confident that Nova-Gold will find a way, in view of the fact that the deposit at Galore Creek is large enough to pursue. Other companies, with smaller deposits are going to have a hard time bringing their gold to the surface. There have been no large gold finds for a number of years, and the increase in the amount of gold being produced is getting smaller.
The price of gold, adjusted for inflation (using the official CPI rate which is deliberately held down), would have to be over $2,200.00/oz, just to match the $850.00 price reached in 1980. The world has since added several billion new consumers. Gold is still cheap!
The central banks on balance, have less gold on hand than they claim to have. They will soon be reluctant to sell the gold that is still in their vaults, for fear that the price they can obtain, will be less than what they can get in the future, and they surely will want to avoid the mistake made by British PM Gordon Brown who with much fanfare, sold gold at $260.00/oz in 2001.
Or how about the Canadian central bank, which over a period of time, sold more than 90% of its gold, and put the money into US Treasury notes. Some 38 billion dollars worth!
The Wizard of Id once asked his finance minister, to supply him with some more money, so he could continue with his pet projects. The finance minister answered: "Oh, but we can't do that Sire!' "Why not", demanded the Wizard. "Because we don't have any more gold to back the currency." "Thank goodness" replied the Wizard. "For a minute I thought you were going to tell me that we'd run out of trees!"
Charts courtesy www.stockcharts.com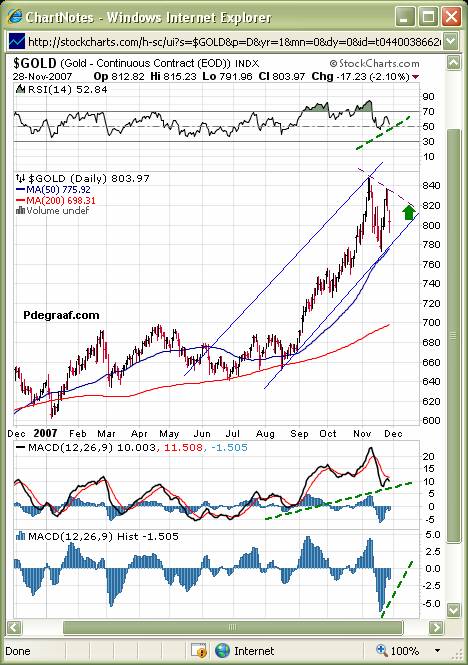 Featured is the daily gold chart. The uptrend is well defined. Price is carving out a pennant. A breakout at the green arrow could happen at any time, and will quickly take gold past the old high of 850.00 set in February of 1980. The supporting indicators are positive (green lines).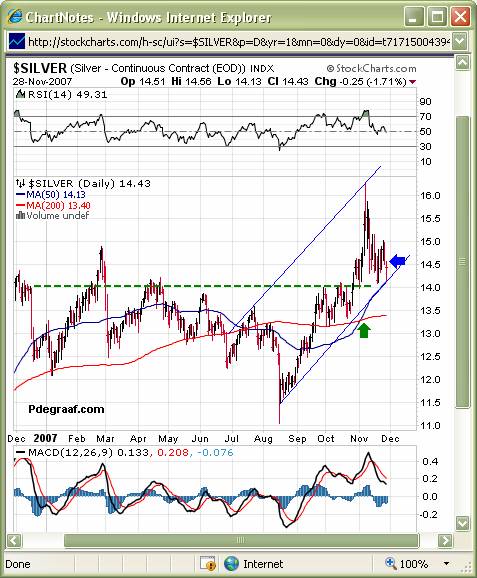 Featured is the December silver futures chart. Price tested the support level early today, marked by the rising 50DMA and the horizontal support at 14.00 (green line). Price closed near the high point of the day. The 50DMA and 200DMA are in positive alignment (green arrow), and both are rising. These are all bullish signs. A close above the blue arrow will start silver in search of the upper blue speed-line once again.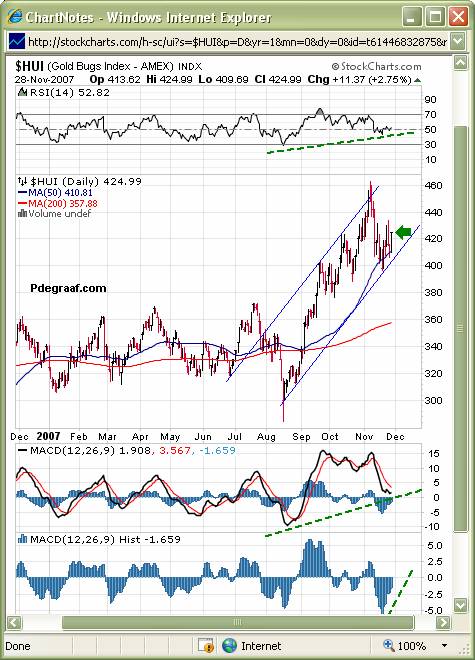 Featured is the HUI index of unhedged gold and silver stocks. The uptrend is well defined. Price produced a buy signal today (green arrow), after it tested support at the 50DMA. The supporting indicators are positive (green lines), the longer-term target for the HUI is 490 (resulting from the upside breakout at 400). This breakout has now been tested, and the HUI is getting ready to resume its uptrend. The fact that the HUI rose strongly, while gold was down in price today, is a very bullish signal for both gold and the HUI index.
By Peter Degraaf.
Peter Degraaf is an on-line stock trader, with 50 years of investing experience. He issues a weekly Email alert. For a 60 day free trial, send him an Email at ITISWELL@COGECO.CA , or visit his website: WWW.PDEGRAAF.COM
DISCLAIMER: Please do your own due diligence. I am NOT responsible for your trading decisions.
© 2005-2019 http://www.MarketOracle.co.uk - The Market Oracle is a FREE Daily Financial Markets Analysis & Forecasting online publication.

Only logged in users are allowed to post comments.
Register/ Log in