Are Floundering U.S. Debt Ceiling Talks Causing or Reflecting Uncertainty?
Stock-Markets
/
Global Debt Crisis
Jul 13, 2011 - 08:08 AM GMT


The chart below – courtesy stockcharts.com – is one example of various currency charts that are giving technical buy or sell signals
These "tentative" breakouts may be symptomatic of a much broader scenario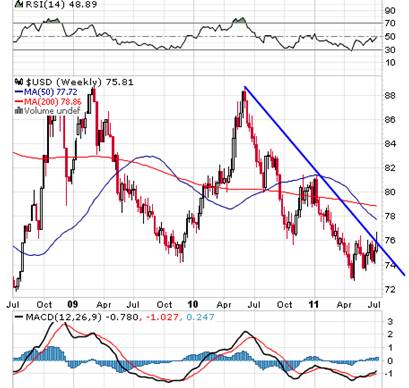 It seems that the impasse in the US debt ceiling negotiations is either creating or reflecting massive uncertainty – which, in turn, is being reflected in more than just the currency charts.
For example, there is technical evidence that the $SPX may be hitting significant resistance – from which it is currently pulling back.
If the dollar is breaking "up" at the same time that the $SPX is peaking then this should be reflected in the yield charts. Theoretically, the yields should be looking weak as money flows from various sources into US government bonds.
The monthly chart below (Source: Decisionpoint.com) looks like it's about to head south – from 4.2% to at least 4%. Further, if it falls below 4% we may witness some market dislocations.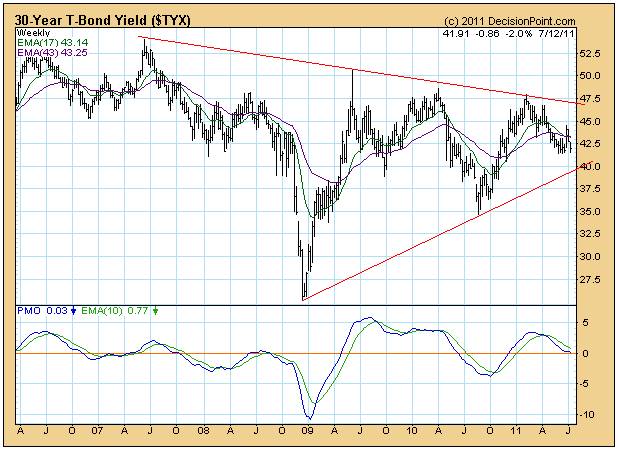 For example, the P&F chart below of the 30 year yield shows the potential for the yield to fall as low as 3.1% - if it breaks below 4%. (It should be emphasised that there are – as yet – no technical signs that the yield will break below 4%)
(Chart source: Stockcharts.com)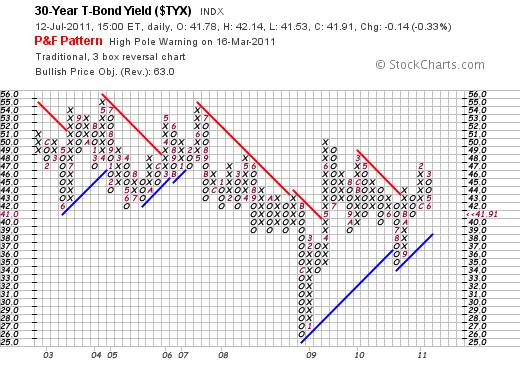 The possible 3.1% target is validated by the less sensitive chart below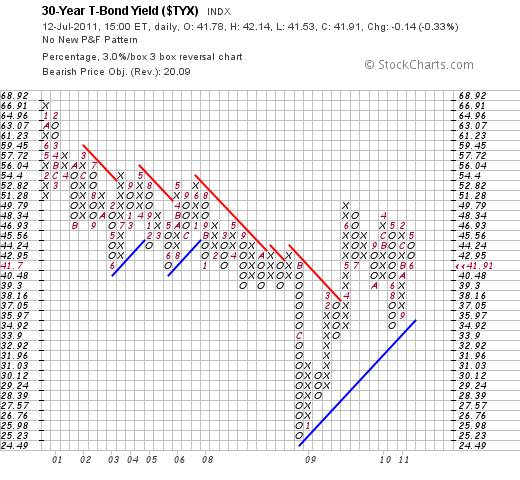 The current technical weakness in the yield charts seems to validate the conclusion that the capacity of the US government to borrow is weakening.
So, this begs the question: If the debt ceiling is not raised – or is raised less than the Democrats would like – then what are the implications for the US economy?
Well, if we get a "high pole" warning on the SPX, then the final target for the down-move that results could be as low as 1015 – a 23% down move.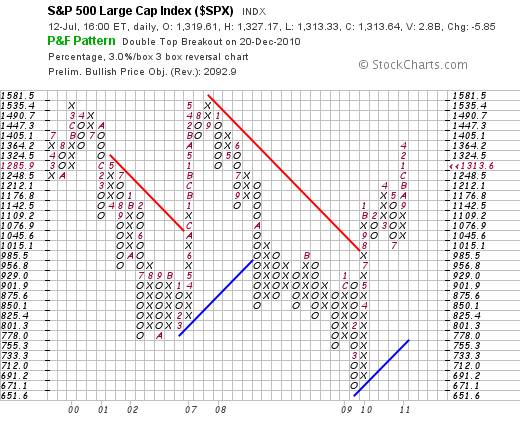 Maybe that's why small businesses and US consumers are so pessimistic. They can "feel" the building pressures. (Source: http://advisorperspectives.com/dshort/updates/NFIB-Small-Business-Optimism-Index.php )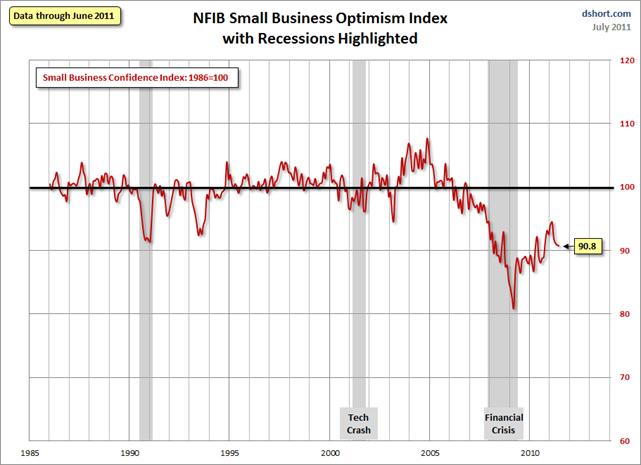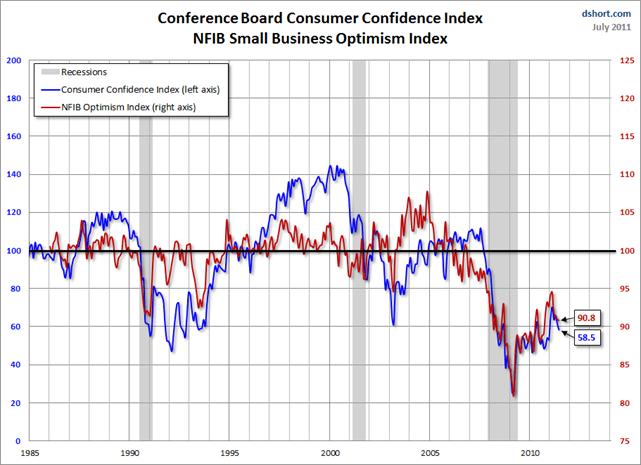 How will all this affect international business activity?
Note the down tick in the Baltic Dry Index (Importantly, this chart cannot be sensibly interpreted using technical analysis techniques. The chart does not reflect a "market" so much as it reflects the pressures on freight rates that flow from the interplay of supply and demand for space on cargo ships). What this down tick is signalling "may" be an early warning sign (leading indicator) of a potential slowing of manufacturing activity (demand for dry goods).
Source: http://investmenttools.com/futures/bdi_baltic_dry_index.htm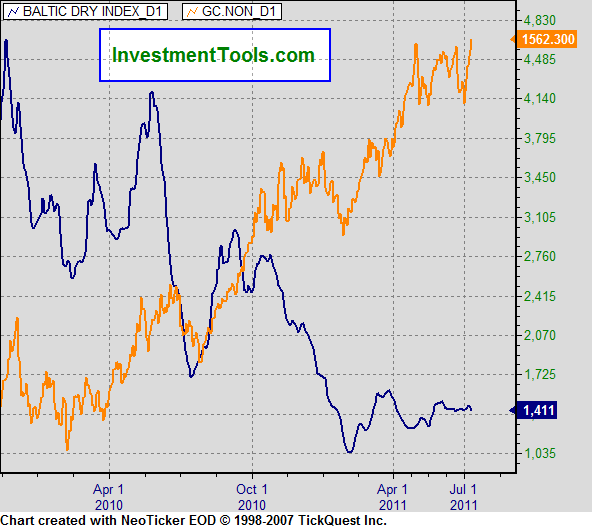 Is this down tick being reflected in commodity prices?
That's not an easy question to answer – because the gold price seems to be strengthening. However, the chart below shows symptoms of the "possibility" of a high pole warning. It's too early to make the call yet, but it is yet another straw in the winds of uncertainty.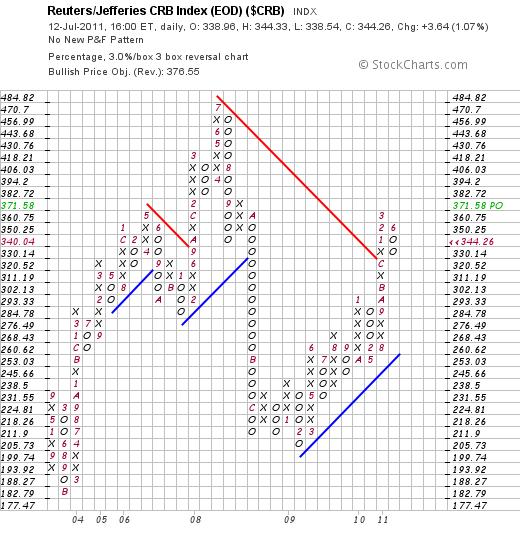 Conclusion
The impasse in the debt ceiling negotiations is either causing or reflecting uncertainty. A couple of weeks ago it might have been argued that this impasse was merely a symptom of brinkmanship and testosterone. Now, given the recent comments by Mr Boehner and Mr Obama, it seems that the impasse may be a function of deep seated philosophical differences. Arguably, the markets were overdue to change direction in any event. Arguably, the impasse is merely political contrivance that will allow each side to point the finger at the other side as having been the "cause" of the financial unravelling – an unravelling that had to happen at some point. Time will tell. But one thing is certain: One should not underestimate the capacity of politicians to behave unethically.
Author Note
In my two novels – Beyond Neanderthal and The Last Finesse – the fictional storylines lead the reader to understand that the Rule of Law in modern society has very likely been dislodged from the ethical foundation on which it was originally constructed. Together, the two novels take a right brain/left brain look at modern society and suggest that the issues we face are addressable, subject to the satisfaction of some conditions precedent; the most important of which will be a society-wide re-embracement of ethics. For example, if one looks at the wording of many so-called contracts between large organisations and small businesses and/or consumers, it becomes clear that whilst the wording of many contracts are not illegal, they may certainly be characterised as unethical. Often, warranties are not worth the paper on which they are printed. Often, "contracts" allow the stronger party to unilaterally modify its behaviour relative to the weaker party out into the future. This is not only unethical, it is outrageously so. Arguably, commercial arrangements which favour one party above the other cannot survive the test of time. And yet, such examples not only exist, they pervade society. Against this background, will the world economy power ahead? Well, let's put it this way: If one has the capacity to believe in fairies then, "yes". But here's the thing: When people behave unethically, trust is eroded. When trust is eroded then there is no foundation on which commercial relationships can be built. For example, if I do not trust you, then why would I do business with you – unless I had no intention of honouring my side of the agreement? In which case, why would you do business with me? The Last Finesse is currently being edited preparatory to publication in September in e-book format. If you would like to acquire a copy of either/both books please email the author at info@beyondneanderthal.com
By Brian Bloom
Once in a while a book comes along that 'nails' the issues of our times. Brian Bloom has demonstrated an uncanny ability to predict world events, sometimes even before they are on the media radar. First he predicted the world financial crisis and its timing, then the increasing controversies regarding the causes of climate change. Next will be a dawning understanding that humanity must embrace radically new thought paradigms with regard to energy, or face extinction.

Via the medium of its lighthearted and entertaining storyline, Beyond Neanderthal highlights the common links between Christianity, Judaism, Islam, Hinduism and Taoism and draws attention to an alternative energy source known to the Ancients. How was this common knowledge lost? Have ego and testosterone befuddled our thought processes? The Muslim population is now approaching 1.6 billion across the planet. The clash of civilizations between Judeo-Christians and Muslims is heightening. Is there a peaceful way to diffuse this situation or will ego and testosterone get in the way of that too? Beyond Neanderthal makes the case for a possible way forward on both the energy and the clash of civilizations fronts.

Copies of Beyond Neanderthal may be ordered via www.beyondneanderthal.com or from Amazon
Copyright © 2011 Brian Bloom - All Rights Reserved
Disclaimer: The above is a matter of opinion provided for general information purposes only and is not intended as investment advice. Information and analysis above are derived from sources and utilising methods believed to be reliable, but we cannot accept responsibility for any losses you may incur as a result of this analysis. Individuals should consult with their personal financial advisors.
© 2005-2019 http://www.MarketOracle.co.uk - The Market Oracle is a FREE Daily Financial Markets Analysis & Forecasting online publication.

Only logged in users are allowed to post comments.
Register/ Log in