Do We Have a Medicare Budgetary Problem or an Aging Population Problem?
Politics
/
Demographics
Jul 19, 2011 - 02:05 AM GMT


Chart 1 shows what is driving the projections of federal spending (and, implicitly, the national debt) in the upcoming 11 fiscal years - mandatory federal outlays and interest on the debt. What is driving up mandatory outlays is spending on retirees - Medicare and Social Security.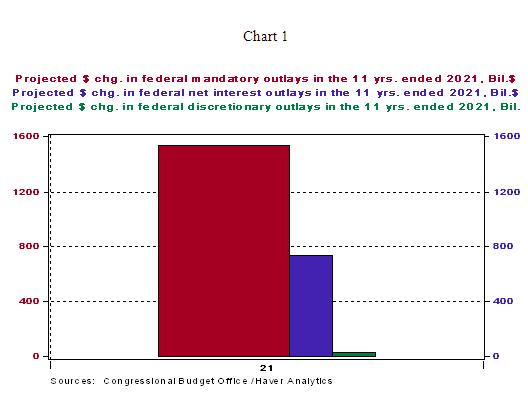 The primary reason Medicare and Social Security expenditures will be rising so rapidly is that our retiree population will be rising rapidly (see Chart 2).The real economic implication of this sharp increase in government spending on retirees is that the U.S. economy will not be able to grow as rapidly in the future as otherwise because of an adverse effect on the productivity of the future labor force. (In addition, as also shown in Chart 2, growth in the labor force is projected to slow.) As more of our finite economic resources are transferred to retirees - a segment of the population no longer producing goods and services, just consuming them - there will be fewer resources left over and available to increase the productivity of the future labor force. That is, there will be fewer resources available to businesses to invest in state-of-the-art capital goods and fewer resources available to provide for a quality education of the future labor force. New capital goods and a quality education are key positive drivers of labor productivity.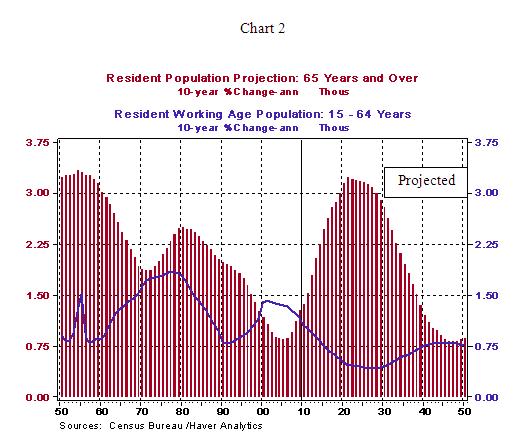 Even if we did not have Medicare and Social Security programs, the U.S. economy still would be facing slower growth than otherwise because of our rapidly aging population. Whether paid for by the government or retirees, medical expenditures for retirees will be rising rapidly in the U.S. because of demographics. Large quantities of resources will be used for the health care of retirees regardless of who pays for it. As mentioned above, this will deprive the economy of resources that otherwise could have been used to enhance the productivity of the future labor force.
Slower productivity growth, all else the same, implies a slower rate of increase in an economy's standard of living. The adverse effect on the future growth in the standard of living of U.S. residents could have been avoided or alleviated if we had saved more in the past in preparation for this demographic event. By saving more, we could have grown faster in the past and exported more of this production. In the event, we would then have been in a position to import more goods and services in the future. Some of these imported goods might have been productivity-enhancing capital goods, which would have allowed our future workers to produce more. Some of these imported goods might have been goods consumed by our retirees, thus leaving more of our resources available to provide a quality education for our children and grandchildren. But alas, as shown in Chart 3, our net national saving rate has been trending lower since the early 1980s, with one exception - the second half of the 1990s when our federal budget was moving toward balance. Oh well, we did have fun, didn't we?


Paul Kasriel is the recipient of the 2006 Lawrence R. Klein Award for Blue Chip Forecasting Accuracy
by Paul Kasriel
The Northern Trust Company
Economic Research Department - Daily Global Commentary
Copyright © 2011 Paul Kasriel
Paul joined the economic research unit of The Northern Trust Company in 1986 as Vice President and Economist, being named Senior Vice President and Director of Economic Research in 2000. His economic and interest rate forecasts are used both internally and by clients. The accuracy of the Economic Research Department's forecasts has consistently been highly-ranked in the Blue Chip survey of about 50 forecasters over the years. To that point, Paul received the prestigious 2006 Lawrence R. Klein Award for having the most accurate economic forecast among the Blue Chip survey participants for the years 2002 through 2005.
The opinions expressed herein are those of the author and do not necessarily represent the views of The Northern Trust Company. The Northern Trust Company does not warrant the accuracy or completeness of information contained herein, such information is subject to change and is not intended to influence your investment decisions.
© 2005-2019 http://www.MarketOracle.co.uk - The Market Oracle is a FREE Daily Financial Markets Analysis & Forecasting online publication.

Only logged in users are allowed to post comments.
Register/ Log in