U.S. Debt Cut Deal is Just Smoke & Mirrors
Interest-Rates
/
US Debt
Aug 02, 2011 - 06:40 AM GMT

That's it? This is the deal? This is what they've been supposedly fighting over for months?
We'll get to the exact details in a moment but let's start by doing a fantasy comparison of the same "cuts" being made in a format that the regular man on the street can understand.
Doctor: Uncle Sam, you've been drinking larger and larger amounts of alcohol every day since 1960. 1960 was the last year where you didn't drink. You are going to die if you keep this up.
Uncle Sam: I don't want to die, Doc. Tell me what I need to do.
Doctor: Well, from 1960-1975 you weren't too bad. You drank 3 or 4 beers per day but it was under control. You could have stopped if you wanted... you just didn't. However, throughout the 80s it increased to about 5 or 6 per day and then by the 90s you were up to drinking 10 beers a day.
Uncle Sam: Yes, Doc, but remember 1999 and 2000? I slowed to only 5 or 6 beers per day again.
Doctor: Yes, but that was just for 2 years. Since then you've gotten completely out of control. You've increased every year since and then, since 2008 to now you've gone from 30 to 40 beers per day.
Uncle Sam: Ok Doc. It's time to get serious. Here is what I'm going to do. I am now drinking 40 beers per day but in 2013 I will only drink 39.6. And in 2014 I will only drink 39.4 beers per day. By 2021 I will be down to 38 beers per day. Will that work?
Doctor: You're in denial. And, you'll be lucky to make it to 2013 much less 2021.
And that is exactly what the US Government is proposing. It hasn't had a government surplus since 1960 and the deficits have gone into the stratosphere since 2008. Yet, all this debt deal purports to achieve is no cuts until 2013 and then some small cuts in 2013 and 2014, increasing to $112 billion of cuts from a $4 trillion+ budget by 2021! In other words, not even a drop in the bucket.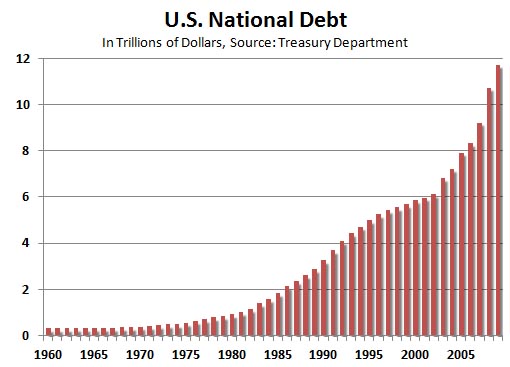 The total amount of cuts they say they will achieve by 2021 is $2.1 trillion - or, if averaged, $210 billion per year out of a budget that in 2011 was $3.82 trillion - or a 5.49% cut.
But here is the real kicker. They say they can't cut much in 2012 and 2013 because the economy is too weak. Well, they ain't seen nothing yet. By 2012 and 2013 we will be well into the Greater Depression at which time they will say they cannot even make these meager cuts.
In other words, even if they do follow through with this, it is a drop in the bucket. And chances are they won't even follow through with it.
All this deal does is give us even more proof that the US Government is on the fast track to collapse - either by debt default or hyperinflation... and all of our plans and strategies for this inevitability look even more critical.
This evening we are releasing the August issue of TDV where we talk much more in depth about the coming collapse and strategies and info for how best to survive the coming storm. Subscribe today to become a part of our community of dollar crash survivors.
The Dollar Vigilante is a free-market financial newsletter focused on covering all aspects of the ongoing financial collapse. The newsletter has news, information and analysis on investments for safety and for profit during the collapse including investments in gold, silver, energy and agriculture commodities and publicly traded stocks. As well, the newsletter covers other aspects including expatriation, both financially and physically and news and info on health, safety and other ways to survive the coming collapse of the US Dollar safely and comfortably. The Dollar Vigilante offers a free newsletter at DollarVigilante.com.
© 2011 Copyright Jeff Berwick - All Rights Reserved
Disclaimer: The above is a matter of opinion provided for general information purposes only and is not intended as investment advice. Information and analysis above are derived from sources and utilising methods believed to be reliable, but we cannot accept responsibility for any losses you may incur as a result of this analysis. Individuals should consult with their personal financial advisors.
© 2005-2019 http://www.MarketOracle.co.uk - The Market Oracle is a FREE Daily Financial Markets Analysis & Forecasting online publication.

Only logged in users are allowed to post comments.
Register/ Log in