S&P Downgrade of US Debt Puts Stock Market Under Pressure
Stock-Markets
/
Stock Markets 2011
Aug 08, 2011 - 06:00 AM GMT


The financial markets have been under pressure now for weeks and the selling reached a crescendo last week as the DOW fell over 500 points in one day on Thursday. This weekend people are even more worried about what may happen this week, because ratings agency Standard & Poor's downgraded U.S. Treasury bonds from a AAA rating to AA+.
People are concerned that this ratings downgrade will have a big impact the stock market and interest rates.
The Obama administration was contacted Friday by the ratings agency and tried persuade them to not go through with the downgrade to no avail. Once the news came out they then went on the counterattack trying to argue publicly that it was a mistake.
You may want to read the S&P's report for yourself. It's not that long. To do so just use this click here: Standard & Poor's Official Downgrage of US Debt.
The main reason the S&P downgraded the debt is over doubts that the President and Congress will ever come to a long-term solution regarding the nation's budget deficit. They "view the difficulties in bridging the gulf between the political parties over fiscal policy, which makes us pessimistic about the capacity of Congress and the Administration to be able to leverage their agreement this week into a broader fiscal consolidation plan that stabilizes the government's debt dynamics any time soon."
S&P is not the only ratings agency that matters. You also have Moody's and Fitch - in fact they are somewhere more important because most financial institutions base their investment decisions on the ratings that emanate from these two agencies. Agencies do not downgrade debt for no reason and in fact usually only do so after there are serious problems. They failed to issue sufficient warnings about mortgage backed securities during the subprime crisis. Moody's has warned that it may also downgrade the debt and Fitch is set to complete its own overview of US government debt by the end of this month.
Even though this is big news that is hitting the headlines I'm skeptical that this ratings decision is going to have a huge impact on the stock market. US government debt is really not a problem at the moment - it's more of a problem that is going to be huge down the road. The downgrade is a warning.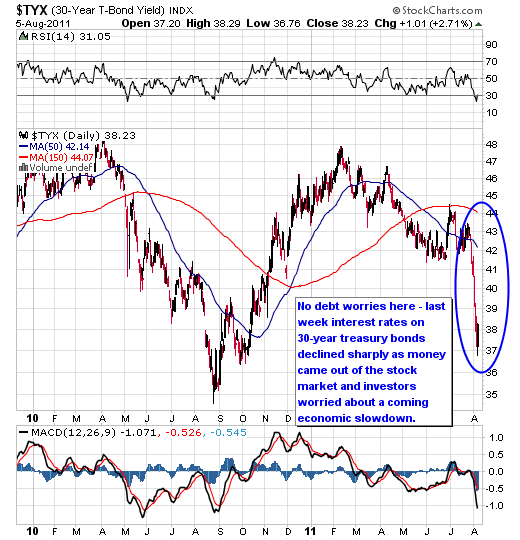 Even though the stock market has been declining the past few weeks there is very little evidence that the financial markets have been adversely effected by the issues surrounding the US debt and the negotiations and political controversy that swirled about the debt limit debate of the other week.
The ultimate proof for this argument is that the interest rates on Treasury bonds fell to new lows last week. Bond investors have been much more worried about the prospects of another slowdown in the economy than they are about US debt problems. At the same time money has flowed out of stocks and European markets and into US bonds and gold as a safe haven.
In fact the debt problems that are blowing up and impacting the market the most are coming from Europe were Greece is on the path to defaulting on its debt and Italy is on the verge of a true full blown debt crisis and Spain is on its own path to that destination. Europe is in a debt crisis. The S&P is simply warning that the US could be too in the future.
But that's not today. The US is not in a debt crisis like Greece.
Stock markets across the globe have been in decline due to the problems in Europe and worries that US is going to slip back into recession. Recent economic data has been soft and there is no sign that the US ever entered a sustainable economic recovery. The bailout and stimulus policies started under Bush and taken to new extreme by Obama have failed to put the economy on the proper footing.
When stock markets go through corrections those corrections come to an end in a final wave of selling panic and psychological capitulation. We saw pure selling panic on Thursday as not only were the market averages down big, but the ratio of sell to buy orders on the NYSE and Nasdaq reached 9:1, the put call/ratio jumped above 1, and the VIX managed to rise above 35.
That action is what you normally see in a correction like this at a bottom or at the start of a bottoming process.
Going into Friday I was thinking the latter was what we about to see - and a bottoming process in this type of price formation would mean you'd get back and forth action for a few days and then a turn higher and rally in the markets. The back and forth moves fool shorts and longs who are looking at the intraday gyrations to make decisions, but leads to a quick base that can reverse lead to a rally.
So on Friday when the market gapped up on better than expected employment data I thought it best to stay away from the market and ignore that gap up.
Heading into this coming week the stock market was setup to put some sort of bottom and end to its current decline. The S&P news is likely to put more pressure on the markets on Monday and cause psychological angst among some, but the market should still stabilize this week and turn higher.
If we get a big gap down on Monday or see big selling in the morning it wouldn't surprise me if we don't see the market bottom before the day is over. Corrections often end with some big news event that scares everyone.
I even suspect that the impact on the bond market will be temporary also. The debt downgrade will be the focus this weekend and on Monday, but it will soon be old news. Once the market rallies for a few weeks all of the talk will be at more Fed money printing and the prospects of a quantitative easing three and once that rally fades the focus will be on Europe and worries about a slowing economy again.
So the debt downgrade news is simply one item in a much bigger picture.
Subscribe to my free weekly newsletter for more in depth analysis of the financial markets with a discussion of individual stock picks. To subscribe for free click here.
By Michael Swanson

WallStreetWindow.com
Mike Swanson is the founder and chief editor of WallStreetWindow. He began investing and trading in 1997 and achieved a return in excess of 800% from 1997 to 2001. In 2002 he won second place in the 2002 Robbins Trading Contest and ran a hedge fund from 2003 to 2006 that generated a return of over 78% for its investors during that time frame. In 2005 out of 3,621 hedge funds tracked by HedgeFund.Net only 35 other funds had a better return that year. Mike holds a Masters Degree in history from the University of Virginia and has a knowledge of the history and political economy of the United States and the world financial markets. Besides writing about financial matters he is also working on a history of the state of Virginia. To subscribe to his free stock market newsletter click here .
Copyright © 2010 Michael Swanson - All Rights Reserved.
Disclaimer - WallStreetWindow.com is owned by Timingwallstreet, Inc of which Michael Swanson is President and sole shareholder. Both Swanson and employees and associates of Timingwallstreet, Inc. may have a position in securities which are mentioned on any of the websites or commentaries published by TimingWallStreet or any of its services and may sell or close such positions at any moment and without warning. Under no circumstances should the information received from TimingWallStreet represent a recommendation to buy, sell, or hold any security. TimingWallStreet contains the opinions of Swanson and and other financial writers and commentators. Neither Swanson, nor TimingWallstreet, Inc. provide individual investment advice and will not advise you personally concerning the nature, potential, value, or of any particular stock or investment strategy. To the extent that any of the information contained on any TimingWallStreet publications may be deemed investment advice, such information is impersonal and not tailored to the investment needs of any specific person. Past results of TimingWallStreet, Michael Swanson or other financial authors are not necessarily indicative of future performance.
TimingWallStreet does not represent the accuracy nor does it warranty the accuracy, completeness or timeliness of the statements published on its web sites, its email alerts, podcats, or other media. The information provided should therefore be used as a basis for continued, independent research into a security referenced on TimingWallStreet so that the reader forms his or her own opinion regarding any investment in a security published on any TimingWallStreet of media outlets or services. The reader therefore agrees that he or she alone bears complete responsibility for their own investment research and decisions. We are not and do not represent ourselves to be a registered investment adviser or advisory firm or company. You should consult a qualified financial advisor or stock broker before making any investment decision and to help you evaluate any information you may receive from TimingWallstreet.
Consequently, the reader understands and agrees that by using any of TimingWallStreet services, either directly or indirectly, TimingWallStreet, Inc. shall not be liable to anyone for any loss, injury or damage resulting from the use of or information attained from TimingWallStreet.
© 2005-2019 http://www.MarketOracle.co.uk - The Market Oracle is a FREE Daily Financial Markets Analysis & Forecasting online publication.

Only logged in users are allowed to post comments.
Register/ Log in