Emerging Market Companies- Strong Balance Sheets to Weather Economic Downturn
Companies
/
Emerging Markets
Dec 09, 2007 - 01:08 AM GMT

A seasoned investor in the international arena sent me an e-mail the other day using the signature "A Silk Roader." I found the term appropriate for The Silk Road Investor subscribers, providing a code word of sorts to a circle that's still selective. ( Silk is my emerging markets newsletter.) Most investors haven't yet grasped the economic transformation taking place in front of our eyes.
Asia is leading this great global economic transformation and will be the engine of growth for years to come. And the region ex-Japan is still enjoying a long-term bull market that commenced at the bottom of the 1998 Asian Crisis.
I've also received inquires regarding the upside potential for many Portfolio recommendations from investors trying to identify the next big winner. Occasionally, I'll identify such plays. But the bottom line is I don't play this game; fast guns are wasting their time with this publication as well as Asia and the rest of the emerging markets as an asset class.
My investment approach remains one of gradual appreciation through the construction of a balanced portfolio that should be able to withstand the ups and downs of the marketplace, which is usually more pronounced in the emerging markets universe. The latter occurs because of the perceived risk of these economies as well as the relative small size of their markets.
This leads to the most talked about emerging markets issue, particularly with regard to Asia. Inquiring minds want to know whether we're headed for a potential decoupling of Asian economies and markets from those of the most developed economies, particularly the US, where most of the economic problems can be found this time around.
Global markets have been synchronized for some time now, and it will take years for Asia to truly decouple from the US. That's the general trend, but genuine decoupling will occur only after Asian economies are bigger and more assertive.
The rest of the world's economies--led by Asia--have been able to sustain global economic growth to elevated levels since the US started losing steam in the middle of 2006. And if the US avoids recession, the rest of the world will continue to do so.
But if the current credit problems substantially damage the US economy, the world will feel the pain and economies will slow. Given their strong fundamentals, economies in Asia will be able to deal with such a blow much better than before and will subsequently bounce much faster off the downturn.
The long-term Asia story is founded on the economic reforms, moves toward privatization and commitment to free trade that emerged from the Asian Crisis. Asian governments and the region's economic establishment have since been redefined.
The region's companies have also been improving by shedding unprofitable businesses, paying down debt and enhancing management techniques.
Asian companies are generally cash rich, especially compared with the US-based companies. As the following chart demonstrates, cash on their balance sheets in some cases exceeds 30 percent of market capitalization.
Singaporean and Chinese companies are extremely strong in that respect. They can use this cash in a lot of ways, and they'll have funds available to sustain them during bad times.
Investing in such strong companies during downturns means you'll be able to buy solid future growth and strong balance sheets that will be penalized in a general downturn.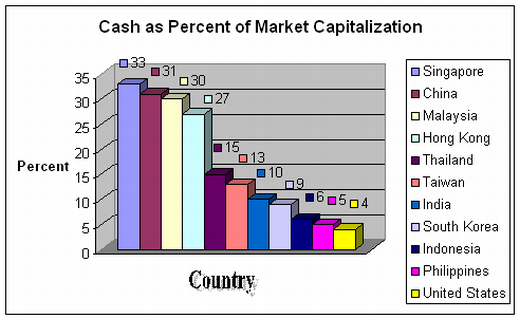 Source: Merrill Lynch , Silk
Many US-based readers have requested information on brokers who can better execute international-related trades.
By Yiannis G. Mostrous
Editor: Silk Road Investor, Growth Engines
http://www.growthengines.com
Yiannis G. Mostrous is an associate editor of Personal Finance . He's editor of The Silk Road Investor , a financial advisory devoted to explaining the most profitable facets of emerging global economies, and Growth Engines , a free e-zine that provides regular updates on global markets. He's also an author of The Silk Road To Riches: How You Can Profit By Investing In Asia's Newfound Prosperity .
© 2005-2019 http://www.MarketOracle.co.uk - The Market Oracle is a FREE Daily Financial Markets Analysis & Forecasting online publication.

Only logged in users are allowed to post comments.
Register/ Log in