U.S. Government Caught Killing American Jobs, Destruction by Design
Economics
/
Employment
Sep 13, 2011 - 09:28 AM GMT


A Note from Editor Jared Levy: At a time when job creation is front and center, and on an evening when our president vowed to bring jobs back into our economy, I learned of disturbing news.
An old friend of mine who used to trade with me on the floor of the Philadelphia Stock Exchange called me, outraged, after learning about the U.S. government's destruction of an American legend.
I couldn't steal his thunder, and asked him to write about it.
Destruction by Design
By BJ Dolfman
Jobs are the key to any productive society. The United States has gone from a manufacturing hub and land of pride and opportunity to a post-industrial wasteland in many parts of the country. We keep hearing that our government's main agenda is job creation.
I'm not sure what statistics our government is following, but by my calculations we are losing jobs here, not adding them. What they don't tell you is that they are great at job creation overseas.
My only thought is that the destruction of the middle class is almost by design. Every day I read news that almost brings me to tears.
The latest event is the raid of the Gibson guitar factory in Tennessee by the FBI. This is the same Gibson guitar factory that created instruments that helped mold our modern culture and is an American icon, idolized around the world.
Gibson was raided not because of tax evasion, illegal business practices or fraud.
The fed's guns were drawn was to enforce another country's law! That's right, our federal agents are wasting time and tax dollars to interrupt business at a factory that has employed many American workers for over a century.
You see, there is something called The Lacey Act of 1900, which is a conservation law introduced by Iowa Rep. John F. Lacey. Protecting both plants and wildlife by creating civil and criminal penalties for a wide array of violations, the act most notably prohibits trade in wildlife, fish and plants that have been illegally taken, transported or sold.
The law was signed into law by President William McKinley on May 25, 1900, and is still in effect, although it has been amended several times. This act generally applies to the manufacturing of guitars when endangered species of wood could be illegally used. In this case, the wood was certified legal from India's government, so the Lacey Act did not apply here.
But wait a minute!
The feds actually came into the factory to enforce laws that make it illegal for India to import raw materials (wood for the finger boards) and finish the goods outside of the country. This means that if the guitars were assembled in India, there would be no problem at all.
So our government is upset that American labor is finishing the wood that was imported from India? UNREAL! Does anyone see the irony here? I think Stevie Wonder could.
I listened to Gibson CEO Henry Juszkiewicz interviewed on a popular radio show (watch the interview here) shown a day after the raid, and he admitted that he was told that moving to Madagascar would be a "good" idea.
Am I the only one that thinks it's scary when a federal official tells a prominent U.S. business leader to take his business elsewhere?
There are a few rumors flying around, one being he is a Republican contributor and his largest competitor is a major Obama donor, and this is a favor to the competitor. I can believe that to a point, but I really think there is a deeper motive. I think the U.S. government is attempting to destroy the middle class, and by doing this will create a more obedient, desperate population that will accept any forms of austerity measures. Once you get the majority of the population dependent on the government (50 million on food stamps now) they will generally do what they are told.
Now, you might think I am crazy and paranoid, but this control grab has been going on right out in the open over the past year. The raids on organic food farms, the Amish, cops shutting down little kids' lemonade stands, threatening to put citizens in jail for having outdoor gardens, etc... The list goes on.
This raid on Gibson really set me off. We need to take a stand and put a stop to this tyranny. This is the United States, not East Germany of the 1970s. It's time to step away from our GMO foods, anti-depressant medications and video games for five minutes and realize our country is going to hell in a handbasket.

--------------------------------------------------------------------------------
Dear Reader,
There is no doubt this is a powerful, edgy and perhaps disturbing story. We are dealing with a fragmented government that lacks focus and continues to make mistakes like this that hurt not only job growth here in the U.S., but the American psyche.
It's not a right- or left-wing thing; it's about doing right for America and giving my kids and grandkids a better life than I have.
Last night, President Obama laid out a plan to improve jobs in America. While tax cuts would be nice, it seems to me that this costly plan (almost $500 billion) is not the cure we sought for Main Street or Wall Street. I am not the only one who thinks so.
Just two hours after the speech, here were the results of a poll conducted by The Wall Street Journal. Certainly there are those who feel he spoke well. Obama does have a gift with words. I am hoping for more follow-through than we've seen to date...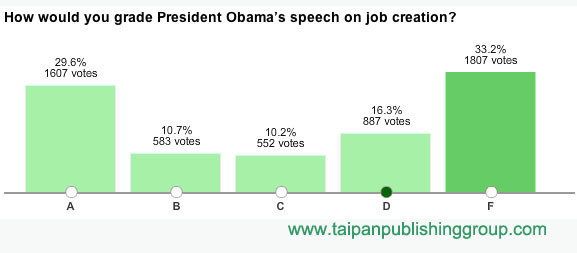 Until we clean up all the small details that we seem to be ignoring, such as punishing an iconic American company for keeping jobs here, we are losing the battle and will eventually lose the honor of being the greatest, wealthiest nation on God's green earth.
Remember that there is always more than one solution,
Jared A. Levy
Publisher's Note: The U.S. government is going to push us right into another recession, and this latest act to shut down an American icon is one in a string of absurd policy decisions that are forcing folks to struggle for survival. But there is hope...

Did you know that more millionaires were created during the Great Depression than at any other time in our history? Here's how you can turn this recession into an amazing opportunity.
Source : http://www.taipanpublishinggroup.com/tpg/smart-investing-daily/smart-investing-090911.html
By Jared Levy
http://www.taipanpublishinggroup.com/
Jared Levy is Co-Editor of Smart Investing Daily, a free e-letter dedicated to guiding investors through the world of finance in order to make smart investing decisions. His passion is teaching the public how to successfully trade and invest while keeping risk low.
Jared has spent the past 15 years of his career in the finance and options industry, working as a retail money manager, a floor specialist for Fortune 1000 companies, and most recently a senior derivatives strategist. He was one of the Philadelphia Stock Exchange's youngest-ever members to become a market maker on three major U.S. exchanges.
He has been featured in several industry publications and won an Emmy for his daily video "Trader Cast." Jared serves as a CNBC Fast Money contributor and has appeared on Bloomberg, Fox Business, CNN Radio, Wall Street Journal radio and is regularly quoted by Reuters, The Wall Street Journal and Yahoo! Finance, among other publications.
Copyright © 2011, Taipan Publishing Group
© 2005-2019 http://www.MarketOracle.co.uk - The Market Oracle is a FREE Daily Financial Markets Analysis & Forecasting online publication.

Only logged in users are allowed to post comments.
Register/ Log in