Will Ben Bernanke and the Fed Pump the Stock Market?
Stock-Markets
/
Stock Markets 2011
Sep 19, 2011 - 10:50 AM GMT


This is going to turn out to be one of the most interesting weeks of the year for two reasons - first the market is putting itself in a position to turn back up after spending a month now going sideways and building a base and secondly there is a Federal Reserve Open Market Committee meeting on Tuesday in which Ben Bernanke may announce another new massive money pump to try to force another big stock market rally.
First let's talk about the stock market action.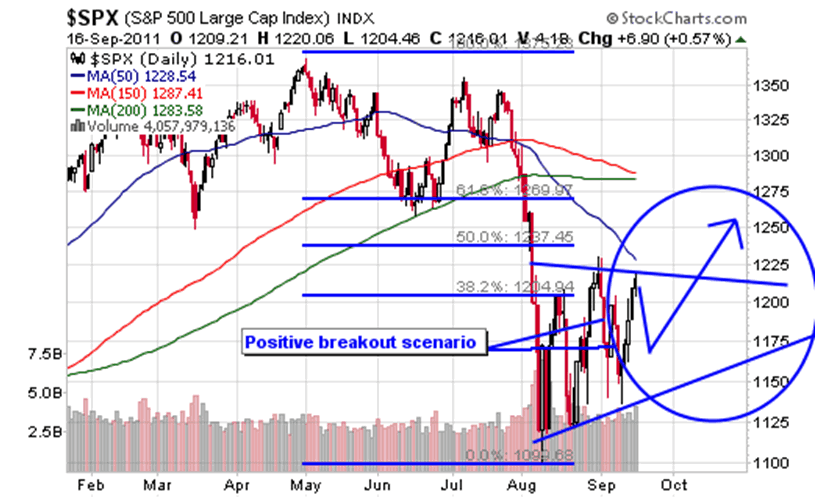 After having a huge correction in the first half of August the US stock market averages have been going sideways and building a base. Such action either represents a pause before the market makes new lows to make another leg down or a sideways base building consolidation phase that leads to a new rally.

I believe what we have seen is the latter. For one thing the market has held up well despite all of the negative news in Europe and bad economic news at home.

Secondly, investor sentiment has grown incredibly negative as the market has been going sideways, much as we saw it did in the summer of last year before it broke out and rallied for the rest of the year.

Last week's Investors Intelligence Survey showed a drop in the number of bulls from 38.7% to 35.5% while the number of people now bearish on the market jumped from 36.5% to 40.9%.

This means that according to Investors Intelligence there are now MORE people bearish on the market than bullish.

The last time there were more bears than bulls on the market was in August of last year right before the stock market took off. In fact right now there are even more people bearish on the market than there were back then.

As a contrarian investor you want to be buying when others are selling and selling when everyone else is excited.

Short-term market the market has resistance at the S&P 500 1220 area and support at 1165. I believe the market is likely to trade in that range for the next few days and then make a move out of it to start a move that will last for the next several months - and that move will probably be to the upside.

Not only does the market right now have a good base to launch a rally out of and overly negative sentiment, which suggests that those who already would have sold have already done so, but an activist Federal Reserve that is likely to engage in a wild money printing operation to try to force the stock market higher like they did last year.

Ever since Ben Bernanke spoke in Jackson Hole and made the surprise announcement that the September Fed meeting would be a special two day affair to examine new ways to stimulate the economy, instead of being what was originally scheduled to be a one day affair, there has been widespread anticipation that Bernanke would use the meeting to announce some sort of new money pump.

As CNBC reports, "market expectations are high that the Fed will announce a new program - dubbed 'operation twist' - at the end of its two-day meeting Wednesday."

The twist program is something that the Fed did way back in the 1960's and is expected to be a program for the Fed to buy medium and long-term bonds to try to force long-term rates down.

However, many smart market watchers expect Bernanke to try to surprise the markets with a massive and unexpected money pump. They believe that Bernanke has grown gravely concerned with the state of the US economy and the European debt crisis and has decided that it is best for him to take action NOW instead of wait until next year when the Presidential election will be right around the corner.

Bernanke has a history of making such surprises. Indeed at the August FOMC meeting he unexpectedly proclaimed that he would keep short-term interest rates near zero for at least another full two years.

Former Fed governor Laurence Meyer expects the Fed to announce that it will buy $20 billion in new long-term bonds every month.

Former hedge fund manager William Fleckenstein believes that "it is a virtual certainty that the FOMC will unveil QE3, a third round of quantitative easing. And there is a reasonably higher probability that, whatever form this latest round takes, it will be fairly dramatic and involve a real commitment to more money printing" - and not just the operation twist.

This will prove to be one of the most interesting weeks for the market this year. This morning market futures are weak on more bad debt worries in Greece, but before the week is over we could very well be in a market that is finally starting a real rally thanks to Bernanke action.

This isn't a week to be afraid.
Subscribe to my free weekly newsletter for more in depth analysis of the financial markets with a discussion of individual stock picks. To subscribe for free click here.
By Michael Swanson

WallStreetWindow.com
Mike Swanson is the founder and chief editor of WallStreetWindow. He began investing and trading in 1997 and achieved a return in excess of 800% from 1997 to 2001. In 2002 he won second place in the 2002 Robbins Trading Contest and ran a hedge fund from 2003 to 2006 that generated a return of over 78% for its investors during that time frame. In 2005 out of 3,621 hedge funds tracked by HedgeFund.Net only 35 other funds had a better return that year. Mike holds a Masters Degree in history from the University of Virginia and has a knowledge of the history and political economy of the United States and the world financial markets. Besides writing about financial matters he is also working on a history of the state of Virginia. To subscribe to his free stock market newsletter click here .
Copyright © 2010 Michael Swanson - All Rights Reserved.
Disclaimer - WallStreetWindow.com is owned by Timingwallstreet, Inc of which Michael Swanson is President and sole shareholder. Both Swanson and employees and associates of Timingwallstreet, Inc. may have a position in securities which are mentioned on any of the websites or commentaries published by TimingWallStreet or any of its services and may sell or close such positions at any moment and without warning. Under no circumstances should the information received from TimingWallStreet represent a recommendation to buy, sell, or hold any security. TimingWallStreet contains the opinions of Swanson and and other financial writers and commentators. Neither Swanson, nor TimingWallstreet, Inc. provide individual investment advice and will not advise you personally concerning the nature, potential, value, or of any particular stock or investment strategy. To the extent that any of the information contained on any TimingWallStreet publications may be deemed investment advice, such information is impersonal and not tailored to the investment needs of any specific person. Past results of TimingWallStreet, Michael Swanson or other financial authors are not necessarily indicative of future performance.
TimingWallStreet does not represent the accuracy nor does it warranty the accuracy, completeness or timeliness of the statements published on its web sites, its email alerts, podcats, or other media. The information provided should therefore be used as a basis for continued, independent research into a security referenced on TimingWallStreet so that the reader forms his or her own opinion regarding any investment in a security published on any TimingWallStreet of media outlets or services. The reader therefore agrees that he or she alone bears complete responsibility for their own investment research and decisions. We are not and do not represent ourselves to be a registered investment adviser or advisory firm or company. You should consult a qualified financial advisor or stock broker before making any investment decision and to help you evaluate any information you may receive from TimingWallstreet.
Consequently, the reader understands and agrees that by using any of TimingWallStreet services, either directly or indirectly, TimingWallStreet, Inc. shall not be liable to anyone for any loss, injury or damage resulting from the use of or information attained from TimingWallStreet.
© 2005-2019 http://www.MarketOracle.co.uk - The Market Oracle is a FREE Daily Financial Markets Analysis & Forecasting online publication.

Only logged in users are allowed to post comments.
Register/ Log in