BBC Speechless As Trader Warns of Stock Market Crash and Economic Collapse Is Coming
Stock-Markets
/
Financial Crash
Sep 27, 2011 - 05:29 PM GMT


"know the stock market is finished. The euro, as far as they're concerned, they don't really care".
"For most traders, we don't really care that much how they're going to fix the economy, how they're going to fix the whole situation — our job is to make money from it," he said.
"Personally I've been dreaming of this moment for three years. I have a confession, which is I go to bed every night, I dream of another recession."
"The governments don't rule the world. Goldman Sachs rules the world. Goldman Sachs does not care about this rescue package, neither does the big funds."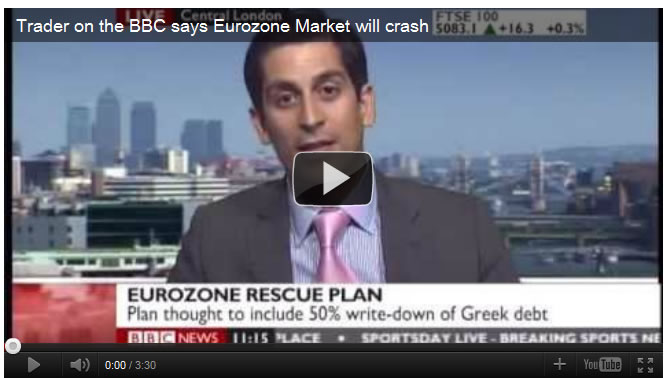 © 2005-2019 http://www.MarketOracle.co.uk - The Market Oracle is a FREE Daily Financial Markets Analysis & Forecasting online publication.
Comments

27 Sep 11, 19:14
PRICELESS


...whatched this Live!, ..BBC Anchors gathered their papers & were for a Few seconds Speechless i.e ...Did that just happen? > PRICELESS... That Guy still Alive or At least Cleaning Shoes Now?? ..Gotta give him that ..He's got Ball's for stepping to the Plate.... Money for Nothing?.

.... Maybe Invest in commodities Especially what every human needs Daily & When TSHTF? ..cos that euro/dolla Note, Just will not cover it??? Toilet Paper! ...Will Do Nicely



Paul_B
29 Sep 11, 07:37
Dollar a safe haven???


I have to agree with everything this guy says. Some people have tried to discredit him by saying he was just putting on an act to wind everyone up, but he appeared, to his credit, on CCN yesterday and refuted these accusations. He stated he stood by everything he says in the video. The only thing I would take issue with him on is the dollar being a safe haven. I don't want a single cent of my money being held in anything dollar-denominated, thank you very much. Sooner or later, all these people who rushed into Treasurys are going to realise the temporary and illusory nature of the protection the dollar provides and then there'll be a stampede out of it.




Only logged in users are allowed to post comments.
Register/ Log in