Electric Car Fantasy And The Real World
Commodities
/
US Auto's
Sep 28, 2011 - 11:40 AM GMT


A CAREFUL AVOIDANCE OF REALITY
With a few clicks on a touchpad or mouse we can align a forest of nice arguments and reasons for the coming all-electric car fleets of the consumer world, usually starting and ending with the threat of $200-a-barrel oil but also including Al Gore's touching calls for protecting polar bears from global warming. We can also find that both oil exporting Norway and Saudi Arabia have elites who take a major interest in electric car investing, or at least in-and-out financial plays, but in the Norwegian case its elites also continue to defend the national sport of hunting and killing whales, while worrying in public about polar bears and the "possible 7 metre rise" in world sea levels that burning Norwegian oil might cause, by about 2075.
Also interesting, the Norwegian Nobel physics prizewinner Ivar Glaever, and the renowned US physicist Harold Lewis have both quit the American Physical Society because of its "politically correct" line on global warming and the imperious need to consume less fossil fuel - or at least oil at $200 -a-barrel. (http://www.rawstory.com/rs/2011/09/15/nobel-physicist-quits-group-over-climate-stance/). In the case of Harold Lewis, he pithily described the real goal of this politically correct quest as: "Global Warming is a cash cow that spews staggering sums of money". To be sure, mainstream media and on-the-money environment conscious talking heads can ask: what would a Nobel physicist know about Global Warming ? (http://www.uncoverage.net/2010/10/top-physicist-quits-protests-global-warming-fraud/).
THE MARKET IS INTERESTING
Taking the European Union and its current approximate 225 million cars and light road vehicles, about 96% oil fuelled and 4% gas fulled, this is a highly interesting potential market for all electric cars. Any fool or fund analyst (whatever the fine print difference) can work out what that means as an all electric car market, of about 2030, with Renault-Nissan style electric cars at 35 000 euro, each. For those who fumble with figures, 225 million all electric cars of that variety represent 7875 billion euro of value.
According to the EU's central bank, the ECB, the most recent high point for total GDP of the EU27's member states was 2008-2009, at about 12 165 billion euro.
The electric car hopefuls of today, in Europe, are led by Renault-Nissan with the very simple line that "saving the planet" requires EU27 governments to follow France's president Sarkozy, and commit themselves to paying a one-off subsidy to every electric car purchaser of 7000 euro (noting they could get a Renault Dacia Logan for exactly that amount !). Current total EU27 car production - which is 96% oil fuelled - runs at around 15 million units per year. This adds up to a potential subsidy demand from Renault-Nissan's Carlos Ghosn and his lookalikes of about 105 billion euro-a-year, if the current rate of European carmaking was entirely replaced by all-electric carmaking.
We could ask: do European governments, at this time, really need to think about adding another annual 105 bn euro to their spending needs, sometime in the next 10 - 15 years ?
FACTS AND FIGURES
Using the magic of Internet, it is possible to find swaths of vintage frothy sales talk used by promoters of Hydrogen Cars, around the years 2000-2002. Who talks about hydrogen cars, today ?
But checking the hydrogen car snakeoil talk of 10 years ago, we will find rich pickings. In fact using cut-and-paste, and inserting "electric car" for "hydrogen car", you can produce leading edge journalism on electric cars and their fabulous role in beating energy and environment (now called climate) challenges with almost no effort at all. Making things easy for promoter of electric cars today.
Figures are however useful, to understand the menace of electric cars. The following may help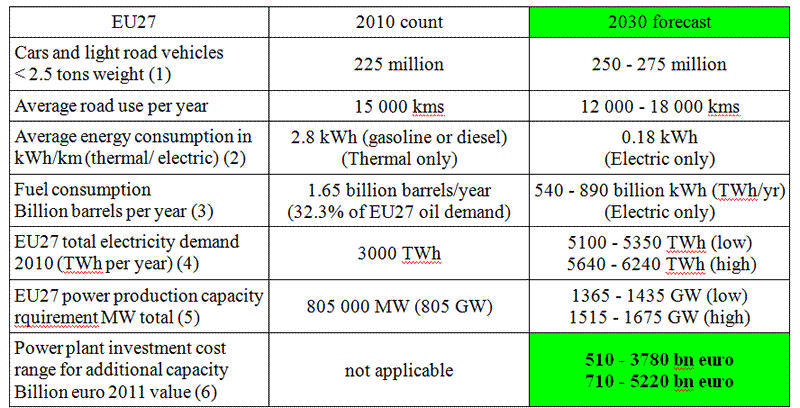 (1) Motorcycles ranked by energy consumption as 1 - 3 motorcycle units = 1 car unit, average 2.2 m/c units = 1 car unit; EU27 motorcycle fleet 33 million 2010; forecast 37 - 44 million 2030. EU27 LPG fuelled car and light road vehicle fleet (4.5 million units 2010) excluded.
(2) Fuel consumption standardised at 8 litres gasoline and 7.2 litres diesel/100 kilometres
(3) Billion barrel liquid fuels, 159 litres/barrel, 42 US gallong/barrel.
(4) July 2011 EU27 electricity consumption 254 TWh. IEA forecast CAGR 1.7% (other forecasts vary from < 1% to 1.8%+ annual) These forecasts do not include any large penetration of electric cars. Low 2030 forecasts assume zero electric car fleet.
(5) Higher 2030 forecasts includes power demand for electric car charging. Lower capacity addition requirement assumes current average power plant availability (real output/nameplate capacity).
(6) Additional capacity requirement to 2030 is 590 - 995 GW, with large range due to percent share variations for wind and solar in EU27 power capacity mix, and electric or no electric car fleets. Cost of power plant construction is 1000 euro - 6000 euro per kW ( 2011 value; from gas turbine plants without CCS to offshore windfarms and EPR nuclear power plants).
ELECTRIC CAR RUIN
To be sure, the above figures can be cut and sliced any way. Carlos Ghosn and other leading lights of the would-be electric car establishment have no problem waving the $10-a-gallon fear price ($420 per barrel at the filling station forecourt), as the real reason we all have to love electric cars. One thing is certain, for as long as oil-only car fleets dominate and the world car industry goes on producing around 6%-a-year more cars, oil demand will stay high.
This however forgets that oil and gas resource outlooks have dramatically changed. It forgets that natural gas-fuelled cars are cheap to convert from liquid fuels, and natural gas is going to get a lot more available, and a lot cheaper in Europe before it also depletes: the real near-term alternative to electric cars is always missing from snakeoil electric car talk. Put another way, if "ecology conscious" consumers can travel in gas-fuelled low emission buses, maybe they will feel OK in gas-fuelled cars and not want electric cars at 35 000 euro each ?
Moving on to the drastic cost implications of "ramping up" electric car fleets becoming so politically and business correct it has to happen, we are necessarily in another dimension.
As we know, official European Commission forecasts and plans for EU27 energy sector development already forecast up to 900 billion euro of cumulative electric power sector investment to 2030, with as much as 67% of this spending in the development of offshore windfarms, solar power plants, and power grid reinforcement and development. However, these forecasts and plans do not presently integrate any large growth of electric car fleets !
This implies, or threatens a possible "quantum leap" in electric power spending, if manufacturing of all electric cars is ramped up as high as 10 million-a-year by 2020, and continues growing after that. Nice talk pretends that huge electric car fleets could in some undefined way become "utility storage devices", with average car drivers keeping their cars plugged at all times they do not run them, and feeding power back into the hypothetical pan-European super grid, so smart that electric car owners will not even think of charging their cars when the unit kWh tariff hits a cool 25 euro cents (about 1.5 times what they pay today, per kWh of energy when they buy gasoline or diesel fuel). Other electricity consumers, down the line, would be fondly imagined as willing to pay that price - or get cut off.
In reality, and for sane persons the bottom line is simple. For the EU27 there is no way that more than a fraction - maybe 10% - of the current car fleet could be replaced by all electric cars of the Renault-Nissan Leaf variety. The power plant capacity rise and capital spending that would be needed is so far out and massive it is surprising this no win option presently has so much traction - like Hydrogen Cars circa 2001 - that the new high priced gimmick of electric cars is on city centre billboards, lit 24/7 by electric floodlights at 5 or 6 euro cents a kWh - and 81% produced from coal, gas, nuclear power and oil in real world Europe of 2011.
By Andrew McKillop
Contact: xtran9@gmail.com
Former chief policy analyst, Division A Policy, DG XVII Energy, European Commission. Andrew McKillop Biographic Highlights
Andrew McKillop has more than 30 years experience in the energy, economic and finance domains. Trained at London UK's University College, he has had specially long experience of energy policy, project administration and the development and financing of alternate energy. This included his role of in-house Expert on Policy and Programming at the DG XVII-Energy of the European Commission, Director of Information of the OAPEC technology transfer subsidiary, AREC and researcher for UN agencies including the ILO.
© 2011 Copyright Andrew McKillop - All Rights Reserved Disclaimer: The above is a matter of opinion provided for general information purposes only and is not intended as investment advice. Information and analysis above are derived from sources and utilising methods believed to be reliable, but we cannot accept responsibility for any losses you may incur as a result of this analysis. Individuals should consult with their personal financial advisors.
© 2005-2019 http://www.MarketOracle.co.uk - The Market Oracle is a FREE Daily Financial Markets Analysis & Forecasting online publication.
Comments

29 Sep 11, 15:30
electric car buzz


Maybe the electric car buzz is created by utility companies that want to increase plant utilization and build additional capacity, coupled with the coal, natural gas, and nuclear industry licking their chops at taking a chunk out of oil's market share. Can't blame any of them really. Their "green" marketing so far has been amazingly effective. The sheep are bleeting for "green". The utilities will gladly take their "green" in exchange.



Spec
01 Oct 11, 02:28
Did you know that people sleep?


And when people sleep, they don't drive nor use much electricity. That means there is already MASSIVE amounts of spare electricity generation capacity available to charge up EVs.



MacKillop
09 Oct 11, 05:41
Electric Cars


The crazy argument "there is massive spare capacity to charge up EVs" is heavily worked by EV shills and hucksters hungry to pump subsidies from already bankrupt states.

What will happen is that at key fatal times, like Sunday evenings before the trundle to work on Monday morning, almost every single EV will be plugged in, sucking 5 kW.

If its a Sunday evening in winter, the situation is even more disastrous.

What happens when there is no wind, as well as no sunshine, to run the fantasy power plants that are supposed to charge the fantasy EV fleets ? Every 10 million EVs will need 50 million kW, that is 50 000 MW, to recharge. Do the math !



peter
09 Oct 11, 10:40
ev's


I think there is a legitamate market for electrics just like there is for hybrids. And like hybrids, it will take a while to catch on. The early adopters have to buy in and make the market and show that the vehicles are worth buying. But the government shouldn't be in there distorting the market place. They should end the subsidies but also end subsidies to the car makers and oil companies.




Only logged in users are allowed to post comments.
Register/ Log in