The U.S. Is Fast Becoming a Third World Police State
Politics
/
US Politics
Oct 26, 2011 - 06:10 AM GMT


As a P.T. (often referred to as perpetual traveller, permanent tourist or prior taxpayer), I have travelled to nearly 100 countries. During those travels there has always been one defining moment, upon entry into a country, which shows that the country is what is generally thought of as a "third world country".
It is the moment when, upon arrival, you are charged a fee to enter the country. The reason generally being that the government of the country has so destroyed the economy and/or they have so little understanding of what creates wealth that they think that the way to make their country prosperous is to charge a fee upon entry rather than allowing people to enter freely and transact, trade and spend their money in the economy. Either that or the government is so desperate for money that it uses this as a significant source of revenue.
They have this in Cambodia, Indonesia, Bolivia and numerous other similar countries. And now, they have it in the US.
The US has long-used "visa application fees" to bilk money from people in countries like Thailand as a way to raise money but now the US has announced that they are going to charge a $5.50 fee to Canadians upon entering the US.
The fee is ludicrous and counterproductive for many reasons. Not least of which is making it five dollars and fifty cents, ensuring that payment of the transaction will take twice as long as normal to make the extra change. Canadians who are one of the only large groups of people still bringing some economic activity into the US will both be turned off by having to pay to enter the US but also by the extra long lines to enter as they make change for this fee.
Not to mention the hilarity of calling it an "inspection fee". Does this mean that if we would not like to be inspected then we don't have to pay?
CHECKPOINTS POPPING UP EVERYWHERE IN THE US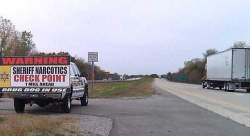 Checkpoints have recently gone up in Flint, Michigan and TSA VIPR (Visible Intermodal Prevention and Response) teams have spread our across Tennessee to stop drivers and "check their documents".
As well, at the recent Libertopia conference I attended in San Diego I met three young freedom-lovers who told me that on their drive from Phoenix to San Diego they encountered three different checkpoints.
HARD TO GET IN - EVEN HARDER TO GET OUT
I have just returned from the US and, as usual, I had to make it through a plethora of government people to get out.
Luckily, I didn't try to leave via one of the airports, like Boston Logan where the TSA has begun to conduct "chat-downs" where TSA goons will slime their way through crowds in the airport and chat with you! Should you refuse to chat with them you will be taken away for extra-screening!
However, I did go for my standard TSA patdown and, as is becoming more and more common, when you walk down the gangplank to the airplane there are a number of other government people hiding around the corner who stop you and ask if you are taking more than $10,000 with you. I snapped a photo of them on my way down.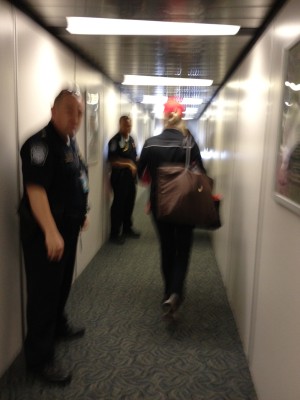 As I walked down the runway, one of the men with guns told me, "go to the third man down, he can take care of you there." Oh, is that what they are doing, taking care of us? It doesn't feel that way.
CHRONIC NERVOUS SYSTEM DISORDER INJECTIONS ALSO NOW AVAILABLE
Things in the US just get more and more bizarre.
As though all the government harassing isn't enough, as I was about to leave the San Diego airport I spotted this "H1N1 vaccination station".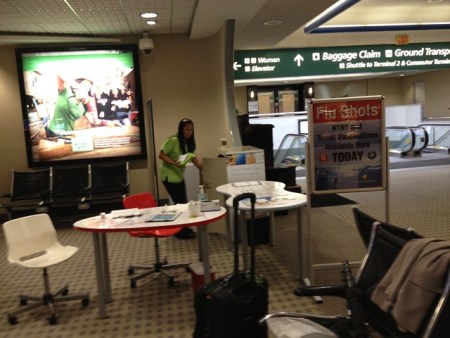 H1N1 (remember the Swine Flu hoax?) has been shown to be nearly harmless yet still to this day, in the USA, there are places offering to give you H1N1 vaccinations. Those vaccinations, by the way, have been proven to cause chronic nervous system disorders. I, tragically, had this hit very close to home last year when my mother, unbeknownst to me, got talked into taking a Swine Flu vaccine shot. A few days later and she couldn't walk anymore. She still, to this day, cannot walk.
THE POLICE STATE CONTINUES
The photos coming out of the US continue to look like something you'd see in a country like North Korea or in the old Soviet Bloc.
This photo, from a small gathering of Occupy Wall Street protesters in Phoenix, shows that not only the police outnumbered the protesters but showed the level of intimidation and force used against just a few people sitting in a park. Their crime? They were there after "curfew". I've been searching my copy of the US Constitution for any reference to curfew but have yet to find anything.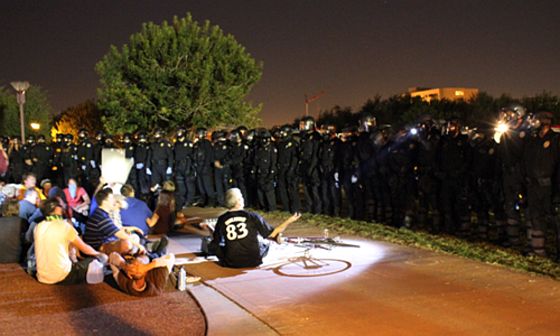 MY DAYS VISITING THE US ARE NUMBERED
I have already stated that I will never bring my family to the US until I see major changes and the TSA stop their radiation baths and groping. However, it is now getting very close to the point where I will stop going altogether.
For anyone who has their eyes open and are paying attention, the writing is on the wall as to what is going to happen in the US. All it will take is another 9/11 event or for the US Government to default on its debts or for the dollar to enter hyperinflation and the US will be locked down like a prison.
In many ways, it already is.
For those who live in the US, it is imperative to begin making moves now to protect yourself. Action items like attaining a foreign passport, moving your assets outside of the country and owning precious metals are just some of the things that all rational people in the US should be doing now.
This evening we are releasing the issue of TDV where we talk much more in depth about the coming collapse and strategies and info for how best to survive the coming storm. Subscribe today to become a part of our community of dollar crash survivors.
The Dollar Vigilante is a free-market financial newsletter focused on covering all aspects of the ongoing financial collapse. The newsletter has news, information and analysis on investments for safety and for profit during the collapse including investments in gold, silver, energy and agriculture commodities and publicly traded stocks. As well, the newsletter covers other aspects including expatriation, both financially and physically and news and info on health, safety and other ways to survive the coming collapse of the US Dollar safely and comfortably. The Dollar Vigilante offers a free newsletter at DollarVigilante.com.
© 2011 Copyright Jeff Berwick - All Rights Reserved
Disclaimer: The above is a matter of opinion provided for general information purposes only and is not intended as investment advice. Information and analysis above are derived from sources and utilising methods believed to be reliable, but we cannot accept responsibility for any losses you may incur as a result of this analysis. Individuals should consult with their personal financial advisors.
© 2005-2019 http://www.MarketOracle.co.uk - The Market Oracle is a FREE Daily Financial Markets Analysis & Forecasting online publication.
Comments
Rick
26 Oct 11, 16:24
Police State


Hmmmm.....I'm not sure why you're having so many problems with the federal agents (unless you're looking for trouble). Personally, I find that the federal people in the United States have the highest calibre, and are very easy to deal with. Moreover, the TSA people that I've encountered at the airports were friendly, courteous and respectful.



Paul
27 Oct 11, 16:46
doing as you are told


Yes Rick, I'm sure if everyone just shut up and did as they were told instead of "looking for trouble" then they too would see the qualities you describe in these people. I believe even Pol Pot could be quite personable when everyone was obeying his wishes.



Rick
28 Oct 11, 03:51
Third World Police State & The National Anthem


The federal people in the United States are there to serve you Paul, but their job is increasingly made more difficult by those who choose to violate the statutes and instigate unrest.

In my lifetime, I have had far better communication with IRS or TSA agents than with any member of the clergy. These federal agents have the highest ethical standards and are beyond reproach.

I'm really at a loss why you and Mr. Berwick seem to find fault with these people. Responsible American citizens will act in a polite and cordial manner while observing the laws. If one takes care to conduct himself as a patriot, the federal people will in turn take care of you. I really don't need to recite four bars of the national anthem to emphasize this point much further.



Shelby Moore
31 Oct 11, 10:18
TIPS


Rick

From your numerous comments over past years telling people to buy TIPS and now saying that people have nothing to be concerned about?



Rick
31 Oct 11, 17:48
TIPS & The Pied Piper Of Rothschild


Shelby: Concern about one's financial well being and contempt for the authorities are two separate issues here. I would have a much better conscience steering the people towards U.S. government securities than acting as a surrogate for the Pied Piper of Rothschild (and consequently luring the gullible towards the certain fate that awaits them-----Confiscation of their gold, silver, jewels, stocks, and other hard assets by the fast approaching Obama trawler).




Only logged in users are allowed to post comments.
Register/ Log in