In Defense of Flash Trading
InvestorEducation
/
Learn to Trade
Oct 28, 2011 - 08:39 AM GMT


It's fascinating to watch footage of a trading floor on Wall Street. Here men and women spend hours with their eyes glued to computer monitors while furiously calculating trades that often yield small profits or minimal losses. In the case of Swiss bank UBS trader Kweku Adoboli, it can result in a $2 billion loss and an unfortunate incarceration. The risks run high as trading requires a sizeable amount of dexterity and concentration to be successful in a network of like-minded profit seekers. Still, there is an underlying beauty to the process, as thousands (perhaps millions) of individuals coordinate their knowledge on the allocation of limited resources throughout the world.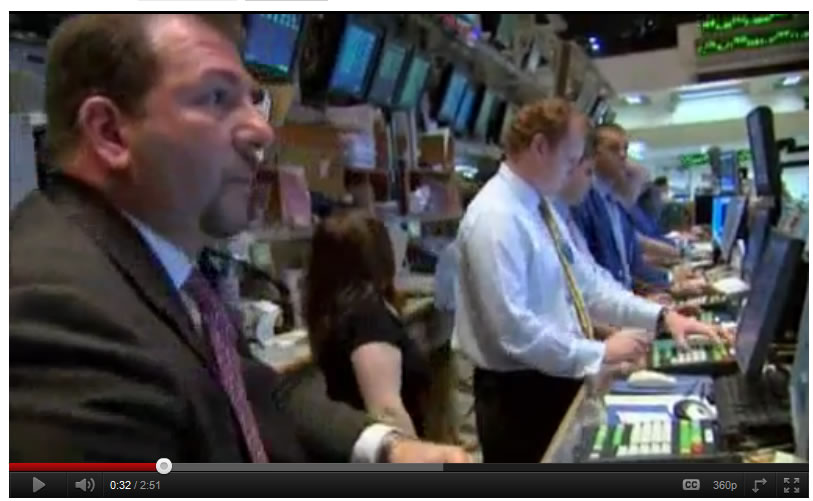 Nobel laureate Frederick Hayek dedicated much of life's work (brilliantly summed up in his classic essay "The Use of Knowledge in Society") showing us how knowledge and expertise are widely dispersed throughout society and can never reside in a single mind. That is to say, while individuals may use their own expertise and labor to create, they will never be in full possession of all available knowledge to account for the nuances of market and societal demands. The same concept applies to a government composed of fallible men — much to the dismay of statist ideologues such as Elizabeth Warren.
The limit of individual knowledge is what provided the initial need for social cooperation. Primitive man banded together with others, not under the auspices of creating one great state, but as a desire to utilize more resources and raise their own standard of living. Out of this grew the division of labor and increased sharing of knowledge and information. As Mises said, "one must never forget that the characteristic feature of human society is purposeful cooperation; society is an outcome of human action."
When it comes to the disbursement of information, nothing is more controversial than high-speed "flash" trading. A recent New York Times article documented the trend:
Regulators in the United States and overseas are cracking down on computerized high-speed trading that crowds today's stock exchanges, worried that as it spreads around the globe it is making market swings worse.

The cost of these high-frequency traders, critics say, is the confidence of ordinary investors in the markets, and ultimately their belief in the fairness of the financial system.

"There is something unholy about them," said Guy P. Wyser-Pratte, a prominent longtime Wall Street trader and investor. "That is what caused this tremendous volatility. They make a fortune whereas the public gets so whipsawed by this trading."
The public gets whipsawed by this trading? Funny how those on Wall Street no longer classify as the "public" in the eyes of populism.
What this demonization of flash trading really comes down to is the inability of regulators to monitor and control such a phenomenon. What the state can't control, it exerts more power and authority to tame. Like a vampire to blood, the state never gets its fill of supremacy.
The justification for regulating flash trading comes down to a brief market crash back on May 6, 2010. In the course of just 16 minutes, the Dow Jones Industrial Average dropped 1,000 points, only to rebound to its original level. It was the largest intraday decline in the history of the Dow Jones. Despite the market's quick correction to the crash, a joint panel was created and headed by the chairmen of the Security and Exchange Commission and Commodity Futures Trading Commission to investigate the matter. Their report, which was released back in February, recommended that new rules and regulations be adopted to address flash trading. Considering how successful the SEC and CFTC were at recognizing the housing bubble, it's a wonder anyone still takes their recommendations seriously.
While flash trading can lead to sudden dips in the market, the market has proven to be quick in correcting itself. The rapid disbursement of information that encompasses the stock market becomes its own self-correcting mechanism.
As society and technology progress, the instantaneous sharing of knowledge and information is not something to fear but to celebrate. In a world where, to borrow a phrase from John Tamny, "capital moves at the speed of light," flash trading ensures that resources will continue to meet more deserving hands and be put to more efficient use.
Clamping down on such a practice doesn't just limit capital flow; it limits the market's mechanism by which to progress. Like all government regulation, it will put the brakes on productivity and the achieving of a better standard of living. Attempting to level the field in the name of "fairness" is nothing but a government power grab destined to bring about destructive consequences. As Hayek pointed out in his Nobel acceptance speech, The Pretense of Knowledge,
In the study of such complex phenomena as the market, which depend on the actions of many individuals, all the circumstances which will determine the outcome of a process … will hardly ever be fully known or measurable.
Knowledge is best utilized when it reaches as many people as possible. Hayek's lesson must not be forgotten as it not only shows the fallacy of central planning but the incredible benefits derived from social cooperation through instantaneous communication.
James E. Miller holds a BS in public administration with a minor in business from Shippensburg University, PA. He is a former staff columnist to the Shippensburg Slate and current contributor to his hometown newspaper, the Middletown Press and Journal. See his blog. Send him mail. See James E. Miller's article archives.
© 2011 Copyright Ludwig von Mises - All Rights Reserved Disclaimer: The above is a matter of opinion provided for general information purposes only and is not intended as investment advice. Information and analysis above are derived from sources and utilising methods believed to be reliable, but we cannot accept responsibility for any losses you may incur as a result of this analysis. Individuals should consult with their personal financial advisors.
© 2005-2019 http://www.MarketOracle.co.uk - The Market Oracle is a FREE Daily Financial Markets Analysis & Forecasting online publication.

Only logged in users are allowed to post comments.
Register/ Log in