Gerald Celente Loses Six Figures in MF Global Bankruptcy, Investors Beware
Commodities
/
Scams
Nov 23, 2011 - 07:52 AM GMT


Those of you who frequent the Gold Silver News, know and recognize Gerald Celente, the founder and publisher of The Trends Journal.
This past week Mr. Celente revealed that he has lost more than six figures of funds with Lind-Waldock, a commodities futures brokerage that was owned by MF Global (who filed for bankruptcy on October 31, 2011).
Here he is on Russia Today explaining the details of what transpired: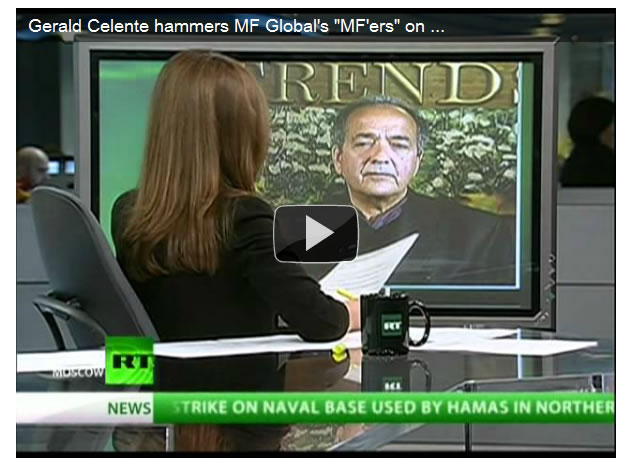 We are saddend to hear about Gerald's unfortunate loss but we are also hearted by his bravery in speaking out and in warning others!
As Gerald often states "Current events form future trends", sadly the trend of disappearing capital and financial accounts may become more common place in what appears to be an almost lawless financial world, overly fraught with insolvency and debt.
The powers that be in the futures markets customarily intervene and arbitrarily change the rules of the game in process. By owning physical bullion in hand, we simply eject the futures market middlemen out of the game.
The Current Trend is not the Average Investor's Friend
In the months and years ahead, we believe millions upon millions of investors will learn the hard way, what the term counter-party risk truly means.
Allow us a moment to define what may become the most significant financial term of this decade:
Counterparty Risk - (n) the risk that a person(s) who is a party to a contract will default on their obligations under that contract. In other words the possibility that the person or persons with whom a contract exists will fail to fulfill the terms of their side of the contract.
Essentially, almost all forms of financial instruments have some form of counter-party risk. There are counter-party risks associated with every bond, every brokerage, every equity, annuity, and insurance product you can think of.
Everytime one accepts payment in fiat currency, by action, one enters into an unspoken contract with the issuer of that particular fiat currency. When one holds fiat currency, one assumes a counter-party risk that the issuer of that particular fiat currency will not ruin the value of said currency and or default on their obligations, etc.
Unlike tangible monetary assets like gold and silver bullion in hand, counter-party or default risks are virtually everywhere an investors turns.
But we digress.
Back to Gerald Celente's whirlwind media tour concerning the disappearance of his gold futures account. Here he is warning the public via
Alex Jones' InfoWars
:
"I'll tell you what my position is. I wrote about it in The Trends Journal, it's there in black and white. I recommend that people have only operating expenses in their bank. Why do you think you hear all of these stories over the years about people putting their money under their mattresses? Because the banks are going to steal it from you!"
- Gerald Celente
"What's the take away from this? It's to make sure you have every penny in your pocket. Because just like MF (Global), screwed everybody else. Your also gonna get the shaft, I don't care who it is. What's gonna happen when you get a message from your brokerage, from Fidelity or somebody... yeah infidelity. Or how about Raymond James, I don't care who they are! You have ETFs? Oh, there's a little error over here, we don't have your money. We don't have your positions."
"I went to a meeting... and the speaker said ETFs of GLD are supposed to be held by HSBC in a vault in Hong Kong or England some place, and HSBC, this guy said, is the biggest shorter of gold. Well you figure it out! They are the ones that are holding it and they're shorting it? So the takeaway is to make sure you have every penny in your possession."
Eric King asked Mr. Celente the following poignant question, "Will people get up one day, and just like MF Global, their money is going to be gone and the government won't be able to backstop it? What's your vision of what will happen there?"
Gerald replied, "Economic marshall law!"
Regarding Celente's current outlook on gold and silver investing, he states, "I'm totally into physical (gold and silver) and I have it in a place that's safe and that nobody will be able to get to it, except myself."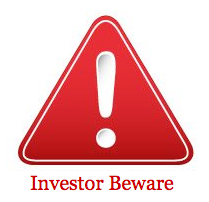 So what can we learn from Gerald Celente's unfortunate mistake?
Mr. Celente's story is a warning of what may become a sad reality for many people around the world who think they have XXXX in their accounts only to learn they have YYY!
The futures and financial markets appear to be one overly-leveraged ponzi, on the verge of a cascading implosion. Brokerages, bank accounts, bonds, annuities, pensions, etc... if it is printed on paper, it is most probably laden with counter-party risks.
What you think you have, may soon be merely worth the paper it is printed upon.
As we continue to exit this failing system, we take physical possession of our gold and silver bullion in hand or via direct title ownership in third party, privately insured vaults.
Remember dear reader... the buildings, the infrastructure, the farms, and the productive assets are not going to simply go away. Assets stand to merely swap title of ownership from those who remain blind, take no action, and or continue in denial... to those who understood the warnings and take intelligent action before the oncoming financial tsunami hits.
As we appear to be on the cusp of witnessing the greatest wealth transfer ever, we must again heed the words of Mike Maloney: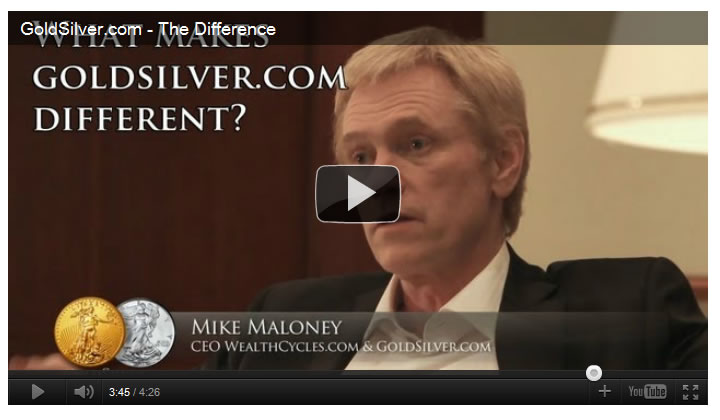 "This will be the greatest wealth transfer in the history of mankind. This has happened, but never globally before. This is the first time that it is the entire world. If it is the greatest wealth transfer, that means that it is also the greatest opportunity in the history of mankind."
- Mike Maloney
Here at GoldSilver.com we will continue to keep our customers apprised of potential gold and silver investment frauds and scams. Please stay tuned.
Mike Maloney is the owner and founder of GoldSilver.com, an online precious metals dealership that specializes in delivery of gold and silver to a customer's doorstep, arranges for special secured storage, or for placement in one's IRA account. Additionally, GoldSilver.com provides invaluable research and commentary for its clients, assisting them in their wealth building endeavors.
© 2011 Copyright GoldSilver - All Rights Reserved Disclaimer: The above is a matter of opinion provided for general information purposes only and is not intended as investment advice. Information and analysis above are derived from sources and utilising methods believed to be reliable, but we cannot accept responsibility for any losses you may incur as a result of this analysis. Individuals should consult with their personal financial advisors.
© 2005-2019 http://www.MarketOracle.co.uk - The Market Oracle is a FREE Daily Financial Markets Analysis & Forecasting online publication.

Only logged in users are allowed to post comments.
Register/ Log in