Global Economy and Financial Markets 2012 Outlook
Stock-Markets
/
Financial Markets 2012
Dec 06, 2011 - 02:38 AM GMT


Kenneth Jacobs, chief executive officer of Lazard Ltd., spoke about the global economy, the European debt crisis and banking regulations during an interview with Judy Woodruff on Bloomberg Television.
On the global economic outlook for next year:
"Assuming we get through this crisis without a discontinuity, a break in the markets, a catastrophe, then next year probably looks a lot like this year did: modest economic growth in the United States, tough economic climate in Europe, and probably a decent story continuing in the emerging markets."
"[If Europe doesn't go in the right direction], all bets are off. It's a much more difficult economic climate, and it depends on what happens."
"The benefits of the euro are so important to every country in Europe...that there's going to be tremendous pressure to make this work."
On Germany, the German government, and Chancellor Merkel:
"Put yourself in the shoes of the Germans, and what you have is both a very difficult political and a very difficult economic set of decisions to make. Ultimately, Germany is a very important backstop or creditor to the problems in Europe. It's going to have to step up in a major way for this project to succeed."
"Chancellor Merkel has to be sure she has the political will of the German people behind her. And for that to happen, she has to make sure that the economic project is going to work. And while there's no certainty about that, it can only work if there's increased fiscal discipline and increased fiscal stability on the part of the countries that are going to be aided. And I think that's what she's focused on right now."
"I think the people who are stating that [Germany is an obstacle] underestimate the difficulty of the problem. I think they're being a little bit - how should I say - impatient about the results. It's complex. It's going to take time."
On how a European recession could impact the U.S.:
"It depends on how deep that [European] recession is. If it's a recession that is - you know, let's just call it minus 2 to, you know, plus a 1.5, which is a slight growth, I think by and large that's priced in the market today. If we find something that's much deeper, then it has much more of an impact, it'll have more impact on the U.S. and the rest of the global economies."
On the U.S. economy:
"Generally speaking, the U.S. economy is OK. We're coming out of a financial crisis, not a recession, not a typical business recession. People's expectations for recovery and growth are probably wildly optimistic for the kind of events that have taken place over the last several years."
"I think...we're going to have a sustained period of time of sub-par GDP growth. We're going to be lucky to get demographic growth, maybe a little bit of productivity above that, but that's about it. There's a lot of problems that have to be sort of worked out throughout the economy over the next several years before we get back on a growth chart."
On Lazard's M&A and restructuring businesses:
"To the extent that the M&A markets pick up, that helps us. We'll do OK in a down market because of our restructuring business and our sovereign advisory business, but it's always better to be in a good market than a bad market for us."
"In Europe we've seen a pickup in restructuring, obviously a pickup in our sovereign advisory business. In the U.S., it's still pretty quite on the restructuring front. There's a little bit more activity right now than there was a few months ago, but not that substantial."
"In Europe, there's a real credit crunch underway, and that probably is going to drive the restructuring business there. Here the market is okay for financing."
On emerging markets:
"As long as Europe comes through this crisis intact...the growth story in the emerging market stays intact. And that is largely premised on a couple of things. One is commodity prices and oil prices stay reasonably strong. If they do, then many of the countries which have undergone tremendous transformation over the last several years will remain strong, the Chile and Colombia and the resource-rich countries of Africa will continue to make enormous progress."
"China and India are just long-term growth stories, demographics underlying it, education underlying it. They're very good growth stories."
On whether Lazard is hiring:
"Selectively...I think the area where we could continue to grow people and really get a benefit from it is in the emerging markets."
"We're thoughtful about the hiring right now. It's an environment where we're kind of reinforcing our core platforms and building out some additional capabilities, as opposed to being very aggressive about hiring."
On how has the financial services industry has changed, post global financial crisis:
"It's not going to come back to the way it was before 2008. It's a secular change."
"Wall Street is just not going to be as profitable as it used to be. And as a result of that, people just aren't going to make as much money as they were used to in the past."
On regulatory changes in Washington:
"Where I think the regulations probably need a review is for the small- and medium-sized institutions that really are at the backbone of finance for the small- and medium-sized companies in this country."
On the sense in the U.S. that no one has been punished for the financial crisis:
"That's probably why we have the Tea Party and why we have Occupy Wall Street: there's just a tremendous amount of public anger at something that has not been properly explained."
"The Occupy Wall Street movement has had two important impacts on the political environment today. The first is that inequality is now on the table; it's part of the political dialogue. And, second, when you look at Wall Street, there's a bright light about its activities. That's probably a healthy thing for our economy at this point. It's not going to be pretty, but it's probably healthy."
"For Wall Street what that probably means, it's going to be very difficult to undo the regulatory reforms and the new capital requirements going forward.
"I'm sympathetic [to the idea that Wall Street is out of touch with ordinary Americans.] It's also sad, because I think Wall Street plays an extraordinarily important role in the economy globally. And to have this happen and this reputation is very unfortunate, because that role is going to be compromised."
"In the end, Wall Street [are] the gatekeepers of capital...The U.S. has been better at that than almost any country in the world for many, many decades now, and the result of the financial crisis is going to be to jeopardize that position. And it's going to - in the long run, it's going to jeopardize the economy. But the way it was organized pre-'07 has to change."
On executive compensation:
"The pressure on Wall Street from its shareholders - forget about the government and the regulators - but from its shareholders is going to cause changes in the whole way Wall Street is organized going forward."
"The pressure on [Wall Street firms] to maintain profitability in an environment where they can't use as much leverage as they had in the past to create revenues is going to cause a lot of restructuring of these businesses...You can either cut people or you can reduce costs, and reducing costs is either cutting compensation or cutting non-compensation costs. So in the end, it's going to come down to a reduction of compensation."
"I think a lot of the excesses that we all read about that happened at pre-global financial crisis is going to, in effect, be solved by the market."
On whether President Obama is anti-business:
"No, I don't think [President Obama] anti-business. I think what's happened here is we've just gone through a very tumultuous period, and people are really looking for direction and answers, and I think sometimes we expect too much from government, both in terms of what it can do and what it can't do."
"One of the problems we have in front of us right now is that government is very large, it's a very big part of our economy...and what we have today is an economy which is much larger, much larger than it was when this nation was founded, and a much bigger part of the economy now is in the hands of government."
On the 2012 election:
"It's very early. This campaign has a long way to run. I don't think we know who the Republican candidate's going to be yet. We really don't know how the president is going to position himself in terms of the key issues going forward. So I think it's hard to take a view."
"I'm somewhere in the radical center, which doesn't, unfortunately, exist today."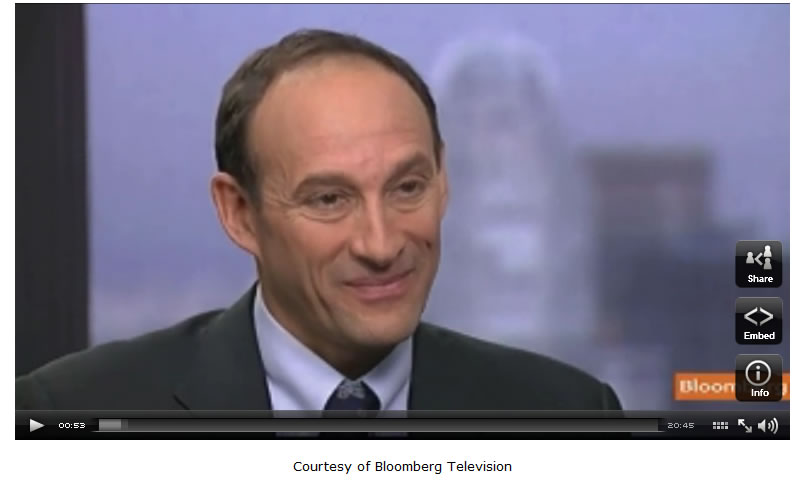 Copyright © 2011 Bloomberg - All Rights Reserved Disclaimer: The above is a matter of opinion provided for general information purposes only and is not intended as investment advice. Information and analysis above are derived from sources and utilising methods believed to be reliable, but we cannot accept responsibility for any losses you may incur as a result of this analysis. Individuals should consult with their personal financial advisors.
© 2005-2019 http://www.MarketOracle.co.uk - The Market Oracle is a FREE Daily Financial Markets Analysis & Forecasting online publication.

Only logged in users are allowed to post comments.
Register/ Log in