Stock Market Trading 2008 - Resolved Price Interpretation
Stock-Markets
/
Elliott Wave Theory
Dec 31, 2007 - 12:45 AM GMT

"Who is the judge? The judge is God... Why is He God? Because He decides who wins or loses, not my opponent ... Who is your opponent? He does not exist.... Why doesn't he exist? Because he is a mere dissenting voice of the truth I speak."
The above quote comes from the film "The Great Debaters" directed by Denzel Washington. The Great Debaters was inspired by Wiley College, a traditionally African-American school in Marshall, Texas, with Melvin Tolson, its iconic debate coach.
In the film, Melvin Tolson (played by Denzel Washington) calls each potential debater trying out for the team into what he called the "hot spot." He marks it in chalk—a white box drawn on a wood floor. For Tolson, it's more than a box: It's a battleground. One by one, he invites would-be debaters to step inside and fight—not with guns or knives, but with diction, logic and passion.
"Debate is blood sport," he says in the film , "It is combat." Sounds a lot like speculative trading and investment, doesn't it?
Like trading, debating is such a disciplined and sophisticated activity, that winning does not come without extreme hard work and preparation. Patience, logic, and passion are essential prerequisites.
Trading too is a blood sport. Traders and Speculators find themselves in the "hot spot" and on the battleground whenever a position is opened and one's capital is at risk.
Speculative trading and investment - RESOLVED
The otherwise irrational markets in which one elects to speculate, in fact - behave in a rational and predictable fashion if one knows how (or is shown how) to properly interpret the price-action-landscape before them.
Price-fluctuations are inherently ordered to confuse and instill fear-of-loss in the majority of participants. Despite such harsh realities, Elliott Wave Technology remains steadfast, employing a mix of proprietary methodology so as to accurately and consistently frame the price-action with the highest level of precision imaginable.
Although we maintain directional opinion as to the larger destination of price over the long-run, – such opinion is subject to change, or be postponed contingent upon the near-term price-action in the short-run.
Consider this: All one needs to drive safely in the dead of night is the ability to see the 200-feet of road ahead. At 200-feet of visibility, one can safely navigate and traverse thousands of miles to one's desired destination. Such an approach embodies Elliott Wave Technology's fine-tuned discipline in presenting the ongoing landscape for active trading and speculation.
Below, we have taken the liberty to modify Tolson's mantra for active and would-be traders:
"who is the judge?
The judge is the price action...
Why is it the price action?
Because the price action decides who wins or loses, not my opponents…
Who is your opponent?
he does not exist....
Why DoesN'T he exist?
Because he is a mere dissenting voice of the price action i trade."
Short-Term Trading Summary
Our proprietary charts graphically depict the dynamic price-action landscape as it unfolds. We carefully draft the analysis to be free of bias, highlighting most, if not all of the pending trade-triggers and counter-trend buy/sell probes which we telegraph well-ahead of the current price data.
Below is graphic summary of trade-triggers and price-target objectives successfully identified via Elliott Wave Technology's Near Term Outlook from mid November through December 28.
Make your 2008 New Year's Trading Resolution a commitment to RESOLVE the markets with the guidance provided by unparalleled accuracy of the Near Term Outlook.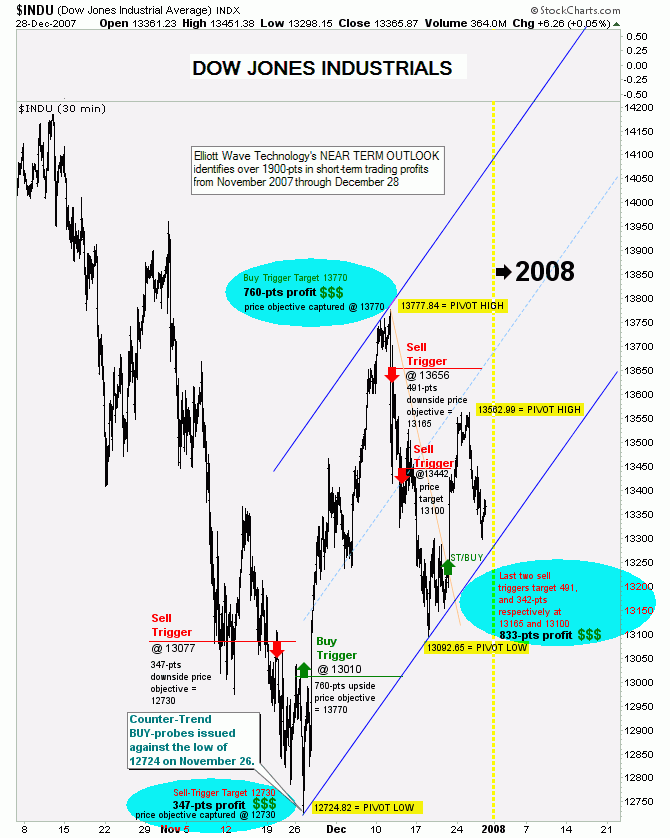 The chart above is not a working analysis chart, but rather a graphical summary created to reflect the net effect of our ongoing analysis.
The three charts that follow are the "working-charts" with commentary provided in real-time to our clients.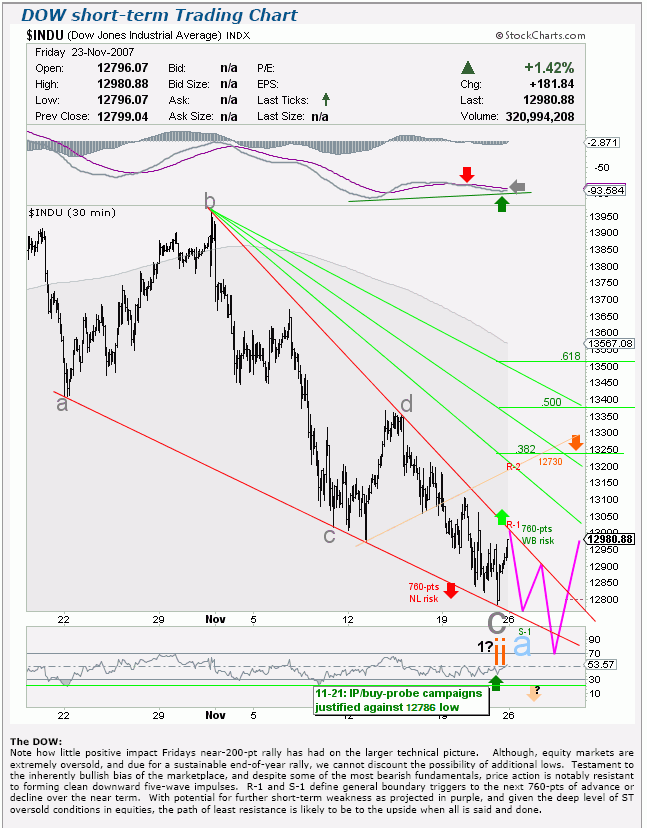 The chart below illustrates that previous mentioned price-path guidance was absolutely correct in anticipating additional lows for the move.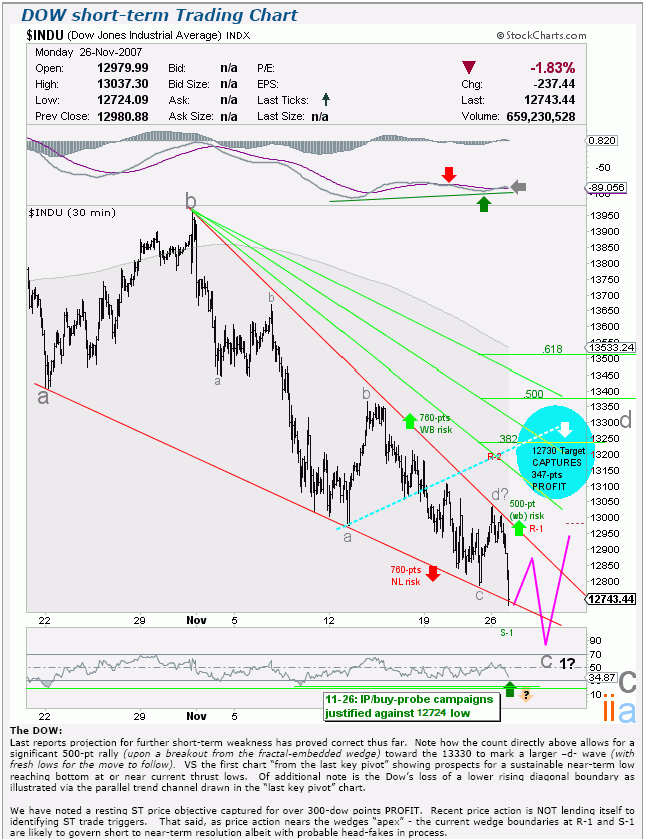 Note: The "last key pivot" chart referenced in the real-time commentary above is not shown in this articles presentation.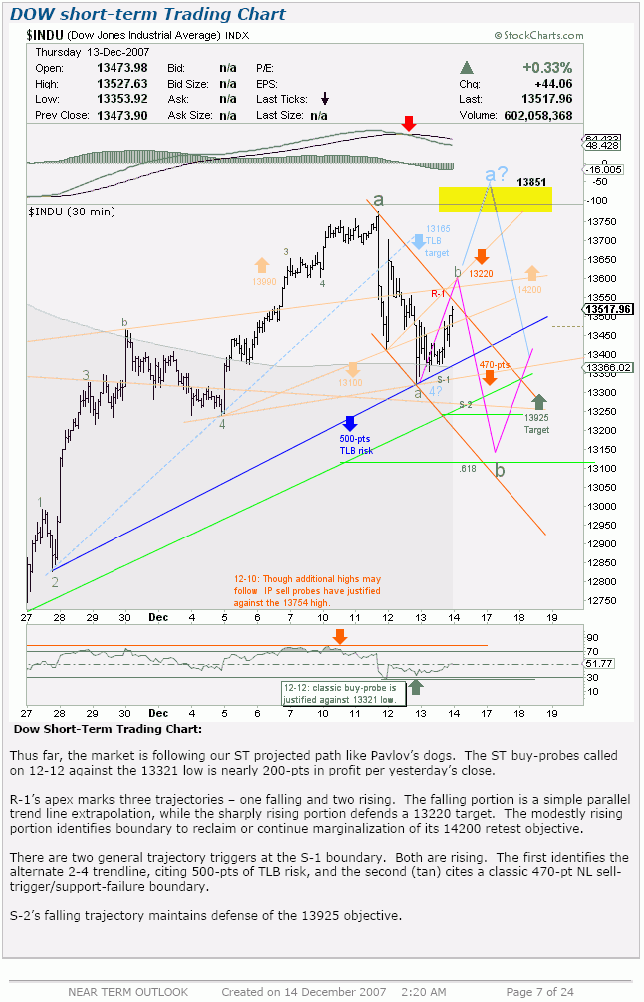 Bear in mind, we do not predict prices, nor do we issue specific buy and sell recommendations in advance of trade-triggers, counter-trend probes, or upon price-targets achieving objectives.
Although we graphically identify explicit entry-triggers along with point-values and price-target objectives, decisions to place orders and manage trades through fruition are the sole the responsibility of each individual.
Elliott Wave Technology invites you to make your 2008 New Year's Trading Resolution a commitment to RESOLVE the markets alongside the guidance provided by unparalleled accuracy of the Near Term Outlook.
The Near Term Outlook covers the short-term Dow, S&P, and NDX five-days-per-week, and issues near-term updates for the Dollar, Gold, Crude Oil, and the HUI two times per week.
Until next time,
Trade Better / Invest Smarter...
By Joseph Russo
Chief Editor and Technical Analyst
Elliott Wave Technology
Copyright © 2007 Elliott Wave Technology. All Rights Reserved.
Joseph Russo, presently the Publisher and Chief Market analyst for Elliott Wave Technology, has been studying Elliott Wave Theory, and the Technical Analysis of Financial Markets since 1991 and currently maintains active member status in the "Market Technicians Association." Joe continues to expand his body of knowledge through the MTA's accredited CMT program.
© 2005-2019 http://www.MarketOracle.co.uk - The Market Oracle is a FREE Daily Financial Markets Analysis & Forecasting online publication.

Only logged in users are allowed to post comments.
Register/ Log in