Markets the Friday Before Christmas, Even NYMEX Crooks Are Going Home Early
Stock-Markets
/
Financial Markets 2011
Dec 23, 2011 - 09:38 AM GMT


Really guys!
Don't we all have something better to do than watch the markets today?
I'm embarrassed for all of us. Even the crooks at the NYMEX are going home at 1:30 this afternoon, sacrificing an entire hour of losing money to us to be with their strippers. That's right we OWNED those people yesterday, hitting play after play after play on the oil Futures, all based on our very simple premise that – If the crooks at the NYMEX want to pretend they want to buy a barrel of oil for $100 – we are very happy to promise to sell it to them!
Over and over they pretend to want to buy oil at or near $100 and over and over, as soon as we (real people) actually start accepting their offers – they quickly dry up and retreat – over and over and over again.
This is how you beat the scam artists, call them at their game.
At 3am this morning, they jammed oil up to $100.23 and at 3:51, in Member Chat, we were able to jump in and short the oil Futures (/CL) at $100 and by 5:30 we were out at $99.60. That may not seem like a lot but, at $10 per penny per contract – it buys a lot of Egg McMuffins!
As I'm writing this (7:35) we just caught another run up to $100 and already it's back to $99.66 on fake, Fake, FAKE trading. Yes, ALL THE TIME they are faking it. ALL THE TIME. It's a SCAM – Oil trading is a scam, a lie, a con – and it's played on the American people every single day and no one does a thing to stop them (except us).
Click for Chart

Current Session
Prior Day
Opt's
Open
High
Low
Last
Time
Set
Chg
Vol
Set
Op Int
Feb'12
99.48
100.23
99.24
99.77
07:33 Dec 23

-

0.24
11771
99.53
252713
Call Put
Mar'12
99.50
100.38
99.45
99.95
07:33 Dec 23

-

0.25
1801
99.70
155135
Call Put
Apr'12
99.62
100.50
99.59
100.17
07:33 Dec 23

-

0.31
1005
99.86
75457
Call Put
Do they REALLY want to have 252M barrels of oil delivered to Cushing, OK in February? No, of course not. Aside from the fact that Cushing can only physically handle, if it were empty (which it is not) 40M barrels a month – we are, in fact, EXPORTING oil products out of America as our usage of oil is down 10% from last year (see chart in yesterday's post). DESPITE a 10% reduction in refiner output, which helps to create an artificial shortage by the US energy cartel so they can charge the American public much more for less – we still are at RECORD levels of oil and product storage in this country.
So why do the NYMEX traders pretend to want to buy February (front-month) oil for $100 a barrel when December 2014 barrels are trading at $91.37? Because the front-month pricing determines what US consumers pay at the pump and even if the traders take a $10 loss on 250M barrels ($2.5Bn), that is just a drop in the bucket compared to the relentless price gouging at the pumps committed by the Evil Corporations that employ those traders.
Americans consume 11Bn gallons of gasoline a month along with 5Bn gallons of distillates and 7Bn gallons of other products. Last year (when we consumed 10% more), a gallon of gas was selling for $2.98 and now it's $3.23, up .25 – that may not seem like a big deal but multiply that by 23Bn gallons and you have $5.75Bn of excess profits (and that's giving them that $2.98 is "fair" in the first place) stolen from the American people EVERY MONTH. And don't worry about the oil cartel – they aren't losing $10 a barrel at the NYMEX, maybe a dollar or two on average but worth every penny of $500M to have an excuse to charge consumers an extra $5Bn each month, right?
The underlying problem in the oil market and in the broader market in this country is that ordinary Americans are now seen as a resource to be exploited by those who are in power – by the wealthy and by those with political influence. We're seeing Washington and Wall Street working so closely together that you really can't tell the difference between them anymore. The figureheads of each like to go back and forth between both locations, picking jobs, then switching and going back again. The government officials we are trusting and paying to look out for Americans are using those positions to get really nice, high-paying jobs in private-sector places, including Wall Street, that are effectively being used as bribes. - Leah Goodman, The Asylum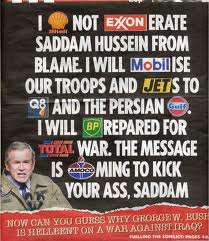 Last night, the White House finally forced Boehner and his Congressional posse to extend the payroll tax cuts (and Boehner's quote: "Why not do the right thing for the American People, even though it's not exactly what we want" is sure to be the official Republican slogan for 2012!) of $140Bn and NO ONE denied that $140Bn is a lot of money yet NO ONE does anything about the $400Bn PER YEAR that consumers are now paying for oil ABOVE what they paid just 2 years ago.
What's really sickening about being ripped off for $400Bn a year isn't just the 10,000,000 $40,000 jobs that $400Bn a year represents and it's not the $400Bn boost to consumer spending, not even counting the potential new wage earners, that would go to industries that actually do create jobs in this country – it's the fact that at least half of the $400Bn that the crooks at the NYMEX are stealing from us every year ($2,850 per tax-payer) is being sent overseas and tens of Billions of those dollars go to fund the very people who are killing our troops overseas as well as forcing us to spend countless hundreds of Billions of Dollars more to defend ourselves against people who buy our own weapons with our money to use them against us. And then, THEN THEY USE THE WARS AS A REASON TO RAISE THE PRICE OF OIL – MADNESS!
So Merry F'Ing Christmas to all the Corporate crooks and their pet politicians, who are selling this Nation and its once-proud people down the river to line their own pockets. Forcing people to overpay for necessities like food, fuel, housing and health care has created the largest wealth gap in recorded history for a developed nation. Our Gini Score (income inequality) of 41 is certainly better than Botswana's 60 but a far cry from Canada or Japan's 25. Even Bangladesh scores a 31 while our neighbors in the low 40s include China, Congo, Cambodia, Ghana, Morocco, Nigeria, Qatar and Mother Russia.
Even Pakistan manages to score in the low 30s because, they may be poor, but the top 1% don't have all the money. Our top 1% have 40% of the money – that's pretty bad – that IS NOT SHARING! Isn't Christmas supposed to be all about sharing? Unfortunately, as sickening as these statistics are, they are getting worse. Our score of 41 was last officially measured in 2000 but the estimates are that things in the US have gotten 10% worse (or better if you are in the top 1%) since then and our score is now 45 – one of the 10 worst on Planet Earth!
Or, if you are in the top 1% – one of the 10 best, right?
Go ahead, ask any warlord in Zimbabwe (rank 50) or Congo (47) and they will tell you that NOTHING needs to change. It's the greatest country in the world when you are the one at the top – just like America!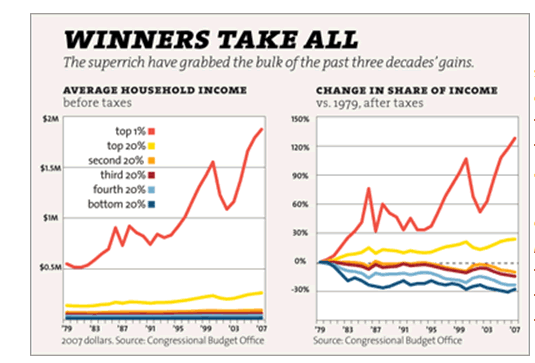 Princeton political scientist Larry Bartels studied the voting behavior of US senators in the early '90s and discovered that they respond far more to the desires of high-income groups than to anyone else. By itself, that's not a surprise. He also found that Republicans don't respond at all to the desires of voters with modest incomes. Maybe that's not a surprise, either. But this should be: Bartels found that Democratic senators don't respond to the desires of these voters, either. At all!
It doesn't take a multivariate correlation to conclude that these two things are tightly related: If politicians care almost exclusively about the concerns of the rich, it makes sense that over the past decades they've enacted policies that have ended up benefiting the rich. And if you're not rich yourself, this is a problem. First and foremost, it's an economic problem because it's siphoned vast sums of money from the pockets of most Americans into those of the ultrawealthy. At the same time, relentless concentration of wealth and power among the rich is deeply corrosive in a democracy, and this makes it a profoundly political problem as well.
Just something to think about as you get together with your family for the holidays. Perhaps you are all rich and successful and this is all very funny to you but perhaps, just maybe – if you look around the family table – you might realize that people who have the same background as you, with the same opportunities as you , through no fault of their own other than slightly different circumstances – are not as successful as you are. Maybe, just maybe, if you can see that – you can see how our society as a whole may be skewing a bit too far to the right and perhaps, just maybe – you may see it fit to resolve to help change that in the new year.
Whoever loves money never has money enough; whoever loves wealth is never satisfied with his income. This too is meaningless. - Ecclesiastes 5:10
Have a very Happy Holiday,
- Phil
Click here for a free trial to Stock World Weekly.
Philip R. Davis is a founder of Phil's Stock World (www.philstockworld.com), a stock and options trading site that teaches the art of options trading to newcomers and devises advanced strategies for expert traders. Mr. Davis is a serial entrepreneur, having founded software company Accu-Title, a real estate title insurance software solution, and is also the President of the Delphi Consulting Corp., an M&A consulting firm that helps large and small companies obtain funding and close deals. He was also the founder of Accu-Search, a property data corporation that was sold to DataTrace in 2004 and Personality Plus, a precursor to eHarmony.com. Phil was a former editor of a UMass/Amherst humor magazine and it shows in his writing -- which is filled with colorful commentary along with very specific ideas on stock option purchases (Phil rarely holds actual stocks). Visit: Phil's Stock World (www.philstockworld.com)
© 2011 Copyright PhilStockWorld - All Rights Reserved Disclaimer: The above is a matter of opinion provided for general information purposes only and is not intended as investment advice. Information and analysis above are derived from sources and utilising methods believed to be reliable, but we cannot accept responsibility for any losses you may incur as a result of this analysis. Individuals should consult with their personal financial advisors.
© 2005-2019 http://www.MarketOracle.co.uk - The Market Oracle is a FREE Daily Financial Markets Analysis & Forecasting online publication.

Only logged in users are allowed to post comments.
Register/ Log in