U.S. Markets and Election 2012, Pull Out The Big Guns!
Stock-Markets
/
Financial Markets 2012
Dec 30, 2011 - 03:13 AM GMT


You know it's only a question of time. Ron Paul is in the lead in Iowa and running a strong second in New Hampshire so the press is bringing out the big guns in an effort to knock him down. The top two articles on MSN.com are "Is Ron Paul A Homophobe?" and "Romney Surges in Iowa" with the latter implying that his move to overtake Paul is all but in the bag. I know a thing or two about the Midwest since I grew up in Illinois and I can tell you that the folks in Iowa won't lose a minute's sleep if Paul came out against homosexuals or not.¹ The problem is no one expected him to be "in the game" right now and folks on the Republican side of the isle are very nervous. That means things will get very dirty.
Don't kid yourself for a minute! This election is not about what's good for America or solving America's problems. This election is all about the preservation of power! Ron Paul is a huge threat to the status quo and that means the Republicans will do anything to keep him from receiving the nomination, and I mean anything. They'll drag out crack addicts and prostitutes to say that he had sex with them in a bathroom right before he gave a big speech. They will stop at nothing! Paul has gone so far as to say that he will eliminate the Federal Reserve and do away with lobbyists, and that is akin to slaughtering sacred cows on a New Delhi main street at high noon. And if the Republicans can't get the job done, you can bet your derriere that the Democrats will burn the midnight oil trying to sink Paul.
The real problem is not that Ron Paul might actually challenge the "establishment" or not. The real problem is that the stench emanating from Washington is now permeating the nostrils of everyday decent Americans. They are saturated with bullshit from both sides of the isle and they are tired of holding their collective breath because of the smell. Obama ran on the promise of change and this time around the American people are going to give him change whether he likes it or not. He will of course try to spin his way out of trouble, but the sight of a President blaming someone else for his own glaring shortcomings will not play well with the electorate.
Obama allowed corporate fraud to move up in category from an art form to a profession, and he put the thieves in control of the justice system just to make sure everything goes according to plan. The Afro-American population that helped elect him got screwed and they are finally coming to that realization now. Skin color aside Obama is just another crooked Wall Street type in a smoke filled blue suit responsible for raping the country for whatever was left of its wealth.
Corruption is everywhere and that includes the market place, but what very few understand is that the markets are so big and powerful that they are capable of defending themselves. In short they'll bend but they won't break, and watch out for the day of reckoning because it's going to be a humdinger! Think of the market as a body filled with toxins and possessing an auto immune system second to none. Sooner or later it will expel those toxins (distortions forced upon the system by a corrupt Fed and Congress) in a very unpleasant manner. Smart people have been calling for that day for more than three decades and I believe we are very close to an economic cleansing right now. It just occurred to me that maybe the Mayans were really taking about Wall Street!!
In today's world nothing is as it seems. The dollar and the 30-Year treasury rise as supply increases almost exponentially. Obama came to power with a total debt of US $10 trillion and this is the outlook for 2011:
We have a current U.S. Tax revenue of $2,170,000,000,000
The Federal budget is $3,820,000,000,000
New debt is $ 1,650,000,000,000
The national debt is $14,271,000,000,000
And finally recent budget cuts amount to a paltry $ 38,500,000,000.
and I haven't even touched the off the books debts that total US $110 trillion. Yet the dollar and bond continue to rally based on the time-honored concept known as the "lesser of all known evils". History is full of examples that show this is a flawed reasoning process.
Now we are told that gold is no longer a safe haven and the eleven-year old bull market whose very existence was denied until three short years ago, is now over. You can see clearly the bull market that began way back in 1999 with the US $252.00 low. If this were the NASDAQ they would be dancing in the streets proclaiming that 30,000 is just around the corner. It's not, it's gold, and it's the Ron Paul of the investment world. The average man on the street is unaware of the eleven-year old bull market, but he's becoming aware. It's a process and it requires time, but the wheels are in motion and he will eventual jump into the pool, cloths and all.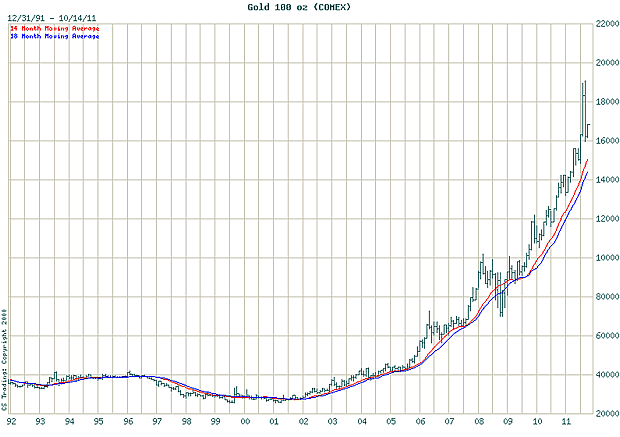 With respect to gold, every time we have a reaction, and that's what this is, we hear the sirens announcing the end of the bull market. I've lost count of the times Robert Prechter of Elliot Wave fame has called an end to the bull market over the last five years. Strangely enough he's been silent of late. Do you think he's finally learned his lesson? The Bloomberg crowd is another group that tries to talk gold lower every chance they get, and the only thing they hate more than the yellow metal is RIM.² What they all fail to realize is that gold experiences corrections every once in a while and that is precisely what we are experiencing now.
On the plus side of the balance sheet we have this perverse love affair with the stock market and cheerleaders with their constant lemma of "stocks are cheap". Of course they're cheap since they no longer have to follow generally accepted accounting principals and liabilities can magically become assets with the touch of a keypad. You have US $3.7 trillions in quantitative easing over the last two years and we still can't make a higher high! Here you can see the April 29th top of 12,876 is still well below the October 2008 high of 14,167: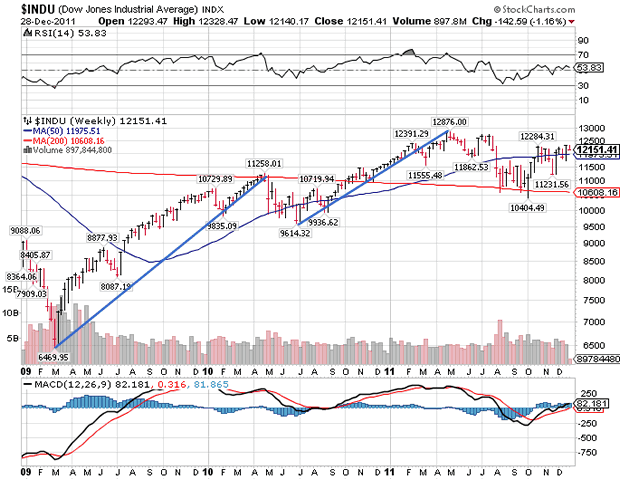 Here I've drawn in the rallies that resulted from QE1 and QE2 and the latter was somewhat muted. Subsequent "minor QE's" due to extension of Fed policies, swaps with Europe, and the recent ECB quantitative easing all have failed to push stocks above the April lower high.
You can screw with the price/earnings ratio by doctoring balance sheets but it's a lot more difficult to screw with the average dividend yield because someone actually has to write a check. The average dividend yield for the S & P 500 is a miserable 2.35% and that is historically very low and an indication of bull market tops and not cheap bear market bottoms. In order for an intelligent man to even consider buying stocks, any stock for that matter, you need to see an average dividend yield close to 5% and I would prefer above 6%. We are a long, long way from that. When I see a company like Facebook with a market cap of US $60 billion no one has to tell me the market is overvalued. This is a company that creates nothing and adds little or no value to society as a whole. If you removed it from the face of the earth tomorrow, the world would not skip a beat. Sooner or later the US, Europe and China will have to get back to basics, eliminate debt, and everyone will have to live within their means. That would imply a Dow somewhere around 3,000. Until then either stay out of the market, or get short if you can stand the heat!
In conclusion we live in a society were greed has run amuck. I read recently that "greed is an excess of desire and lack of empathy and judgment outside of the virtues, and is therefore most decidedly not 'good.' A system built predominantly upon unrestrained greed, anger, envy, and pride will not, by definition, be virtuous but degenerative, unstable, and ultimately self-destructive if not put down by its victims first." If this is the case the US is definitely not "good". The "victims" in the US are the so-called 99% and they are about to have their say. The market is just beginning to discount that and it will be interesting to watch.
This will be my last report for 2011. I want to wish everyone a happy and profitable New Year! My next report will come out Tuesday January 3, 2012
1 The article in question is all smoke and mirrors and I doubt seriously if Paul cares one way or the other what a voter's sexual preferences are.
2 For months, almost on a daily bases, Bloomberg news talks about how bad a company Research in Motion is and I have to wonder if Michael Bloomberg is using his own media company to grind some sort of personal axe.
Giuseppe L. Borrelli
www.unpuncturedcycle.com
theunpuncturedcycle@gmail.com
Copyright © 2011 Giuseppe L. Borrelli
- All Rights Reserved Disclaimer: The above is a matter of opinion provided for general information purposes only and is not intended as investment advice. Information and analysis above are derived from sources and utilising methods believed to be reliable, but we cannot accept responsibility for any losses you may incur as a result of this analysis. Individuals should consult with their personal financial advisors.
© 2005-2019 http://www.MarketOracle.co.uk - The Market Oracle is a FREE Daily Financial Markets Analysis & Forecasting online publication.

Only logged in users are allowed to post comments.
Register/ Log in