Mounting Political Dissent in the Land of the Sheeple
Politics
/
US Politics
Mar 19, 2012 - 06:44 AM GMT


The long and sometime turbulent drama of political dissent in America is a continued theme in history of the country. Born out of a revolution and based on social principles of self-determination, the nation rustles with the internal conflict between individual liberty and the power of tyrannical elites. This struggle is the natural condition in any nation. How a society treats dissenters is a primary test for any government. Most states fail this assessment miserably. America's tolerance for peaceful dissent is in jeopardy, not solely from the current despotic regime in power, but from the flock of hungry government parasites that graze upon the public benefit programs that herd citizens into a crowd controlled environment.
The liberal left adopts a mindset that is deficient in understanding of this most important reality. When people become dependent on government, the effective ability for meaningful dissent diminishes. Progressives are innately believers in the "Good Society". Their assessment that government improves the plight of citizens is a false conclusion. The greatest degree of suffering and despotism comes directly from the chambers of the State. Yet, the Democratic sentiments that echoes the welfare role of central government, causes the apathy and acquiescence that allows for even more consolidation among the oligarchs.
However, there is a more comprehensive description of this circumstance; an "
Ineptocracy
".
(in-ep-toc'-ra-cy) - a system of government where the least capable to lead are elected by the least capable of producing, and where the members of society least likely to sustain themselves or succeed, are rewarded with goods and services paid for by the confiscated wealth of a diminishing number of producers.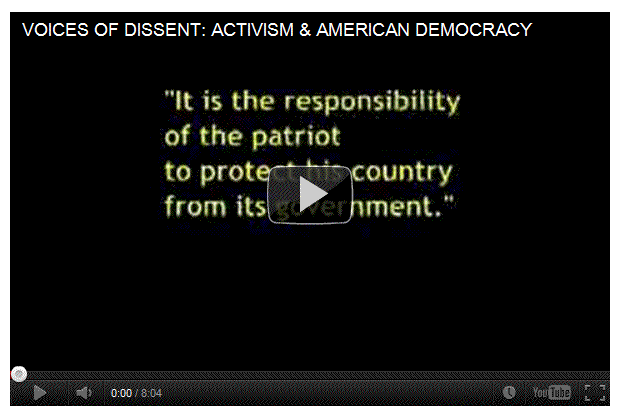 By this definition, the advocates for more inclusive government practice the very elements that make the situation worse. Watch the video VOICES OF DISSENT: ACTIVISM & AMERICAN DEMOCRACY and observe this disconnect that leftist dissenters often express.
Movements like Occupy Wall Street become co-opted over time in a like manner as the Tea Party organizations that adopt mainstream Republican sentiments. Encouraging are instances when ordinary people pressure the corrupt political class. Notwithstanding, heightened activism, there must be a rational basis for a practical alternative. Sadly, in most instances, no matter how many demands petitioners make to restore immutable civil liberties, the establishment refuses to relinquish their tyrannical dictates.
This fact keeps the vast majority in self-induced incarceration. Nearly half of potential voters never cast a ballot. It is reasonable to conclude the tired old cliché that it does not matter to vote because there is no a difference between the parties, is accurate. Nonetheless, dissent is far more profound than being a duped victim to a rigged voting system. Dissent requires total emersion into the entire political process.
Lobbying officials and confrontation with bureaucracies are necessary elements that every citizen has a duty to engage. Yet, the lesson of history is that only the few ever risk being burned by challenging the status quo. Well, that kind of resignation will never defeat a coercive political dynasty bent on expanding an ever-greater diabolical regime.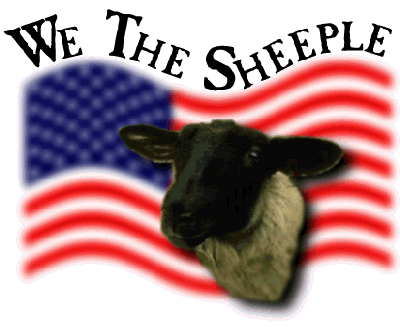 The Sheeple mentality produces walking zombies. You know the type. They are your neighbors and relatives. They come from ever kind of background or employment. Most just are afraid to get involved. They are the first to wave the flag, but will never attend a government public hearing, much less express their discontent. Their motto, "go along to get along" symbolizes the decay of the nation.
Add in the legions of public employees with their union entitlement extortion demands and you have a formula for a terminable society.
Our natural tendency is to trust authority
provides a feeble excuse into the dysfunctional Sheeple DNA. Only the conclusion "Our tendency to trust authority is allowing mentally incompetent people to remain as leaders in government, universities, business, and news reporting" provides the accurate insight.
One reason we resist improving our world is that we resist facing the possibility that our leaders are corrupt or incompetent. Our natural tendency is to trust people in positions of authority; to assume they are protecting us and providing guidance to us.

Children offer the most extreme example of this. The natural tendency of a child is to assume his parents are wonderful people. A child will trust his life with his parents, and he will resist accusations that his parents are bad people.

This tendency to trust authority persists even in adults. In fact, some people have noticed that simply by pretending that they are important they can get people to regard them as an authority. People who are promoted to management positions are sometimes advised by other managers to put on an aura of being a leader. The reason is simply because we don't judge a leader by his ability to lead. Rather, like an animal, and like a child, we judge a leader by his visual appearance, posture, tone of voice, and -- most important -- according to whether other people consider him to be a leader.
Another viewpoint expands upon the true motives of the "Leaders" that reaches the fundamental lesson.
So you ask why

Operation condition the sheeple

the title to this article, because many are being manipulated by those that would control the masses for their own greedy purposes. The elite of this country and the World are simple unwilling to share their knowledge and are afraid of the ever awakening populace and rightfully so!

So by keeping the populace of the one remaining Super Power left in the World in the dark, distracted with electronic entertainment and tracked by the very same devices, The Powers That Be have put themselves in a position to Condition the Sheeple in anyway they see fit.

You know in your heart the system conditions the public to become mindless obedient serfs. Every act of obeying institutional corruption and rationalizing, that you are a good citizen for conforming to the subliminal conditioning, is the response of a mentally disturbed person.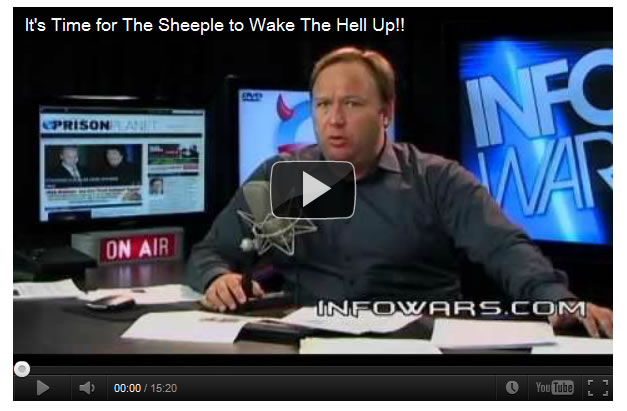 Leave it to Alex Jones to crystallize the plight of a submissive country in the video
It's Time for The Sheeple to Wake The Hell Up!!
. Does this analysis conflict with the Ineptocracy definition? While this concept describes the compliant public, do not dismiss the malicious nature of the manipulators that actually control the phony political process and create the environment that fosters a brain dead society.
Denial is not a defense for abdicating your civic responsibility. If you are one of the avid cheerleaders of State adoration and practice the ritual sentiment – "America Love It or Leave It", you are a prime Sheeple follower.
Because there are so many docile disciples ready to forgo their natural rights in order to gain a perceived favor from the jackboot thugs who chime the slogan "rally around the flag boys", the country deteriorates.
Dissent is necessary for any chance of survival. You know this to be true. But where will the opposition appear or around what issues will they gain critical mass? Under the Amerika Empire, foreign involvement and unremitting war is always a prime target for a mass movement resistance. Just where is the anti-war opposition? There is no monopoly of the left that objects to permanent warfare.
Traditional PaleoConservatives detest NeoCon and NeoLib internationalists. Patriots from all ideologies are alive and eager to stop the madness. So what is the excuse for indifference or lack of coordination? As World War III approaches, what will it take for a national response against the lunacy that guarantees massive human suffering?
The despotism that advances daily will not cease by passing additional repressive laws. National security begins in the minds and souls of the people and ends in the coercive dictates of a police state. Protest and resistance is the true patriotism.
If you are content to be a mere animal subservient to a cruel master, the Sheeple mentality resonates within your defective psyche. PsyOps are at the core of suppression and government education. The normal behavior for the average supporter of the tyrannical system requires condemnation for any dissent that seeks to restore a genuine Republic. If you oppose corruption and advocate accountability, the government flunkies and proponents will label you a domestic terrorist.
It comes as no surprise that the welfare state is now viewed as a right, while the Bill of Rights is trampled into the trash heap of a previous age. Political evolution, for the Sheeple is seen as lowing your head for the clipper that wants to shear your hair. Dissent for creatures absent of courage relegates the society to a fundamental split and confrontation.
Only fidelity to principle and bravery of spirit will transform this disturbed society into a nation worthy of allegiance. Until that day arrives, join the proud legacy of peaceful dissent and civil disobedience. Leadership is different from imposition. Gather the fortitude of risking public ridicule and fight for your country. Start with open resistance to any unlawful or immoral dictate. There is no where left to hide. Become a Patriot in the
Patrick Henry
tradition.
SARTRE
Discuss or comment about this essay on the BATR Forum
"Many seek to become a Syndicated Columnist, while the few strive to be a Vindicated Publisher"

© 2012 Copyright BATR - All Rights Reserved

Disclaimer: The above is a matter of opinion provided for general information purposes only and is not intended as investment advice. Information and analysis above are derived from sources and utilising methods believed to be reliable, but we cannot accept responsibility for any losses you may incur as a result of this analysis. Individuals should consult with their personal financial advisors.
© 2005-2019 http://www.MarketOracle.co.uk - The Market Oracle is a FREE Daily Financial Markets Analysis & Forecasting online publication.

Only logged in users are allowed to post comments.
Register/ Log in