Is the Earth Heading for an ICE Age As Sunspot Activity Subsides?
Politics
/
Climate Change
Jan 15, 2008 - 09:29 PM GMT

According to a Press Release from the SSRC (Space and Science Research Center) in Orlando, Florida (dated January 2, 2008), "substantial changes" on the Sun´s surface will bring about the next climate change, and a long spell of cold weather.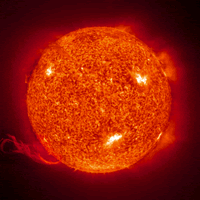 The changes they are referring to are "Sunspots", or to be more precise, a lack of them. In an article published by spaceandscience.net called "
Changes in the Sun's Surface to Bring Next Climate Change
", they say "We today confirm the recent announcement by NASA that there are historic and important changes taking place on the sun´s surface. This will have only one outcome - a new climate change is coming that will bring an extended period of deep cold to the planet...
Further according to our research, this series of solar cycles are so predictable that they can be used to roughly forecast the next series of climate changes many decades in advance. I have verified the accuracy of these cycles´ behavior over the last 1,100 years relative to temperatures on Earth, to well over 90%."

Firstly, it should be pointed out that whilst knowledge of sunspots may go back to around 800 BC in China, any serious research into this subject didn´t begin until 1610. And it wasn´t until around 1900 that researchers began to explore connections between solar variations and weather on Earth. So it might be a little difficult to accurately compare solar activity to temperatures on Earth over the last 1,100 years.

However, in saying that, some scientists have found some connection between solar activity and temperatures on this planet over the last 300 years, but these do not cover all climatic changes (and only around half of them since 1900). This could be because of limited data, or simply seeing a connection that does not really exist.

Obviously, if the power of the Sun was to fall, this would affect the temperatures on our planet (you don´t need to be a scientist to figure that out), but the distance of our planet in relation to the Sun (and many other factors) can also have an effect.
Many scientists have stated that Solar activity (at least at the beginning of the last century) was exceptional high, but at the same time admit that this wouldn´t be sufficient to produce the temperatures we are seeing at the moment.

So, if the Sun isn´t directly responsible for the increased temperatures, what is? And if Solar activity doesn´t have any significant affect on our climate, how can we say (with such certainty) that the changes on the Sun´s surface will bring about a colder climate?

A large number of people still believe that the even higher temperature increase since the 80´s is due to man creating the "greenhouse effect". But what if the warming is the result of higher levels of Galactic Cosmic Rays, which just happen to penetrate our troposphere and stratosphere more effectively when there is a decrease in solar activity?

According to the article, when John Casey, Director of the SSRC, was asked if the government had been informed, he was quoted as saying "Yes, as soon as my research revealed these solar cycles and the prediction of the coming cold era with the next climate change, I notified all the key offices in the Bush administration including both parties in the Senate and House science committees as well as most of the nation´s media outlets." (One might be tempted to say the "Usual Suspects"?).

It´s a pity Casey didn´t wait a little longer to complete his research with a little more solid evidence, instead of making predictions that can not be supported fully by sufficient historical data. But then everyone seems to be in the guessing game when it comes to the weather. Personally, I keep to the weather predictions I made in my book, but that´s a novel!
By Ian Brockwell
http://www.Profindsearch.com
Ian Brockwell is the creator of Profindsearch.com and interests include writing, teaching, politics, climate change, UFO reports, businesses of all descriptions, medicine and generally trying to enjoy life. Profindsearch is a very small search engine, which hopes to be a Google one day! (We can all dream)
© 2005-2019 http://www.MarketOracle.co.uk - The Market Oracle is a FREE Daily Financial Markets Analysis & Forecasting online publication.
Comments
andrew
05 Mar 08, 17:40
Sun Spots & Climate Change


At last some body has landed on the truth in 1801 Herschel read a paper before the royal society in london and he drew their attention to the apparent relationships between sunspotts and the price of wheat. it is respected now that plant life are more abundant in heavy times of sunspot activity and unfotunatley we are about to end that cycle and to enter history again which will only predict the future as we need to go back to go forward!




Only logged in users are allowed to post comments.
Register/ Log in