Bob's Permanent US Investment Portfolio Analysis Update - 9th Feb 07
Portfolio
/
Investing
Feb 11, 2007 - 02:05 PM GMT

Gold (Currently Bullish): Gold has continued to hang around "Shed" all week. I'm not buying right now. I am bullish on gold so I always buy when the price gets close to the 180-day Moving Average and I back up the truck and load it when the "Accum" trigger is hit, now at -.37. If you are building your portfolio, you might want to wait for the next dip. If you are in sell-mode the past few days would have been a-good-a-time-as-any to sell a few coins to get you through the month. If you are balancing your Permanent Portfolio to get gold to 25% selling now is OK. Put the proceeds into the Long Bond or into whatever class you are short.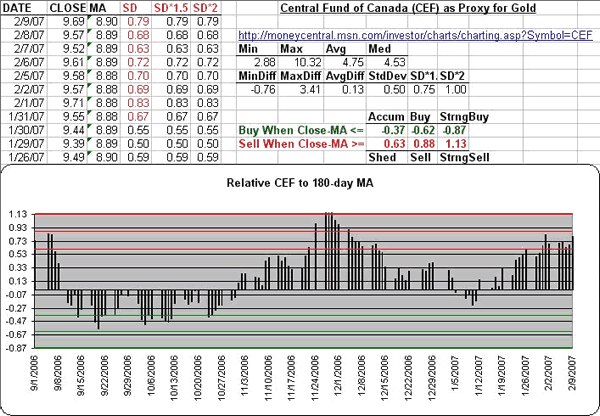 I buy the physical metal and bury it. I also buy "Paper Gold" in stocks and funds that are highly correlated to the price of gold (e.g. ASA, GLD, TGLDX, etc.). When I get ready to sell the first thing that goes will be the paper. I'll hold the physical metal until the end.
Note to kids: DO NOT SELL THE GOLD!
Bonds (Currently Neutral):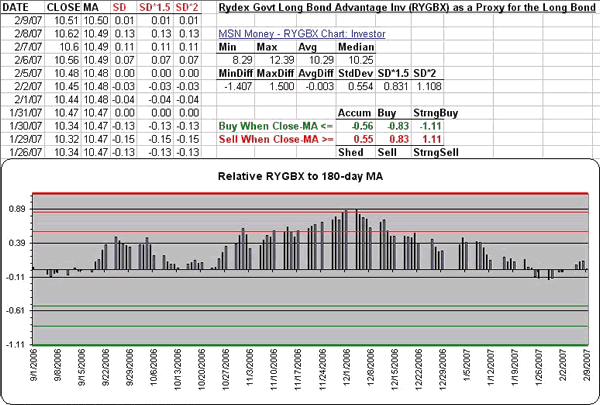 Another dull week for bonds. They were moving up a little but retreated to the 180-day MA. I am neutral on Bonds so I always buy when the "Accum" trigger is hit and the price is below the Median, now at -.56 and 10.25 respectively. If you are just starting to build your portfolio, now is an OK time to accumulate the long-bonds.
When I'm buying I either buy the actual 30-year bond or TLT.
Stocks (Currently Bearish):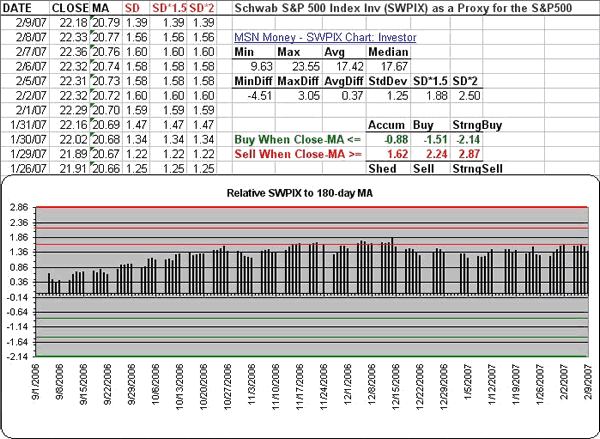 The S&P500 was basically flat all week (till Friday when they took a slight dip) hovering just below the "Shed" signal. Shed, for those that want to know, is one standard deviation above the 180-day moving average.
I am bearish on Stocks so I always buy when the "Accum" trigger is hit and the price is below the Median, now at -.89 and 17.66 respectively. It looks like I'm going to be waiting a while... I know this graph looks bullish but if you are just starting to build your portfolio I would wait to see what happens next week...next month...maybe next year. Be patient and wait for the correction. Remember, you can hold as much as 35% of your portfolio in cash and still be compliant with the strategy (I'm close to that now myself). If you're selling, watch the S&P500 and if it goes up next week shed a few shares to balance your portfolio or use it to treat yourself and your family.
I'm currently speculating on the energy and defense sectors as it seems we're going to be in this war for a while. Heck, you can't do anything about it so you might as well try to make some money.
My last speculative purchases were:
| | | | | |
| --- | --- | --- | --- | --- |
| 02/06/2007 | Buy | NOV | NATIONAL OILWELL VARCO | $63.95000 |
| 02/06/2007 | Buy | SLB | SCHLUMBERGER LTD F | $65.35000 |
| 02/06/2007 | Buy | GSF | GLOBALSANTAFE CORP F | $57.93000 |
| 02/06/2007 | Buy | DO | DIAMOND OFFSHR DRILLING | $84.95000 |
| 02/06/2007 | Buy | NE | NOBLE CORP FCAYMAN ISLANDS | $76.00000 |
Cash:
I just bought another T-bill today...whatever... I believe something is going to give and I want to have some cash available to take advantage of it.
I speculate in Yen and Swiss Francs. That's about as boring and unprofitable as it can get these days. No interest...No glory...No fun... Tracking Yen on my charts shows it as "Accum" plus it's below median. If you're so inclined to build a position, now would be a good time to buy $1,000 worth of Yen. I'm just you're average Bob so I get no points for suggesting www.everbank.com as a potential vendor for your transactions but I use them to buy foreign currencies. It seems to me that in order to play the currency game you've got to be ready to speculate about $250K in it so unless you want build to that position you might as well forget about it.
The Permanent Portfolio Fund: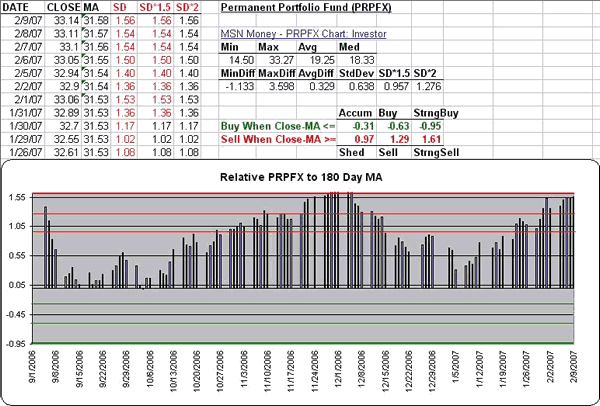 The Permanent Portfolio Fund is trading in the Sell region and is getting fairly close to two standard deviations about the MA (Strong Sell). PRPFX has been trading above the MA for quite a while and I believe the approach used helps to support this general trend.
Playing the Permanent Portfolio Game: Harry Browne suggested an allocation of 25%/each to gold, stocks, bonds and cash. He said that this would produce a return of 8% if followed carefully and rebalanced annually. I have no reason to doubt it and if one looks at a similar portfolio, PRPFX , one will see that this approach has worked fairly well. We haven't seen a huge drop in any of these asset classes over the past history of this fund and the approach seems logical to me so I'm going to stick with it. The long-term graph seems almost ridiculous! Gold and stocks have both been moving up during the almost parabolic increase in PRPFX. I'm interested to see what happens when one of these classes starts to break down. The near-term past has been very good to us.
There are two simple scenarios that I try to consider in this weekly post:
You are working and have money to invest in a Permanent Portfolio
You are retired and are living off your Permanent Portfolio
I am working and have income to invest so I'm looking for investments that are relatively cheap among the four investment classes and buy them. Others may be retired and are living off their portfolio. For those selling, I try to identify the classes that are relatively expensive and are candidates for selling and/or re-balancing to maintain a 25% allocation to gold, stocks, bonds and cash.
Harry Browne believed that one should have a plan for investing and divesting that was simple and would not require constant maintenance and worry. Through these posts I try to identify the investments that are relatively high or low so that you can quickly see what of your current portfolio may need attention. You should never be put into a position that you are constantly worried about your investments. Harry's Permanent Portfolio strategy, does, in fact, give one "peace-of-mind" but when you want to either invest or divest it's helpful to have some guideposts.
Summary: I am not doing anything right now except accumulating short-term T-Bills, documenting the locations of my buried gold and waiting for Gold, Stocks and Bonds to become a little more reasonable. However, if you are just starting out now to build your Permanent Investment Portfolio, long-term bonds would be a good place to start.
Under 10 feet of snow in Oswego, NY,
By Robert Moore
Robert Moore was educated as a geographer with a specialty in Geographic Information Systems and Climatology. Between 1980 and 1995 he was engaged as a consultant in the implementation of some of the largest digital mapping projects in the world. He is now the owner of a high-tech real estate information systems technology company that services over 50,000 REALTOR users in the United States.
Disclaimer - This Portfolio is provided for general information purposes only and not a solicitation or recommendation to enter into any market position, and you are reminded to seek independent professional advice before entering into any investments or trading positions.
© 2005-2019 http://www.MarketOracle.co.uk - The Market Oracle is a FREE Daily Financial Markets Analysis & Forecasting online publication.

Only logged in users are allowed to post comments.
Register/ Log in