Will the Oil Bubble Pop Down to $67 This Time: If so that's Good News
Commodities
/
Crude Oil
Jun 04, 2012 - 08:07 AM GMT


The story so far:
1: There was a bubble in oil prices in 2008. The evidence for that is it popped which is a pretty good clue; although so far no one has figured out what drove the bubble. Yes it was probably speculators with access to easy money, but sadly no smoking gun has been found, although one gets the impression no one looked very hard.
2: The bubble popped, like bubbles tend to do, and then the price drifted back to what appears to have been the "equilibrium" at the time of $80 to $90 a barrel if you are talking Brent. Although by that time too Brent and WTI de-coupled so there is a bit of uncertainty about which line you should be following– if either…using your genius model which was based on a history when WTI used to sell at a premium to Brent.
Regardless, the dynamic of the bubble…Blow-Pop-Recover…looks about as perfect an example of the "theory" of BubbleomiX as you will find anywhere; in that the equilibrium [E] looks like it pretty much equals the square-root of the minimum [M] multiplied by the crest [C]:
E = √MC
That is reminiscent of that other General Theory, and I'm not talking about Keynes' one, by the way, and of course that doesn't mean it's right.
3: What followed looked suspiciously like another bubble, with causes still as mysterious as the cause of the first bubble.
4: But after a bit of a wobble, it looks suspiciously like that one is popping too.
This is a chart I put out in March 2012 which I have updated and annotated, which summarizes the action so far: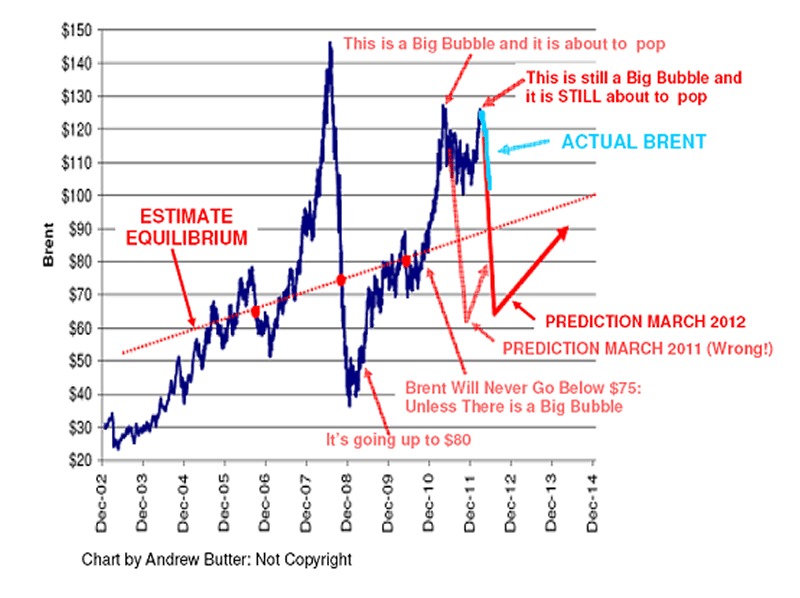 http://www.marketoracle.co.uk/Article33849.html
http://www.marketoracle.co.uk/Article29767.html
http://www.marketoracle.co.uk/Article28122.html
http://www.marketoracle.co.uk/Article27857.html
So in March 2011 your Humble Guru was predicting a big fall to roundabout $70 for Brent by November 2011, so therefore either the guru is an idiot or the theory is wrong…or both.
Well this wannabe has been exposed as a blithering idiot many times before, so that's not something worth debating.
The interesting question is whether the theory is any good, and specifically is it any use in making predictions?
There was a caveat of course…all self-respecting gurus have caveats….and that was that [IF] there wasn't a pop [THEN] that would mean Peak Oil was starting to be a reality, in which case the price of oil would start to be dictated not by what the customers can afford to pay which many people agree is about 3.3% of nominal GDP (so divide that by production and you get to price – that's called Parasite Economics).
Instead, if the game changes, then the price will be driven by the expected cost to discover and then develop and then transport, oil that hasn't been discovered yet….i.e. the cost to replace the stuff that has been discovered so far. So, if there isn't a pop soon, that means Peak Oil has started to be a reality.
http://www.marketoracle.co.uk/Article24849.html
So if the theory is right, then the mini-bust mid-2011 might actually get properly expressed in …mid 2012? Or maybe not…looks like the timing of the reversals correlates pretty well with summer blues; that could be what's happening this time. But if Brent goes down through $90 then this time…it might just keep going.
That will be good news for the spluttering Western economies, particularly U.S.A. which hugely subsidizes the real cost of consuming oil, and pays for that by selling it's birthright either in U.S. Treasuries, or (previously) AAA rated collateralized debt obligations which had the advantage of being non-recourse, but sadly the supply of dumb aliens willing to buy those seems to have dried up in recent years.
The subsidies in the Land-of-the-Free-Lunch (for the 2% with connections) were a crony capitalist hangover from the days when U.S.A. was more or less self-sufficient in oil. The good news there is apparently, these days, fuel consumption is the major thing new car-buyers are looking at, and finally, with shale-gas so abundant the smarter people are starting to talk about using that to replace oil in trucks, and perhaps some cars.
A pop will also be good news for oil exploration companies too, yes really!! That's because if the pop is cleanly expressed this time, that will demonstrate pretty conclusively that $70 Brent is the bottom line, and that $90 to $100 is where the equilibrium is….as opposed to the possibility oil will go to $40 and stay there which would kill large-scale investments that have five to ten-year pay-backs.
Of course if there isn't a real-nice pop, then that will be a sign Peak Oil really is coming to town, which is really good news for anyone who has the capability to find new stuff.
Interesting times!!!
By Andrew Butter
Twenty years doing market analysis and valuations for investors in the Middle East, USA, and Europe. Ex-Toxic-Asset assembly-line worker; lives in Dubai.
© 2012 Copyright Andrew Butter- All Rights Reserved
Disclaimer: The above is a matter of opinion provided for general information purposes only and is not intended as investment advice. Information and analysis above are derived from sources and utilising methods believed to be reliable, but we cannot accept responsibility for any losses you may incur as a result of this analysis. Individuals should consult with their personal financial advisors.
© 2005-2019 http://www.MarketOracle.co.uk - The Market Oracle is a FREE Daily Financial Markets Analysis & Forecasting online publication.
Comments
Andrew McKay
05 Jun 12, 12:27
Peak oil


I think you'll find the continuous rise and fall of oil prices is what a number of peak oil theorists have predicted for some time. All the while the average price is climbing. John Michael Greer calls it catabolic collapse and you can read about it here: http://thearchdruidreport.blogspot.ca/2011/01/onset-of-catabolic-collapse.html

"Thus the normal rhythm of history in complex societies cycles back and forth between building up, or anabolism, and breaking down, or catabolism. Societies that have been around a while – China comes to mind – have cycled up and down through this process dozens of times, with periods of prosperity and major infrastructure projects alternating with periods of impoverishment and infrastructure breakdown.

A more dramatic version of the same process happens when a society is meeting its maintenance costs with nonrenewable resources. If the resource is abundant enough – for example, the income from a global empire, or half a billion years of ancient sunlight stored underground in the form of fossil fuels – and the rate at which it's extracted can be increased over time, at least for a while, a society can heap up unimaginable amounts of stuff without worrying about the maintenance costs. The problem, of course, is that neither imperial expansion nor fossil fuel drawdown can keep on going indefinitely on a finite planet. Sooner or later you run into the limits of growth; at that point the costs of keeping wealth flowing in from your empire or your oil fields begin a ragged but unstoppable increase, while the return on that investment begins an equally ragged and equally unstoppable decline; the gap between your maintenance needs and available resources spins out of control, until your society no longer has enough resources on hand even to provide for its own survival, and it goes under."

http://www.southernlimitsnz.com/




Only logged in users are allowed to post comments.
Register/ Log in