Exactly What Can the ECB Do?
Interest-Rates
/
Eurozone Debt Crisis
Aug 09, 2012 - 06:19 AM GMT


The markets are continuing their short squeeze, Euro-phoria induced lunacy. As a quick reminder the S&P 500 is up nearly 5% while many European indexes have rallied double digits (Spain's Ibex is up an unbelievable 17%!)
In light of this, we need to take a look at the facts, because much of this feels too much like 2008 (at that time the S&P 500 rallied 7%, 11%, even 18% based on various "interventions" all of which turned out to be duds)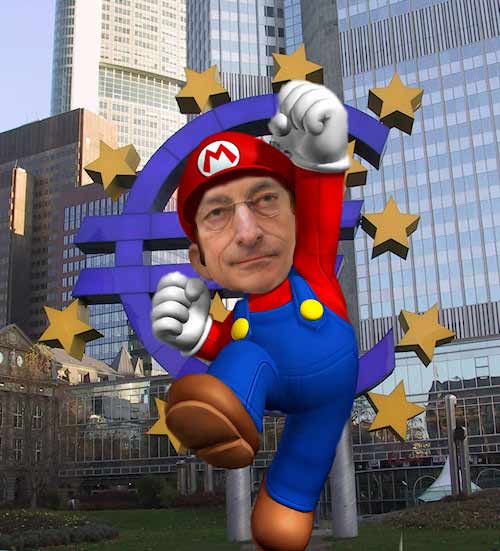 Regardless of what Draghi said, what exactly can the ECB do?
Technically, the ECB can buy sovereign bonds on the market.
However, it hasn't done this in 17 weeks. The reason? Germany wouldn't stand for it. Draghi seems to believe he can start doing this again now.
Whether this is truth or Draghi is bluffing is very difficult to tell. Germany has fired back several times that it's not in favor of this policy. The Bundesbank's President even went to far as to say this move would be against "democracy."
If the ECB moves without Germany's approval, things could get ugly very fast. The reason is that Germany is the true backstop for the EU. And if Germany says "nein" then the markets will call the ECB's bluff.
And let us not forget that the ECB bought sovereign bonds throughout 2011 and still lost control of the bond market several times: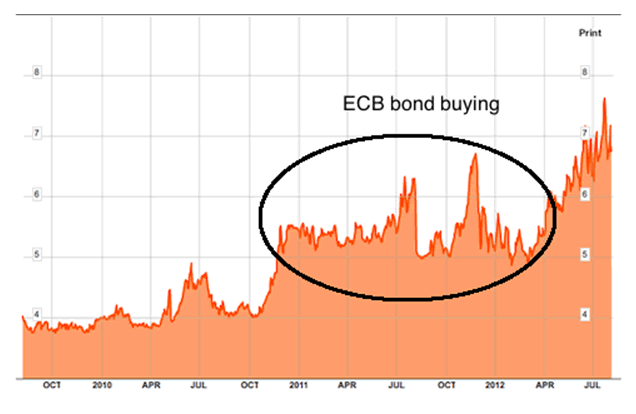 So more sovereign bond buying from the ECB is not the "fix all" everyone thinks it to be. Moreover, with over 25% of its balance sheet already comprised of PIIGS debt, additional sovereign bond buying by the ECB would bring its own solvency into question.
Also, and this is key, EVERYONE is ignoring the fact that the ECB said it would potentially buy bonds only IF countries met strict conditions AKA austerity measures.
Having seen this game play out in Greece for over two years, it's clear that this policy would only accelerate a collapse in Spain and Italy's economies.
So I would not be betting heavily on more bond buying from the ECB solving things over in the EU.
A secondary item would be for the ECB to buy bank bonds in concert with the bailout fund the ESM or the EFSF.
These options are also problematic. First off, the EFSF is essentially tapped out with only €65 billion in firepower left (after the €100 billion Spanish bailout). So scratch that option.
As for the ESM, it has not even been ratified yet! (Germany has held up its ratification in courts until September 12 2012).
On top of this, Spain and Italy will contribute 30% of the ESM's funding. So they're going to be bailing themselves out!?!
OK, let's calm down and assume that Spain and Italy don't have to do this (impossible given the way the ESM is structured). If you remove Spain and Italy from the funding mix it means that Germany and France would have to shoulder 66% of the ESM's funding.
Neither Germany nor France have that kind of money (66% of €700 billion). Even if they did, for them to be on the hook for this would mean both countries getting downgrades.
But what about the ESM working with the ECB to prop things up?
Once again the issue comes back to Germany which is against it. Indeed, Finance Minister Wolfgang Schauble has said the ESM doesn't need a banking license (which rules out the ESM buying bank bonds) while German officials in general have voted against increasing the ESM several times and have said the ESM shouldn't be used to buy sovereign bonds.
Thus, by simply working through the facts and the math, we find that this entire rally is based on hopes and delusions… neither of which will manifest in real money for Spain or Italy.
Indeed, the only thing that could potentially save Europe would be for Germany to agree to backstop everything and monetize all debts in one form or another with the ECB's help.
The odds of this are less than NONE. Angela Merkel is up for re-election next year. There is NO WAY on earth she'd engage in a policy that would result in Germany losing its AAA status (which this policy most certainly would do).
On top of this, Germany doesn't have the funds to do this. It's already on the hook for nearly €1 trillion in backdoor bailouts of the EU. And it's now fast approaching the dreaded Debt to GDP ratio of 90%.
So there is literally NO option that could save Europe at this point. We can get verbal interventions and symbolic gestures (such as Draghi's "bazooka" threat), but the fact of the matter is that the capital needed to prop up Europe simply doesn't exist in the EU or anywhere else for that matter.
Those investors looking for actionable investment ideas could also consider our Private Wealth Advisory newsletter: a bi-weekly detailed investment advisory service that distills the most important geopolitical, economic, and financial developments in the markets into concise investment strategies for individual investors.
To learn more about
Private Wealth Advisory

…
and how it can help you navigate the markets successfully…
Graham Summers
Chief Market Strategist
Good Investing!

PS. If you're getting worried about the future of the stock market and have yet to take steps to prepare for the Second Round of the Financial Crisis… I highly suggest you download my FREE Special Report specifying exactly how to prepare for what's to come.
I call it The Financial Crisis "Round Two" Survival Kit. And its 17 pages contain a wealth of information about portfolio protection, which investments to own and how to take out Catastrophe Insurance on the stock market (this "insurance" paid out triple digit gains in the Autumn of 2008).
Again, this is all 100% FREE. To pick up your copy today, got to http://www.gainspainscapital.com and click on FREE REPORTS.
Graham also writes Private Wealth Advisory, a monthly investment advisory focusing on the most lucrative investment opportunities the financial markets have to offer. Graham understands the big picture from both a macro-economic and capital in/outflow perspective. He translates his understanding into finding trends and undervalued investment opportunities months before the markets catch on: the Private Wealth Advisory portfolio has outperformed the S&P 500 three of the last five years, including a 7% return in 2008 vs. a 37% loss for the S&P 500.
Previously, Graham worked as a Senior Financial Analyst covering global markets for several investment firms in the Mid-Atlantic region. He's lived and performed research in Europe, Asia, the Middle East, and the United States.
© 2012 Copyright Graham Summers - All Rights Reserved
Disclaimer: The above is a matter of opinion provided for general information purposes only and is not intended as investment advice. Information and analysis above are derived from sources and utilising methods believed to be reliable, but we cannot accept responsibility for any losses you may incur as a result of this analysis. Individuals should consult with their personal financial advisors.
© 2005-2018 http://www.MarketOracle.co.uk - The Market Oracle is a FREE Daily Financial Markets Analysis & Forecasting online publication.

Only logged in users are allowed to post comments.
Register/ Log in