US Housing Bust Heading for the Perfect Storm
Housing-Market
/
US Housing
Feb 06, 2008 - 08:53 PM GMT


The following data on the Housing Depression in the City of Reno illustrates that the Peak was 30 – 31 months ago. The historical peak to trough real estate value is 46 months. Then again, the recent past has exceeded anything in history by several orders of magnitude.
For washoe county, there were 69 bank flreclosures for the entire year 2006, 100 for december 2007 and 204 for january 2008.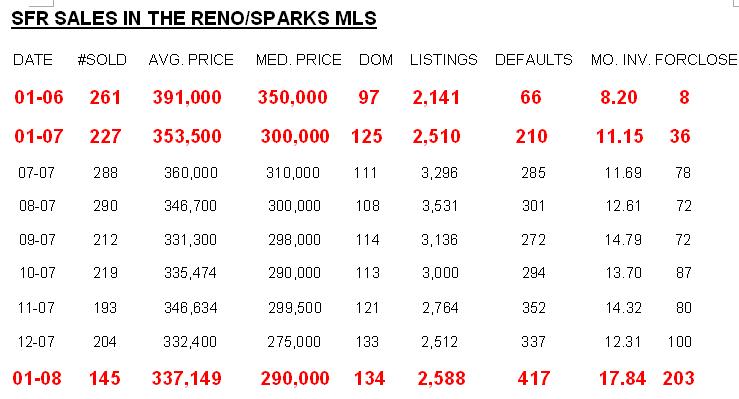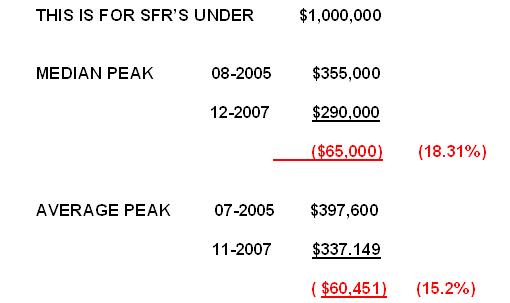 • December had the largest one month price decline on record! 4% avg. Price decline and 7.5% median price decline in one month.
• Number of sales….. Down 50% from august and 14% lower than 01/1998 (not a misprint) when there were far fewer houses and people.
• Jumbo loans > $417,000 increased interest rates 16% - 31% in august. 6,000 homes over $500k sold last in august……Down 43% nationally.
• DOM (days on market) 134 have increased 7% since 01/07.
• Forclosures in Reno/Sparks were up 564% from 01/2007 and were equal to 141% of total mls sales for january 2007……A first. These reo's should be on the market very soon at very resonable prices.
• Notices of default were up 197% from 01/2007 and were equal to 288% of sales for january. Nod's have exceeded mls sales for 6 consecutive months.
• Unsold inventory in the reno/sparks mls is a new record 17.84 months plus considerable new homes completed and under construction.
• Unemployment is 5%........low historically.
• <5.75% 30 yr. Conforming fixed interest rates……..very low historically.
March 2008 is the crest of the reset wave , concurrent with a slowing economy/recession, stricter/contracting credit and declining real estate values…. The Perfect Storm
Well it is election season again and the politicians are buying votes in earnest with the "economic stimulus package". I have been thinking of what to do with my $600 Bushbate as part of the "economic stimulus package". I thought of having a big weekend in Fernley, pay 2 weeks health insurance, 1-2 months credit card payments (the national average household balance is $10,000+), 1-2 months gas for the car, food for a month, make 1/4 of a mortgage payment, buy ½ of flat screen T.V., pay for the kids to go to college for a week. I have so many choices I just don't know what to do but am open to suggestion.
Of course, the money to pay for this will be created "out of thin air", devaluing the existing money in circulation and adding to inflation.
What you are supposed to believe is that businesses are going to expand production and outlets (like Starbucks), purchase new plants, factories, buy new equipment, hire en masse because we have a one time $600 windfall. You don't believe this do you. What about next month? And what is this stimulating anyway?
This is a tacit admission by our government that the average American is spending every penny they make, have squandered their pathetic savings and have borrowed to the extreme limit that insane and reckless credit extension will allow (now over and in reverse). The only way to keep the consumer spending is to give money away. As a destitute and hopelessly addicted credit junkie, I will need my dealer/U.S. government to do this every month.
The U.S. stock markets have lost in excess of $2 trillion in the past 4 months and residential real estate values have lost over $1 trillion over the past year with much more to come, according to Robert Shiller, Yale economics professor and the creator of the CASE/SHILLER Home Price Index.
I think this calls for a group hug with George Bush, Nancy Pelosi and Harry Reid for saving America.
By Mark B. Rasmussen 0
Mark is a real estate appraiser/broker by profession
Copyright © 2008 Mark B. Rasmussen
© 2005-2019 http://www.MarketOracle.co.uk - The Market Oracle is a FREE Daily Financial Markets Analysis & Forecasting online publication.

Only logged in users are allowed to post comments.
Register/ Log in