Crude Oil Pullback Is a Gift For Energy Investors!
Commodities
/
Oil Companies
Feb 07, 2008 - 12:31 AM GMT


Sean Brodrick writes: Oil prices are pulling back right now — below $90 a barrel. Let me tell you, I think oil is very inexpensive at that price, especially when you consider how absolutely amazing oil really is — how our entire civilization runs on it.
Along with the 86 million barrels per day that the world uses for fuel, petroleum plays a starring role in agriculture, industry, plastics, and building materials. It heats our homes, grows our food, and provides us with entertainment.
When people say we're "addicted to oil," they don't know the half of it!
Oil is absolutely indispensable to modern Western life. Since it's in limited supply — the only oil we find nowadays is very expensive oil — any pullback in prices is a gift.
Super-investor Jim Rogers once defined successful investing as waiting for an opportunity to simply walk across the room and pick up money.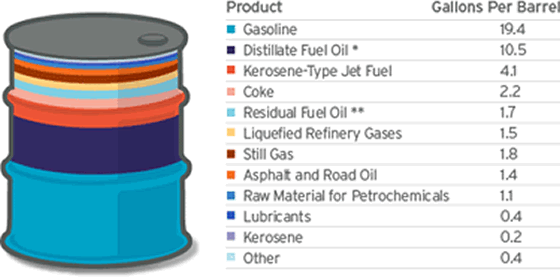 Today, let's talk about the major catalysts that have combined to create just such an opportunity for you ...
OPEC Ministers Determined To Push Oil Prices Higher
Despite the fact that oil recently surged to $100 and $90 seems to be the new floor for a barrel of crude, The Organization of Petroleum Exporting Countries (OPEC) decided to keep oil production targets unchanged at its meeting in Vienna last week.
What's more, OPEC says it will consider CUTTING production at its next meeting.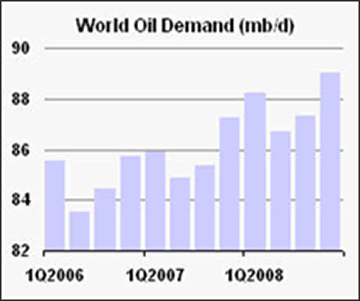 Even though OPEC ministers are refusing to pump more oil, they are ratcheting up their forecasts for oil demand. OPEC projects that the overall demand for crude oil could reach a level of 113 million bpd by 2020.The world only produces 87 million barrels per day now.
That trend is likely to continue when you consider ...
Surplus world oil capacity has been declining since 2001. Current surplus capacity is one million barrels a day — down from more than five million barrels a day.
Output from the world's existing oil fields is declining at a rate of about 5% per year. New production is coming online, but not fast enough to keep up with growing demand. Exploration can't keep up with production, either.
The U.K.-based Oil Depletion Analysis Centre recently reported that 60 of the world's 98 oil producing countries have already hit peak oil production.
The oil that is found is more expensive. In fact, onshore drilling costs in the U.S. have jumped nearly 20% in recent years. Offshore drilling costs have jumped nearly 38%, to $70 per barrel.
Think about that — if the cost of drilling a barrel of oil is $70, there's little profit margin in it unless oil is over $90 ... maybe even $100. And that means unless oil prices go higher, supply could start to dry up ... which would send oil prices even higher!
A very real supply/demand squeeze could come a lot sooner than most people realize. The International Energy Agency (IEA) says global energy demand rose 4.6% in 2007 and should increase another 2.3% in 2008 to 87.8 million barrels per day.
That means the world will start using oil at a rate of over 1,000 barrels per second!
Unless new supply comes online, we could very quickly see oil prices rise until some demand is squeezed out. And how high would oil prices be then? $100 per barrel? $120? $150?
Look, OPEC's foot-dragging on new production tells me that SUV-driving Americans aren't the ONLY ones addicted to high-priced oil ...
If The Dollar Continues Dropping, OPEC Will Deliberately Cut Production So That Oil Prices Increase Accordingly
You'd think that OPEC, which accounts for 40% of the world's oil production, would be rolling in dough. And sure, the U.S. Energy Dept. estimates that OPEC members earned $675 billion from oil exports in 2007, a 10% increase from the prior year.
But behind the scenes, OPEC is furious because the 15% drop in the U.S. dollar over the past year is denting their revenue stream.
Going forward, the Energy Information Administration estimates that OPEC could see $850 billion in net oil export revenue in 2008, a 26% increase from 2007.
You know what I think OPEC is thinking? What if the U.S. dollar drops another 15%? The easiest way to make up for the resulting currency exchange loss is to simply cut production so oil prices go UP 15%.
Such a move could lift oil to about $105 per barrel!
And since many OPEC oil princes like shopping in Europe, they might want to make sure they have some walking around money by cutting production enough that oil prices go up 30%. That puts the price of a barrel of crude at around $119.
"But, but," some say breathlessly, "that will cripple the global economy."
Yeah, yeah, say OPEC members, as they roll their eyes. They've been hearing this same sad song as oil rose above $50 ... $60 ... $70. But the global economy keeps on trucking, and Americans keep driving Lincoln Navigators!
America is the world's largest consumer of oil, guzzling more than 7.5 billion barrels per year. We import more than half the oil we use, and that amount is rising.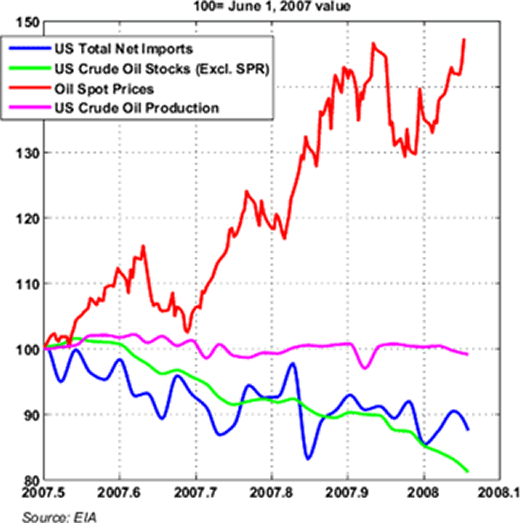 It's also hard for OPEC to take us seriously when we do little to curb our own voracious thirst for oil.
In the Netherlands, it just became $28,000 more expensive to buy a HUMMER, thanks to that country's new "gas guzzler" tax.
Can you imagine the reaction if the U.S. government tried to do the same thing?
A snap-revolution would usher in chaos. Why, Capitol Hill would come under siege! The White House would be surrounded by tens-of-millions of demonstrators howling with outrage. America would dissolve into anarchy!
And There Are Other Reasons to Expect Higher Oil Prices, Too ...
The sad fact is that OPEC wouldn't even have to cut production to see oil prices rise this year.
Some of the reasons:
Mexico expects production at its giant Cantarell field to drop another 16% (200,000 barrels per day) this year, after falling 16% last year.
Over the past three years, production at Cantarell, Mexico's largest oil field and the third largest oil field in the world, has dropped by 40%! Within just a few years, Mexico may have to start IMPORTING oil.
We are seeing supply disruptions from the frozen oil sands of Canada to the strife-torn backwaters of Nigeria and beyond.
And millions of people in China and India are getting behind the wheel of gas-guzzling cars for the first time. They'll use every barrel of oil that we don't!
So why has oil pulled back recently? The U.S. uses 25% of the world's oil, and investors fear that the U.S. economy is in recession. Therefore, they think we'll use less oil.
But hold on ...
China's oil imports are expected to jump from 3.5 million barrels per day (bpd) in 2006 to a stunning 13 million bpd in 2030. Do you really think oil prices will stay down? Of course not!
How You Can Play the Coming Oil Boom
Obviously there is an oil storm brewing. So, it stands to reason you might want to invest in the companies that stand to profit from that storm.
For example, ExxonMobil just reported the highest quarterly and annual profits EVER for a U.S. company. Chevron just reported that fourth-quarter profits rose 29%. In Canada, Imperial Oil saw its earnings soar to a new record!
This is a great time to invest in oil companies!
If you want a broad stake, you can always buy the Energy Select SPDR (XLE) . It's a basket of energy stocks, and many of these stocks are priced as if oil is going back below $50 per barrel. Don't hold your breath for that.
However, for potentially outsized, market-beating returns, I prefer to go with individual stocks. I think there are many, many bargains in the energy sector, just the kind I recommended in my recent energy report .
Since I published that report less than a month ago, we've seen some incredibly volatile action in the market. Through the end of trading on Monday, the Dow has gained 3.9%. The S&P 500 is DOWN 3.5%. And the portfolio of oil stocks I recommended is up 6.5%.
Stocks like ...
An under-the-radar foreign oil producer that just discovered a huge oil field, and expects its oil and gas production to rise by double-digits this year.
The oil drilling contractor that saw its earnings jump over 70% in the most recent quarter and has another great quarter in the works.
The Canadian oil sands play that is flying under Wall Street's radar. Its production should QUINTUPLE by the end of the year, and it is already exceeding its production milestones.
And these stocks are just getting started! They were punished along with the major indices in the recent sell-off. But they're recovering a lot faster — and I think their best days are ahead, as oil crosses the triple-digit mark and goes even higher.
Good luck and good trades,
Sean
P.S. It's not too late to get on board. If you want to protect your portfolio and potentially reap a whirlwind of gains, buy my oil report, Running on Fumes , by clicking here now .
This investment news is brought to you by Money and Markets . Money and Markets is a free daily investment newsletter from Martin D. Weiss and Weiss Research analysts offering the latest investing news and financial insights for the stock market, including tips and advice on investing in gold, energy and oil. Dr. Weiss is a leader in the fields of investing, interest rates, financial safety and economic forecasting. To view archives or subscribe, visit http://www.moneyandmarkets.com .
© 2005-2019 http://www.MarketOracle.co.uk - The Market Oracle is a FREE Daily Financial Markets Analysis & Forecasting online publication.

Only logged in users are allowed to post comments.
Register/ Log in