Obama And His Oil Pipelines
Commodities
/
Crude Oil
Oct 18, 2012 - 05:19 AM GMT


The Romney-Obama debate this week and once again featured attempts by both candidates to work "energy crisis" into the sparring and thrusting, to show how badly the opponent got his facts wrong and will only let things get worse if he either stays president, or becomes president. Obama kicked off with the one-liner that "because the economy was collapsing when I took office", gasoline prices in the US averaged a low $1.86 a gallon. Higher prices today are obviously a proof the economy is doing nicely, in fact using Obama's metrics, more than twice a nicely as in 2009 ! Economists might not agree.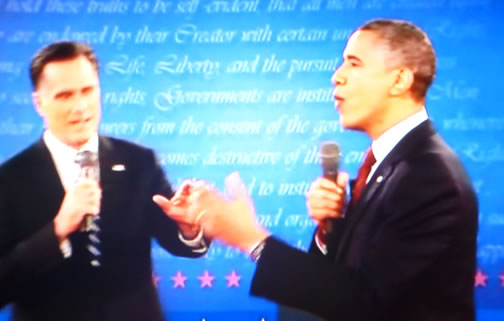 Romney slugged in with his own argument that whatever good things have happened to US oil and gas since 2009, like the shale gas revolution, they are nothing to do with Obama and plenty to do with luck although Romney preferred the keywords industry initiative: Obama "has worked against the industry". Anybody doing the sums on how much money Obama has thrown at the energy sector, quite a lot of which trickles down, up and sideways into the oil and gas industry might not agree that Obama was "anti energy" and worked against the industry. They might not agree, one more time.
Lower US gasoline prices today than at certain times in the past - times which did not last long - are also due to demand growth slowing so much it even looks like a straight decline in US motor fuels consumption. To be sure this is partly due to an Obama-style stagnant and punchdrunk economy, but also due to ever-falling average car fuel consumption, shorter average trips, more urban public transport and plenty other factors of that type.
WE WANT PIPELINES
Obama also showed his often-unintended humorous streak, with one-liners that make you laugh even though Obama didnt intend you to laugh. Claiming that Romney could only ruin the economy (and avoiding the adjective "further") Obama proudly said that as president: "We've built enough pipelines to wrap around the earth one time." That is roughly 40 006 kilometres or 24 863 miles at the Equator (not the Poles), but of course numbers vary according to source. More important for the debate, what that means varies with the two sources.
Obama staffers were of course sure and certain that under Obama's reign the US has built at least a one-trip around the Equator, that is somewhere between 24 860 and 24 900 miles of new pipelines. They cite data from the Pipeline and HazMat Safety Administration, and add spin the size of our spinning planet: their figure is 27 899 miles of new pipelines since end-2008 bringing total US oil and gas pipleines lengths to a not so precise but incredibly massive approximate total of 2 400 000 miles.
Industry analysts such as Platts however add downspin to all this, by saying that during Obama's time in office the total net addition of oil and gas pipelines in the US was a not so modest 19 500 miles, and of that total 75%+ came as new gas pipelines. To be sure and certain, not a single inch was built by US Federal employees, and all were built by the oil and gas industry and its downstream and related industries. While Obama, at least as surely as Romney, believed this was all good and healthy the vast surfeit of pipelines and the new build rate already tells us things are wrong in US energy.
PIPELINES ARE GOOD - SOMETIMES
Obama's often unintended humor, later called "wry" by his spin doctors can be seen in the way his administration let the all-powerful, all-party FERC (energy commission) decide and approve all pipeline issues except one - the Keystone pipeline, where Obama said no. Luck could again make Obama's no decision seem right, with hindsight. The Keystone line concerned a proposed new north-south path for oil shipments from Canada's western tarsand oil producer region, to Cushing, Oklahoma and other places along the way. Cushing is the Nymex oil trader's Basing Point, which could or might not even be able to handle, let alone store large increases of crude inflows. Anyway, why store the crude in the middle of nowhere? Yes! Its a great excuse to build more pipelines.
The thesis or theory that Canada is going to "ramp up" exportable surpluses of tarsand oil is a long way from sure and certain: only 100-dollar oil makes producing Canadian WSB (western sedimentary basin) oil a rational economic operation, even though syncrude producers do not talk that way. Also, the syncrude could be shipped west, to the Pacific coast and exported to China, Japan and Korea. Pricing is important - and relative to Brent grade crude which benchmarks eastern hemisphere oil, US WTI grade crude is blatantly underpriced, even if both are overpriced!
The Keystone pipeline debate in any case soon morphed into environmental issues, job creation, womens' rights and the future of electric cars and organic foods, single sex marriage and other important themes, before being shelved by Obama's no. When Obama actually had to make a decision on a pipeline, and that was once only when in office, he said no.
This still leaves the US with a whopping 2.4 million miles of pipelines, plenty of them leaking and in bad repair. Comfortably enough to circle the globe 95 times over, not just once, the US pipeline fest is a bad example of everything - from public to private incompetence and back again. Not only topologists, fractal theorists and antiterrorist consultants, but human beings can also take a peek at the fantastic map of Madman's Spaghetti and say "oh my god". The actual split of new gas against oil lines during Obama's term, over 75% being new gas pipelines, only shows the lack of planning and chaos based response of the US energy sector to the shale gas revolution. Also, for sure and certain, it is certain the gas pipeline building frenzy will continue, whether it is Obama, Romney or a resuscitated Colonel Sanders who wins office.
Pipelines are good, at least sometimes but filling them is even better. Romney accused Obama of merely being a collateral beneficiary of the US domestic energy boom, not due to him but in spite of him. Few and far are the oil and gas companies which would say the Obama administration and its so-called independent Commissions and Agencies made it easy for them to strike lucky with shale gas and then shale oil, and imagine Canadian syncrude would "ramp up forever" - Obama was very far from being Madame Soleil, to them.
DRILL BABY DRILL
In fact as late as March 3, 2012 Obama was on record saying "We can't just drill our way out of this problem. While we consume 20% of the world's oil, we only have 2% of the world's oil reserves". Forgetting (or not knowing) that well over 80% of all drilling during his term was for gas, not oil, US drilling for gas, and increasingly for shale oil has been somewhat of a success, to put it mildly. After the gas is found, comes the pipelines, like a possible Romney presidency comes after an Obama presidency - but whatever happens the drilling goes on.
Obama for all his bluster about "getting the finance sector right", and the big spending this entailed, could have acted to curtail energy trading, that is speculation. Instead, the same speculative frenzy has tunnelled its way upstream in US energy, as elsewhere in the world, making it literally impossible to stop drilling. For US natural gas, this creates a chaos-dominated outlook, which of course features those pipelines Obama feels so proud about. Under two-term Obama or first-term Romney, US pipeline company collapses and calls for bailouts will be sure and certain. Due to straight overcapacity of pipelines, more will be dismantled - or abandoned and simply left to rot.
The sudden conversion of Obama to drill baby drill is in no way a unique thing. Other politicians facing the re-election test, such as Angela Merkel and David Cameron, and fast declining popularity like France's Francois Hollande have already migrated, or are migrating to drill baby drill. Their pot luck laisser-faire economic philosophy makes it certain that massive new overcapacity of pipeline capacity will be added in their countries, to already existing overcapacity. Final consumers, as ever, will pay the price of this and in no way feel proud about so many useless pipelines being built.
By Andrew McKillop
Contact: xtran9@gmail.com
Former chief policy analyst, Division A Policy, DG XVII Energy, European Commission. Andrew McKillop Biographic Highlights
Co-author 'The Doomsday Machine', Palgrave Macmillan USA, 2012
Andrew McKillop has more than 30 years experience in the energy, economic and finance domains. Trained at London UK's University College, he has had specially long experience of energy policy, project administration and the development and financing of alternate energy. This included his role of in-house Expert on Policy and Programming at the DG XVII-Energy of the European Commission, Director of Information of the OAPEC technology transfer subsidiary, AREC and researcher for UN agencies including the ILO.
© 2012 Copyright Andrew McKillop - All Rights Reserved Disclaimer: The above is a matter of opinion provided for general information purposes only and is not intended as investment advice. Information and analysis above are derived from sources and utilising methods believed to be reliable, but we cannot accept responsibility for any losses you may incur as a result of this analysis. Individuals should consult with their personal financial advisors.
© 2005-2019 http://www.MarketOracle.co.uk - The Market Oracle is a FREE Daily Financial Markets Analysis & Forecasting online publication.

Only logged in users are allowed to post comments.
Register/ Log in