Best Stock Market Shorting Opportunity in 300 Years
Stock-Markets
/
Stock Markets 2012
Oct 19, 2012 - 10:43 AM GMT


In the previous big picture FTSE - a Rose between Two Thorns in May, MAP Analysis projected the retest of last year's top, which has failed. Now here we are two more fractal waves scales down with 2 more retest failures!! Not good for UK which by my analysis is much further down the road of decay than Germany (for DAX analysis click here) which is one subwave ahead of the DJIA as presented in DOW Stock Market Index 2007 Retest Failure – Game Over USA published last week.
However we all know that even with traditional EW analysis of ABC etc that can change fast!. Those of you who are familiar with EW replace each colour scale -2 with a b and you will clearly see the nesting of b's! Not good coming off a high!
The current picture of the FTSE from the 2009 bottom (for complete analysis click here)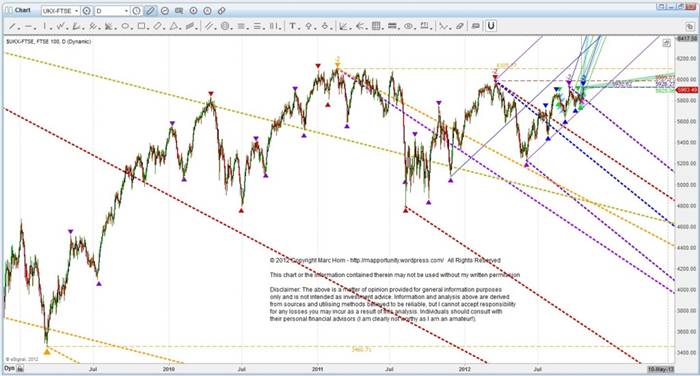 Watch for the break of the up sloping DMLU for confirmation on that fractal wave scale. This time I don't think we will get a retest!
The DAX yesterday also confirmed its failure as shown below with its expected trading range into the US elections.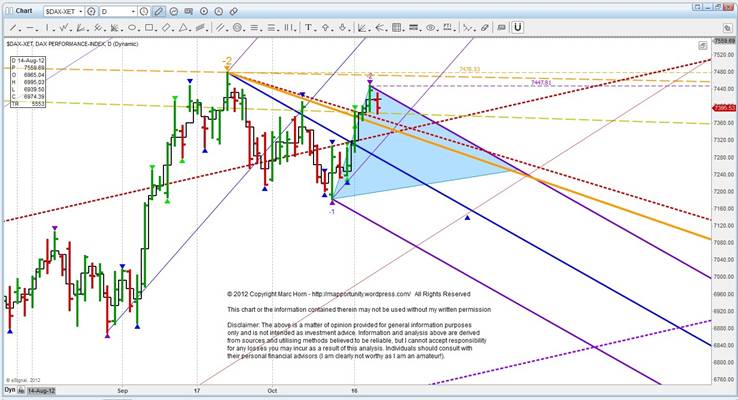 Good luck to the FED with its open market intervention! They are going to need all the help they can get, but the market is bigger than they are. QE is not going to work either – Economics 101 – the law of diminishing returns! You can fool some of the people some of the time, most of the people most of the time, but not all the people all of the time! We all know it is time to pay the piper.
It is not all doom and gloom though. These transitions occur cyclically through recorded history
Roughly every 1800 years there is a shift from East to West - that is happening now again. The 1800 year cycle is approximately six 300 year cycles, which in turn are approximately six Kondratyef Cycles which in turn are approximately six 8 year business cycles. This is not a physical cycle such as the earth spinning or the moon orbiting the earth, or the earth orbiting the sun or even a pendulum swinging from side to side.
This cycle is determined by individual and group behaviour - so predictable! It can change if we choose it to!
I like to keep things simple as I am no politician trying to keep my position of power that allows me reap rewards not available to my electorate, and can only do that through a total lack of transparency for which laws are made to keep the public benevolent through drugs sex and rock & roll. But at some point enough is enough.
Our recent history, the Industrial Era, in a picture
US war of independence - why? we are doing the work and the king who sitting on some throne somewhere we have no idea about is raping our rewards - no chance!!!! Wave 1 the innovative phase in the birth of a nation. Wave 2 sorts out good from bad and common sense prevails - civil war (slavery bad?) forming just government for the people. Simple correction from 1929 pivot 3- why? minimal government interference and rubbish goes bankrupt and labour gets fair reward through forced equity via unions to control greed. The middle class grows! Capital flows from Europe which is further down the road of destruction as they are one wave ahead where paying for the war to retain their pride of their Empire (pride is a very expensive thing!) as the super power forces draconian measures. US becomes financial center because it offers best rewards and lower risk of government stealing the wealth that was happening in Europe.
Then Wave 5 - just like any industry protectionism starts through corruption union bashing so labour gets screwed and the middle class disappear. The select cream the rest as personal greed overcomes the common good and a great way is through union bashing. Taking away the right of collective bargaining back to individual screwing of those that are easily railroaded into submission through force and coercion . This ends the "American dream" as the old boys network grows and new generation is stripped of the opportunity to achieve the American Dream. Growth slows and as the old boys network grows government becomes bigger than the productive capacity of the nation. The middle class have no spare cash so savings drop and then eventually the government can only finance itself externally, living on its reputation (looks rosy from the outside) and when that stops it need to fund itself somehow - draconian measures (austerity through taxation because the government and their budgets continue to grow despite the bull that the public are brain washed with and the rich continue to get richer) and as the economy contracts further revenue follows so the use of force is increased and the rich are blamed. Money goes underground and then the government imposes swimming pool taxes because they are more difficult to hide - ask the Greeks! The easiest way is to pass laws for that is through fear (war on terror / Islamaphobia etc.) - people give away all their liberties and the constitution goes out of the window, and capital flows away because the new king is the Federal Government!!!!
You can see this so clearly - In China and India and the Other Eastern countries. They acknowledge corruption and prosecute it and people get thrown in jail including big wigs. Their governments are small compared to the West. Their people are much freer to innovate and as the governments get more for the people they will prosper whilst the governments in the West increasing chase out the money in their witch hunt to stay in power of the wealth generators, and as we can see in Europe will increasingly resort to the use of force.
The East is on the verge of ending the build up of fractal waves 2's , and the collapse of the West as we build up fractal waves -2's . The break out will occur soon. Growth in the East and the collapse of the West.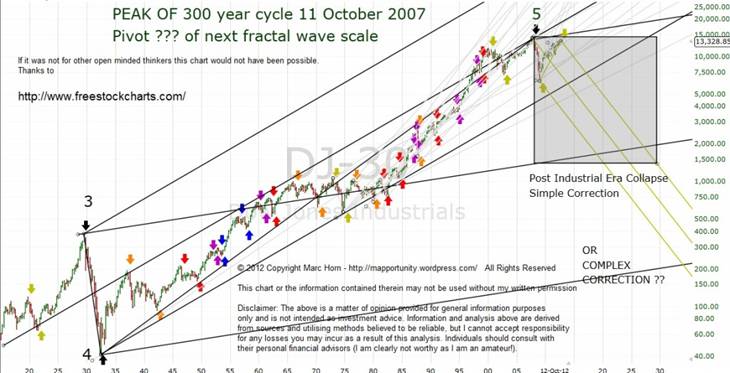 We are in the greatest transition that will result in a new world order for the next 300 years Europe = third world, US= Europe and East = US. We have been through the Dark Ages and we do have the choice, as this is a predictable behavioural cycle, to make the next Era that of Enlightenment and Equal Opportunity (very different from equality and positive discrimination!).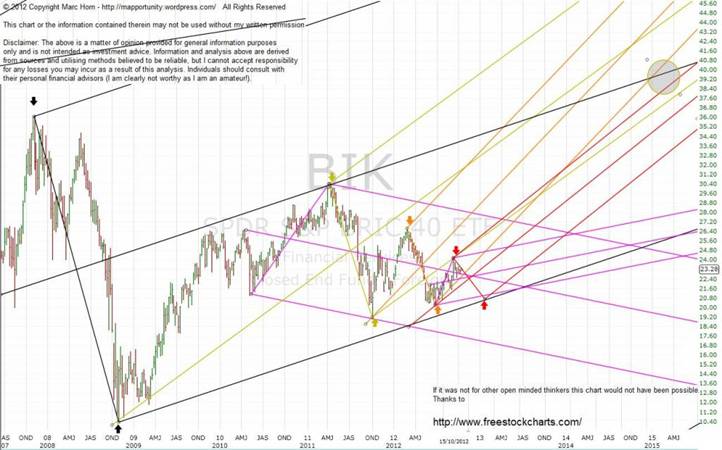 Our politicians are fully aware of this but as they say power corrupts, ABSOLUTE POWER CORRUPTS ABSOLUTELY. But clearly this only happens to dictators such as Hilter or Saddam. Open your eyes, look around you! The Chinese get slammed for internet censorship yet the US has recently opened the worlds largest electronic surveillance unit - everything on the net is at their disposal! Oh were the Stazi not in former East Germany? - Who is big brother now, in desperation to protect their position of power and immoral gains?
People are waking up to the bleak future in the West where success is punished and frowned upon. Anyone that is under the illusion that we have freedoms and free markets are even beginning to realize that what we have is nothing more than a corrupt old boys network which has resulted in the killing of motivation as we can so clearly see in Southern Europe, where people are taking to the streets. If rather than the banks being bailed out why not just give every person the money rather than the select few of this corrupt system we claim is free markets. This is the death bed of Marxism. The USSR and former East European nations are past that, and we in the West are rapidly approaching running out of other people money to finance our money for nothing society.
Margret Thatcher famously said that there is nothing wrong with socialism until you run out of other people's money. Our governments cannot raise finance in a free market so to keep themselves in power they make nothing but empty promises to their electorate to buy their vote and once in power negate on the promises because they know if the press does not fulfill it brainwashing obligation to stay part of the old boy's network they will be humiliated as Murdoch was, and run the printing presses to finance themselves The reason inflation is not kicking in is because you cannot fool all the people all of the time! Capital is flowing underground and out of the economy faster than the governments are handing it to the legalized theft scams run by the banksters who get capital guarantees from the tax payers!
That we do not learn from history is beyond me. What distinguishes us from animals is our ability to reason! The correction will come – logic tells us but the first part of problem solving is acknowledging there is a problem and taking our heads out of the sand!
I am not the only one that has reached this conclusion. More and more substantiated work and evidence is being presented such as for a more traditional analytical presentation
Have we forgotten about the flight of gold from Europe as they got more draconian which help found Americas propulsion to become the world's leading economy??
Click here to follow your duty of Use and copyright is described therein.:
Probabilities are derived from the MAP Analysis methodology described therein,
Click follow on my blog to receive regular FREE market updates and discussion.
For other articles published click here
The statements, opinions and analyses presented in this site are provided as educational and general information only. Opinions, estimates, buy and sell signals, and probabilities expressed herein constitute the judgment of the author as of the date indicated and are subject to change without notice.

Nothing contained in this site is intended to be, nor shall it be construed as, investment advice, nor is it to be relied upon in making any investment or other decision.

Prior to making any investment decision, you are advised to consult with your broker, investment advisor or other appropriate tax or financial professional to determine the suitability of any investment.
© 2012 Copyright Marc Horn - All Rights Reserved Disclaimer: The above is a matter of opinion provided for general information purposes only and is not intended as investment advice. Information and analysis above are derived from sources and utilising methods believed to be reliable, but we cannot accept responsibility for any losses you may incur as a result of this analysis. Individuals should consult with their personal financial advisors.
© 2005-2019 http://www.MarketOracle.co.uk - The Market Oracle is a FREE Daily Financial Markets Analysis & Forecasting online publication.
Comments
maphorn
16 Dec 12, 00:54
Long Term Bull Market Update


Please read my recent article, "How German DAX on 3 Dec Confirmed a long term bull market"

http://www.marketoracle.co.uk/Article37911.html ,

as it explains why due to the fractal nature of waves this projection is revised to bullish.

See full updated projection at

http://mapportunity.wordpress.com/big-picture/us-indices/dow-jones-11-december-2012/




Only logged in users are allowed to post comments.
Register/ Log in