MAP Analysis – Europe Collapse and Common Sense!
Stock-Markets
/
Stock Markets 2012
Oct 22, 2012 - 08:51 AM GMT


Everything has its time due to the fractal nature of time . I am not saying it will happen tomorrow and it will not be a single catastrophic drop. We need to unwind the mistakes of the past one step at a time. I hope as you read this you will gain a better understanding of how the future will unfold. There always are bull and bear phases – that depends on the fractal time frame!
Following the updating of my charts an interesting picture is evident from MAP analysis I like to check the common sense approach!
I have started world watch which is free and is an instant picture where we are in MAP Wave terms. Its rules are simple 5 pivots up and 5 pivots down on multiple fractal time waves – or behavioral action and reaction points! The black wave is a 300 year cycle, next scale down quarterly – gold etc. The names are merely a reflection of where you can easily see the action and reaction points (pivots).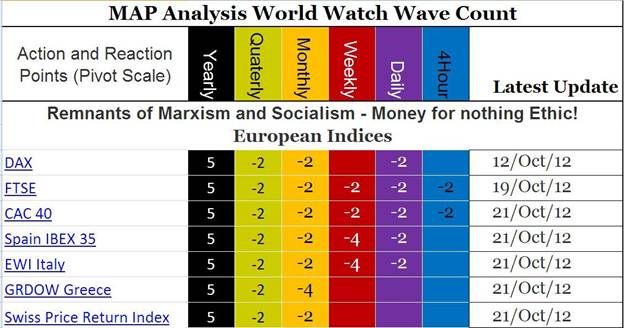 For those who are familiar with EW I allow overlapping and use actual highs and lows, rather than subjective random numbers where there is no obvious top or bottom, defined using a repeatable methodology which is used throughout my analysis – so just to be clear I am not predicting anything!!! I am only projecting ideal wave intersections which get fine tuned as subwaves form! So simple start at pivot 0 on any fractal scale, that will have 5 pivots up and that makes pivot 1 on the next fractal scale. On down waves I just put a minus sign. For an understanding and critique of my methodology it is available for public scrutiny, either look in my authors archive or visit my blog.
So all indices peaked on the yearly fractal wave scale – not at the same time – makes sense to me as the economies are very different so just like any business you have rising stars, cash cows and dinosaurs!
On the quarterly fractal wave scale all the indices show pivot -2 has been made and on this scale we are in wave 3. Retest failure 1 of the all time highs.
On the monthly fractal scale Greece is in wave -5, the last wave to complete Q-3. The rest are in wave M-3 after retest failure of the quarterly highs. So if you are familiar with the news you will be aware that Greece has been in it a lot for quiet a while – all bad news!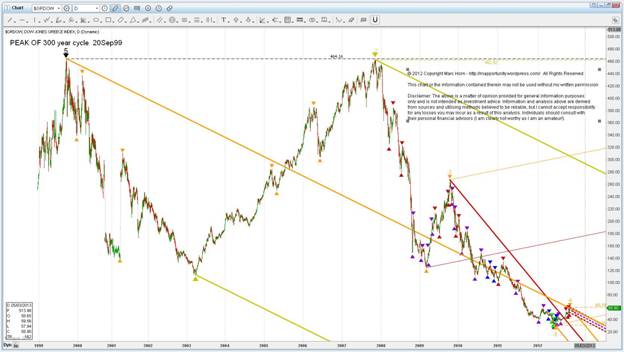 On the weekly fractal scale Spain and Italy are both in the final throws of wave -5.
Spain and Italy have more recently been getting more news coverage – again bad news!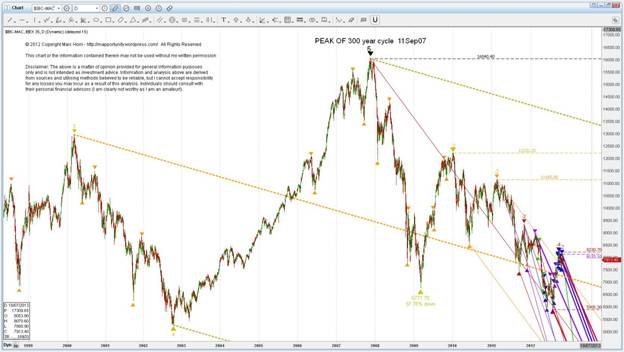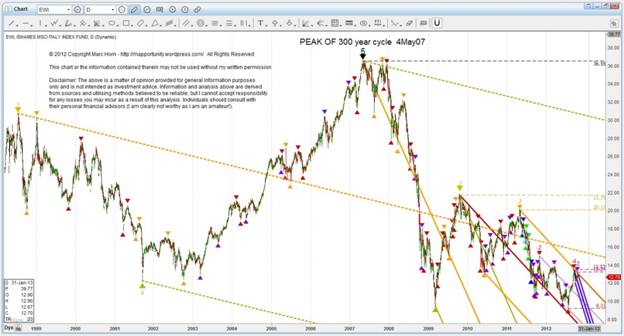 Where as UK and France neck and neck in wave -3. The with its QE has managed to keep themselves inflated but MAP Analysis shows that once when above and below the ML parallels the will be reversion to the ML and the UK will offer the best shorting opportunity once the tipping point is reached! Hyper inflationary collapse??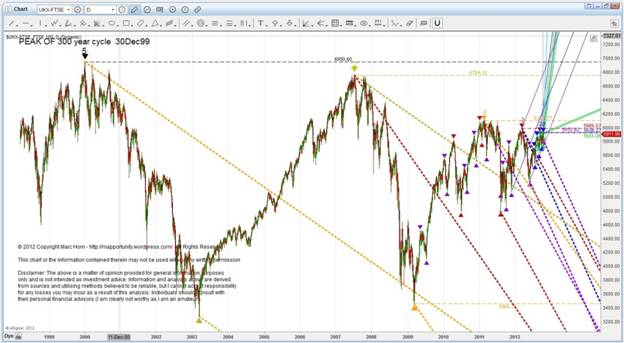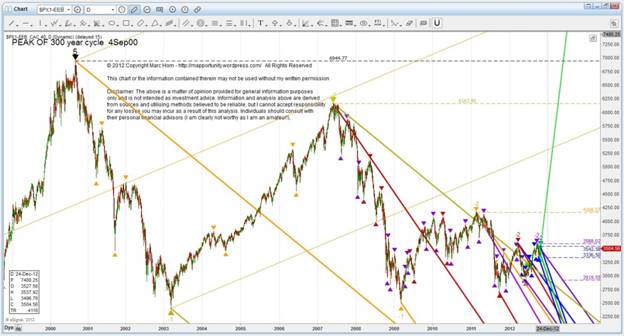 Germany has not even completed W-1. Again the news tells us this!!! It is the strongest economy in Europe but if they carry on dealing with the Euro crisis as they have they will have a very big sharp shock!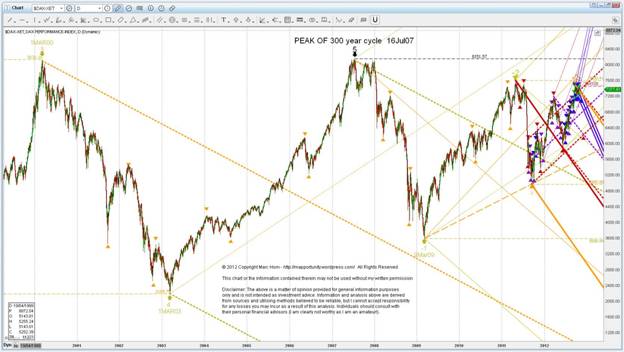 So to my simple common sense MAP Analysis seems to be pretty accurate with the reality of the brainwashing we get (our politicians know it is the end of the road – they only want to cream as much as possible because they know how this ends based on history!)
Markets as manipulated as they are will eventually react as realization sets in! - you can fool some of the people some of the time, most people most of the time but not all the people all the time!
So despite the government propaganda that all is ok, people are feeling the impact of inflation, unemployment etc.
People are waking up to this, slowly but once the critical mass is reached it will tip, and quickly.
I don't particularly like the name pivots as it does not describe what it actually is! What pivots are in reality the extremes of sentiment of an action or re-action. So for example if as on Friday the expectation of people is that Google will meet an illusional profit target that the self interest forecasters brainwash us into expecting – the action – the tipping point is reached when we have the realization that the illusion we have been brainwashed into believing is in fact not true so we react by selling our Google shares, thereby creating an oversupply of shares, with a lack of demand as there are fewer people that still believe that this is rubbish, the results are only a blip or whatever excuse they use to avoid the reality that they sub consciously know – ALL RESULTS HAVE BEEN BAD - to save their pride. Eventually it reaches a tipping point as more and more people accept the reality and then you will get a panic or spike bottom. The reaction point of the action!
These are what cause waves to create another fractal wave. We will get a bounce but more and more people know that for eg if Spain is contributing 15% to the ESF but they are a nett borrower where are they going to get the 15% from – oh of course we will increase the tab by that! People are not stupid! Many have tried this trick with their credit cards to no avail where eventually there are no fools left that will refinance and keep the cash flowing to keep the credit rolling. The bubble must burst and as many people know the longer you leave it the worse the problem gets! So as on a bigger fractal wave scale we also will reach a tipping point that will result in a reaction to the stupidity of our democratically elected self interest politicians. So when did we have significant tipping points?
The 2009 high banking crisis. We know that you can't live off credit for ever. Has the problem been solved? NO. We all know this but still we believe that the newly announced QE will sort it out! Reaction point 2009 low and Spring 2010 high is the reaction point to QE1. However no money actually is filtering down from the banksters into the real world where the rest of us live where we are loosing jobs and the price of staples is going up – oh but the brainwashing of our democratically elected officials who have new cars and bigger houses and oh even more expenses for their pets!!! I don't believe this crap say some and out of the hat QE2 appears. Again actions cause reactions – the 2011 top! Basic economics is already showing us that the law of diminishing returns is at work as it is not as effective as QE1. Also what is amazing is that despite the largest money injection in the history of mankind are not resulting in hyperinflation as we are taught in Economics 101. So what do our trusted expert elected officials do – LITRO, QE3 etc etc…..
So can we trace this basic common sense approach through Europe to get a sense of where we are and where we are going!
There is only one solution – The existing rotten Marxist socialistic experiment needs to end and the sooner the better! Continued denial will only lead to a Japanese style collapse – slowly and painfully! Our politicians will not do what is needed because they have too much self interest!
Click here to follow your duty of Use and copyright is described therein.:
Probabilities are derived from the MAP Analysis methodology described therein,
Click follow on my blog to receive regular FREE market updates and discussion.
For other articles published click here
For more information of how I do what I do http://mapportunity.wordpress.com/ . Comments and discussions very welcome!

The statements, opinions and analyses presented in this site are provided as educational and general information only. Opinions, estimates, buy and sell signals, and probabilities expressed herein constitute the judgment of the author as of the date indicated and are subject to change without notice.

Nothing contained in this site is intended to be, nor shall it be construed as, investment advice, nor is it to be relied upon in making any investment or other decision.

Prior to making any investment decision, you are advised to consult with your broker, investment advisor or other appropriate tax or financial professional to determine the suitability of any investment.
© 2012 Copyright Marc Horn - All Rights Reserved Disclaimer: The above is a matter of opinion provided for general information purposes only and is not intended as investment advice. Information and analysis above are derived from sources and utilising methods believed to be reliable, but we cannot accept responsibility for any losses you may incur as a result of this analysis. Individuals should consult with their personal financial advisors.
© 2005-2019 http://www.MarketOracle.co.uk - The Market Oracle is a FREE Daily Financial Markets Analysis & Forecasting online publication.

Only logged in users are allowed to post comments.
Register/ Log in