Housing Market Subprime Mortgages Timebomb waiting to Explode
Housing-Market
/
Analysis & Strategy
Feb 21, 2007 - 06:20 AM GMT

Remember when a 20% down payment was expected when purchasing a house. Sometimes with stellar credit and maybe a special situation, like a first-time home buyer, you could get in with a 10% down payment. I recall a few weeks after my wife and I purchased our first home - both cars broke down.
Saving for your first home is one of the few times, from a financial perspective, that both husband and wife are clearly on the same page. Everything takes a back seat to saving for that down payment - shoe shopping, night out with the boys, everything. That's exactly why both of our cars broke down. We had neglected maintaining the cars and everything else while saving for our down payment.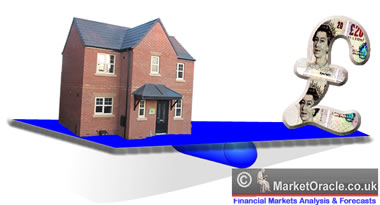 Obviously once a homeowner, whatever is necessary to keep the house - like making timely mortgage payments will be a priority. After all, significant sacrifices were made and no one would want to lose the home foolishly. So, the bankers have us where they want us. Committed customers who pay their obligations for the most part on time.
Well the greedy little bankers knew that they were missing out on a large opportunity with such tight restrictions. There is a large pool of people who do not have good credit, a secure job or money for a down payment. The bank's bottom line could be significantly increased by loosen their lending requirements. After all, real estate is an appreciating asset. So, even if the number of foreclosures increase the bank would would still make good by selling the house.
Does the above sound like an exaggeration? It is and it isn't. Banks have always loaned to people without pristine credit histories. However the marketing of such loans, known as subprime loans, increased significantly around in the mid-90s. According to the Mortgage Bankers Association, subprime loans represented 14% of the total mortgage market by 2003. In the period 1994 to 2003, subprime loan growth significantly outpaced prime loan growth with a 25% rate of growth according to a report in USA Today (Subprime loan market grows despite troubles, December, 2004). These loans helped drive US home ownership to its all-time peak in the fourth quarter of 2004.
Well guess what - the chickens are coming home to roost. By late in 2006, the rate of subprime loan delinquencies of over 60 days was up to nearly 8% according to UBS. The Center for Responsible Lending (CRL) projects that nearly 20% of subprime loans made in the period 2005 to 2006 will fail. The New York Times stated that "about 2.2 million borrowers who took out sub-prime loans from 1998 to 2006 are likely to lose their homes". One of my favorite commentators, Peter Schiff, believes the the NY Times estimate are too optimistic. He says:
"The secondary effects of the "1 out of 5" sub-prime default rate will be a chain reaction of rising interest rates and falling home prices engendering still more defaults, with the added foreclosures causing the cycle to repeat. In my opinion, when the cycle is fully played out we are more likely to see an 80% default rate rather than 20%".
I knew that there were some crazy loan products available, but check this out:
"The sub-prime market was designed with a built-in time bomb. In testimony to the Senate Banking Committee in September, Michael Calhoun, the President of the Center for Responsible Lending (CRL), showed an example of the most typical sub-prime loan, known as a 2/28, with an "exploding ARM" (adjustable rate mortgage). Buyers can qualify for this type of loan if the original ("teaser") monthly payment is not higher than 61% of their after-tax income. At the end of two years, even without a rise in interest rates, the payment will typically rise to 96% of the purchaser's monthly income. No wonder then, that the study conservatively forecasts that one-third of families who received a sub-prime loan in 2005 and 2006 will ultimately lose their homes!"
What a joke - 96% of your income will go to servicing your mortgage. I hope that Johnny doesn't need a new pair of shoes. These mortgages were designed to be refinanced assuming that homes continued appreciating. That ain't happening now.
So, what does this mean to the average homeowner? I will let Mr. Schiff explain, "failures in the sub-prime loan market will put greater downward pressure on housing by increasing inventory and lowering prices." In other words, the value of your house is going down and its not stopping for awhile.
To prevent this article form being a complete downer think of it this way. Your home is your domain your castle - it was not purchased as an investment. It was purchased for shelter and enjoyment. Any appreciation gained from selling it is an added bonus. Hey, I tried to end it on an upbeat
By Michael K Dawson
http://www.thetimeandmoneygroup.com/
Michael K Dawson founded the Time and Money Group with the aim of educating and sharing 20 years of experience on how to reach financial freedom. "Financial Freedom is freedom to focus on what is truly important to you and your family without having to trade time for a wage. It is enabled by a portfolio of income producing assets, managed by you, which generates sufficient income to cover your yearly expenses on an ongoing basis. It provides both time and money". The intent of his website is to become a repository of information to put you on the fast track to becoming financially free. For further infromation visit http://www.thetimeandmoneygroup.com/
© 2005-2019 http://www.MarketOracle.co.uk - The Market Oracle is a FREE Daily Financial Markets Analysis & Forecasting online publication.

Only logged in users are allowed to post comments.
Register/ Log in