Stock Market forecast for the coming week
Stock-Markets
/
Stock Markets 2012
Oct 27, 2012 - 07:50 AM GMT


It will be very hard for stock indexes to sustain in these levels because there is no support of economic fundamentals; I am not only talking about the both sides of Atlantic but also about Emerging nations (or better to say BRICS nations). The way their economic reports are coming now it is concern weather they can cope with post November events (US fiscal cliff or global slowdown …….) or whatever that lays ahead.
What I told above that is the general feeling but I don't thing stock markets have followed the general feelings in past and nor they are going to do in future. Though you may say that Euro zone risk overshadowed US growth figures this week but what about Euro area PMI, in spite of bad manufacturing reports stock indexes did not reacted much. If stock indexes followed macros in past then Dow Jones would be plunging into lowest figures after sub-prime disaster, but did it! So there is no basis on depending on macro fundamentals at least in these circumstances. Many investors are rolling over their contracts and I think they are doing a big gamble but if I follow the recent past instances I think they are not to be called as Foolish investors but they will be called as "Aggressive ones" among us.
Let talk about the stock indexes,
Dow Jones I.A. has reacted on its short-term bearish pattern and as I was telling in my past reviews that if Dow tests around 13000 levels then it will give strength to its medium-term bearish pattern. Now if that medium term bearish pattern is true then Dow may show little more up moves and the base which it is making during later days of this week may also be suggesting that but that is definitely not above 13600 levels, may be around 13300–13400 levels. The pattern which I am talking about is not totally clear but if it fully reacts then Dow may test up to 12400 levels.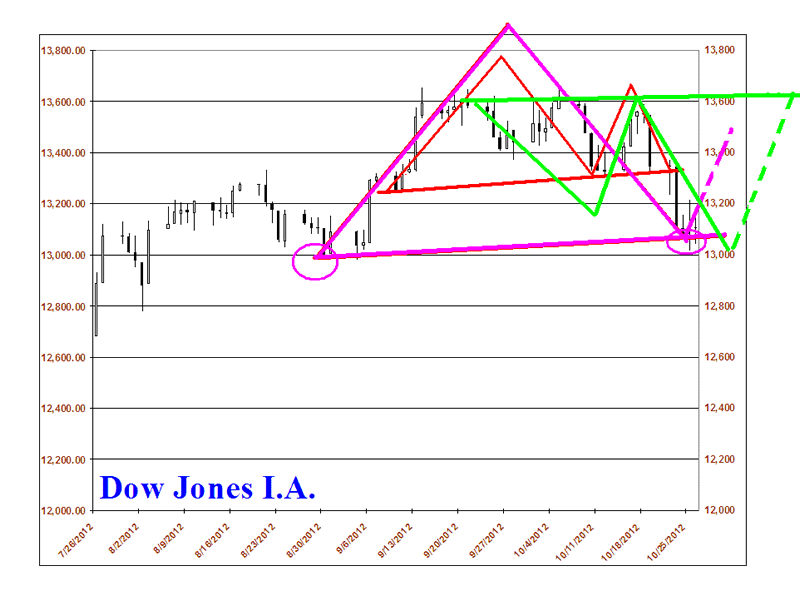 If this base or around 13000 support levels don't work out then Dow may drop from 13000 levels in around middle days of the coming week, in fact in that case Dow may give flat movements in around 13000 to 13200 levels in early days. All these are probable predictions and things may become different if Dow starts dropping from 13000 levels in early days of the coming week.
On the other hand if this base around 13000 works out and Dow again tests 13600 levels then it has a chance of creating short-term bullish pattern but it needs more time
During last few months German DAX has take the support of 7200 and now it is trying to break that but except that Dax is not showing anything for sure. It looks that Dax may be making a very short-term bearish pattern but this type of pattern has limited success rate. We may get an early indication of that pattern if Dax breaks around 7150 levels and if that bearish pattern fully reacts then Dax may try up to 7000 levels. In this moment one thing look bad for Dax if it breaks around 7000 levels.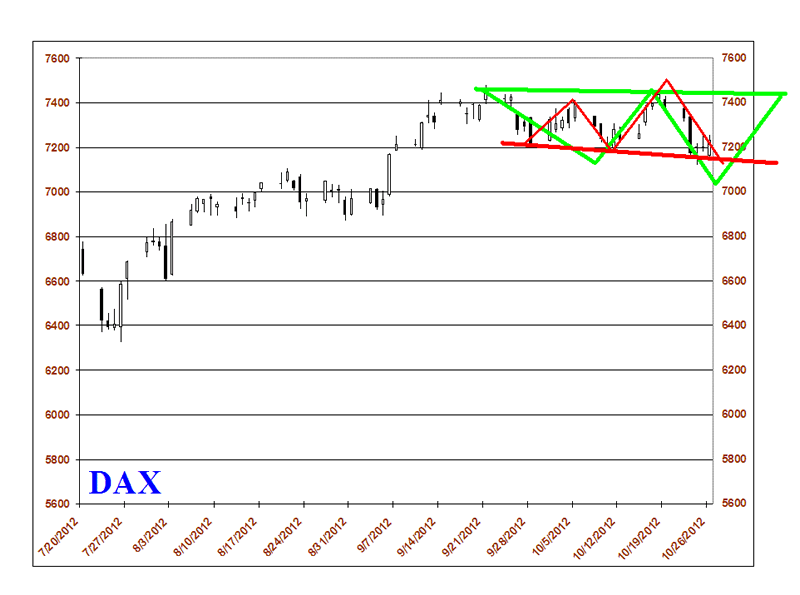 As I was saying that Dax is not showing anything for sure so there is a positive side too for it. So long it maintains around 7150 (or 7000 levels) there is a chance that it may make a positive pattern but that needs more time.
Long-term position of Dax is not totally clear, it has both the options open so taking a decisive call is difficult. If we go with long-term reversals then it may drop up to around 6730 level (around 50.0% reversal).
During last few weeks I was emphasizing on 5800 level for FTSE 100 and after this week's moves it looks to me that Ftse may break that in the downside. At past I have mentioned about multiple bearish options and now it has a chance to test around 5700 level and if it becomes true in coming week then Ftse has a chance of triggering the medium term bearish pattern if it breaks around 5650 level. In coming week if it unable to break 5900 or I would say 5850 in the early to middle days of the coming week then it has more chance to drop from 5800 levels. In the longer term perspective it is very necessary for Ftse to break around 6150 level to avoid the long-term bearish pattern.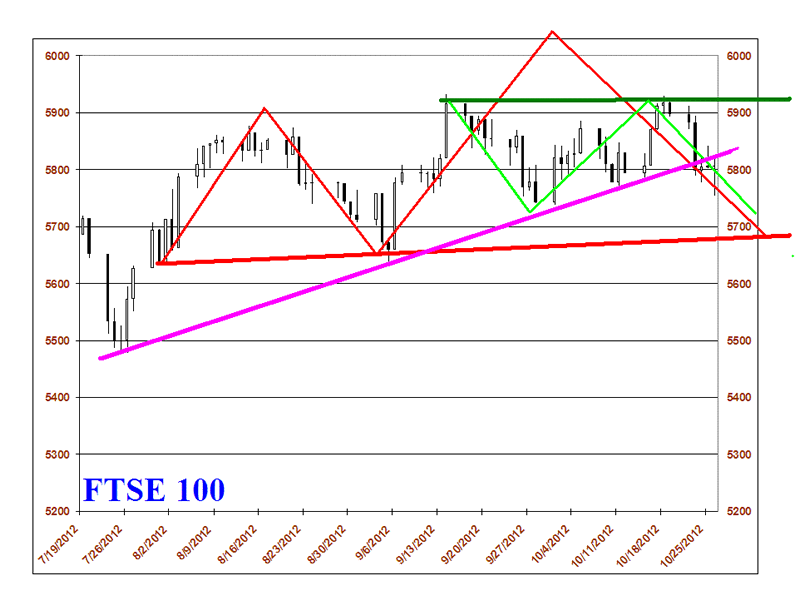 After a big drop in early days of this week, later days were better and considering its higher lows I still think that Ftse has a chance to break 5900 levels. In my previous reviews I talked that Ftse is maintaining a trend line during last few months but during couple of days it is showing a tendency to move away from that trend line. But unless a major deviation comes, the upside momentum may remain intact but for that Ftse has to stay above 5800 level.
KOSPI is threatening to make a medium term bearish pattern, now if it goes below around 1880 then that fear will be more. But even if it tests 1880, it may take more time to react on that bearish pattern. Last week I did not able to give my predictions but in the last week Kospi's movements of making lower highs and lower lows are indicating that it may drop more. In fact it is trying to break an upward trend line which it was following during last few months.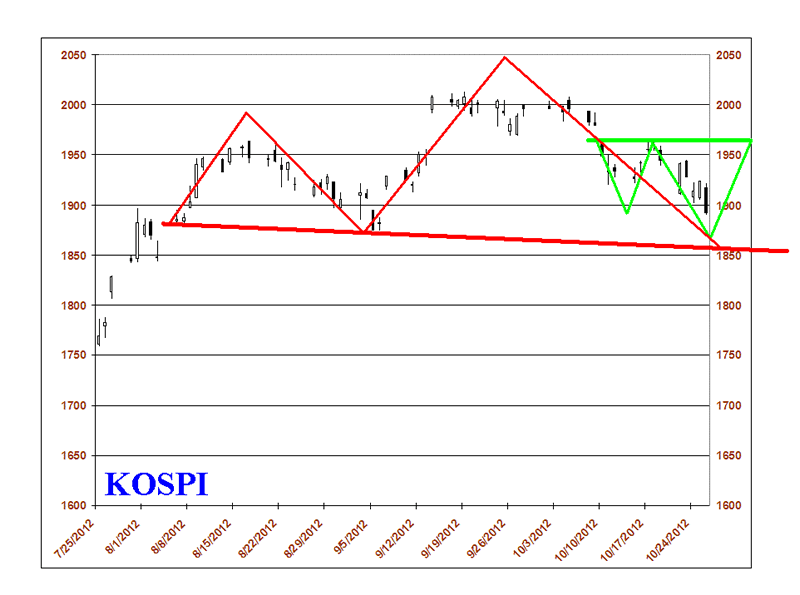 Though it has a chance to come out from this bearish atmosphere but that will be only when it will break 1950 level convincingly. In fact I will think about a new short-term bullish pattern if Kospi is able to break around 1960 level but this is in early stage. If we consider that kospi is in medium term bullish phase then that lower highs and lower lows may be indicating future upward movements.
Though S&P/ASX 200 has acted to some extent on its bullish pattern but it did not able to show much movement around 4600 level. Now it is again testing 4500, what I feel that if it does not able to break around 4525 in coming week then there is a chance that it may drop in later periods of the week.
Considering its short-term over-sold position I think it may again try to test 4600 level but if it does not able to break that then there is also a chance that S&P/ASX may create a short-term bearish pattern, though this is a very early call because that pattern is just in its early days.
S&P/ASX has the chance of avoiding future drops only by breaking around 4600 levels. So if it able to break 4525 in early to middle days then that may act as a good sign for it.
On the other hand if S&P/ASX drops down from 4450 level then it will get support at 4400 level. The chance of making medium term bearish pattern is still there if S&P/ASX tests below 4300 level in the downside but it may not be a straight one.
Reports due in coming days (from US)
Monday, 29th October, 2012 – Incomes & Spending, Dallas Fed Index.
Tuesday, 30th October, 2012 – Home Prices Index, Consumer Confidence.
Wednesday, 31st October, 2012 – ADP Jobs Report, Chicago PMI.
Thursday, 1st November, 2012 – Auto sales through day, Unemployment Claims, Productivity, ISM Mfg Index, Construction Spend.
Friday, 2nd November, 2012 – Monthly Jobs Report, Factory Orders.
Others
Tuesday, 30th October, 2012 – German unemployment rate
Wednesday, 31st October, 2012 – Chinese manufacturing PMI, German retail sales.
About me : I am an active stock trader, I trade on Indian market. I am not a writer but in weekends, I love to spend sometime with it. Though it is an Equity market blog but it also covers Bond & Treasury market as well as currency market.
NOTE : Disclaimer of my blog www.worldequitymarket.blogspot.com is also applicable to the above writing.
© 2012 Copyright Manas Banerji - All Rights Reserved
Disclaimer: The above is a matter of opinion provided for general information purposes only and is not intended as investment advice. Information and analysis above are derived from sources and utilising methods believed to be reliable, but we cannot accept responsibility for any losses you may incur as a result of this analysis. Individuals should consult with their personal financial advisors.
© 2005-2019 http://www.MarketOracle.co.uk - The Market Oracle is a FREE Daily Financial Markets Analysis & Forecasting online publication.

Only logged in users are allowed to post comments.
Register/ Log in